The 2010s are coming to a close, and with them ends an exciting era of musical innovation and societal transformation. The past ten years have seen the breakdown of genre, increased accessibility for content creators, and new modes of access for music consumers. Downloads bowed to streams in the West, and artists like Justin Bieber, Drake, and Taylor Swift rose to international superstardom – but this is just the tip of the iceberg of a busy, busy age; it seemed like the more connected we were, the more disconnected we felt. Music was a means of transcending distraction and hardship; a vessel of understanding that lent us stability for moments of stress and doubt.
How better to capture a decade in music than in the words of those who lived it and breathed it? Atwood Magazine is proud to present Our Favorite Albums of the Decade, in no particular order (you can jump directly to an artist by clicking their name above, and return to the top of the page by clicking any album art below). For ten weeks, our writers will be breaking down the music of the 2010s year by year. These are the records that shaped the people we are today: The music that carried us through pivotal milestones, the songs that together form the soundtracks to our lives. We have grown and changed, matured and evolved, but in this time of reflection, we can still feel the sense of wonder we felt as listeners pressing "play" for the very first time.
This week we celebrate 2017 in all its eclectic glory: From Lorde's coming-of-age pop epic Melodrama, Iron & Wine's majestic and optimistic Beast Epic, and Kendrick Lamar's urgent DAMN., to Tennis' beautiful Yours Conditionally and St. Vincent's dynamic MASSEDUCTION, albums by Taylor Swift, Father John Misty,  Cold War Kids, and more.
Mitch Mosk, Editor-in-Chief
— —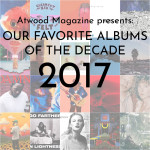 Our Favorite Albums of 2017
Wife-husband duo Tennis have always had this colorful, magic quality about their vintage pop/rock sound, but there is far more at play on their fourth album. Yours Conditionally is driven by frustration and determination; from being a woman in a man's world; from being told of barriers you can never overcome. It's a prove them wrong album in all respects, from the biting "Ladies Don't Play Guitar" to the introspective "My Emotions Are Blinding." Alaina Moore and Patrick Riley whip up a cocktail of delightful, yet impassioned songs that together tell a story, while individually connecting on their own merits.
Freshly independent and in full control over all aspects of the recording process, Tennis asserted themselves through vibrant choruses, smart (and often darkly tongue-in-cheek) lyrics, and a charismatic can-do attitude that embedded itself into the very core of Yours Conditionally.
This album offers powerful anthems balanced out by sweeping odes to love and remorse; it is introspective and reflective, engaged and highly emotive – one listen to side B's impressive "Modern Woman" proves that and more – yet above all else, it's excited. Tennis come at their first fully independent album with sincerity and joie de vivre, which makes listening to them all the more fun, meaningful, and memorable. – Mitch Mosk, New York
---
MASSEDUCTION is an album that asks us to live in and adore its weirdness. From its multi-coloured, latex-filled visuals to manic, almost robotic lyrics in "Pills", it creates a whole world that's the perfect commentary on the current state of the world and a confessional, tender album about love and the loss of it. "New York", the album's lead single, was the perfect departure from St. Vincent's signature razor sharp guitar riffs, opting for the piano and lyrics about nostalgia and a loved one. It's a classic and beautiful love song, and when juxtaposed with the almost apocalyptic "Fear the Future" on MASSEDUCTION, it shows just how far the world St. Vincent has created for this album spans. On "Sugarboy", St. Vincent pulls you in with lyrics like "I am a lot like you" but also makes sure to keep you at arm's length with the song's anxious and odd sonicscape.
MASSEDUCTION is an album that has many lives. "Slow Disco", the second to last song on the record, exists in three different iterations, and MASSEDUCATION, a slower, more piano and string-based version of the album, was released the year after MASSEDUCTION – proof of the magnificent songwriting that upholds the whole record. MASSEDUCTION is a delightful tour around St. Vincent's colourful, bizarre, and sentimental chocolate factory, and she's the perfect Willy Wonka for the 21st century. – Nicole Almeida, Philadelphia
---
There was a tremendous amount of music released in 2017, all of which had impacts on individuals worldwide, but none as moving, evocative, and spellbinding as the works of Keiichi Okabe. His compositions have graced videogames for over 20 years, all producing elements to the games that otherwise never would have existed. For Nier: Automata, he took this sentiment and reached a zenith that I never knew existed. To say this soundtrack was beautiful wouldn't do it any justice. Each piece of music tells a story that will chill listeners to their core, haunting them with their delicate melodies that turn into boisterous and earth shattering soundscapes in an instant. They all serve a purpose, and they all culminate into a celestial body of work.
Tracks like "City Ruins (Rays of Light)" provide a sense of serenity with its angelic choral croons and gorgeous used of a multitude of instruments to produce sounds no other orchestra has done before. Then there are remixed track like "Birth of a Wish (This Cannot Continue)" where bits of robotic speak is laced over the composition, creating this eerie, dark effect that is inexplicably infectious. However, the vocal work of Emi Evans and her "Chaos Language" is divinity incarnate. A mixture of Japanese and French, Evans created this language to better express the themes of the world of Nier, and her ambitions have amounted to some of the most memorable musical records in all of gaming history.
Nier: Automata possesses a spark that will stay lit for years, a spark that warms, haunts, and delights listeners. Keiichi Okabe, and all those he worked with, have crafted arguably one of the decade's strongest compositions, and certainly one of the greatest for all of videogame history. The soundtrack is simply untouchable, and one that will remain forever ingrained in my memory, and by not listening, one would only be doing themselves a disservice. – Adrian Vargas, Seattle
https://www.youtube.com/watch?v=lXP3f0K5UGY
---
Josh Tillman probably smirks everytime he sees himself listed on a "Best Albums of the Decade" list, because the songs on Pure Comedy are just straight criticism of the pointlessness of all human behavior. His decisions to openly mock human carelessness is both delightful and cutting. While he never loses his self-aware edge-just watch his video for "Leaving LA"-his criticism comes from a place where he really cares. His remarks regarding our social media obsession are biting:
Not bad for a race of demented monkeys
Went from a cave to a city to a permanent party
The album cuts at social media and public perceptions. Tracks like "Ballad of the Dying Man" and "When the God of Love Return" both break down a sort of hopelessness that only exists in a social media obsessed, post-Trump world. While there's been a lot of talk the past few weeks about social media and regulating it, it's hard not to listen to a verse like:
Just think of all the overrated hacks running amok
And all of the pretentious,
ignorant voices that will go unchecked
The homophobes, hipsters, and one percent
The false feminists he'd managed to detect
Oh, who will critique them once he's left?
And not think about how someday all the bullshit we're going through won't matter, but we won't be around to see it. – Jimmy Crowley, New York
---
In 2017, Vanity Fair asked Lorde why she decided to title her sophomre album Melodrama. She replied, "It's a nod to the types of emotions you experience when you're 19 or 20. I had such an intense two years, and everything I was feeling—whether it was crying or laughing or dancing or in love—each of them felt like the most concentrated version of that emotion. I also have a love of theater and I love drawing a parallel with Greek tragedies. But there's definitely an element of tongue-in-cheek; it's very funny to title your record Melodrama."
That quote provides all the context necessary to listen to and appreciate Melodrama for all of its messy, glorious, heartfelt, dizzying honesty. It's nearly impossible to pick a favorite track off of the 41 minute long album; so many songs stand out and for a variety of reasons. It's almost as if, when writing the album, Lorde purposefully wrote songs that would appeal to the widest range of emotions. Despite being semi auto-biographical, Lorde is a strong enough writer that her music allows the listener to take it and apply it to their own situation.
The album, sonically speaking, has more of a pop-influence than Lorde debut Pure Heroine. Despite this, Melodrama is chiefly indie/dream pop. It is a bold album that tells about a variety of different and potent emotions. Lorde seems vaugely aware of her own dramatics on the album itself, but doesn't let that stop her from telling her stories. Melodrama's appeal is universal. – Madison Vettorino, Poughkeepsie
---
Kendrick Lamar had little left to prove. He was one of the 100 most influential people in the world, according to TIME, and one of its most accomplished MC's, according to absolutely everyone. And yet he still comes out on DAMN. sounding unbelievably fired up. "DNA." was as stunning an introduction as we could have ever conceived, particularly in its final verse as Lamar goes on a furious and fantastic rant against all those who dare question his dominance in the rap game. "My DNA not for imitation, your DNA an abomination!" he growls in response.
Things cool off a bit afterwards with some more lighthearted tracks, but Lamar's virtuosity as an MC never relents. "Most of y'all ain't real, most of y'all gon squeal, most of y'all just envy but jealousy get you killed," he raps on "ELEMENT.," clearly wanting to make the most of the hip-hop throne he had just recently secured with To Pimp a Butterfly and now was determined to maintain on DAMN.
His new record proved to be just as much of a conversation-starter as TPAB had been — particularly thanks to politically-charged tracks such as the U2 collaboration "XXX." — while also reaching previously-untapped territory for the otherwise all-conquering MC: the upper stratosphere of the Billboard Hot 100.  "HUMBLE." became his first #1 single as a lead artist, if only for a week, while another four tracks made their way into the Top 20, two of them despite having not even been properly released as singles. On the heels of such a triumphant run, it was only fitting to grant Kendrick Lamar both a Pulitzer Prize and command of the Black Panther soundtrack within the following year. He was clearly the cultural figure to admire at that very instance. – Josh Weiner, Washington, DC
---
The second half of Tove Lo's Lady Wood Era, BLUE LIPS, takes the darkness of its first half basks in it. BLUE LIPS is an even more confident, vulnerable, and cheeky project than its predecessor, unapologetically expanding upon sexuality, heartbreak, clubs, and drugs. "disco tits" opens the album with one of the best dance/pop songs of the decade, and one that beautifully encapsulates the lust and the thrill of the first half of the album. "bitches" and "stranger" are obvious highlights that make the middle of BLUE LIPS even more irresistible than its start and finish. The latter half of the album is the one where Tove Lo gives you an inside look at all the troubles and pain that exist when the party's over, and on tracks like "9th of october" and the phenomenal closer "hey you got drugs?" you get an inside look at the popstar's life and psyche like never before. BLUE LIPS is a perfect example of pop music at its best: pop music that makes you want to dance and feel powerful but also that reaches into the depths of your soul and makes you feel someone else's pain. It's Tove Lo unfiltered, open, and better than ever before. – Nicole Almeida, Philadelphia
---
In a year full of turmoil, tension, and pop politics, Iron & Wine gave us a reason to embrace the deeper elements of our humanity: Love and pain, connection and disconnect, devotion and movement – all these and more make up the artist's elegant sixth album, Beast Epic. The acoustic guitar-driven indie folk record feels much like a throwback to the "Naked As We Came"-era Iron and Wine of the early aughts: It's warm, raw, colorfully lyrical and (often brutally) unforgiving: "Some call it talking blues; some call it bitter truth; some call it getting even in a song," he sings in "Bitter Truth," revealing the hardships within a supposedly loving relationship.
But not everything is falling to pieces: The evocative "Call It Dreaming" paints a vision of love's finest – the giving of one's full self and life for the service of another. "And we get a chance to say, before we ease away, for all the love you've left behind: You can have mine." Sam Beam – who adopted the Iron & Wine moniker over fifteen years ago – has a tendency toward large brush strokes infused with finer tendrils: His love songs will talk about death and dying. His death and dying songs will muse about the beauty of life, or some innocuous memory – or the concept of memories themselves. The man is a poet, and he brings his full bag of tricks to Beast Epic, a cohesive and dramatic, touching and laid-back storytelling adventure. Strip away the layers and at the center of it all is a man and his guitar, singing songs about life that take us out of the daily grind, if only for a little while. This timeless record could have come out at any time, but in the turbulence of 2017, it felt like a true masterpiece. – Mitch Mosk, New York
---
Hip-hop is a young person's game. Just look at the ages of any of the great stars at their peak, and it's easily 25 and under. Hell, lately it's been teen-way back when one of those teens was Tyler, The Creator himself. His 2011 debut Goblin changed the game. Coming up alongside Earl Sweatshirt and Frank Ocean as part of Odd Future, he was a one-man wrecking ball taking out the established sound at the knees. Eight years later, he's now the old guard he once toppled—yet he's still reinventing the game.
2017's Flower Boy sees him take his classic baritone voice and don't-give-a-fuck delivery to another level. It's dripping in swagger, sharp as a switchblade, and overrun with fellow stars (Frank Ocean, Rex Orange County and Lil' Wayne, to name but a few.) His social consciousness stands right next to his chest-pounding anthems, with both making you want to grind the night away. The end result is a cerebral album that captures the imagination at the first track and keeps it in a vice grip will the last verse. – Oliver Crook, Halifax, Nova Scotia
---
In mid 2012 in Sydney, Australia, four artists – David Le'aupepe, Max Dunn, Jung Kim, and Sam O'Donnell – formed their band, Gang of Youths on the idea that writing songs about life's truths would get them where they needed to go, and thankfully – it did. After playing all through Sydney's live music scene, the band gained traction through word of mouth about they put on a "great live show." With years of nothing but dedication, hard work, and a passion for music, Gang of Youths has been named one of the bands front rock music in Australia today.
In 2017 with new drummer, Donnie Borzestowski, Gang of Youths released their second studio album Go Farther In Lightness, a follow-up to their debut album The Positions. More successful than anything they had ever put out before, Go Farther In Lightness debuted at No. 1 on the ARIA Albums Chart that August. Classified as an alternative rock / indie-rock record, songs like "The Heart Is A Muscle" uses quick jazz-times beats while "Le réel" is a soft, delicate instrumental track. Their album's lead single, "Let Me Down Easy" plays off a heavy vibe of an entire section – perhaps these are all elements that never would have belonged in classic rock music back in the day, but it was 2017 – and who's to say rock music isn't what you called it?
With lust requited, a gaze undivided
With a cool mind and warmth in your face
A good heart, grace under pressure
You give me a good reason to be heartsick again
To be here, to be strong,
to be oddly and boldly estranged
From the loss and bitter years
I found myself descending into tedium and fear
Rolling Stone Australia stated that the album, "poetically explores the human experience in all its bleakness and triumph, confusion and clarity, heartbreak and joyousness," and Le'aupepe's expert way of using words to articulate feeling is unmatched. Fronting the band and backed by a gang of talented musicians themselves, Le'aupepe and his band went on to win Album Of The Year, Best Group, Best Rock Album and Producer of the Year (Gang of Youths and Adrian Breakspear) at the ARIA Music Awards of 2017. Though the band announced that founding member, Joji Malani, has left the band this past fall, the future is nothing but light for the band. Promising their third album in 2020, I can't imagine that it wouldn't be anything other than the launch of a great decade for music and the launch of Gang of Youths into the rock genre recognition worldwide. – Erica Garcia, Los Angeles
---
Youn.
---
Cold War Kids' sixth album is the timeless product of a special moment in time. Inspired by the longtime indie band's personal success during an otherwise incredibly tumultuous time in the country, LA Divine captures the juxtaposition of celebration and protest, examining individual relationships while simultaneously speaking to the political and social issues of our day.
The band's most personal record to that date found them wrestling to maintain balance in life while contemplating and reacting to everything going on around them: Thoughts on racial injustice, politics, immigration, and privilege combine with matters of the heart, pursuing one's dreams, nurturing relationships, and more. "I think that the world can be a very unfair place, but at the same time it's full of a lot of beauty, and a lot of reason to hope," frontman Nathan Willett told me in our interview around the album's release. That cautious optimism shines through on LA Divine as Cold War Kids tie complex themes together in a seamless, brilliantly expressive display of musical emotion. Substantive and cinematic, passionate yet humble, LA Divine is among 2017's most definitive rock records. – Mitch Mosk, New York
---
Subluxe by Healy will always be an album undeniably special to me, and one significant reason is because it was the first album I ever reviewed on Atwood Magazine. In short, Subluxe represents an album about the coming of age, but not really knowing how to exactly define it. The lyricism that lies within this album ranges from scientific factual tid-bits, to references regarding Healy's hometown of Memphis that only natives would recognize, and further to emotional relevance not typical witnessed in the hip hop field. Healy gifts us a new sound – caught in between hip-hop, pop, soul, and funk – that's desperately needed in an age of machine built pop music.
Healy also experiments in the studio with non-traditional sound effects such as train whistles, grinding tire tracks, and iPhone text message tones in order to bring us into his personal sphere. The everyday sounds become additional musical instruments in a way previously unheard and unexpected from any artist. Both because of the lyricism and experimental production, Subluxe easily and enthusiastically comes in as my favorite album of 2017. – Baylee Less, Memphis
---
UK electro-pop duo TENDER's debut LP, Modern Addiction, is a beautifully elucidated record that explicates the dualities of life, removing the rose-colored glasses and viewing life through all of its habits, good and bad. Modern Addiction deftly delineates a dichotomy of catharsis and brokenness, perceiving these things in a variety of ways. Through love and pain, the album navigates that which makes us human, maneuvering through peace and discord with astute dexterity.
Modern Addiction ventures through the peaks and valleys of humanity, ideating a biting narrative that simultaneously points the finger at others while recognizing one's own faults. TENDER viscerally examine life through the tangible and intangible, denoting everything from relationship issues to obsessions with technology and FOMO. Songs like "Nadir" and "Erode" elucidate the former, while "Machine" and "Powder" do so for the latter, all with commendable adeptness. TENDER have masterfully achieved brilliant storytelling in a mere dozen songs, as Modern Addiction journeys through a labyrinthine mess of emotions, finding beauty in pain and vice-versa. The closing track of the record, "Trouble," sums it all up perfectly: "Looking back, I think that I loved you too much." Modern Addiction deftly takes hold of its namesake and the humanness that follows it in all of its forms, and asks, intimately, what it is all worth – if anything at all. – Maggie McHale, Philadelphia
---
Delivering a highly empowering release oozing with elements of pop, rock, soul and even a bit of country twang, Kesha's Rainbow is a side to her we hadn't really seen before. Touching on profound themes of self-worth, forgiveness and letting go, she opens up to fans, providing a softer more delicate version of herself evolving from her previous bubble gum electro-pop party sound.
Dealing with intense struggles in her life such as the highly public legal battle with her former record producer Dr. Luke, this album was her outlet to convey all the deep emotions running through her. The genre defying record provides listeners with an intimate look into her personal hardships and showcases her unique vocal tone. Kesha's fiercely powerful yet tender single "Praying", is a true emotive triumph filled with unwavering conviction. The album garnered huge acclaim at the time, reaching number one on the billboard 200 chart. – Chloe Robinson, Los Angeles
---
Evaluating reputation next to 1989 is a bit like considering Michael Jackson's Bad in the wake of Thriller. Sure, the follow-up to the defining blockbuster album of the decade couldn't quite sell as well as its predecessor, but the biggest pop star in the world still deserves plenty of credit for making a rich, dark and alluring record that performed spectacularly well by any other commercial standard.
Why the relatively scandal-free superstar felt as though "my reputation has never been worse," as she claims on sleeper hit "Delicate," is still rather unclear, but it definitely had nothing to do with her music. Six albums in, Swift remained in complete command as a singer and lyricist, and her production team was still performing wonders at every turn. Jack Antonoff, Max Martin and Shellback all deserve high praise for their contributions here, starting with the synth-filled slice of electropop they serviced her on the fierce album opener "…Ready For It?" Swift herself sounded absolutely fired up as she proclaimed her fearlessness in pursuing any man her heart desired. "Knew he was a killer first time that I saw him," she sings of said love interest. But, "baby, let the games begin!"
The showdown was on from that moment, oscillating from vigorous stadium-ready anthems like "Getaway Car" and "Dancing With Our Hands Tied" to much more subdued but still masterful numbers such as "Call It As You Want" and the "Clean" of this album, "New Year's Day." No matter the tempo of the moment, reputation made for a consistently captivating listen and demonstrated that, whatever may be going on in her personal life, there was little to fault Taylor Swift for in terms of her ever-stellar musical output. – Josh Weiner, Washington, DC
---
Sir Sly's achingly intimate followup to 2014's powerful debut You Haunt Me finds the LA trio expanding their musical palette through a daringly diverse, yet surprisingly concise set of songs that stays faithful to, and builds upon Sir Sly's unique blend of electronic, gospel, and hip-hop influence.
Death cast a dark, ever-present shadow over You Haunt Me, and while death and loss are equally as visible across Don't You Worry, Honey, it is Sir Sly's approach to heavy, difficult subject matter that once again makes for such a compelling narrative. Frontman Landon Jacobs' vulnerability is vivid and tangible as he opens up about his mother's death and his recent divorce, the two major conflicts that together form much of this record's foundation. Soulful music and breathtakingly personal lyricism find Sir Sly struggling to deal with, confronting, and attempting to overcome and move beyond these significant life changes; "I'm a lover having a hard time, walking a thin line between the life I want and the one I live," sings Jacobs on "Fun," going on to poetically lament, "I'm a dreamer stuck in a nightmare."
But even in darkness' deepest depths, Sir Sly strove` to find a spark of light. Don't You Worry, Honey ultimately tells an important story about the individual's journey through grief and mourning, toward resolution. Just like their debut, Sir Sly's sophomore effort succeeds at injecting substance and humanity into spellbinding music: Out of pain, the band creates beauty. – Mitch Mosk, New York
Some fans might be wondering why the writer chose Polygondwanaland instead of Gumboot Soup to capitalize on the band's annus mirabilis but the truth is they are both two sides of the same coin (or perhaps five sided dice?), the former being as close as one can achieve in finding the archetypal King Gizzard record while the latter comprises of fat trimmings from Flying Microtonal Banana onward. In this regard the writer wagers Polygondwanaland to stand alongside Nonagon Infinity and I'm In Your Mind Fuzz to make up the core triptych of the King Gizzard canon. The result is a record that employs the microtonality of Flying Microtonal Banana, the endless loop of Nonagon Infinity, the mania inherent to I'm In Your Mind Fuzz, the high concept of Murder of the Universe and the jazz-influences of Quarters! and Sketches of Brunswick East to synthesize their record of records.
No more is this clear than on the opening epic: "Crumbling Castle," which details the history of the same castle depicted on two album covers of the core triptych and features a structure befitting "The River" or "God Is In the Rhythm" from Quarters!, moving in and out of phase with little trouble. And yet, on relisten, that is the known quantity. What becomes more apparent however, is their protracted work does the same synthesis work for the rest of the record, in particular, the guitar/choral rumble/synthesizer flourish on "The Castle in the Air" that segues into "Deserted Dunes Welcome Weary Feet" is a transition becoming of the Dead's "Blues for Allah" suite injected with the low menace of a Tony Iommi-like riff circling overhead as a buzzard on through "Inner Cell" and "Loyalty."
This is prog-garage rock made for the inner prison of the mind, continuing the mindfuckery themes introduced by the proto-metal gods, moments equally influenced by "Roundabout" or "In the Court of the Crimson King" as they were by "Lazy" or "Hand of Doom;" this is music that challenges listeners to follow its path equally Saharan as it is Edenic as it is just absolutely frantic in unfolding its hodgepodge epic, glued together from Lizard Wizard long-players past; these are ideas brainstormed, omitted and then refined and refined until befitting their own starring roles.
This is the King Gizzard way, and on Polygondwanaland they follow the path to perfection. – Ben Niesen, Pacific Northwest
It's way too contrarian to name anything other than DAMN. the best rap album of 2017. But Big Fish Theory can still take plenty of pride as a surging silver medalist. Vince Staples was dominant as an MC throughout this album, unleashing scintillating rhymes that could infect the minds of any listener— see how your body reacts to the sound of him rapping "with the 22, 5 shot eyes on scan for the click, clack, clap or the boop, bop, bam, cuz!" par exemple. Every bit as thrilling as his lyrical delivery were his bold ventures into avant-garde electronica territory. Whether it simply meant walking down the block to seek the assistance of his fellow Angelino Zack Sekoff, or traveling 6,000 miles to recruit London-based producer Sophie Xeon, Mr. Staples did anything it took to gather the best in the techno-crafting business.
It certainly paid off, as the production on Big Fish Theory is pulsating throughout and more than worthy of the lead MC's ambitious coverage of political, racial and introspective subject matter. Toss in a few outstanding guest verses for good measure— Kendrick Lamar's fantastic work on "Yeah Right" being the standout— and you for sure have one of the most exciting and futuristic LP's made by any rap artist in recent memory. – Josh Weiner, Washington, DC
It would be foolish to expect anything less than raw emotion, poetic lyricism and dance-worthy melodies from a Clean Cut Kid album — in 2017, Felt offered us all of that and more. Clean Cut Kid have a knack for creating music for the everyman. You will find no mention of star-studded parties or glamourous escapades in Felt, rather the album portrays upfront, realistic and raw stories expressed through unapologetic, '80s-inspired pop.
Felt tells stories of love and love-loss in the context of both romantic and platonic relationships. "Brother of Mine" differs from other tracks on the album like "Leaving You Behind" and "We Used To Be In Love" as it focuses on the stark reality of falling out of love with a friend — a refreshing twist on the oh-so-common topic of romance. The feeling of simultaneous happiness and sorrow tinges the whole record leaving listeners feeling either pensive or pumped, depending on their interpretation and mood. For me, an album that can evoke a different emotional response each time you hear it is what creates a timeless record. Felt can trigger happiness, sadness, confidence, energy and contemplation — it can really make you feel. – Bethan Harper, London
— — — —