Sunflower Bean glide effortlessly into a realm of powerful, musical pioneers with "Twentytwo."
— —
 Sunflower Bean, despite their youth, are a musical force to be reckoned with. The group's mature lyricism, skilled instrumentalism, and unforgettable style has led to a mass amount of buzz surrounding their music, being signed to Mom + Pop records, and a slew of sold out, or nearly so, tours. Collectively, the band turns twenty-two in 2018, which is the inspiration behind their most release single release, "Twentytwo" (released 2/22/18 via Mom+Pop) and highly anticipated follow-up album, Twentytwo in Blue (out 3/23/18 via Mom+Pop/Lucky Number).
The NYC trio has caused quite a stir among New Yorkers but also well beyond the realm of city lines. Lead singer Julia Cumming is both poignant and imaginative, while maintaining a striking presence as a front-person on stage. Sunflower Bean seems to be becoming increasingly political with each single coming out from Twentytwo In Blue. "Twentytwo" is no exception to the band's vigorous political messages.
"Twentytwo" – Sunflower Bean
---
Amidst an array of men being outed for abusing their power with horrific acts of sexual violence, "Twentytwo" continues on trend with a powerful message of calling out the abusers. "Busted and used / That's how you view your girl / Now that she's twenty-two," sings Cumming. She alludes to that kind of systemic abuse, but also could be referencing her age, as if her turning twenty-two could somehow be beyond her prime for the powerful men in the music industry.
The message of the song continues to prove itself to work into something even more compelling. Cumming goes on to sing the chorus, "If I could do it I would take her in my arms / I would unwrong all his wrongs / I could stay here and write a thousand songs / Just to show her that the stars / Still come out behind the fog." The point is crystal clear: never allow them dull your resiliency.
If I could do it I would
take her in my arms,
I would unwrong all his wrongs,
I could stay here and
write a thousand songs,
Just to show her that the stars,
Still come out behind the fog
Though the message is rooted in strength, the instruments on the track give it a lightness. The hi-hat shimmers against the tranquil strumming of the guitar, with string instruments to give "Twentytwo" the final push into a dimension of otherworldly brilliance.
Sunflower Bean have an extremely dreamy essence about them, and the new track capitalizes on that. "Twentytwo" is a mid-tempo, catchy single, that doesn't ever seem to tire. The importance of the meaning behind the lyrics makes it even more enjoyable. Clearly, Cumming is wise well beyond her years and speaks for women in all industries, everywhere.
If this single suggests anything, it's that Sunflower Bean are growing and their music is growing with them. "Twentytwo" is a testament to the band's raw honesty, refusal to back down, and the growth they are undergoing in these extremely formative years. Sunflower Bean is the youthful group that we've all been waiting for: They have a lot to say and aren't at all afraid to say it.
— —
— — — —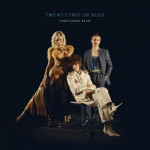 ? © Hollie Fernando 2018
:: Stream Sunflower Bean ::