Explosive and tender in all the right ways, Marsicans' debut album 'Ursa Major' is everything an artist could want in their introduction – marrying the Leeds band's youthful, invigorating energy with a honed songcraft and matured finesse.
•• •• •• ••
Stream: "Juliet" – Marsicans
---
Explosive and tender in all the right ways, Marsicans' debut album is everything an artist could want in their introduction.
Clean n' dirty, raw yet polished, Ursa Major captures the Leeds indie rock band in their prime, marrying their youthful, invigorating energy with a honed songcraft and matured finesse. It's the kind of record you can sink your teeth into at any point, and instantly understand who Marsicans are and what they're going for. The longtime Atwood artist-to-watch  have fulfilled on all the hope and promise of their early days, delivering a cohesive and dynamic set that establishes them at the forefront of 2020's indie rock scene.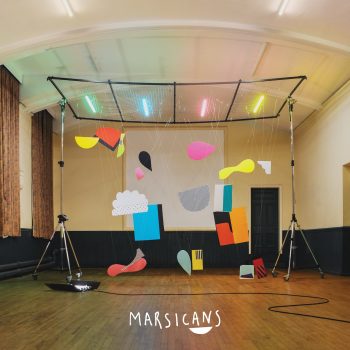 Out on the Juliet, there's something glowing
It keeps, it keeps on going
There's 70% of the moon showing
I sleep on still not knowing
Out on the Juliet, I remember
The times we've spent together
It's time for a curtsy, Ursa Major
I've seen but I can't be ya
Tomorrow I'll figure it out
I'm overthinking this
I'm trying hard not to get out
I'm overthinking this
Tomorrow I'll figure it out
– "Juliet," Marsicans
Released August 14 via Killing Moon Records, Ursa Major is the long-awaited and heavily-anticipate debut album from Marsicans. "The name is actually borrowed from an Italian brown bear," guitarist Oliver Jameson explains. "Interestingly, the Marsican bear has a relatively calm temperament, with no aggression shows towards humans. So I guess, in that sense, we're very alike!" Consisting of James Newbigging (lead vocals/guitar), Oliver Jameson (guitar/vocals), Matthew 'Cale' McHale (drums/vocals), and Rob Brander (lead vocals/bass/keys), the indie rock four-piece have been making waves throughout the genre since their 2014 debut EP The Chivalry, owning a kind of polished garage rock/pop ethos akin to early Arctic Monkeys or even The Killers.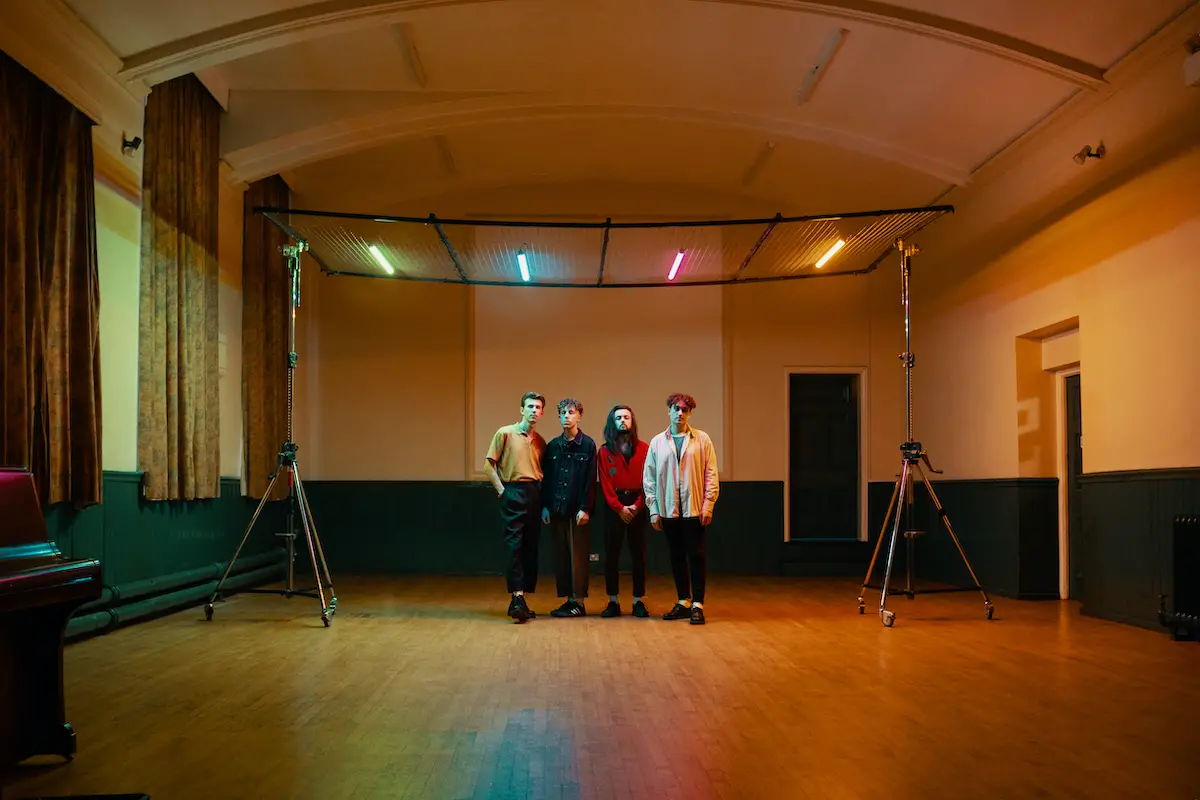 "We've learnt a lot about the difference between playing a song live and recording it in a studio," Jameson says, reflecting on the band's growth from the start. "We used to say things like, "Well, that sounds good but we won't be able to play it live," so we'd often be limiting the song's potential as a record. We still make it very hard for ourselves when playing the material live, but we tend to worry about that later and do our best to serve the song in the studio. If anyone has any crazy ideas then we make sure those are heard before laughing and taking the piss. I think the biggest lessons we've learnt in terms of recording is to be brutally honest with each other and to always welcome happy accidents."
"[There's] no way could we have made Ursa Major back then," he stays on that strain of thought. "We were still at university and very green to the industry, and life as a whole to be honest. We've had a few close encounters with major labels with big wallets during that time and so there's been a lot of expectation and disappointment that led us to the point of saying, "It's time for a curtsy, Ursa Major," meaning: enough waiting around, let's get on with it. We're grateful we're doing this on our own terms, as we have done with everything up to this point."
Following 2016's Absence EP, Marsicans spent the bulk of 2017 through 2019 releasing a seemingly nonstop string of effervescent singles. Popular tracks like "Too Good," "Friends," and "Throw Ourselves In" saw the band finding their sweet spot between Jameson's roaring guitar licks and Newbigging's crisp, larger-than-life vocals. As they explored more territory and sounds, the group slowly turned on to the idea of a full-length offering.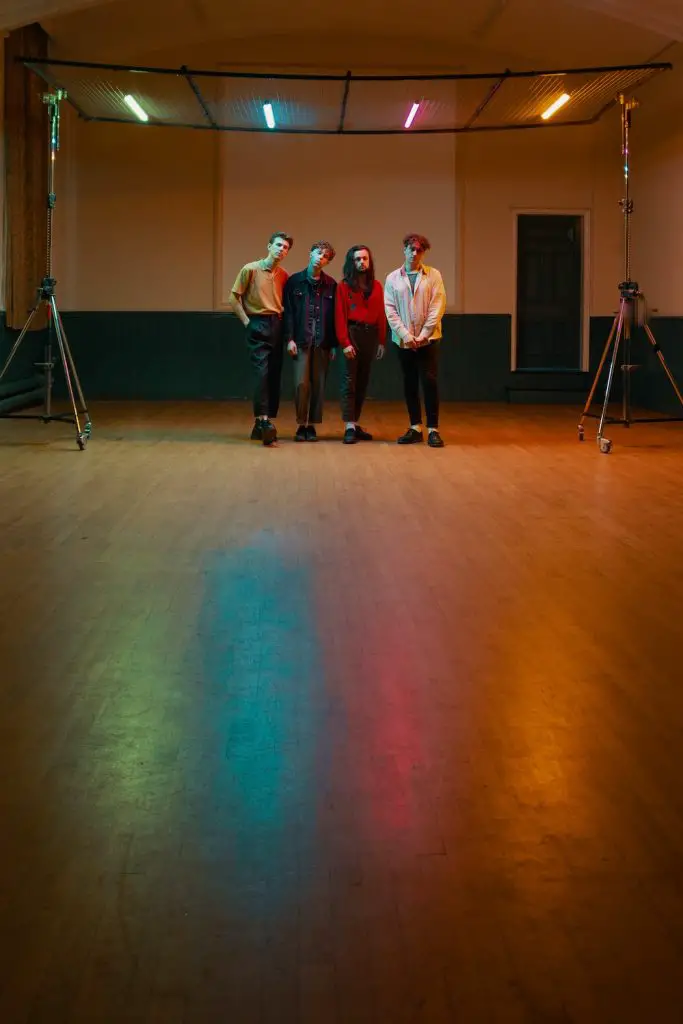 "'Ursa Major' is definitely the album we wanted to make. We've been writing songs together for a long time now, but we never felt in a position to write an album until around 2018, when we found ourselves coming out with songs that weren't necessarily "singles" but we were excited about just the same," Jameson recalls. "There's plenty of playful twists in the album, but it's also serious when it needs to be and, with the addition of interludes, there's also time to daydream a little too."
"To be quite honest, either side of the year 2020 would have been a slightly better place and time, but nobody saw that bombshell coming," he continues. "We're a band that has sort of done things the old fashioned way. We've always wrote and rehearsed in a room together and we've spent as much time as we can afford touring, chatting to people after shows, getting to know them and all that. We reached a point where we were playing bigger shows and headlining festival stages and it felt like we'd finally built up the fanbase to put out an album for people other than our mums."
Arriving on the heels of an extended release plan (pushed back due to COVID and other extenuating circumstances), Ursa Major really is a long time coming. The album's title has a few meanings for the band, harkening back to their name as well as some meaningful coming-of-age moments together. "Ursa Major is the constellation, also known as 'The Great Bear'. As a band, we've never made much reference to the bear, so it was kinda cool to finally do that for our debut album, but in a subtle way. Another cool plot twist here is that when we went to record the album at Rockfield, we noticed they had this reverb unit called 'Ursa Major' so we ended up using that on the lyric that references the title in the album opener 'Juliet'."
Speaking of said album opener, Marsicans could not have chosen a stronger lead. With big riffs, a bigger chorus, and an all-around feelgood vibe, "Juliet" effortlessly sets a high bar and a faithful tone for what's to come "[It's] sort of like a grand entrance, saying, 'Here we are, sorry we're late,'" Newbigging says.
Can I stay here forever?
'Cause people are moving but not together
I'd like to see how we move for the best
No fighting or screaming to get above the rest
They say that we're losing our minds
---
But that's only the start of this fine-tuned collection of sonic highs and melodic cries that energizes, elevates, and excites. "Sleep Start" keeps the party going with pounding drums and heavy guitar work, followed by the slow-burn "Dr Jekyll" and its explosive ending (quite like the titular character, the song itself has two distinct personalities).
Speaking to their lyrical content, Jameson notes a tendency for their songs to look inward and outward at once. "There's a point in your twenties when you take a look around at the friends you went to school with and you realise that they're slowly, one by one, entering a new phase of their lives. Buying a house, getting a proper adult job, getting married or having kids. We started playing in a band when we were at school and had very similar lives to all these people, but now we're all so different and in some way we feel as though we're lagging behind a bit, because we're still spending all our time doing this thing we started when we were 17 or whatever. So I think the idea of looking at those around you in relation to yourself is a big theme – that and love, obviously."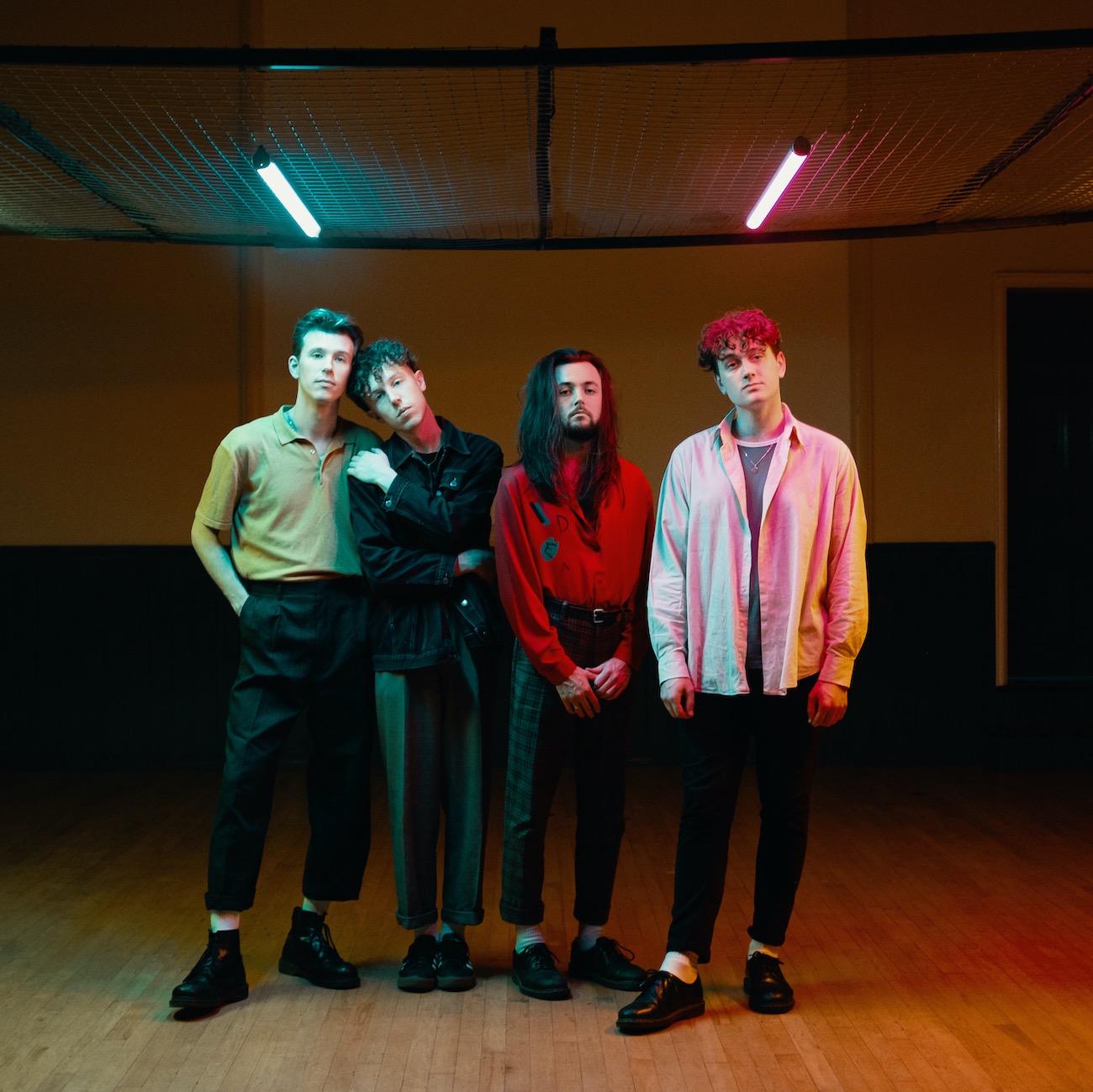 A big part of many an artist's debut album revolves around one's search for purpose and place in life. This notion feels especially potent in Marsicans' songwriting as they track the journey through one's twenties. "I think some people find that purpose early on, or at least they talk a good game about knowing what their plans are and where they want be," Jameson shares. "That can sometimes trigger a bit of a wobble mentally when you start to think, "Why am I not that clean cut about my future?", or, "Have I been wasting my time when I could have a decent salary and a mortgage by now?" For me, as long as I'm surrounded by open-minded people who are up for trying new things and I have a reason to spring out of bed on a morning, then I think I'll be just fine."
Marsicans' music, though full of existential wandering and wondering, tends ultimately to gravitate toward sunny pastures and the belief in a better tomorrow. Songs like "Summery in Angus," "Can I Stay Here Forever (pt. II)," and the anthemic "Sunday" put their ability to uplift and inspire on full display; each of these songs has its own way of knocking listeners out of their own heads and into the groove.
---
Ursa Major has multiple channels, however. The throttling "These Days" is a heavy take on technological dependence and anxiety that lays darker, turbulent feelings out for all to see, hear, and feel. "Evie" is a gorgeous, groovy jam leaning harder in the alternative direction; and moments like the heartaching "Someone Else's Touch" and softer "Blood in My Eye" display the group's comfort with lighter and more ambient textures. Ursa Major is a decisively electrifying listen, but it still offers plenty of room to breathe.
"'Blood In My Eye' is a tune to get lost in," the Jameson shares, selecting the song as one of his personal highlights and one he hopes gets listeners' attention. "There's a dreamy feel about the song, but the narrative is quite mundane and gritty. When we recorded the drums at Rockfield, we experimented a lot with recording to tape. So some of the fills are played backwards and reversed or sections of the song were played twice or three times as fast so that when you slow it down to the right temp you get this sludgy, heavy sound. It'd be cool if listeners noticed that kind of thing."
Meanwhile as a band, Marsicans have another specific favorite part of their record: "We're a funny bunch and it's not often we all unanimously agree on one thing. That said, I think the middle 8 riff section in 'Summery In Angus' is something we all love. We'd be in a heavy metal riff-on-riff kinda band if we were good enough (to be fair, I think [drummer] Cale is)."
---
In premiering Marsicans' "Sunday" music video earlier this spring, Atwood Magazine's Bethan Harper praised the band's ability to unite people through music. "At a time when most are forced to remain in a state of physical separation, …Marsicans have used this strange and unique opportunity to remind their fans that no matter where they are when they listen to music, they all come together."
If "Sunday" saw that goal through in four minutes, then Ursa Major does it even better in 43. Marsicans' full-length offering builds big sounds out of big emotions, and the result is feverish, charged, and incredibly satisfying for all who take the time to listen. "Contrary to popular belief, guitar music isn't dead. And it exists outside of London," Jameson asserts. He closes out his thoughts on the band's record with a mix of relief and humility. "We're absolutely buzzing to release it and for it to hopefully find its place in people's lives, to soundtrack certain memories or just be there to console you when you're bummed out. Isn't that what all great albums do?"
Indeed that's exactly what great albums do, and Ursa Major is certainly a great album. Epic and expansive, limitless and refined, it hits hard and leaves a lasting mark: These songs will fuel our days and our nights, whether we're home in lockdown or out cheersing the night away with friends and strangers. Dwelling in Marsicans' music, the only question we have left is, Can we stay here forever?
Experience the full record via our exclusive stream, and peek inside Marsicans' Ursa Major with Atwood Magazine as the band take us track-by-track through the music and lyrics of their debut album!
— —
Stream: 'Ursa Major' – Marsicans
:: Inside Ursa Major ::
— —
Introduction
James Newbigging: We wanted to set the tone for the record from the off. There is a certain melody on this track which appears throughout the whole album. It has become known as 'The Motif' in Marsican land. We actually sampled the loop from 'Someone Else's Touch' and went from there.
Juliet
James Newbigging: This song is for all those people that worry over things they can't control. It is essentially about us wanting to release the album and take control of things ourselves a bit more. There's a Juliet balcony in my flat, so each night if I was worried about something, I would stand on there and look up for some perspective. Each verse is set on a different night. The album name 'Ursa Major' is lifted from this track.
Sleep Start
James Newbigging: Sleep Start is probably one of the weirder songs on the album, but also one of the most pop at the same time. It was so fun recording this because we really let the song guide us. There's a lyric "I'm lucid in the sky I know" which is a nod to The Beatles So you know, we HAD to put a sitar on there. Lyrically it's about feeling stuck, and needing something to smack you right in the face and bring you back to normality. I also really liked the idea of a sleep start in general, that feeling of falling when you're going to sleep and your whole body twitches, it's a pretty strange thing in itself.
Dr Jekyll
James Newbigging: Jekyll describes an evening spent with a friend who frequently gets themselves into a state where they no longer resemble the person you know and love. We spent quite a while working on how this song builds, as we wanted each section to take it up a gear. Rob sings lead vocals on this one and, if I say so myself, it is bloody fantastic.
Summery In Angus 
Oliver Jameson: This song had been knocking around the band's demo archive for some time and ended up being one of the songs that really got pulled apart and put back together in the album sessions. "You're cirrus, I'm cumulonimbus" is one of my favourite lyrics on the album and, by complete coincidence, the single artwork features a cloud shape.
Interlude I 
Oliver Jameson: This is our best effort at recreating an almighty psych jam we had in rehearsal one day, kinda like Tenacious D's 'Tribute'. Unlike the rest of the tracks on the album, this one was recording very quickly without much deliberation at all.
Evie
Oliver Jameson: 'Evie' is perhaps the biggest curveball on the album. I think a lot of stuff in this song wouldn't have made the final cut if we were trying to record it as a single. There's a happy accident in the middle 8 where I think we've written something that's much more clever than we intended.
Someone Else's Touch 
Oliver Jameson: This is one of the first songs that we wrote with an album in mind. We felt a freedom to break away from the quintessential Marsicans song and knew that we wanted to explore different sounds and styles that were out of our comfort zone. In context of the album, this song is a chance to reflect before you're back on the rollercoaster for part 2.
These Days  
Matthew McHale: Most people depend and live through their electronic devices, even us. So we wrote this through the frustration of being dependant on phones and social media and how that's the world we live in now.
Interlude II (William's Poem) 
Matthew McHale: Outside a venue in Tunbridge Wells, after playing a show, Oli recorded an inebriated gentleman giving him an inspirational speech. It stayed on Oli's phone for a couple of years before we went back through our phone recordings for inspiration and found this gem.
Can I Stay Here Forever (pt. II)
Matthew McHale: Based on old song of ours that was recorded but never released as a single, this one was reworked and modernised to our sound now. It's the only one on the album that had this treatment – it was a messy process. The original is out there somewhere on vinyl, but who knows where?
Interlude III 
Matthew McHale: Oli had this lovely little phone recording of him playing the guitar part you hear. But instead of turning it into another full band piece, we wanted this on the album as a softener, because it sounded lovely especially with the accompaniment of the piano to tie it all together.
Blood In My Eye
Rob Brander: During the writing of the album, Cale went on Holiday and we were left drummer-less for a week. Determined to be productive, we remaining Marsicans got together and spent a few days experimenting with synths, drum loops and interesting guitar textures. Eventually we had an instrumental that we all loved, and unbeknownst to each other, James and I went away and wrote separate songs around the groove. Despite being very different in their lyrical approaches, the songs shared an overarching feeling of hopelessness, and because of this, Oli suggested we slam the two songs together in a kind of 'Beatles – A Day In The Life Of' way.
Sunday
Rob Brander: Written during our time in Toronto as a band in 2018, 'Sunday' is about wrestling with the notion that you can be having the time of your life, but still feel somewhat empty if you can't share that moment with the person you love. The lyric 'It's just some love story shit.' came from a friend of the band's dad, who described a film he was watching in the same throw away manner. James jotted it down in his notes and, when it came to finishing 'Sunday', knew it was exactly what he needed. Musically it's our attempt at capturing the vibe we got driving across North America on that same trip: windows down, breezy, sunshine with guitars.
Leave Me Outside
Rob Brander: LMO is probably the most angular song on the record. It's about feeling like you are a burden on somebody you love, and wondering whether you would be doing them a kindness by simply disappearing. We wanted to reflect the song's mood in its musicality, with aggressive stabby guitar moments and jarring twists and turns throughout the song's structure. It's our best attempt at being a proper rock band.
Should've Been There
Rob Brander: Many of our songs start their life on an acoustic guitar, but this is the only one that has remained in its original and most simple form. We found that there was an unrivalled honesty to the song when it was recorded live on the old guitar on which it was written and a creaky piano in a corner of Rockfield Studios last summer.
— —
— — — —
? © Sodium Films
:: Stream Marsicans ::
---