Every Friday, Atwood Magazine's staff share what they've been listening to that week – a song, an album, an artist – whatever's been having an impact on them, in the moment. Here's this week's weekly roundup!
— — — —
— —
:: "Looking for America" – Lana del Rey ::
I've never been to California but the other night I had a dream that I was visiting there for the first time and had landed in a beautifully scenic location by the sea as the sky was a fiery pastel blend stretching to the horizon. I was whining to the people I was with: "hurry up! I need to get a photo before the sun goes down", while rushing across softly golden sand indecisively searching for the best spot to superficially capture the moment. When I awoke, I had this weird craving to listen to Lana Del Rey and watch an episode of The O.C– things that idealistically capture West Coast living. It was during this moment that I realised Lana Del Rey had released a new song, "Looking for America" (9 August).
I have a reluctant relationship with the artist. I've never been able to listen to her albums in full, finding all her songs to be one homogenous drone; a pessimistic weight thumping down on any happiness. That changed with Lust For Life, an album which feels purposeful with glimmers of hope amongst the gloom and an expansion of sound that enables more engaging (and repeatable) listens. "Looking for America" is in keeping with this. It's a response to the mass shootings throughout the U.S and it's imagery is filled with gruelling realities ('Pulled over to watch the children in the park/ We used to only worry for them after dark') and personal nostalgia, all while set to tender traveling folky acoustic guitar.
I'm still looking for my own version of America
One without the gun, where the flag can freely fly
No bombs in the sky, only fireworks where you and I collide
It's just a dream I had in mind
Lana Del Rey's music and image is based around an American dream but I'm finding that now, compared to her earlier material, it actually feels poignant. 
:: "Not" – Big Thief ::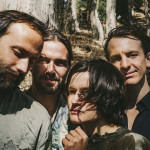 I struggled with this year's Big Thief album, U.F.O.F. Their 2017 album, Capacity, was one of my absolute favorite albums of that year, even of the last two years. For some reason, I couldn't get into U.F.O.F. It's only now that I'm starting to get it. But imagine my surprise when Big Thief announced their second album of this year, giving me a chance to make it up to them. Two Hands, due out October 11th via 4AD, was recorded 30 miles outside of El Paso, Texas, tracked almost entirely live – a choice that lends the album's lead single, "Not," a breathtaking sense of urgency.
"Not," is captivating. There's a rawness and desperation to the track that hasn't quite reared its head since 2016's Masterpiece, and Adrianne Lenker's voice – usually a delicate, wavery thread – breaks raggedly on the third verse. It's a song of negatives, each line describing what "it's" not. We never find out what or who the subject is, but the song's exhaustive list is beautiful and haunting in a way that only Lenker can achieve.
It's not the open weaving
Nor the furnace glow
Nor the blood of you bleeding
As you try to let go
The song goes out on an angular, sharp guitar solo that barely stays within the confines of the chords. It's the perfect foil to U.F.O.F.'s airy, wistful sound. I'm so glad that Big Thief have pulled an Ariana and are paying no mind to typical album cycles. The more output, the better, and Two Hands is already promising. 
:: "Idiot" – The Elephant Trees ::
This week I have been hugely impressed by new single 'Idiot' released by up and coming indie group, The Elephant Trees. The groovy, angsty, indie pop/punk hybrid is complete with jangly guitars, snappy rhythms and outspoken lyrics to match.  With a bouncy drum beat from the start, it's the kind of song that practically conjures up images of kids in bucket hats jumping around from its opening cry "Don't be such an—" to its very last. There is something wonderfully nostalgic yet refreshing about the band all at the same time and although perhaps not the most divinely inspired subject matter for lyrics, the songs central message, "don't be such an—idiot," certainly chimes with me after a long week at work! Definitely worth a listen if you are looking for a new head banger.
:: We Are Not Your Kind – Slipknot ::
I haven't been listening to too much this week, but as my girlfriend and I were driving up to the Swiss Alps, I snuck a few songs from the new Slipknot album onto the playlist. It was awesome.
:: "Sister Owls" – Monster Rally ::
Monster Rally's "Sister Owls" is an anthem of days adorned by the sun's glistening light, Sex On The Beach (the drink, we're keeping it PG here), and nights of unabashed pleasures. Monster Rally excels at creating windows into dream worlds where each listener is the protagonist of their own slick stories, and "Sister Owls" provides this same feeling with its jaunty piano samples, rhythmic percussion beats, and shakers that add a touch of spice. Lounge and hip-hop blend together to form a tropical soundscape that acts as an escape from the banalities of everyday life, and as soon as the track begins, the night has instantly become yours. While short, it's enough time for one to lose themselves to, even if more only two minutes. 
:: "Underway" – Fleetwood Mac ::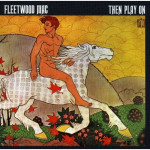 My life has been a recent string of bad news, good news. Bad news: you're living with the parents again. Good news: rent is cheap so you can find a new place. Bad news: writer jobs are hard to come by in a service economy. Good news: the online writing continues swimmingly. Bad news: the aux input in my car broke. Good news: the CD player still works.  Bad news: the grass is all gone. Good news: you've got music that'll do just fine. They say not to glorify it, but then they also say be honest, and I've yet to experience anything as fine as sitting in bed totally inebriated, listening to instrumental British blues. You don't even need to be inebriated; Fleetwood Mac's Then Play On has plenty of cuts to set the piece of mind all a-runnin' and a-scurryin' and a-hurryin' to the next big thing for a-worryin'. And you don't even need to be in bed: listening to this record in the car has been my recent day's joy. Usually I switch the record out after a full spin, but the Peter Green led outfit of Fleetwood Mac just finds ways to get under the skin, hang on and give me that sense of utter relaxation. I've had it in the player for a good week now, admiring it for all it's opaline glints and moments of deep colour. Listening to "Underway," I'm thrown into what the Sixties did best: cooing the mind. There's no feeling like it. Well, I guess there is, but I'm not supposed to glorify it.
:: "Stayaway" – MUNA ::
MUNA are gearing up for their album release in September, and the latest single from the LP is the (typically gorgeous) "Stayaway". Lead vocalist Katie Gavin delivers her signature emotive, semi-brooding vocals over a dark pop, 80's tinged instrumental. 
No one ever told me leaving was the easy part
I gotta stay away
Leaving you was easy, now I gotta do what's hard
As one of my all time favorite bands, MUNA never ceases to bewilder with their meticulous production, powerful lyrics and phenomenal delivery. They always manage to create a kind of magic for me in their work. MUNA consistently deliver songs with real meaning that still fire on all cylinders when it comes to songwriting. 
"Stayaway" is an anthem for all of us who had the strength to leave a shitty partner but still feel that pull towards them. That desire to forgive and keep an important bond, even if it's painful, is a particularly strong one. The track succeeds in portraying that exact emotion, and that's something MUNA has always done well. 
As a band that wears their collective heart on their sleeve, MUNA is one of the most genuine and thoughtful acts in an era of cookie cutter pop and repetitive samples. They're also powerful queer women who keep their community at the forefront of their music and platform. I couldn't be more stoked for Saves The World — September 6, hurry up!!
:: "My Girl" –  ST. MARTiiNS ::
Atwood artist-to-watch ST.MARTiiNS returned to the fore today with "My Girl," a moody, arresting, and seductive outpouring of kinship, turmoil, and everything in-between. The Scottish duo of Katie Lynch and Mark Johnston previously knocked the breath out of us with "ur so pretty," a provocative and intimate lament of dating and modern relationship culture. This time around, the band are entrenched in the turbulent depths of friendship and connection, longing and loneliness, solitude and desire as Lynch uncovers the ups and downs of her relationships – from deep-rooted insecurities to the simple joy of being around those who understand and get you.  "My Girl is one of our only genuinely fun and free songs," Lynch shared via press release. "It is about my friendships with my best female friends and how simultaneously annoying and fulfilling they have been. A good fun song for mid-summer in a time of complete political chaos around us. But we will get into that later." "And you all found boys or something better than I could give to you," she cries into a void. "You're always chasing… things faster than you." The trick about "My Girl" is that it's not necessarily about romantic endeavors, though it sounds like it is: Rather, ST.MARTiiNS are focused on close, tight-knit friendships and their transformation as people grow up and their priorities change. "My Girl" is utterly entrancing thanks Lynch's captivating voice and the band's wet, effected guitars soaked in ambient bliss. The music pulls us in, and the message seals the deal – making for yet another hit in the ST.MARTiiNS playbook. "My Girl" is one of those summer bummer-type tracks that feels bright, warm, and inviting, despite the sadder emotions flowing throughout. It's an infectious track that resonates with anyone who's known and lost friends over time.
In short, give this song your time and it will repay you tenfold.
:: "The River" – King Gizzard and the Lizard Wizard ::
Tonight, I am going to see who I will defend as the best rock and roll band of the last decade, King Gizzard and the Lizard Wizard. This might be a more controversial position, some people will throw out band names like Tame Impala or Foals or whatever the hell band Ty Segall has gotten himself into. Hell, some fanatics might say Tool or The Flaming Lips and you know some old bastard has to chime in with three little words including "The," "Rolling" and "Stones." Well, consider me a King Gizzard and the Lizard Wizard nut, because all of these other bands haven't been on a creative wildfire spanning fifteen records and just as many genres in the course of but seven years. Who the hell does that? Recently, in anticipation of Infest the Rat's Nest, however, I've been listening to the complete opposite spectrum of the Lizard Wizard's sorcery: Quarters! Not available on Spotify, this 40:40 runtime is divided into four cuts, four "quarters," each ten minutes and ten seconds long. My favourite warbles between "The River" and "God Is In The Rhythm," but in reality it's a classic record: the whole thing is a singular piece, given four differents, and each act just compliments the last while cleaning the slate for the next. The jacket itself expands out in a poster quartered by four album art concepts, each referencing one of the songs on the record and which makes housing the vinyl slightly inconvenient; I hardly know whether to hang it up or fold it up again, black circle be damned. Maybe I should just put the long-player on forever. Hell, after the concert, I might just do that.
— — — —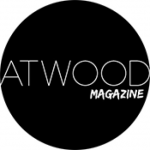 ---
:: This Week's Features ::