Atwood Magazine sat down with Wallows to discuss their debut album 'Nothing Happens,' losing their innocence, and their plans to create more than just music.
---
When experiencing the chaos of adolescence, symptoms can include: feelings of love, heartbreak, insecurity, loneliness, social anxiety, and existential dread. But, the blows you take when growing up can always be softened by your friends and the men of Wallows have had each other's backs since they were 11 years old. Comprised of Los Angeles-based members Dylan Minnette, Braeden Lemasters, and Cole Preston, the alt-rock trio have been playing together for over a decade and tomorrow their childhood dreams of releasing an album together will finally become a reality.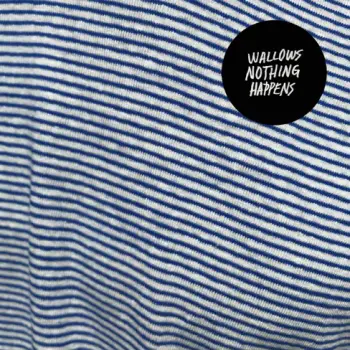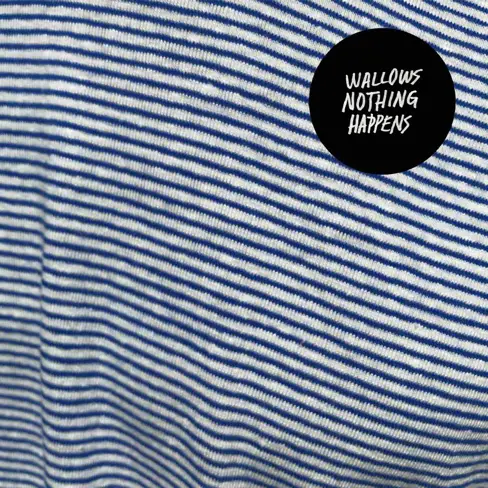 In their full-length debut, Nothing Happens (out March 22, 2019 via Atlantic Records), Wallows charmingly examine all of the aforementioned experiences and emotions in an album that tackles the negative pieces of growing up with spirited, jangle pop songs that yield an invigorating release.
Minnette and Lemasters met as child actors through each other's moms who connected via an online group for newly transplanted stage parents. Soon after they bonded over their shared music interests and began writing songs together, they crossed paths with Preston at a music program and haven't stopped playing together since. When Minnette went on to star in Netflix's 13 Reasons Why, the music he'd been creating with his friends stayed his core focus.
After self-releasing four singles in 2017, including their breakout track "Pleaser," the trio signed to Atlantic Records. What followed was a string of infectious, guitar-pop songs that ultimately made up their first EP, Spring, and propelled them into their first headlining tour, an abundance of festival appearances, and late night TV performances. Before the release of Nothing Happens, Wallows sat down with Atwood Magazine to talk about their upcoming album, working with Clairo, and their goal of becoming an entity that goes far beyond music.
Nothing Happens is out everywhere March 22, 2019!
A CONVERSATION WITH WALLOWS
ATWOOD MAGAZINE: YOU'VE BEEN PLAYING MUSIC TOGETHER FOR ABOUT A DECADE AND YOU'RE FINALLY RELEASING YOUR DEBUT ALBUM NEXT MONTH. HOW DOES IT FEEL TO BE REACHING THAT POINT IN YOUR MUSIC CAREER?
Braeden Lemasters: Oh baby.
Cole Preston: It feels really great. The album is something that we've been looking forward to for a decade and it's really trippy that it's happening so soon. It's been like the longest build up of all time.
Braeden: It's just one of those things where I'd always make fake album tracklists with old songs we've had. Now knowing that it's done, there's the debut right there on the table for radio, it's surreal.
Cole: It's not what I would've expected 10 years ago. Which is cool.
ARE THERE SONGS YOU HAD WRITTEN DURING THOSE YEARS THAT MADE IT ONTO THE ALBUM?
Dylan Minnette: Yes, there's a few. They definitely take a different shape by the time we record them and we write them more and elaborate on them more in the studio. What's interesting is they always say you have your whole life to write your debut album, your first album, and it's really true because the majority of the songs are ideas that have been around for a while. There's probably only some on there that were brand new in the studio, right?
Cole: Yeah, "Are You Bored Yet? and "Scrawny" are two of the new ones.
Braeden: "Treacherous" too. There's a good amount of new ones as well.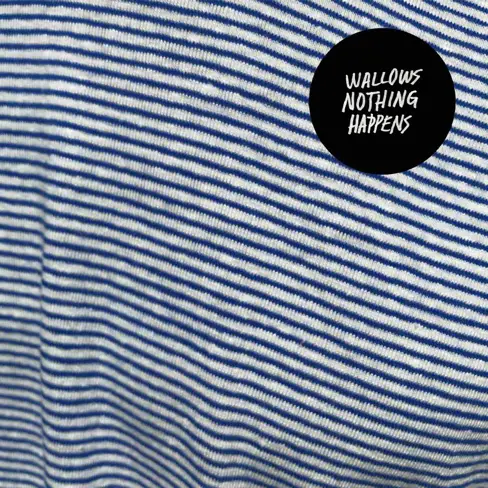 HOW HAS YOUR SONGWRITING DEVELOPED OVER THE YEARS SINCE YOU STARTED PLAYING TOGETHER?
Braeden: It's strange, I feel like it just goes through whatever you're inspired by or what you're feeling. The process of writing a song hasn't changed. It's always you're sitting down somewhere and holding your guitar and you're playing the piano, or something, and then something new comes out every time somehow, if you're lucky. Because a lot of ideas are bad and you just kind of try to pick them out. But, I feel like the only other way it's changed is we've been doing a lot more at Cole's place. He's been getting pretty good at Logic so we've been going in and tracking new songs or writing with an actual good production quality rather than just on voice memos or really bad Garage Band recordings. So, that's the only way it's changed which I think has been nice. And also, recently, we've been going in with other people like other producers to write songs in a session where they record and that kind of brings something new out of us just for fun, like just to go in and see what happens.
Cole: Yeah that's a new process. The entire album and everything that we've put out has been entirely us but we've never been close minded to writing with… who knows? Who knows who, you know?
Braeden: Yeah like our buddy Sachi from Joy Again, we did two songs with him and that was super sick.
Cole: So much fun.
DYLAN AND BRAEDEN, YOU TWO OFTEN SWITCH OFF BETWEEN LEAD VOCALS. HOW DO YOU DECIDE WHOSE GOING TO SING ON WHAT SONG?
Braeden: God it's a fight to the death! No, I think for the most part it's whoever usually comes up with the melody or idea will sing it. There are occasions where Dylan is singing something that I wrote melody wise, or I'm singing lyrics that he wrote, or vice versa. I feel like in the past, Dylan's been really good at writing melodies and there are some songs where I come up with the music so I'd be like, "Damn, I want to sing part of it." So, we switch off on the verse because Dylan just comes up with a great melody and I'm like "Fuck!" But, I feel like now whoever sings it writes it or whoever's best fit for it. It kind of all just goes back and forth. I don't know if you'd agree with that.
Dylan: It's so different every time. It really changes around a lot.
Braeden: Totally. And Cole's going to start singing now! Which is sick. Singing lead. So, you're going to be asking, "So all three of you sing…" Cole has a great voice. My favorite voice in the band.
Dylan: He writes great melodies and great lyrics. Cole is not just the drummer boy anymore.
I'M EXCITED TO HEAR THAT!
Braeden: Yes, you are not ready. I feel like there's going to be a few singles that Cole sings as well so he's going to be getting on the radio soon, I believe.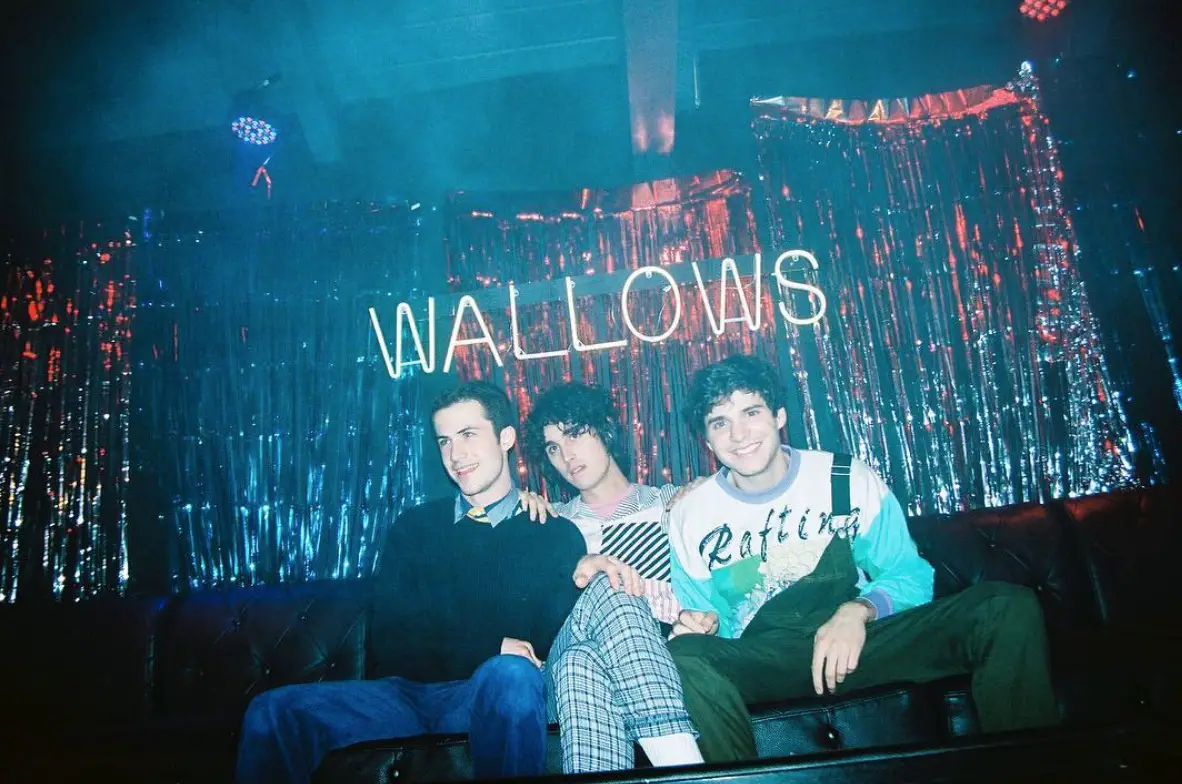 FOR THE SPRING EP AND NOTHING HAPPENS YOU WORKED WITH PRODUCER JOHN CONGLETON...
Braeden: Dingledong. Yeah Congleton.
HE'S WORKED WITH GREAT ARTISTS LIKE ALVVAYS, ANGEL OLSEN, AND ST. VINCENT. WHAT'S IT BEEN LIKE TO WORK WITH HIM?
Dylan: He's amazing. We love him so much. There's nobody like him at all.
Braeden: Never.
Dylan: He is so smart and talented. The whole package really.
Cole: Yeah and we're into a lot of music and we've listened to records and there's so much variety in the stuff that he does. I love St. Vincent but I also love Alvvays and if you told me that they were the same producer I'd be like, "Are you sure about that?" He's really good at bringing the best out of the artists rather than imprinting his own producer-y thing onto it which I think makes him really unique and cool and special to work with. We're so lucky that he was just down. I remember the first phone call we had with him about the Spring EP and he was like "Yeah, you guys sound cool let's do it." But, people are always asking him to do records.
DID YOU GUYS GO INTO RECORDING NOTHING HAPPENS DIFFERENTLY THAN YOU DID WITH THE SPRING EP?
Dylan: Yes because on the Spring EP we went in with very specific demos with a lot of sounds locked in. We worked hard on making the demos how we wanted the songs to be. John definitely propelled the songs but we didn't quite use John to his fullest with his producing abilities on the EP and on this record we did. On our part and on his part we very much were like, this is going to be even more of a collaboration, we're going to create more of these songs together, and also really try hard to make the demos as sparse or non-existent as possible and build as much of it in the studio as we can to make it all come from somewhere real and not have a preconceived notion of what it should be. That's why the album I think feels so fresh. We went in not knowing what we were going to do for a sound. We thought, we're just going to go make this, we have these ideas for songs, and we'll just see what happens. That was the biggest difference I feel. We got a very inspiring email from John before we went in saying, "I want to make sure that every song on this blows away every song on the Spring EP. We're going to work hard and tirelessly and just do it." I think we were all coming from the same place of really wanting to make a special album. That was what was cool coming from John because he's such an experienced guy and seasoned. He doesn't have to put so much time and energy into some young band like us. I think he was excited to make the first statement with us like we wanted to make it. It just felt like we were all very passionate about it.
Cole: Yeah, we keep him youthful.
Braeden: His skin was glowing by the end of it.
THERE ARE SOME BOLD MOMENTS OF INSTRUMENTATION THROUGHOUT THE ALBUM, SPECIFICALLY ON "TREACHEROUS DOCTOR." TOWARDS THE END OF THE SONG IT HAS A SIMILAR MOMENT TO "A DAY IN THE LIFE" BY THE BEATLES WHERE YOU CHAOTICALLY BASH ON EACH INSTRUMENT.
Braeden: What's funny is that song in particular we only had the riff and chords as the first idea. Basically, we knew we wanted to record that for the album. I went to my drum kit in my house, pressed record, and started to make a demo on my own. I played through in my head of what it could be, I was playing the riff, I was drumming it, and by the time I got to the bridge I had no idea what I wanted it to be so I just started hitting the crash cymbals. Then I went to a random beat, then to the crash cymbals again, not realizing I was not even on time when I got out of the crash cymbals. Then, I basically did all the instruments around that and somehow that one off, one take demo thing, I played it for the guys and I played it for John and they were like yeah this is great let's just do two kick ins or whatever. So, it was actually just very off the top of the head. I had no idea what that was going to be and it turned out to be what it is. I'm glad it's as crazy as it is.
ON YOUR FIRST SINGLE "ARE YOU BORED YET?" YOU COLLABORATED WITH CLAIRO. HOW DID THAT COME ABOUT?
Dylan: We met Claire through other friends that we had. It all happened at SXSW last year. We made a bunch of friends around that time who knew Claire and one of them hooked us up over Instagram so she and I talked sometimes through that. When Cole made the original demo for "Are You Bored Yet?" I was like, this song's awesome, this has to be a Wallows song, this has a lot of potential for us. I just loved it. That demo was definitely more bedroom pop inspired and it sort of had a Clairo feel to it anyway. Then we had a verse that was just my voice pitched up so it sort of sounded more like a female voice because it was my voice on a higher octave. It inspired us to have a feature on it in general and to have a voice that's not a guy on the album somewhere would be nice to have. Everyone was like, "Oh it could be Clairo at some point, who knows?" Then we were in the studio and we recorded all that song besides the vocals and that verse and we were like, "Should we actually hit her up? Should we do it?" So, we sent her a message and when she responded a few days later she said, "This song's awesome, I'm down. Are you guys in the studio today?" She happened to be in town. It was our last day in the studio for a while so she came in and wrote the part in like 15 minutes, went in and sang it, and that's just how it happened.
Braeden: And I performed it on Fallon, voice crack and all.
HOW WAS IT PERFORMING ON JIMMY FALLON?
Cole: It was really trippy, Jimmy's a nice dude. He did the classic handshake. That was a moment. Like, whoa, there he is, he's a real man. It was really cool.
Braeden: Yeah that was very surreal to be playing that. I want to go back.
THERE WAS A CLEVER MOMENT IN THE "ARE YOU BORED YET?" MUSIC VIDEO WHERE YOU COULD SEE THE TRACKLISTING FOR THE ALBUM ON A KARAOKE MACHINE.
Braeden: Yaass!
WHAT KARAOKE SONG WOULD YOU CHOOSE TO SING IN REAL LIFE?
Braeden: Actually I know mine. It's "Last Christmas" by Wham!. That's my favorite.
Cole: I'd say "Eye of the Tiger" but I feel like I have a better one.
Dylan: When I was like 11 mine was "Gold Digger" weirdly. I would get up and I would just slay. I wouldn't even have to look at the screen. I don't know what it was but I felt so cool rapping "Gold Digger" at karaoke when I was little.
Cole: Wow.
YOU RECENTLY RELEASED YOUR SECOND SINGLE "SCRAWNY" WHICH IS DEFINITELY THE MOST LIGHTHEARTED TRACK OFF OF THE ALBUM. WHAT MADE YOU WANT TO PUT IN A CONTRASTING SONG?
Cole: When doing the album we had a few weeks on, then like a two week break, then we were back doing more, and we realized that a lot of the songs felt super dark and heavy and kind of just emo, which is cool, but it inspired us to go for something that was a little more fun and almost funny and lighthearted. We wanted to have it contrast but still be routed in the theme of losing your innocence, growing up, and being insecure. So, that song was written right in the middle of doing the record.
Dylan: The album needed it. The album is fun to listen to I think, but there was a lot of very serious moments and a lot of moments that were heavy. We just thought, let's have a light, two and a half minute, kind of borderline funny song. It just needed it.
THE ALBUM DOES TOUCH ON A LOT OF HEAVY THEMES LIKE HEARTBREAK, FEELING INSECURE, LOSING YOUR INNOCENCE, AND DEALING WITH SOCIAL ANXIETY. WHAT'S THE BIGGEST TAKEAWAY YOU WANT PEOPLE TO HAVE FROM NOTHING HAPPENS?
Cole: I would say that no matter how devastating things can feel when you're living through them, I think it's important to live through them so that one, you become a better person and two, at some point, now that we've been through the process of really growing up, at some point it really will feel like nothing even happened. You won't remember what you know but you'll just be more mature and be a better person and everything will feel okay.
Braeden: I also want people to take away from it that, the album, when I think back on recording it, it really was just like a snapshot of what we were going through and what we wanted to make. What is special about it is what people are hearing is what we wanted to do. There's no outside noise, we didn't have any weird agenda. It was literally just what came out of us, the whole thing. And we're excited to explore that even more with future projects and do as much different things as we can. We're just going to do whatever we feel is right and that's what feels cool about the album. I want people to take that away from it. It's just what we wanted to do.
Cole: Yeah it's totally honest.
Dylan: I'm proud that it's an album that we made. It came right from us.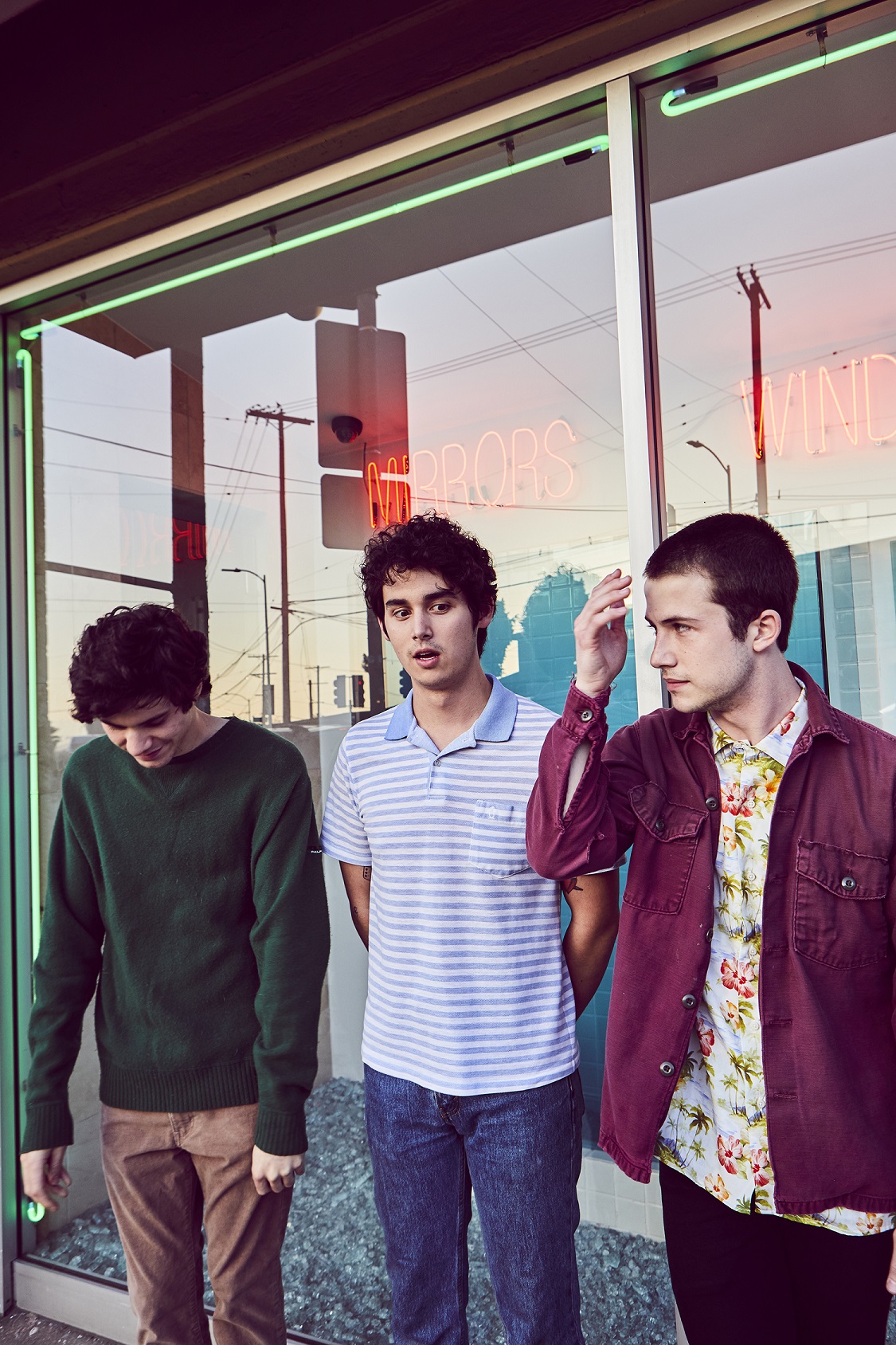 THE LAST TRACK ON THE ALBUM FEELS VERY CINEMATIC IN BOTH ITS SOUNDSCAPE AND STORY CONCLUSION. WITH YOUR HISTORY OF ACTING, WOULD YOU GUYS CONSIDER COMBINING YOUR PASSIONS FOR FILM AND MUSIC BY CREATING A SCORE OR CONTRIBUTING TO A SOUNDTRACK?
All: Yes.
Braeden: 100 percent. It's a dream of mine to score a movie one day. That'd be amazing if we could do that, I'd love that.
Cole: Yeah, Arcade Fire has done some really amazing score work. They did a lot of the songs in Her.
Dylan: They did the whole score in Her. It's one of my favorite scores. We'd also love to write a short film or something one day, like make something too. Maybe that's what we score. We've always wanted Wallows to sort of be more of an entity. It sounds funny but more of a brand than anything. Of course music is the main focus point, but I'd love to learn more about fashion and have some actual clothes that isn't just merch. I'd love to have a skateboard line with someone. We're already making some shoes with Vans which is cool. Make a short film, write a show, or something like score a movie. That's definitely something we want Wallows, as an entity, to do. With the main focus point being albums.
YOU GUYS SHOULD TALK TO BROCKHAMPTON.
Dylan: Exactly!
Cole: We should! Yeah we do talk to those guys, those are good buds.
YOU HAVE AN EXTENSIVE TOUR COMING UP. WHAT'S GOING TO BE DIFFERENT ABOUT THESE SHOWS THAN ONES YOU'VE PLAYED IN THE PAST?
Cole: Eve-ry-thing.
Dylan: Well here's the main difference: the last tour we had four songs out for it. Our song "Pictures of Girls" went on to be sort of our most popular song which came out right in the middle of the tour when we had a break so it's like four then five songs. This time we're going to have basically around 26 songs out and we have so many more songs for people to sing. It's going to be a different experience because we'll have more reaction the whole show. And also we're playing some bigger rooms and I definitely want it to be a little more like Wallows 2.0. Focus a lot more on the sounds, the guitar tones, making it completely consistent every night. We're also doing some lights. We want to build it as more of a show and have it be consistently a great show every single night and have confidence in what it's going to be. We're also very excited to play the album songs live in general because they're all new to us. I also feel like sometimes you see a band in a smaller room and you can leave and go, "That should be in bigger rooms and that could fill a bigger room, like much bigger." I'm not saying we're going to do that, but I would love to do that because what I want is for people to leave the show and say, "That could be in a room ten times this size." I want people to be able to feel that and we're going to do our best to give that in every way we can in how we play, in our sounds, and what the show is as a whole. I want it to feel like an experience. That's what I want.
— —
— — — —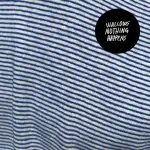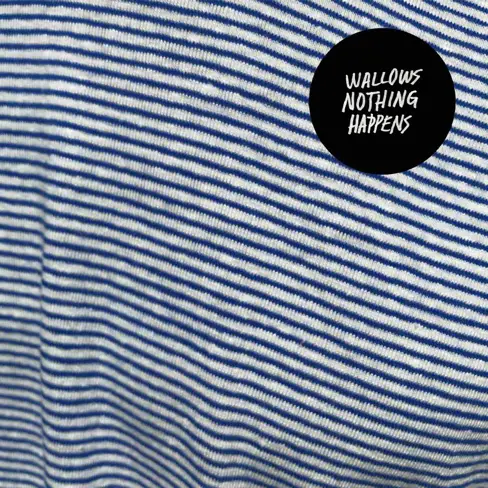 :: Stream Wallows ::
---
 Nothing Happens World Tour ::
* with Mk.Gee // ^ with Joy Again
April 13 – Indio, CA – Coachella
April 20 – Indio, CA – Coachella
April 22 – Portland, OR – Wonder Ballroom*
April 23 – Vancouver, BC – Venue Nightclub*
April 24 – Seattle, WA – Neumos*
April 26 – San Francisco, CA – The Fillmore*
April 30 – Dallas, TX – House of Blues*
May 1 – Austin, TX – Scoot Inn*
May 2 – Houston, TX – Warehouse Live*
May 4 – Atlanta, GA – Shaky Knees Festival
May 6 – Philadelphia, PA – Union Transfer^
May 7 – Washington, D.C. – 9:30 Club^
May 8 – New York, NY – Irving Plaza^
May 10 – Boston, MA – Paradise Rock Club^
May 11 – Clifton Park, NY – Upstate Concert Hall^
May 12 – Toronto, ON – Danforth Music Hall^
May 14 – Detroit, MI – El Club^
May 15 – Chicago, IL – Metro^
May 16 – Minneapolis, MN – Fine Line Music Café^
May 18 – Boulder, CO – Fox Theatre^
May 19 – Santa Fe, NM – Meow Wolf^
May 20 – Phoenix, AZ – Crescent Ballroom^
June 2 – Amsterdam, Netherlands – Paradiso (Upstairs)
June 3 – Hamburg, Germany – Molotow Sky Bar
June 6 – London, UK – Electric Brixton
June 7 – Manchester, UK – Deaf Institute
June 8 – Glasgow, UK – Stereo
June 10 – Birmingham, UK – Hare and Hounds
June 11 – Leeds, UK – Brudenell Social Club
June 13 – Paris, France – Les Etolies
June 14 – Antwerp, Belgium – JC Bouckenborgh