Listening to music is more than just an auditory experience. Atwood Magazine's Tunes & Tumblers column explores the way our senses mingle by pairing new and classic albums with cocktail recipes. We invite you to bring out your inner mixologist as we approach the music we love from a unique, immersive, and thoroughly delicious perspective. Put up your feet and enjoy a cold one on us.
 
24-year-old singer/songwriter Maggie Rogers blends familiar sounds and styles into something wholly her own. Our cocktail pairing gives you a chance to flex your creative muscle, too.
   
I haven't been to Coachella since 2012. Though that dates me quite a bit, I like to think that my taste in music changes with the times. But nothing hits my "get off my lawn, you kids" bone quite like this year's lineup. It's not bad. Between the flavor of the week DJs and artists named with cobbled-together letters are quite a few gems. The 1975, Lizzo, Kacey Musgraves, Idris Elba (WTF?), the list is extensive. You just have to slip between the Billboard powerhouses and the Spotify stream sponges. It doesn't feel like a festival anymore. It's a music industry showcase. An advertisement that spans two weekends. It's boring.
Now before you come after me with your torches and pitchforks, the annual behemoth isn't without merit. Most of the lineup may make me go "sure" and "of course" as I scroll through it, but a handful of artists stand out as a sign of the bold new directions music can go.
Take Maggie Rogers for example. If you've heard the name flying around the blogosphere (and this site, no less), that's probably a new phenomenon. You for sure didn't hear it a couple years ago, not before Pharrell Williams and the internet thrust her into the public consciousness. Sure, YouTube makes a new star every day, but few of them come with the raw talent and sheer pioneering that the 24-year-old Maryland native does. One listen to her debut single "Alaska" is all you need to know why it moved Pharrell to tears.
---
Her music sounds like nothing else out there. It's rooted in the folk and bluegrass of her youth (she got her start on the banjo), but bolsters it with Eurohouse fundamentals and indie pop loops that require a third, fourth, and fifth listen just to fully appreciate what she's done. It almost feels like a disservice to point at the viral video that made her famous. Her debut album Heard It in a Past Life (released this January) proves she deserves all the attention and more.
But let's back up a little bit. Two years is a long time, and a lot has changed for Rogers since that fateful NYU masterclass. "Alaska" pegged her as a certain thing, which her subsequent EP Now That the Light Is Fading was all too keen to confirm. Think of it as Fleet Foxes by way of Flume. It's incredible stuff, but it also cements her as the "folky dance girl."
It's a mistake to think Rogers is driven by a particular sound though. She's less a musician than she is an alchemist, blending elements into a statement wholly her own.
So she went away after that EP and concocted a killer statement of a debut. Its sound is just as varied as it is familiar, a glorious contradiction that could only come from an artist obsessed with making music indebted to no one but herself.
If alchemy is the game, then Heard It in a Past Life deserves a cocktail in the same vein. Something both familiar and new that takes a bit of innovation on our part. Good thing I have just the experiment for us. Please brew responsibly.
THE DRINK
Lavender Collins
1 1/2 oz gin
1 oz lemon juice
1/2 oz lavender syrup
Sparkling water
Homemade Lavender Syrup
1/4 cup dried lavender
1/2 cup sugar
1/2 cup & 3 T water
Garnish
Lemon slices
Lavender sprigs (make sure they are both clean and non-toxic)
Instructions
Make the Lavender Syrup
Add ½ cup water and dried lavender to a saucepan, and bring to a boil. Simmer for 3 minutes, then remove from heat. Allow to steep for 20 minutes. Strain out the flowers and discard.
In a new saucepan, add sugar and 3T of water. Bring to a boil, and stir to dissolve the sugar. Simmer for 3-4 minutes, then stir in lavender liquid. Whisk until combined, remove from heat, and transfer to a storage container until ready for use.
Make the Drink
Add gin, lemon juice, lavender syrup, and ice to a cocktail shaker. Shake until cold, then strain into a tumbler filled with ice. Top with a splash of sparkling water and gently stir. Garnish with lemon slices and lavender sprigs.
How many gin heads out there haven't ordered a Tom Collins? It's a classic if for no other reason than it's incredibly easy to make. And it's essentially a hard lemonade with a bit more class than Mike.

Like Maggie, we start with something familiar and veer hard left. For the brave culinary students among us, we flex our alchemy muscle by brewing our own lavender syrup. With this fragrant addition, suddenly our Collins evokes lush summertime gardens with sun streaming through the trees.

It fits comfortably next to many moments in Heard It in a Past Life. From album opener "Give a Little" onward, Maggie's ability to mix like a master alchemist are on clear display. There are the four-on-the-floor kicks and trademark ticking hi-hats of every Top 40 hit, but they're broken, rearranged, and morphed into something more. Unique samples shine through accompanied by folky handclaps and bright harmonies. It's pop music that could be made by no one else but her.

Our own little concoction adds a dash of paint to her canvas. The ginned-up lemon is the pop and the lavender is the wood, blended in unlikely synchronicity. Maggie's world becomes a luminous soundscape we can live in, swooping from danceable highs to introspective lows. It snaps into focus with every floral sip.

Speaking of, it's time for:
THE ALBUM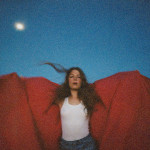 Heard It in a Past Life
Maggie Rogers
---
There's a reason Maggie resonates so much with the witchy Millennial women of Instagram. Like their grab-bag of horoscope, Wicca, and mismatched Eastern philosophies, she tosses a bunch of seemingly disparate and incompatible elements into the mix. But it all works. And more than that, it looks and sounds damn good. (Thank you for coming to my TED Talk.)
Honestly, that's a bit of a stretch. The success of her music among young people searching for their voice happened because she found hers. But more than that, she refuses to get comfortable. She's constantly innovating, pushing her art to the outer limit of what's expected of her. If her tool kit was deep on her debut EP, it's almost bottomless here.
Where her dueling influences of woodsy Americana and Berlin club are easy to spot in EP holdovers "Alaska" and "On + Off," new jams like "Retrograde" and "The Knife" slice in different directions. The first sports an airy synth hook that rivals The 1975's deepest cuts, and the latter blends her jangling samples with a bass line more at home on an Arctic Monkeys record than one by Father John Misty.
The record speeds all over the place, pulling out surprise after surprise just when you think she's burned through all her tricks. It's such a wonder that when "Burning" and "Back in My Body" (the album closers) finally hit, there's still room for amazement. Both are triumphant numbers that see her donning a Florence Welch mask. Thundering drums, earth-shattering harmonies, and a couple squealing guitars drop the curtain in the most unexpected and satisfying way. The fairy queen would be proud.
Through all her technical wizardry, Maggie always anchors these songs in her personal journey. She finds herself again and again, encouraging us to do the same with our art and in our relationship with ourselves. From the joyous ode to empathy in "Give a Little" to "Back in My Body's" anthemic self-affirmation, her vigor is contagious.
This time, I know I'm (Back in my body)
Lost you in the morning, don't live anywhere
I found myself when I was going everywhere
This time I know I'm fighting
Heard It in a Past Life begs you to go back for a second, third, and fourth listen. Each time new revelations, new products of her alchemy, appear in the mix. One of the hallmarks of a great record (and a great cocktail, mind you) is its ability to reveal more and more of itself as time goes on. Like a kaleidoscope, Maggie Rogers' first full-length statement as an artist already feels kaleidoscopic. It's magical. It mines your insecurities and begs you to dance them out. Just be careful not to spill your drink.
 
Have your own idea for a Tunes & Tumblers pairing? Let us know in the comments, or hit me up on Twitter.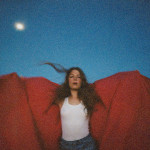 📸 © Olivia Bee
:: Maggie Rogers ::