Indie rockers Hippo Campus have grown a lot in the last few years. Since the carefree days of the band's EPs Bashful Creatures and South back in 2014-15, it's evident the "Boyish" musicians are doing some growing up. There's an undeniable sense of maturity on their latest single "Way It Goes," as they fine-tune their sound on the cusp of releasing their first full length album Landmark.
Watch: "Way It Goes" – Hippo Campus
---
With intelligently poised lyricism, the song's cheekiness is clearly conveyed effortlessly. The harmonies sweetly echo and swirl freely. It has a similar mischievously quirkiness to Arcade Fire's The Suburbs with a splash of surf rock:
You put your records on
Exclusively the old pavement ones
A 90's soul with Doc Martens on
A step, a step away from crying
Degenerate, counter-culture, crying socialist
Hip-to-lazed crazed abstractionists
Its chill, but God knows we're trying
Moments of cynicism find themselves bound up in the wittiness of the track. Trying to be cool is discouraged; it welcomes in everyone who is stumbling around trying to stand in the sun. "Way It Goes" follows the band's previously articulated themes of embracing life as it is, and getting into trouble in the most fun ways possible.
That's the way it goes
That's the way it goes
It's so satisfying
But life can't be all fun and no work. Eventually we all have to grow up, prepare for the future and stop doing things half-heartedly. Even if it means we're "one step away from crying" to put it in the band's terms. In other words, it's always nice to have a nostalgic reflection on the past, but we can never stop moving forward. Expressed with 60's tinged sounds, the track is a reminder that time passes, as time always does. It shines a light on their desire to make it slow down with old records. But the band fondly reminds us that it's okay to let loose and indulge in what it means to feel young and electric.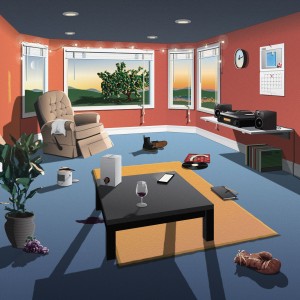 Pulsating with synths and optimism, the song is youthful and cheery. The music video is a snapshot of the band joking around with friends in a cabin as they play their music. It cumulates in an epic snowball fight as they tussle around like children on a playground. It's simple and charming in its portrayal of innocent amusement. If anything, the visuals add to the heart of the song and give it a heightened exuberance.
"Way It Goes" is earnest and down-to-earth fun. Hippo Campus have embedded themselves into a world of endless beachy bliss as they bring listeners along with them as they grow. They may be young, but they have a strong sense of who they are and who they want to be. Catchy songs may be their specialty, and if this is a taste of what's to come on the album then we can expect Hippo Campus to pull off some more infectious tunes with substance that will keep our heads bopping along.
— — — —
Connect with Hippo Campus on FB, Twitter, Insta
cover photo © 2017
:: Hippo Campus 2017 Tour Dates ::
1/27: Bristol, UK @ Thekla
1/28: Manchester, UK @ Sound Control
1/29: Glasgow, UK @ Stereo
1/31: Leeds, UK @ Belgrave Music Hall
2/1: London, UK @ Dingwalls
2/15: Fargo ND @ Sanctuary Events Center,
2/16 : Omaha, NE @ The Waiting Room Lounge
2/17: Kansas City, MO @  recordBar
2/18: Denver, CO @ Bluebird Theater,
2/20: Salt Lake City, UT @  Kilby Court,
2/21: Missoula, MT @ Top Hat Lounge,
2/23: Vancouver, BC @ The Cobalt,
2/24: Seattle, WA @ Neumos,
2/25: Portland, OR @ Wonder Ballroom,
2/28: San Francisco, CA @ Slim's
3/2: San Diego, CA @ House of Blues
3/3: Los Angeles, CA @ The Teragram Ballroom
3/4: Phoenix, AZ @ Crescent Ballroom
3/11: Minneapolis, MN @ First Avenue
3/12: Minneapolis, MN @ First Avenue
3/22: Nashville, TN @ The Basement East
3/23: Atlanta, GA @ The Masquerade
3/24: Charlotte, NC @ The Visulite Theater
3/25: Carrboro, NC @ Cat's Cradle
3/28: Philadelphia, PA @ Union Transfer
3/29: Washington, DC @ Black Cat
31/3/31: New York, NY @ Irving Plaza
4/1: Boston, MA @ Paradise Rock Club
4/3: Toronto, ON @ Horseshoe Tavern
4/4: Ferndale, MI @ The Loving Touch,
4/6: Columbus, OH @ Newport Music Hall
4/7: Chicago, IL @ Metro
4/8: Madison, WI @ Majestic Theatre
5/26-5/28: Napa, CA @ Bottlerock Festival
6/8-6/11: Manchester, TN @ Bonnaroo