A song is a place to visit. There is no telling where you may go or how long you stay. With this one in particular I feel like my trip is delayed." There's a haunting melody behind the words Rosechild has chosen to describe their latest single. Music can, of course, metaphorically take you places…but what about leaving you there to sort out your troubles?
All poetry aside, Rosechild certainly know how to plant a listener in the middle of a story. The video for one of their recent songs, "Disco Fever," effectively plops listeners into its' character's quirky, bittersweet life. And Rosechild does it again in their new single "West LA," but instead transports to a place rather than into a story. In Rosechild's latest single and accompanying music video "West LA," both of which Atwood has the pleasure of premiering today, Rosechild take a winding journey, sorting through inner and outer turmoil along the way.
Listen: "West LA" – Rosechild
---
Even as the song begins, there's a sense that there's a journey already under way. Before vocalist Haile Meirow even tells us that she keeps "driving out of West LA" on a search for clarity, there's a sense that this song is itself both a journey and, as the band mentioned, potentially a place to return to for clarity. Meirow's melancholy lyrics and the slow-at-first instrumentals draw us into the atmosphere of Rosechild's exodus out of the city.
Rosechild's signature slightly-dreamy instrumentals drift, lending the perfect setting for Leopold Bloom-like drive around and eventually out of the city limits. The song itself is an act of clearing one's head, of adding emotional distance to the physical distance driving creates in order to gain some clarity.
I keep driving out of West LA
To change my mind into another day
What I leave I come back to
What a joy of being in and out of love with you
Give me a reason not to walk away
Let's talk like strangers on cocaine
On cocaine
And yet despite all that distancing, the desire to return to the beginning, to a time where it was easy to pour out one's heart regardless of complications ("like strangers on cocaine"), remains. The pull between wanting separation and wanting to stay play out, and are at their fullest in the song's bittersweet chorus, where Meirow demands:
Give me that one damn reason to stay
So close to home but far away
Watch: "West LA" – Rosechild
---
That tension also find a home in the song's music video. We follow a woman as she joins her lover for a night drive out of the city. But, as with most things, once we pass the surface we see her unhappiness and how frustrating the relationship is–so much so that she looks the most at peace with her head out the car window, completely ignoring her lover. And through it all, though, we're reminded of the band's statement that "a song is a place to visit." Whether she's letting the night air rush through her hair or tiptoeing through the surf, we're almost close enough to smell the smoke and feel the cold water drenching our coat. We're effectively transported to her world, to the elusive place in mind outside of West LA where we might, finally, be able to figure things out–or watch them fall apart.
In "West LA," Rosechild have created a place for us in both the song and the video that beckons us to journey with them in the frustrations that love so often causes. Whether that's a mysterious destination outside of Los Angeles or a place completely within our own heads, it's a journey to place we can visit anytime we choose to hit play.
– – – –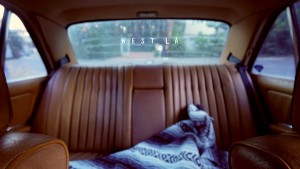 — —
cover © Rosechild