Fuse together the sound of an acoustic ballad and lace it with storytelling pulled from the depths of the heart, and you'll have Dermot Kennedy's inspiring debut album "Without Fear."
Stream: 'Without Fear' – Dermot Kennedy
---
Ireland has been the birthplace for incredible musicians and singer-songwriters for as long as almost anybody can remember. From Van Morrison to U2 to Damien Rice, it's not a surprise that the oceanic island serves as a source of inspiration for so many artists – and music's latest rising star, Dermot Kennedy is no exception.
After busking on the streets of Dublin as a young teenager and following in the footsteps of his musical hero, Glen Hansard, Dermot Kennedy has achieved an online following and loyal fanbase simply by putting out the music that he's always wanted to write and share with the world. With help from streaming on Spotify, as well as his authenticity in storytelling and soulful voice, Kennedy's on the rise, with his debut album Without Fear proving how he's taking "singer-songwriter" to a whole new level.
Following the success of his 2018 hit single, "Power Over Me," which reached #1 on airplay charts in France, Germany, Belgium, and went triple platinum in Ireland, Kennedy's Without Fear has been named one of the most anticipated albums of 2019. From heartfelt power ballads like "Power Over Me" and "What Have I Done" to Kennedy's twist of modern day influences over traditional acoustic traces on songs like, "Redemption," the album alone proves just how much Kennedy has carved out his own unique path in a songwriter's world.
Music fans who are passionate about listening to music are most likely able to recognize great lyricism when they hear it, but you haven't truly heard deep-cut, emotionally charged, and truthful storytelling in music until you've heard Dermot Kennedy sing it to you. Paired with the sound of a grand piano, Kennedy's intense and impassioned voice takes listeners through an artist's story – one that's full of both heartbreak and hope.
I don't wanna say goodnight
But I'll still see you in the morning
Still know your heart and
still know both your eyes
The song "Lost" is a deeply sad yet moving track that sits at the center of the record, in between songs about better times like the ambitious, "All My Friends" and romantic love song "Rome." Merely the placement of "Lost" – a song that confesses the brokenness of soul – in the midst of songs that are meant to be more uplifting than the rest of the record showcases Kennedy's artistry and how he's pursuing emotion in music in an open, vulnerable, and critical way. Or to put it simply, he's creating music without fear.
It's a song about the people you turn to when things aren't going very well, and the people you keep around you, whether its family or friends, that hold you up when things are a bit difficult.
What's stunning about a song like "Lost" on a record titled "Without Fear," is that it shows that being fearless doesn't always mean you're never afraid. Lyrics like "I'll need your spine to hide behind for fear of moment's stolen," and the imagery in "The sky got red and swollen," is what Kennedy uses to show that there is a fear and hint of darkness that's present in the song, but what proves stronger is that the track refuses to end on a hopeless note.
I was lost 'til I found you
Now these songs will hold and hide your name
All it was all about you
Since that night, the moon has never seemed the same
"Lost" seems to be the song that stands as a smaller metaphor for Without Fear as a whole. Kennedy has opened up and laced his worries, fears, doubts, struggles, and heartbreaks all throughout the song, but ends it by singing, "I was lost til I found you / The moon has never seemed the same," – a note of hope, and that's what he does on the entirety of his album.
---
The record showcases the depth and heartfelt curiosity that Kennedy uses to demonstrate his artistic capabilities.
Without Fear is laced with confession, pleads, screams from the heart, and you can hear it in his voice. Yet, the album is still full of life, love, and the idea that something better and bigger exists beyond our worst days.
Drawing from songwriting giants like Ray LaMontagne and David Gray, Kennedy ends his record with the title track, "Without Fear," a song just over five minutes that brings the record to a beautiful, sentimental close. The song sees Kennedy reminiscing about a love left behind, but also how he's moved forward from it. With lyrics that mirror self-reflected thoughts like, "Lead with the heart, ain't that the only way?" and a string section that accompanies his fervent tone, "Without Fear" is the sound of a singer forging his own path forward and leaving fear behind him.
I don't have time for art that doesn't affect me deeply. I don't have time for halfway. But I'll always make time to return a proclamation of love. Because you never ever know […] So if a fear of passing time has taught me anything, it's that I should consider myself very very lucky to have loved and been loved, to have witnessed true beauty, and to have lived a life of substance, without fear.
Trying to place Dermot Kennedy and his music into a confined box of genre wouldn't seem fair.
There is a deep connection that he establishes between his musicality and his lyrics that you can hear evidently in his voice. There is a uniqueness to his dark way of storytelling that infuses hope between phrases just enough for you to see it. Kennedy writes about fear, hope, and love in the way that life presents it – realistically. Sometimes outshined by the darkness, but somehow always there.
"There's a beauty in being broken," Kennedy sings on the last song of the record, "and I've been seeing it."
— — — —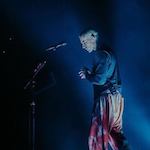 ? © Dermot Kennedy
---
Without Fear
an album by Dermot Kennedy
---
:: Dermot Kennedy Tour ::
Dermot Kennedy is currently performing on a sold-out Fall 2019 Tour for Without Fear, but his 2020 North American tour begins in Vancouver, BC, on January 24, 2020. From the legendary Radio City Music Hall in New York City to The Wiltern in Los Angeles, Kennedy will be taking his music all across the United States. 
---