Every Friday, Atwood Magazine's staff share what they've been listening to that week – a song, an album, an artist – whatever's been having an impact on them, in the moment.
This week's weekly roundup features music by The Beatles, People Museum, Caroline Polachek, Seven Spies, Sleeping Jesus, Close Talker, Jung Kook, junodream, Anna Storm, Philine Sonny, Elif Dame, & Gia Ford!
•• •• •• ••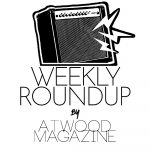 :: "Now and Then" – The Beatles ::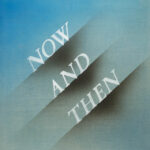 Cathartic, conclusive, and beautifully bittersweet, The Beatles' final song is everything a lifelong fan could have hoped it would be. "Now and Then," released November 2nd, brings John Lennon, Paul McCartney, George Harrison, and Ringo Starr together one last time for a heartrending serenade about kinship and connection: That deeper kind of love that transcends space and time.
Originally a Lennon demo from the 1970s that McCartney, Starr, and Harrison toyed with, but ultimately scrapped for the Beatles' Anthology series in the 1990s, "Now and Then" has finally seen the light of day with the help of modern AI-driven production technology (courtesy of Peter Jackson) that allowed stems to be separated and extracted – ostensibly turning a raw demo home recording into a pristine, studio-quality production. Read more about its genesis in Atwood Magazine's feature article here.
It feels only fitting that this would be The Beatles' swan song. Lennon's intimate and deeply vulnerable lyrics speak to those unbreakable bonds that we form with those closest to us – the ones we love the most: "I know it's true; it's all because of you," he sings, his tender voice radiating softly alongside brooding piano chords and gentle guitar strums. "And if I make it through, it's all because of you…" Lennon's balladry always had a melancholic streak, and "Now and Then" is no exception; The Beatles' performance is filled with longing and yearning, nostalgia and understanding as hearts are opened and souls exposed:
And now and then
If we must start again
Well, we will know for sure
That I will love you
Now and then, I miss you
Oh, now and then
I want you to be there for me
Always to return to me
From the moment it starts, "Now and Then" sends shivers down the spine – Lennon's voice, so close and yet so far away from the present, feels like that of a ghost – but it's when McCartney joins in that The Beatles once again take our collective breath away. Singing harmony and melody alongside his late friend, McCartney captures the weight of a relationship that truly weathered all kinds of storms. The Beatles were thrust into the spotlight in their early twenties, their collective and individual lives a topic of public interest and intrigue for long after the band's 7 and a half year run. Yet despite all the turbulence and tumult on their long and winding roads, John, Paul, George, and Ringo share(d) a special, singular connection that no amount of discord could ever break.
I know it's true
It's all because of you
And if you go away
I know you'll never stay
Now and then, I miss you
Oh, now and then
I want you to be there for me
While "Now and Then" could apply to any relationship – parent and child, married couple, friend and friend, brother and sister – it hits especially hard in the context of The Beatles' own lives. "Now and then, I miss you… now and then, I want you to be there for me." Lennon's words are so incredibly generic and all-encompassing, and yet they come to us as though they were wrenched from his innermost sanctum – torn from a diary entry no one was meant to see.
Heartfelt and heavy, emotional and sincere, the poignant coda to a beloved catalog wraps up the Fab Four's legacy with a fitting tribute to the friendships they formed along the way. 1970's Let It Be was their goodbye to the world, but this is their goodbye to themselves. Weighing so much more than the sum of its parts, "Now and Then" truly is an ode to The Beatles' journey.
I know it's true
It's all because of you
And if I make it through
It's all because of you
:: "Sleep" – People Museum ::
Dreamy and nostalgic, take a sonic journey with "Sleep" by New Orleans based band, People Museum. Bending the boundaries of what we call "genre," People Museum navigates different artistic styles inspired by the roots of Louisiana and modern electronic music.
Lead singer Claire Givens touches on many feelings–bittersweet, frustrated, curious, and freeing. The song reflects these many layers through the instruments and musicality of Givens voice. With some bass and keys, and depth from both wind and percussion instruments–the band develops a sound that encapsulates the piece as a whole.
The intro is a lovely climax that builds into the piece. Each musical enhancement adds to the piece as it develops over the course of the song. People Museum display great talent for creative and intentional layering that gives the listener a greater appreciation for their music.
:: "Dang" – Caroline Polachek ::
From the era of Caroline Polachek's A.G. Cook and Charli XCX collaborations comes "Dang," a perfectly stupid, electronic-heavy single. This track is about "endlessness," according to one Instagram post from the songwriter. It's also dedicated to SOPHIE, the late producer and former friend of Polachek.
"It's a shame, yeah / It's a shame I spilled the milk on the bed / It's my face It's just a face, yeah / With the cheeks turnin' red," she sings in the chorus, potentially referencing the popularized "crying over spilled milk" phrase.
Polachek, complete with an eccentric and somewhat confusing powerpoint presentation, performed "Dang" on The Late Show With Stephen Colbert. She even released the slides as limited edition merch, with all of the proceeds donated to the UN Agency for Palestinian Refugees. This song is a perfect follow-up to Desire and definitely leaves us desiring more.
:: "Lie" – Seven Spies ::
British indie alt/rock band, Seven Spies have just dropped their potent new track, "Lie." Opening up about the sickening realization that a romantic relationship unfortunately isn't going to work out, "Lie" is honest, raw and ever so relatable.
Singer David Blomiley shares, "It's about being in the wrong place to be able to be with somebody no matter how much you love each other. Telling yourself that one day it will all work out and be ok but knowing that may never be the case. There is more than a nod to how life as a musician, the passion and commitment that is demanded can be all consuming and not allow you to be there fully for your life outside of that world."
Blomiley's sincere vocals rise above thundering percussion and determined guitars which rumble over an anthemic chorus. "Lie" possesses you with the power to do what's right, even when it sometimes feels wrong.
:: "Ferdy" – Sleeping Jesus ::
Part of the reason I inevitably listened to Sleeping Jesus was because of their band name – well done, guys – but ultimately it was the dreamy warmth and wonder of their music that won me over. Independently released September 11th, the harmony-rich, golden-hued "Ferdy" is the Minneapolis band's first single since the release of their debut album Leave the Party Early last summer, it's truly a marvel to behold. Sun-soaked, soulful, and all kinds of seductive, the song captures both the euphoria of being young and free, and the weight of following through on our dreams.
So stoned and talking a lot last night
Dance around the room with just your t-shirt on
Lip-stick over cherry chapstick,
tastes just like summer ending
Sing every word to your favorite song
so loud your neighbors can sing along
While I'm drunk can we stop pretending
tomorrow won't be like nothing happened .
"The first verse is about the youthfulness of falling in love and being free," Nick Elstad explains. "And the second verse is more inspired by a country singer-songwriter friend of ours who moved from New York to LA, and I remember him telling us like, 'Man I don't know if I can do this all over again out here.' Because he had been building himself up in New York for a while, then made a change, and had to try to fully immerse himself into the new scene. So that sort of stuck with me."
"But he was still believing in trying to create something you know, out west, and fulfilling that dream. For a Midwesterner, you always have this ideal version of LA or NY, that it will change something for you."
I'm falling out, losing touch,
on to something less familiar
Ultimately, "Ferdy" is a sweet, spirited ode to believing in ourselves and weathering the storms as they come our way. It's a summery, smile-inducing groove that brings the heat just when we need it most – both metaphorically (when we're at our lowest) and literally, as the seasons change and winter's oncoming chill starts to fall over the northern Hemisphere.
But most of all, "Ferdy" is the introduction I needed to finally meet Sleeping Jesus, whom I've been sleeping on for seven years now. The band's sophomore album Hollywood Smile is set to release later this year, and we'll be there with open ears and outstretched arms ready to hear what these dazzling, darling Midwesterners have to share.
Step into the morning sunlight,
bloodshot eyes and yesterdays t-shirt on
Half drunk on your optimism,
lipstick stains everywhere she kissed ya.
Dead dreams over coke-a-cola,
head out east where no one knows ya
LA sure beat the shit out of you,
trying to make a living playing country tunes.
I'm falling out, losing touch,
on to something less familiar
I'm falling out, losing touch,
on to something less familiar
:: "Exodus" – Close Talker ::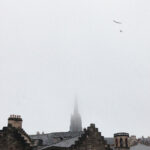 Canadian indie rock trio Close Talker released their new single "Exodus" yesterday. The rich, emotive track reminds us that we may not always be happy with our lives and that is okay. The raspy, wistful vocals exude a vast amount of raw passion that hits the listener deep. Self-reflection can be a hard pill to swallow, but it is a very necessary one. Within the warm, hazy backdrop there are profound lyrics detailing a hyper awareness to our weaknesses. Contemplating our faults is how we grow.  "Exodus" is a stunning piece of evolution through realization.
The Saskatoon, Canada natives' song "Exodus" is off of their upcoming album The Sprawl, narrating the highs and lows of their career. Time apart allowed the band to explore all different sides of music. Now that they are back in the studio, the break has only made the threesome's work stronger. "Exodus" is the ideal showcase of their musical progression.
:: "Standing Next to You" – Jung Kook ::
Starting his solo career off with a bang, Jung Kook's well awaited debut solo album is finally here! After his popular hits "Seven" and "3D," listeners worldwide sat with bated breath wondering what the focus track off his album would sound like.
The song, "Standing Next to You," certainly adds some charisma to his already impressive discography. The track's infectious retro punk sound, very reminiscent of the '80s during Michael Jackson's reign makes you just want to get up and dance literally. Meanwhile, the lyrics once again take on a romantic tone as he sings about always being by someone's side, no matter what. Literally standing next to you.
One thing Jung Kook promised about this album is his aspirations to show different styles of himself, and he did just that. Give "Standing Next to You" a listen, alongside his debut album Golden, out now.
:: "Kitchen Sink Drama" – junodream ::
If your heart starts beating faster as you listen to this song, you wouldn't be alone; "Kitchen Sink Drama" is a heated alt-rock reverie born from the tension and turbulence within. Released today via AWAL Recordings, the blood-boiling third single off junodream's upcoming debut album Pools of Colour (out January 26, 2024) is a smoldering and seductive fever dream. The London-based four-piece erupt with early Radiohead and Coldplay-esque charm and mystique as they lay their inner reckonings out in the open, inviting all to dwell in the depths of a nightmarish reality.
Here, looking down a sink
Trying to find a hole
In which to disappear
Before I lose control
'Cus everybody knows
You smile just like your mum
I never liked her much
She never liked me too
Blame it on the lunch
What's got into you?
"'Kitchen Sink Drama' is a window into a crumbling relationship," junodream's lead vocalist and keyboardist Ed Vyvyan tells Atwood Magazine. "A claustrophobic, excruciating mess that's finally boiling over. It's different to the other songs on the record, because we actively tried to box it in as much as possible, sonically and lyrically. The feeling of being trapped… Many of us have been in this situation and it feels like the walls are closing in from every direction. But very, very slowly.. You can have these earth shatteringly horrible arguments in the most mundane of places. Your bedroom, the park, your kitchen. This song is an expression of that anger and sadness, wrapped in a junodream bow."
Trying to build a house
Trying to find a home
It keeps on falling down
Leaves me all alone
It makes no sense at all
I'm searching in the walls
Holding back the tears
And I can't stand you now
I never wanted this
It makes no sense at all
junodream hold our ears and hearts captive for three unimaginably intense minutes as they channel the uproar they feel inside into an upheaval we can all sink into. Comprised of Vyvyan, guitarist Tom Rea, guitarist Dougal Gray, and drummer Jake Gidley, junodream are without a doubt an artist to watch over the year to come, with a sound that stops us dead in our tracks and sends our souls into a fiery, visceral frenzy.
:: Securely Detached – Elif Dame ::
Hailing from Amsterdam, Elif Dame wears her heart on sleeve in her new EP, Securely Detached. Laying her emotions out for all to see, the eleven-track release is a deep dive into her life over the last few years, where the artist massively struggled with her mental health. Dame takes us along on her journey, starting from the very beginning with "113" which is a reenactment of the artist calling the Dutch suicide helpline. The songwriter then lets us in on some of her most vulnerable moments, as she opens up about depression, addiction, self-sabotage, lack of stability, unhealthy relationships and much more.
Dame shares, "It's about reframing my co-dependent relationships and about my time on the waitlist to get mental health care. It's about the important process of learning what it means to put yourself first."
Sonically, Securely Detached showcases stunning, soulful vocals, hypnotic R&B beats and melodic, melancholy melodies. This EP is the perfect soundtrack to accompany you when you want to get in your feels.
:: "Take a While" – Philine Sonny ::
From heavily brooding verses to glistening choruses aching with raw passion and pain, Philine Sonny's second song of the year is a captivating, cathartic release that leaves an instant and lasting mark. Released today via Nettwerk Music Group, "Take a While" is billed as "a loving letter to anyone struggling to let their vulnerability outlive the pain," per the Germany-based artist.
You were better at playing it cool
Think I got closer to you than you
Would've let me, let it take a while
Shattered to pieces
Soft as you'll ever be
I wonder why I was surprised
Should've known by now
Nothing's as simple as it seems
That's what you made me believe
It's just as simple as is seems
A familiar story of a broken heart caught off-guard transforms into a valuable life lesson in wearing our hearts on our sleeves, no matter how much it hurts, as "Take a While" leans into the beauty of living vulnerably and authentically – even if that way of life exposes us to harsher climates. The song's chorus is a musical and emotional climax – a cinematic crescendo shining a light in Sonny's dark room:
People get used to a lot
Can feel right when it's not
No it's not, no it's not
Don't you get used to it
As hard as it hits
Don't you know it's what you cannot have
You'll want the most
With every minute waiting, every day it's taking
The feeling grows
"The basis of 'Take A While' came to me quite quickly," she tells Atwood Magazine. "It started with the acoustic guitar which I wanted to be very classy, songwriter-y, and solid. Then came the vocal melodies and lyrics. Those didn't take me too long to find because 'Take A While' was one of the songs that I wrote because I needed to get something off my mind. In those cases, I find it easier to find the right words."
"I wanted this song to be kind of stripped down at the beginning and my voice to have some space. When I start recording, I usually record at least 3-5 layers of my vocals, this time I didn't, I wanted the words to get all the attention. The production gets bigger towards the end of the song. There's a chorus, a bridge, a solo part, another bridge and then finally another chorus that is high energy. One of the challenges throughout the production process was to keep these parts interesting but not overloaded. I ended up recording acoustic guitar in Nashville tuning, some small piano parts and bass lines to change up things in a subtle way rather than very essential vocal melodies or chords. I like that the intensity stays high for so long, I don't think I've done this before."
I was so sure when I met you
Still sure now I know you
If this didn't take a while
How would you know this is a
This is a once-in-a-lifetime
This is a once-in-a-lifetime
People get used to a lot
Can feel right when it's not
No it's not, no it's not
Don't you get used to it
As hard as it hits
Don't you know it's what you cannot have
You'll want the most
Following her September single "Drugs," "Take a While" is the second single taken off Sonny's forthcoming EP, Invader (out March 2024 via Nettwerk). "It's one of my favorite songs from the EP," she adds. "It's very exposing and honest, and it made me realize once again that what I do is more than just having fun. It's like a picture of my feelings I had at a very specific moment in my life. To be able to focus on these feelings now makes me feel lucky to have built a life where I have people and things I care about so much. I know it only hurts because I care, and that makes it worth it for me."
Calling to mind such spellbinding classics as Fleetwood Mac and contemporaries like Holly Humberstone and Sam Fender, Philine Sonny's songwriting is emotionally charged, catchy, cathartic, and all-consuming. "Take a While" is as much her own soul's unveiling as it is a dazzling musical adventure that hits us hard every time we listen. Without a doubt, Sonny is an artist to watch in the months and years ahead.
With every minute waiting, every day it's taking
Every truth it's shaken, every toll it's taken
Every pain mistaken for a love that's fading
I was so sure when I met you
Still sure now I know you
If this didn't take a while
How would you know this is a
This is a once-in-a-lifetime
This is a once-in-a-lifetime
People get used to a lot
Can feel right when it's not
No it's not, no it's not
Don't you get used to it
As hard as it hits
Don't you know it's what you cannot have
You'll want the most
With every minute waiting, every day it's taking
The feeling grows
::  "Clown Tears"- Anna Storm ::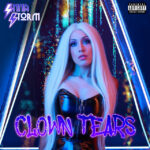 It is easy to lose yourself in a relationship, especially if it is a destructive one. Sultry, dark pop artist Anna Storm knows all about being torn apart by a toxic relationship with "Clown Tears." The alluring landscapes consist of luminous synths and electrifying bass. Her lush vocals passionately sing of discovering yourself after a bad breakup. Storm reminds us there is a light at the end of the tunnel. The video is just as seductive as the song itself. Her shimmery, purple eyeshadow with vibrant tears down her cheeks fit the vibe seamlessly.
The Connecticut native is a bold pop R&B artist with a ton of swagger. Growing up she was a bit of an outcast, continually being taunted by bullies. Music became a way to cope during that difficult time in her life. That fierce strength is heard in each of her evocative releases. "Clown Tears" is another confident single showing just how far she has come.
:: "Falling in Love Again" – Gia Ford ::
Gia Ford's second single of the year is absolutely brutal: "I've tried falling in love again, and I've tried falling out," the British singer/songwriter croons, channeling the immeasurable weight of love's loss into a heavy and aching confessional. "… I still see you when I turn around…" Released on October 25th via Chrysalis Recors, "Falling in Love Again" is lovelorn melancholia wrought from the depths of a heart's despair. One can't help but feel transfixed as Ford dwells in a poignant space where pain lingers forevermore, following us like a second shadow cast not on the ground, but on our very souls.
For to lose the one we love the most is to lose a part of ourselves.
Laid in the driveway of this house
It pulls me under
And spits me out
Maybe I'll try again tomorrow
To wear the sky
Once the night has died
Alone again, I'm alone
I've tried falling in love again
And I've tried falling out
Found your boots by the lake again
I still see you when I turn around
"This song is based on a story my friends told me about their dad and his late wife, and how for a while after her death, no one could replace her," Ford shares. "He used to dress his new girlfriends in clothes like hers. At first it sounds odd, and might make you feel uncomfortable. But really it's a love song, just told in a different way."
Ghosts in the kitchen where we danced
Was a movie then
But you spoiled the end
Alone again, at home again
I'm alone
Smoldering grooves and stirring melodies enhance the raw, visceral emotion at the core of Ford's songwriting, but nothing compares to her breathtaking vocal performance here. She steals the show not as a showman, but as a vessel of vulnerability: Her voice shakes and shivers, soaring sweetly and whispering gently to the specter of a love she'll never have back in her life. She owns that hurt as though it's her own, ultimately making "Falling in Love Again" the kind of song we can continually come back to – be it for a good cry, or to connect with that deeper, innermost part of ourselves.
— — — —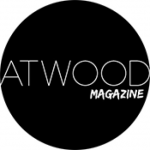 :: Weekly Roundup ::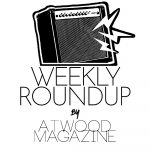 ---
:: This Week's Features ::
---