Let's be clear about something: The so-called "fear of missing out" that millennials complain about is a joke, a "first-world problem" that reaks of entitlement and privilege. Hard as it is, be sure not to conflate FOMO the hashtag with FEAR OF MISSING OUT the band – we like the second kind of FOMO: Their expressive new self-titled EP injects love and desire into a soundtrack of pulsing, soul-soaked electronic pop bliss.
FOMO – FEAR OF MISSING OUT

---
Atwood Magazine is proud to be premiering FEAR OF MISSING OUT's sophomore EP Fomo, out 2/16/2018 via Rellek Records. Teaming up for a two-part EP series that celebrates the "undying danceability of electronic soul music," FEAR OF MISSING OUT is the collaboration duo of artist, producer and instrumentalist J.KELR (of Blended Babies & Remedy) and singer OMRIII (of Midnight Swim Club). Following 2017's debut three-track 96 EP, FEAR OF MISSING OUT's second installment captures a cleaner sound with more polished expressions of intimacy and desire, aching and uncertainty.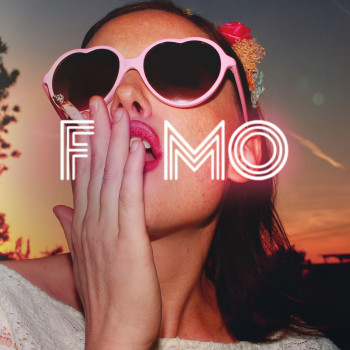 What's so wonderfully fun about this group is the ease with which they approach their music. Hell, they named themselves after a social media acronym – but in co-opting this phrase, FEAR OF MISSING OUT have (to their credit) managed to transform a teenager's whine into a relatable, effervescent energy; they inject vibrant rhythms and personal emotion into their music, showing that their real FOMO is the aching of the heart, a passion-fueled longing that can't be solved in 280 characters or less.
Fomo opens with the catchy title track – also the group's namesake. OMRIII describes "Fomo" as a song "for the one who makes nothing else matter." It's a confession of vulnerability dressed in a dazzling pop song:
There's no fear of missing out
When I'm around ya
I don't care what anyone else does
Gonna love you like there's not
Another option
Never takin this for granted because
You got me livin right here
Right now
With you
J.KELR notes that "Fomo" was the first to pave the way for the direction of our sound, and we can definitely appreciate that in the song's sonic clarity and poise. It knows exactly what it wants to do, and how it's going to get there.
The soul-infused "Once in a Lifetime" recalls the early sex jams of The Weeknd. OMRIII calls the song "the first sign of my Saturn return" – he'll do whatever it takes to make the moment count. "We search high and low for our 'Once in a Lifetime,' but many times it is right under our noses," J.KELR waxes poetically – confirming his partner's statement. The "heart on sleeve" phrase is terribly overused, but if we could resurrect it one last time before killing it again, it might be for this doting song:
Girl I'll getcha whatcha want
I'll get ya everywhere ya need it
But I told myself to stop
I told myself I'd never repeat it
And here I go again
Back and forth I'm bending
But I"m gettin tired of caving in
To find my Once in a Lifetime
Always on my mind
Someone in the divine
You probably already are mine
EP finale "Ladders" is "an ode to Dawson's Creek," according to OMRIII – and although neither Drake nor Jimmy Brooks makes a cameo appearance, we can feel the homage to a simpler time, where crushes were felt in the pit of our stomach, in the song's deep beats and OMRIII's languished singing. "'Ladders' took many forms to become what it needed to be," recalls J.KELR. "Seems like we are always running away from what we really are…"
The duo returns with the project's second installation FOMO – a three-track EP defining the sound of FEAR OF MISSING OUT with original music soaked in 90s throwback sonics and painted in 2018 millennial pink popability.
Such a surprise I can't deny
Checked in with life
We can't define you
One of a kind
The perfect type
But somethings not right
Every time we try
It's not that I don't know what I want
I don't know if I want it yet
So addicted to the rush
And I'm still trying to get it back
"I was so used to creeping through those windows," OMRIII repeats in the chorus. Troubled and inward facing, "Ladders" closes off Fomo in a fittingly introspective state of mind. Listening to their six songs as one, we come to understand FEAR OF MISSING OUT as dance pop act with romantic '90s nostalgia, overflowing with dreams of midnight encounters on and off the dance floor.
This is the only FEAR OF MISSING OUT worth having, so go ahead and stream these sweltering, poignant pop songs – exclusively on Atwood Magazine.
— —
— — — —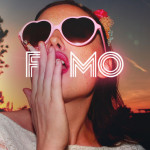 ? © Moxi Management
:: Stream FOMO ::