Atwood Magazine is excited to share our Editor's Picks column, written and curated by Editor-in-Chief Mitch Mosk. Every week, Mitch will share a collection of songs, albums, and artists who have caught his ears, eyes, and heart. There is so much incredible music out there just waiting to be heard, and all it takes from us is an open mind and a willingness to listen. Through our Editor's Picks, we hope to shine a light on our own music discoveries and showcase a diverse array of new and recent releases.
This week's Editor's Picks features Boyish, JERUB, Alex Lahey, Paige Su, Anna Shoemaker, and Savannah Conley!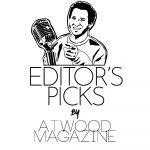 ---
"Girls Are Mean"
by Boyish
Time and time again, Boyish keep proving themselves to be one of Brooklyn's best and brightest sparks. As creatively prolific as their lyrics are profound, the indie rock duo of India Shore and Claire Altendahl have become a fixture and a favorite here at Atwood Magazine, dazzling us for three year straight with "beautifully intimate, vulnerable, and exhilarating" songs that nosedive into the depths of our fragile hearts and tender souls. 2021's We're all gonna die, but here's my contribution captured the band's unapologetic spirit and fiery passion, and last year's roller-coaster of raw emotion My Friend Mica made its way onto our list of 2022's Best EPs of the Year. Given all this, it should come as no surprise that I fell headfirst for Boyish's first song of the year, and yet the duo continue to surprise, inspire, and enthrall. Released February 10 via R&R Digital, "Girls Are Mean" is a raw and radiant indie rock reckoning peel back the scars and dwelling in the dark depths of a broken down soul.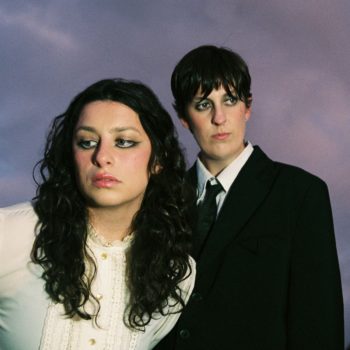 Even in my worst dreams,
I can't deliver the punch
Saccharine, you hate the feeling
of your teeth in your mouth
Caught in the alley
Taking pictures in front of a truck
Backlit silhouette
I was too sick to even stand up
CGI tears, girls are mean
At least you look so heroine chic
Your words are pressing down on me
We all tried it when we were 18
He won't leave, easily
You built your life on something so weak, without me
Achingly intimate and sonically intoxicating, "Girls Are Mean" is an unrelenting rush of feverish emotion and ethereal and urgent indie pop. The first single off Boyish's third EP in three years envelops our ears and our hearts, demanding our attention as the band candidly spill their souls in song. "Girls Are Means" feels dark and light at the same time: Waxy, ethereal atmospherics contrast brilliantly with softer vocals, whilst the beat seems to grow increasingly intense until like a boiling pot, it all spills over.
Nothing ever hurts you
you just like looking a mess
I don't feel alive
I feel so pretty and plastic and worthless
"[This] is probably the heaviest and darkest work of music either of us has ever created," India Shore explains. "We wanted 'Girls Are Mean' to have a building tension throughout the entire song. There's not a break in the energy, it's meant to feel like it's building and building into something, but we didn't want to reveal what it's growing into yet; that's coming later in the EP. 'Girls Are Mean' is written like a list of observations, like someone is writing almost from a third person narrative. Like watching yourself live out an experience from afar. It started as a list of random thoughts and random experiences that got strung together in a way that shows that someone is pushing towards something but never quite getting there.
"The part of the song that resonates the most with me is the ending and the lyrics, "I was so good but I could get better." This song makes me feel exhausted in a good way. I feel a certain frustration coming out of the song, since I resonate really closely to the idea of trying and trying your hardest at something, but there's also a hopeful energy laced throughout that brings me through to the other side."
For Boyish, "Girls Are Mean" (and its accompanying visual) depicts a descent into madness that feels all too real right now in 2023. The 2020s in general have felt especially chaotic; maybe it's the Trump and post-Trump era of extremism we're living through, making us all feel like we're on high alert every moment of every day.
"I think the 2020s will be known forever as such a weird turbulent time in our lives," Claire Altendahl reflects. "I think part of it is that things feel very ridiculous. Growing up, I don't remember the world feeling so unstable, and now it feels so normal for something outrageous to happen. India keeps an ongoing iPhone list of the craziest events to take place every year and going through it really puts it into perspective that things are not normal. It's almost like we've out evolved ourselves and we've created a world we can't keep up with. So there's this existential dread floating around and we all feel it but cope with it by watching little TikTok videos on our phones before bed every night."
If the world is constantly churning all around us, then "Girls Are Mean" is as much a reflection of that madness as it is an oasis for our tired and weary souls. Boyish can't deliver us from sin, but they can sure as hell entertain us, inspire us, and take our minds off the madness – even for just a little while. Soak up everything this song has to offer; it's a beautifully immersive powerhouse of raw feeling and soul-stirring sound, ready to unlock our innermost emotions.
CGI tears, girls are mean
At least you look so heroine chic
Your words are pressing down on me
We all tried it when we were 18
He won't leave, easily
You built your life on something so weak, without me
And I was so good…
I was so good, but I could get better
Even the hottest fires grow "Cold" from time to time – but that doesn't mean the flame isn't still alive. Released February 10 via Elevate Music, JERUB's first single of the year is a beautiful and powerfully mature reflection on love's ebbs and flows; a recognition that relationship are multifaceted and complex, and that their vacillations are a natural part of the flow. It's easy to get caught up in a low point; to think there's no coming back for you or your love – and sometimes, that might be true, but it's no reason to give up on what you have.
First love like fire
Til warm nights grew colder
Thought we'd be young forever
Guess things change when you're older
And we could never work it out
Had it all in the summer
Now I'm alone in the December
Used to trust one another
But I guess you don't remember
Cause you're heart is frozen now
Woah I don't wanna be alone
Woah maybe I gotta let go
Woah why you gotta be cold
"As I reflect on life as I've gotten older, I'm realising that every relationship goes through seasons," the Nottingham singer/songwriter tells Atwood Magazine. "There is summer where everything is warm and exciting, but there's also winter where it's cold and difficult. On 'Cold' I wanted to write about the effects of changing friendships, about how they can cause me to close up and put up walls even when I know that I don't actually want to be alone. As I grow, I am learning that no matter how cold our hearts may get, we're all (myself included) still searching for love."
Tell myself I'll be alright
If I'm honest I'm broken
Holding on to the good times
Cause you left me with nothing
And my heart is frozen
Yeah my heart is frozen
Woah I don't wanna be alone
Woah maybe I gotta let go
Woah but why you gotta be cold
Woah some days I just feel numb
Woah cause I'm searching for your love
Woah why you gotta be cold
"Cold" is a cathartic pop anthem full of heart, and a radiant (re)introduction to JERUB, whose sophomore EP Finding My Feet is set for release in early June. Intimate and intense, the song fills us with hope – inspiring us to hold our heads high even when it feels like all is lost. There will be bad days; we will feel numb, lost, and cold – but the fire will burn bright once more; we just have to find the strength to soldier on and persevere through the winter.
Alex Lahey has always had an uncanny way of inspiring those around her, and her latest single is easily one of her most rousing and spirited songs to date. Feverish, charming, and absolutely unapologetic, "Good Time" finds the Melbourne singer/songwriter soaring to cinematic heights alongside searing electric guitars and radiant, irresistibly uplifting beat.
Everyone's a bit fucked up but they think they're okay
Especially when they're out of their houses today
Forgotten how to talk but never shut up
I want a good time not a long time let's get the hell out, c'mon
Sitting at the bar haven't seen you around
You're not happy being down on this side of town
Uptight around the quarterbacks looting the sneaker store
Groups of them in and out of cubicle doors
I just want a good time. don't care how
But I know everybody needs it
All I get is blood filling my mouth
Yeah, but everybody needs it
"This song was inspired by a night out I had at the pub with my friend soon after Melbourne came out of lengthy lockdowns," Lahey explains. "We were watching all these strangers around us have this 'whatever it takes' attitude towards making the most of the night (aka getting lit). It was a bit of a shock after being cooped up for so long, but also kind of invigorating."
The latest single off Lahey's forthcoming new album The Answer Is Always Yes (out May 19 via Liberation Records), "Good Time" is infectious: A rock song with grit and a grin. Lahey rides high with swagger and charm, inviting everyone to join in her revelry. It's a cathartic experience, to say the least – and one that effortlessly plants a smile on listeners' faces.
"I feel like 'Good Time' is a bit of a statement track for me – it's a different sound to what I'm used to getting from myself and I'm excited for people to get around that," Lahey tells Atwood Magazine. "The Answer Is Always Yes has some of the biggest creative risks I've ever taken in there, so I guess 'Good Time' is a fitting introduction for what's to come. I don't want to do the same thing again and again; for that reason, this album is also my most collaborative album by far and that process got me to push myself into new directions while really crystalizing what it is I'm trying to say and do. It's the same me as it always is, but I think that person dug deep this time around."
"I was so lucky to work with Jacknife Lee on this tune," she adds. "Jacknife is one of the most creative people I've ever met and I learnt so much working with and getting to know him. My biggest takeaway from Jacknife is to "never be bland". So that's what I hope people come away from 'Good Time' with – whether they like it or not, as long as they don't find it bland."
There's no denying the eruption of raw, volatile energy within this song. For me, "Good Time" captures a lot of the hopelessness and urgent, anxious energy of the 2020s. It's undeniably of the moment, and as a result it hits hard, and it hits home. "I think there's a lot of that energy in the entire record," Lahey muses. "For me, and I'm sure for a lot of people, it's manifested in feeling pretty up and down over the past few years. I don't want to rehash the same old shit that we've all heard a million times over about this "era" we're in, but I will say that I feel like I'm oscillating along the spectrum of catharsis and fear as to what's next. But even with the fear, I still feel positive. It's all gonna be ok."
If there's one thing I've learned from this song, it's that it's hard to not have a "Good Time" with Alex Lahey around.
Can't believe it's the end when it's starting again
Been filled up to the brim but I feel so drained
Lost my sense of time, not going with the flow
Boarded up the windows, I got nothing to show
Still stuck in traffic at the end of the day
They smell the roses but I just wanna leave
Same song on loop but I don't feel a thing
The new game plan is desensitizing
"You'll Live Forever in My Songs"
by Paige Su
I fell in love with "You'll Live Forever in My Songs" the very first time I heard it. A beautiful piano ballad with soulful, smoky edges, the title track to Paige Su's forthcoming album (out February 24th) is utterly breathtaking: A heartfelt, honest, gut-wrenching and bittersweet exhale of love and grief, all in the same breath. "If you ever feel low, I just want you to know that you'll live in my songs," Su sings softly, a tender and earnest declaration from the depths of her soul. The Taiwanese singer/songwriter wrote her new album after a self-described rebirth following her cancer diagnosis and subsequent treatments in 2020; "You'll Live Forever in My Songs," which bookends the record, is a pure embrace of life and love.
Fair warning: If you've ever experienced seismic, life-altering loss; if you've felt the constant ache of a loved one's absence from your world; if there's a hole inside you that makes each day feel incomplete and unfulfilled, then this song will make you cry. Su's words come from a place of deep and everlasting connection – the kind that outlives us all, and reminds us that life is fragile and fleeting – something so special, that we have no choice but to cherish it:
Keep this secret in your heart
I know, it's hard
But you really ought to know
You'll live forever in my songs
I will always be singing right here for you my dear, my love
Whenever you need me, whenever you miss me
I'm right here
Don't forget who you are
Please always find your way back home
"People leave, but songs live on forever," Su says. "This song is written for my loved ones. In the bridge section, I actually have a choir consisting of several of my real friends and family singing along with me. Instead of getting everyone together in the recording studio, they recorded their parts on their cell phones, in true pandemic style. Because of that, I was able to invite friends from all over the world. It's a really powerful energy when the sound of the choir joins in. It makes the journey of life all so worthwhile and is a rewarding and touching way to close the album."
"You'll Live Forever in My Songs" finds a heart laid bare. It beats, it aches, it loves unconditionally – and it reminds us to be present with the ones we care about most, because they won't be here forever. "Love is the only thing that breaks through time and space."
If you ever feel low
I just want you to know
That you'll live in my songs
You'll live forever in my songs
I will always be singing right here
for you my dear, my love
Whenever you need me,
whenever you miss me
I'm right here
Don't forget who you are
Please always find your way back home
Love is the only thing that breaks through time and space
And it takes all the stars to line up for you and I to meet
Nothing will take away this cosmic connection
It wasn't long ago that Atwood Magazine was declaring Anna Shoemaker "a star ready to break out into the mainstream," and she continues to prove that statement right with every successive release. Last year's debut album Everything Is Fine (I'm Only on Fire) saw the Brooklyn-based singer/songwriter coming into her own through a refreshing, exhilarating deep dive into the human experience. Blending the cinematic and seismic alongside the soft and sonically tender, she established herself as an artist with a vast emotional, vocal, and stylistic range. As the album's title suggested, its content was dramatic (to say the least).
And who does all our drama most often fall on? Those closest to us: Our friends bear the brunt of our angst and pains, they listen to our rants and raves, they pull us up when we're down, and they play witness to our worst moments. And they love us anyway. Released February 1 via +1 Records, "Holly" is an invigorating, enchanting ode to a friend who was there unconditionally in Shoemaker's time of need. The follow-up to Everything Is Fine (I'm Only on Fire) retains all the passion, charm, and fervor that made Shoemaker's debut album so great, while this time channeling the focus beyond her four walls in an insightful exercise of self-awareness:
Did you mean to put your
cigarette out on my heart?
If you want to you can
hold onto my flaming arm
You can't fuck this up again
I told Holly we were high but we came down
I spilled coffee on my shirt so I wore his out
Last time I was at his place
I was way too weird I couldn't stay
I told Holly I was good til you're around
"'Holly' is about being the boy who cried wolf, but instead of the boy it's me, and instead of a wolf, it's an on-again-off-again self-proclaimed art bro who can only find his phone on the weekends – you know what and who I'm talking about…" Shoemaker laughs. "You can tell who your real friends are when they tell you to shut up about him. My debut album consists of a lot of word vomit and diary entry type writing which was helpful at the time, but now I'm ready to reflect on a lot of the stuff that was going on and dig a little deeper. 'Holly' is the first step of that, taking accountability for how when I went through shit- SO DID MY FRIENDS! I mean listen, we all know someone who's dating someone you literally want to flick off the earth."
Irresistibly energetic and radiant, "Holly" is captivating: A heartfelt, anthemic indie pop celebration of a situation we all know far too well. It's great to have Anna Shoemaker back, and we can't wait to bear witness to the next phase in her artistic evolution.
Did you mean to keep me out til 4 am just to
leave me on the street with a drink in my hand
Thinking bout the ways we could do it again
Now every corner store looks
the way that it did
When we were there
I told Holly we were high but we came down
I spilled coffee on my shirt so I wore his out
Last time I was at his place
I was way too weird I couldn't stay
I told Holly I was good til you're around
"More Than Fine"
by Savannah Conley
Within Savannah Conley's first single of the year is a raw emotional reckoning: An eruption of tension that's been building up for longer than she cares to admit, boiling just below the surface where she can hide it, but can't deny it, ignore it, or escape from it. Released February 7, "More Than Fine" is a captivating come-on; a cathartic seduction rising up from an intimate space deep down inside. Desire, longing, frustration, and heated passion coalesce in an unrestrained, uninhibited indie pop fever dream that highlights everything we've come to love about this Nashville-based singer/songwriter.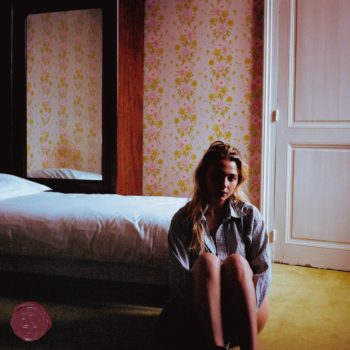 saw you from afar i made a
story in my head of where you came from
didn't take long
trust myself trust my mind
seen enough to know you might be someone
who doesn't take it all
see it in the way you move
you don't have a thing to prove
Back in my freshman year of college, someone suggested that if I were sad and I smiled, I would eventually feel happier. It has something to do with endorphins and the body's relationship with the musculoskeletal configurations of the face – as if there's a two-way relationship between our emotions and our facial expressions. I remember this exercise not panning out for others who tried it, but it actually worked on me – and whether or not it was some sort of placebo effect or a testament to the power of suggestion (ie., I wanted to feel happy, so I eventually did feel happy), faking a smile did ultimately lead to a genuine grin – and it still does, to this day.
Sometimes wearing a (metaphorical) mask, or "faking it 'til we make it," actually gets us where we want to be – and in "More Than Fine," Savannah Conley lays it on thick as she tamps down the bad feelings and leans into the good ones. "You'll be fine on your own, but just a little bit better with me," she asserts in her song's bold, enchanting chorus, the confidence rolling off her tongue in spades. "You'll be fine on your own, but think of what together could be. Come on, what if no one knows you? No one's ever shown you 'til tonight…" We don't necessarily know that it's a cover; that this attitude is something she has manifested for herself, rather than a natural personality trait.
What we do know is that change is in the air, and that she's determined to make those changes one way or another:
how long do you plan to wait
another year of just okay
you're coastin, seize the moment
see it in the way you move
you don't have a thing to prove
see it in the way you smile
thinkin that it might be time
"'More than Fine' is just posturing," Conley explains. "Posturing confidence in trying to convince yourself that you are good enough to go after a specific person. Fake it til you make it has applied to far too many things in my life, romantic endeavors included. During this particular time, I was tired of accidentally going after insecure people who seemed to breed codependent self worth back-and-forths. I came across a new person who didn't have any of those warning signs and thought it was time to break the pattern. We never dated."
Conley wears that smile the best she can, but perhaps one of this song's greatest takeaways is that it's not a one-size-fits-all situation. You can try to fit a square peg into a round hole, and you may even succeed – but it's only a temporary fix. "Look in my eyes, you could be so much more than fine," she sings at the end of the second chorus, begging for a self-actualization that never fully materializes. Guitars roar and churn all around her; she lets her voice soar high in an aching emotional release of energy. No one can say she didn't try.
Turns out, it takes more than a little wishful thinking to be more than fine.
What we can say, with certainty, is that Savannah Conley – already a two-time Atwood Editor's Pick – has laid a solid, stunning foundation for what promises to be her biggest and brightest year yet. "More Than Fine" is the lead single off her highly anticipated debut album, Playing the Part of You Is Me, set for release May 9.
— — — —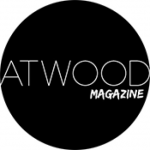 Editor's Picks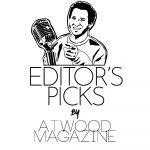 ---