Zeal & Ardor discuss satanic imagery, making multifaceted black metal, and branding with us.
— —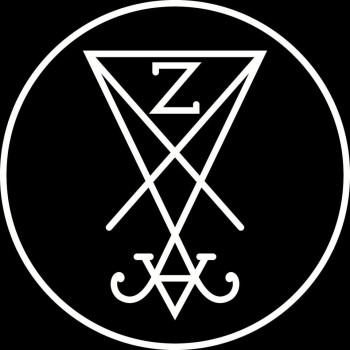 Switzerland's Zeal & Ardor has been one of the most entertaining bands to come out of the metal scene at large. The band's fusion of African-American roots music and black metal is an unlikely pairing that makes both enjoyable blues-rock but also headbanging anthems. Zeal & Ardor's second album, Stranger Fruit (released June 8, 2018), sees the band finding their voices in a scene they're also pushing forward. The project is the product of frontman and songwriter Manuel Gagneux, who can be absolutely menacing – as on the song "Don't You Dare" – as well as multi-faceted in style and approach – as with the choral piece "Coagula."
Atwood Magazine spoke to Gagneux before Zeal & Ardor's Music Hall of Williamsburg show in Brooklyn last month.
A CONVERSATION WITH ZEAL & ARDOR
Atwood Magazine: You're one of the more experimental metal artists, and it's born by creating a Frankenstein of blues, soul, spirituals, and metal. Where do you feel that places you in the metal world and the rock world at large?
Manuel Gagneux: Honestly, I have no idea. I think we benefit from the fact that other people also don't. We play pop festivals and indie festivals, and it seems like nobody knows how to place us. We have three more months of this, and then they'll be like "Oh! This is a metal band."
When I listen to a lot of your songs I gravitate to some of the more pop-savvy elements. There are moments in songs like "Row Row" that remind me more of bands like The Black Keys. Is there a conscious effort to make music that appeals to a wider audience than say a Mayhem song?
Gagneux: I think it just comes with the territory. That's a perfect example with The Black Keys. They draw from the same stuff, and that happens to be hip with the youngsters right now.
Do you use any real spirituals as reference points?
Gagneux: I did with the first record, but with the second one, I figured I could only emulate it that far. It will always be something different, so I might as well do my own stuff.
---
Your music is pretty straightforward and serious, but every interview I've read leading up to this, you always reference the fact that you thought it was funny to put satanic lyrics over gospel spirituals.
Gagneux: Which it is!
Is there a tongue in cheek sense of humor to all of it?
Gagneux: Well, the project is serious. I think it is super dangerous to take yourself to serious, as any shape of artist. If you see me with my band, they make fun of me all the time.
Going with that, I wanted to ask about the literal branding as merchandise. Last I read, eight people have done it. Is it still just at eight?
Gagneux: It's still just at eight. With the interview that I did, the cat's out of the bag. It was a statement: If you want to blindly follow people, you might as well brand yourself. Now that the joke (or statement) is made; it doesn't make sense to brand more people.
How does imagery play into your band?
Gagneux: Quite a bit. The satanic stuff we use is leaning toward modern [Laveyan] Satanism, where the ego and the self is god, and self-fulfillment is the goal. Coupled with the slave elements is a good statement.
The album title Stranger Fruit is a reference to a Billie Holiday song and a poem that proceeded it, but historically, Black Metal has harbored a lot of white supremacists and Nazis. How does that affect the way that you write, if at all?
Gagneux: I think that's one of the more charming elements of the music. I bastardized this thing and kind of steal from-it's not strictly everything is right there. There are certain people who will definitely be pissed off about what I do, and that to me is kind of beautiful. It's a very conscious thing I've enjoyed.
How have black metal purists reacted to your music?
Gagneux: It's been a wide spectrum from praise and support to bad bad bad bad behavior.
I saw videos of you playing festivals in Europe, and it looked like you got a huge reaction. It looked amazing.
Gagneux: Well, that's not the black metal-elite [laughs].
Well, the metal community at large has accepted you! The last thing I wanted to ask you about was the song "Built on Ashes." It's my favorite song from the record, and it's almost a power ballad. Can you tell me what that song's about? What was it like writing and recording that song?
Gagneux: That's actually the last song I wrote for the record. It's kind of a summary of everything leading up to that point. I tend to write lyrics after I write music. It's kind of a stream-of-consciousness thing. I guess that's why it ties everything into a package. The distilled version is cease giving a fuck-you'll die anyway.
— —
— — — —
? © 2018
:: Stream Zeal & Ardor ::