— —
Innocent and haunting; broken and longing: Keilan Creech's debut album is a moving indie folk record ready to whisk us off into a beautiful daydream. Atwood Magazine is proud to be premiering Honey Waits, independently out 11/17/2017. Full of warm acoustic guitars and soft vocals, the album was written, recorded and produced by Keilan Creech from his tiny apartment in Richmond, Virginia.
Oh my god
She's showing her shoulder shine
In this apartment mine
And I can be anything
Move me, move me
Listen: Honey Waits – Keilan Creech
---
Though vibrantly mellow and intimately brooding, Honey Waits is not your typical "coffeehouse" record. "The album is about breaking through a dark room to rediscover who I am," Creech says. His songs offer clever observations and reflections on life through an eloquently poetic lens: We may never know to whom any particular track is directed, but we nevertheless feel the weight of experience barreling down.
It goes without saying that the beauty of music is tied up in its ability to evoke the most profound emotions. Honey Waits is a vessel through which we, the listeners, can dive deeper into ourselves. It grants us the space to search our souls, enveloping us with blankets of introspective thought and poignant, ambient sound.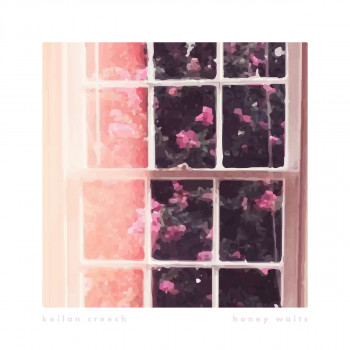 I once saw a beautiful town
One filled with hope
And smiles all around
The trees they blew
With cordial arms
Somehow I knew
To no alarm
This could be my home
If my home would just not roam
Around I think found
A place to settle down
Across Honey Waits lie questions of self and security, purpose and direction. Creech truly strips himself to the core, presenting a chillingly honest portrayal of transition. On "Roaming," (lyrics above) the artist ponders his physical location – observing another town, and imagining what life might be like were he to call it his. Songs like opener "Honey Waits" and the achingly finger-picked "On the Shores" address the individual's emotional location – pressing into love and belonging with incredible uncertain, certainty.
Sometimes, Creech feels desperate to find his foothold; other times, he's driven by the desire to just be, and we sense a harmonious coexistence between him and his world. As Honey Waits progresses, more themes emerge: An urgency to do something, to feel accomplished; nostalgia for the life and times he's said goodbye to.
In my graveyard at night
I tread sacred haunted lines
That kept me safe
And high and dry
And dead awake in my life
All my life
Perhaps Honey Waits is a bittersweet breakup record; perhaps it's the culmination of a thousand diary entries, each a different chapter full of moments, memories and musings that don't need to connect with one another, as long as they connect with us. What is certain is this record's stunning musical brilliance: Keilan Creech rises up out of nowhere to assert his place as a champion of indie folk sound, complete with echoing acoustic textures and breathtaking falsetto sighs.
You will cry; you will wallow; you will smile; you will wander your mind's caverns alongside Keilan Creech in your own journey of self-discovery. Sonically sparse but emotionally full, Honey Waits is indisputably one of 2017's best indie folk records: A powerfully vulnerable, tauntingly provocative listening experience not soon forgotten.
— —
— — — —
photo © Seth Caskey
:: Listen to Keilan Creech ::