for fans of Fleetwood Mac, Planes on Paper, Tennis
— —
They may not be falling trees or chopped logs, but there's a distinct woodsy feeling about Timber's music – a cozy warmth one can ascribe to the band's natural blend of sound, feeling, and texture. With catchy pop/rock styling and dazzling alternative folk ambience, Timber's "Shuttlecock" is a mellow, moving autumn song ready and waiting to send us on long journeys of reflection.
You were coasting lower
than the war planes fly
Light as a shuttlecock
against a feathered sky
You see how all things die
Stream: "Shuttlecock" – Timber
---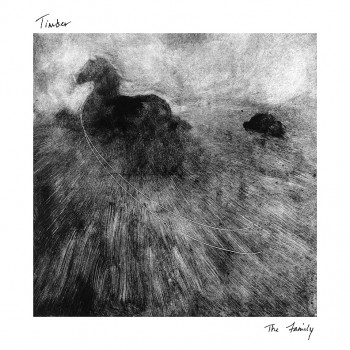 Atwood Magazine is proud to be premiering "Shuttlecock," the sophomore single off Timber's forthcoming debut album The Family, out November 9, 2018 via Cornelius Chapel. Following September's slow, deliberately heavy lead single "Sunstroke," "Shuttlecock" offers a poppier melody and upbeat tempo that makes it Timber's most commercially viable songs to date.
Despite this, the Nashville-based duo of Janet Simpson and Will Stewart remain somewhat of a mystery. Their self-titled debut EP introduced Timber in 2015 as an electric guitar-laden, folk-leaning project with a dark cloud overhead. Fast-forward three years, and it seems the pair's penchant for expression over definition has led them to make a record that is as intimate and immersive, as it is withdrawn and reserved. Simpson's poetic lyrics are more affecting than ever, but they're also more complex, requiring – no, demanding – multiple listens for our full comprehension.
And even then, "Shuttlecock" may remain something of a mystery. That's okay.
All the wild jasmine dots the roadsides yellow
It reminds you how you're native
how the flying ground is hallowed
You know the spirit of the swallow
Recorded by Lynn Bridges at the Comm Vess studio in Birmingham, "Shuttlecock" features Brad Davis and David Hickox in its rhythm section. Timber declined to comment any further on the song.
You left your room
You couldn't miss a single bloom
Spring is fleeting, all nature competing
for sun, wind rain and wide open space
Sweet guitar licks mix with Simpson's entrancing vocal lines to hold the audience hostage through three dynamic verses and an extended, driving repetition of the first two. In listening to the story unfold, one imagines a dreamer reaching a higher level of consciousness, or a spirited teenager balancing the dark and light energies within them. The song has a somber tone to it, but it's not necessarily sad. As with most things in life, "Shuttlecock" can't be put into a single box – a quality that adds to its infectious allure.
Timber's "Shuttlecock" arrives just two weeks before the band's debut album The Family releases November 9, 2018. Stream their new song exclusively on Atwood Magazine, and stay tuned for the full record as the Nashville group defy our expectations and delight our senses.
— —
— — — —
? © Wes Frazier
:: Stream Timber ::