"Salvation" has a different energy to Adam Baldwin's previous work: The guitars rumble, the bass growls, and the vocals drip with reverb and regret, creating a potent mixture. Add in the foreboding drums and it leads to a sense of apprehension that puts you on edge—in the best possible way.
Stream: "Salvation" – Adam Baldwin
---
It's with a snarl, a taunt, and a desperate scream to "open the fucking door" that Canadian rocker Adam Baldwin returns with his new single "Salvation" from his upcoming EP, No Rest for the Wicked. While previously known for Tom Petty-paced Americana, "Salvation" is a blistering, distortion-laden assault with lyrics that will cut to the core of any warm-blooded human. Conceived during an AA meeting in a hometown church basement, the song is a trip through an addict's head—with all the pain, panic and resentment attached.
While the lyrics are a powerful, relatable message—and don't worry, we'll get to them later—it's the aggressive tone that is the most striking shift. During his career—both as a solo artist and as a guitarist in Matt Mays' band—Baldwin has never shied away from rocking when he needs to: Look no further than "Daylight" or "Rehtaeh" from his 2016 debut album No Telling When (Exactly Nineteen Eighty-Five) to see this in roaring action.
But "Salvation" has a different energy entirely.
The guitars rumble, the bass growls, and the vocals drip with reverb and regret, creating a potent mixture. Add in the foreboding drums and it leads to a sense of apprehension that puts you on edge, even as you are about to start head-banging. But Baldwin hasn't gone metal, and he certainly isn't angry in the truest sense of the word: Instead, it's an anger borne out of frustration at his reality, desperation at trying to keep himself together and fear of what happens if he doesn't.
This aggressive restlessness was a conscious choice, an attempt to make the ears understand what Baldwin's heart was experiencing: "At some point while writing this record, I'd given my addiction a personality," he wrote in the caption of the Youtube video for "Salvation". He continued: "He was like a junkyard dog on the other side of a fence I'm cursed to walk by from the moment I wake up to the moment I fall asleep. I wanted that to come through on this recording in particular. The guitars had to be jagged, the bass had to growl, the words had to snap and bark."
I come alive in the evening
I'll have you back by the dawn
You're paranoid when you're sleeping
so you can sleep when I'm gone
I'll huff and I'll puff I'll blow this house of cards down
Enough ain't enough till enough comes around
While the lyrics alone make the stomach tighten, it's the strain in Baldwin's voice that really reveals the daily stress on his seams. Every word is more spat than sang. The music is relentless without ever reaching a climax. Even the chorus offers little reprieve—it merely makes the tension anthemic before lurching back into an edgy sludge. The only relief comes in the form of a solo; a 30-second scream that leads into a sermon-style bridge, before returning for one last blast through the taunting chorus:
So how's it going down there,
In your cold church basement?
And how ya feeling down there,
Have you found salvation?
The attention to detail required to make the music reenact the pressures of addiction is also evident in the lyrics, which are as personal as they are relatable. Most people have a voice in their head—be it anxiety, depression, insecurity, or plain old stress—which eats at them day and night. Baldwin's is addiction and he writes succinctly and personally about it. However, it's his brutal honesty and willingness to bare his soul that makes it so easy to place your own issues into the song and instantly relate. After all, there's nothing as beautiful as someone who has been cut up the same.
Don't draw up your curtain
Don't lock your front door
Don't you play coy, we're not estranged anymore
Come hither, come hither, buddy you know I'll get in
Come slither, come slither, let's get a smile on your chin
And this brings us back to that perfect moment; that guttural, curse-riddled plea for an entrance. One can only wonder what is going through Baldwin's mind as he desperately begs for mercy, but it clearly cuts him right to the core. This raw, goosebump-inducing moment is the crux of the song: It's the moment the song builds to, it's the push that keeps it going and it's the very embodiment of what Baldwin is conveying.
Forgive me my trespass
It's not what it seems
It's a mere invitation to let me haunt all your dreams
And I'll lead you not into the sweet allure
Now let me in, let me in, open the fucking door
With a new tone that suits him well and a lyrical vein that still has much more blood to tap, "Salvation" could be the start of a great year for Matt Mays' guitarist—although Baldwin shows us greatness doesn't come easy.
Stream: "Salvation" – Adam Baldwin
— — — —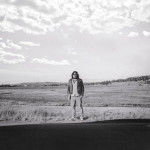 ? © 2019
:: Stream Adam Baldwin ::