New Zealand singer/songwriter Sofia Machray navigates coming-of-age stumbling blocks on her intimate and ethereal new single "Petals in the Rain," a dreamy indie pop song of inner reckoning, self-discovery, and liberation taken off her forthcoming debut EP, 'Language of Flowers.'
"Petals in the Rain" – Sofia Machray
---
I felt I've learned more about myself in the last year than I have in my whole life.
As much as our parents or guardians try to nurture us, guide us, and give us the tools we need to flourish in this world, life is a lot of trial and error. We learn our best lessons not through textbooks and secondhand stories, but when we try, fail, and try again. There's no "right way to flourish these days," as singer/songwriter Sofia Machray wonders aloud in her latest single, but there's something to be said about the amount we discover – not just about the world, but about ourselves – when we got it alone, give it our best shot, and land flat on our faces. Whether it's a physical or emotional fall, we pick ourselves up and get back on our feet stronger and more sure of ourselves than before. Sofia Machray navigates coming-of-age stumbling blocks on her intimate and ethereal new single "Petals in the Rain," a dreamy indie pop song of inner reckoning, self-discovery, and liberation.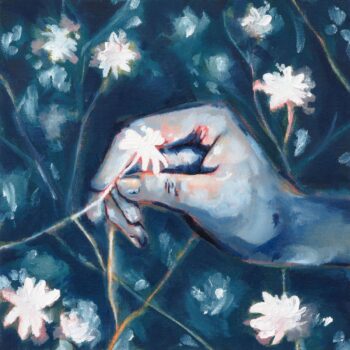 Always thinking we flower like the weekends
Dancing round, dancing round the days
Always longing to feel some belonging
Far away, far away from this place
What is this place anyway?
These days are forever changing me
And our pace is forever fluctuating
Atwood Magazine is proud to be premiering "Petals in the Rain," the lead single off Sofia Machray's forthcoming debut EP, Language of Flowers (out July 2023) and the fourth overall song release of her career. Independently out May 12, the Pо̄neke, New Zealand-based indie rock singer/songwriter's first offering in nearly two years marks a big step forward, both from an artistic standpoint and from a personal one, as Machray steps unapologetically into the spotlight with her heart on her sleeve.
Reminiscent of artists like Angie McMahon, Matilda Mann, and Atwood Magazine artist-to-watch Alaska Reid, "Petals in the Rain" shimmers with radiant guitars, soaring melodies, and an irresistibly dynamic, evocative vocal performance.
Sinking into the haze of her own overthinking mind and the unavoidable specter of past experiences, Machray crafts a catchy, cathartic, and emotionally-charged sonic landscape. Tension slowly dissipates into a sweet release that washes over us, drenching our ears and our hearts in a stunning, seductive indie rock sound. Her chorus is a resounding musical and emotional climax:
We're running round flowing in and out
I almost drowned didn't like the sound
Frantic minds think alike
Circle back I know you tried,
I know you tried, I know you tried
When all I ever wanted,
all I ever wanted was change
"'Petals In The Rain' is ultimately exploring themes of self-discovery and growth through overcomings," Sofia Machray tells Atwood Magazine. "At times I think we underestimate the significance a single moment can have when we're in it. These moments can suck us in and spit us out, shaping us into the people we are and want to be. When writing this song I was processing some of my first losses, heartbreak, and letting go of old friendships that were no longer serving me whilst navigating adulthood. I'm only 23, so I barely feel like an adult. But there was a lot to learn through these experiences in terms of self-discovery; I felt I've learned more about myself in the last year than I have in my whole life."
"As much as these things had proven confronting and some of the most challenging experiences I've had, on the other hand, it was extremely liberating to come out of the other side with a sense of clarity and peace of mind. I now realise that sometimes a bad thing later on down the line can turn out not to be bad at all, even though at the time you wouldn't have known it.'Petals In The Rain' is almost like a nod of a hat to myself for overcoming those moments and seeing the beauty in them instead of dwelling on the negative things. It's a reminder to be kind to yourself, embrace the people you have around you and celebrate the small wins whatever they may be!"
Flowers weeping and changing with the seasons
Playing dress-up in the rain
Twirling around the wind picks them up and puts them down
Transforming in their own ways
What's the right way to flourish these days?
Is there even a way? Well
My heart's reserved for weeping flowers
on concrete pavements in such strange hours
My brain is full of scattered thoughts
blowing in the wind like an arrangement of sorts
Co-directed by Machray and Taylor Nixon, the "Petals in the Rain" music video brings the song's coming-of-age themes to life with a twinge of visceral, vibrant nostalgia. We feel on one hand the euphoria and wonder of memories being made in the moment, and on the other, the heavy weight of rewatching those memories from a distanced future perspective. Everything we've ever done will eventually be "history," and there's an argument to be made that "Petals in the Rain" is exploring that unavoidable inevitability.
"Visually, I wanted the video to embody ideas of reminiscing and appreciating moments for what they are," Machray says. "I felt super strongly about using my camcorder as a central prop throughout the video to capture these memories and feelings of nostalgia. It was quite cool integrating that element into the video as I've had the camera since I was little and have always loved filming my friends on it so there was already quite a natural element build from for a music video. Ultimately, I just got to hang out with friends, create memories, film them on my camcorder, and have fun!"
---
We're running round flowing in and out
I almost drowned didn't like the sound
Frantic minds think alike
Circle back I know you tried,
I know you tried, I know you tried
"Petals in the Rain" is a dazzling, dynamic best-foot-forward for Sofia Machray.
It's an intoxicating, immersive musical wonderland aching with raw emotion and relatable feelings. The 23-year-old evokes the pain, and the passion, of our turbulent late teens and early twenties with grace, glistening sonics, and an unfiltered honesty that hits hard and leaves an instant, lasting mark.
Sofia Machray is without a doubt an artist-to-watch moving forward. Listen to her new single and stream her music video exclusively on Atwood Magazine!
Debut EP Language of Flowers is out July 21, 2023.
We're running round flowing in and out
I almost drowned didn't like the sound
Frantic minds think alike
Circle back I know we tried,
I know we tried, I know we tried
When all I ever wanted,
all I ever wanted was change
— —
"Petals in the Rain" – Sofia Machray
— — — —
 © Olivia Melhop
:: Stream Sofia Machray ::
---