Fast-rising artist Aidan Bissett dissects a young relationship with his fun, fiery and heartfelt debut EP, 'I'm Alright If You're OK.'
Stream: 'I'm Alright If You're Ok' – Aidan Bissett
---
Passionate and vulnerable, with an acute attention to detail, rising star Aidan Bissett debuts a fun, fiery and heart-turning EP, I'm Alright if You're OK (released October 7, 2022 via Capitol Records). The success of single "Tripping Over Air" sets the tone for an equally impressive roster of songs on Bissett's EP.
I hear you talking in your sleep again
You're holding onto something real
Can't get enough of what's been in your head
Our secret's out and I'm feeling this
Is there something on your mind 'cause
You're the only thing on mine, love
Wanna tell you all the time but
I know she likes boys that play guitar
Tattooed arms and a beat up car
I know she's gonna break my heart
I know she likes me when I play it cool
I can't help it, I hate the rules
I know she's gonna break my heart…
– "Tripping Over Air," Aidan Bissett
From a classic rock moment that seeps into a 2022 indie rock feel with "All That I'm Craving" to the catchy cadences of "I Can't Be Your Friend" Bissett is able to showcase a wide breadth of not only musical, but immense vocal ability and control. "A Song for Her", a standout on the EP, tilts towards Bissett's vulnerable side, which he isn't shy to share – allowing him to create a song that musically truly emotes along with its lyrics. And finally, "Twenty Something" serves a perfect closer to the EP; Bissett's care and craft for the story he is telling in I'm Alright if You're OK is evident throughout this evocative finale:
Call me when you need a shoulder
Tell me that you're comin' over (comin' over)
Stayin' up in bed, damn, how it's 3 a.m.?
You come in closer, I say, "Take it slower"
You know I really love that we can talk this way
I wanna say too much, but it's too soon to say
I only like you when you look at me
I only like you when you blink and breathe
But love's an education, let's wait 'til graduation
You got hearts you should be breaking
Mistakes you should be making
Oh, but every time you look at me
I wanna tell you all the way I feel
But if we got together we'd f*** it up forevеr
So I'm not saying nothing
Until we're 20 somеthing…
– "Twenty Something," Aidan Bissett
Atwood Magazine caught up with Aidan Bissett fresh off his tour opening for The Greeting Committee. Dive in below for a discussion on his EP, touring, working with alternative icons like COIN's Chase Lawrence, and what's next for the young rising star!
— —
A CONVERSATION WITH AIDAN BISSETT
Atwood Magazine: Diving right in, "All That I'm Craving" has sort of a classic rock feel at the beginning with the fast guitar chords and the way you sing it, and then the chorus kind of explodes and takes it in a new direction and I love that. Tell me about this one.
Aidan Bissett: We were referencing Two Door Cinema Club with those high chords which are kind of weird, but super fun. Andrew Wells was the producer on this one. I was writing in the room with him which was awesome. He is so talented when it comes to – I mean he's talented in general – he's really great on the guitar. Usually that's what I drive in sessions, a lot of guitar and the producer kind of focuses on the production. That was the first session I ever did with Andrew and he was like yeah let me just rip the guitar real quick, and I was like, "Oh, wow amazing!" He pulled out those chords and I thought they were so sick. The first melody that came to mind was actually the post-chorus and the second verse and the last chorus. He starts singing ,
Take your time, I'm used to a waitlist
It flowed so quickly from there. It was one of the fastest songs I feel like I ever wrote. I had just started seeing this girl and it was about that honeymoon phase. So fun and sweet.
All that you're craving, right?
Aidan Bissett: Yeah, exactly. Vocal and tone wise, for some reason every time I'm with Andrew I try to channel Brandon Flowers or Alex Turner because the way he processes my vocals works so well for that. It's so fun to dabble in that low register.
"I Can't Be Your Friend" is so fun. It's different in tone, but still feels as though it's a part of the EP. I love verse two, tell me about crafting that verse and that song in general.
Aidan Bissett: Working on this song was a dream come true for me because I got to work with Chase Lawrence from COIN.
Wow! You got to work with a lot of cool people for this.
Aidan Bissett: Yeah, I struck a lot of gold for some reason. We started that song a year ago before I moved to LA. He DM'd me on Instagram randomly. I was already a huge fan of COIN. I remember waking up to the DM and thinking how crazy it was. He said he loved what I was doing and wanted to hop on a Zoom session and I was like, "Um, yeah – sounds great."
"I Can't Be Your Friend" was the first idea we had. I got lucky. Zoom sessions can be really weird because you're not in the same room. I wanted to make sure I made a good first impression so he'd want to work together again. That was the first thing we did and we just clicked really well and ended up producing the demo. It kind of sat for a while – we did the first verse and the chorus. We had the demo for a long time because he went on a huge tour and had to be focused on that.
I remember he would text me on tour and be like, "Dude we gotta finish this song." I told him I was working on the EP and I wanted the song to be a part of it, and he was in to do it. We spent three days getting the vocals right. The one thing about Chase, which I respect so much – he's so particular when it comes to vision and the way things sound. So it was 3 days of vocal intonations, vowel sounds and delivery. It was very tedious but it paid off because it's such a cool sound. He has such a specific way of doing vocals like in that second verse:
You brush my hand, I'll bite my tongue
And the way I say tongue – it's meant to pull you in. He has so many cool ideas when it comes to that stuff. I just let him drive and took every note that he had because obviously he's very talented. It was a really cool learning experience for me to learn how to have clear vision when it comes to that stuff.
That is so interesting. It comes through in the song - the attention to detail. So, "Tripping Over Air" - this song has been huge for you, and for good reason!
Aidan Bissett: Yeah, no I appreciate that. It's a fun song. I started that in my home studio, recorded the first verse and thought it was sick. The first verse already felt like a hook of sorts?
Yeah - it's immediate.
Aidan Bissett:  Yeah, and so when I did that I sent it to the Captain Cuts guys who I did "Twenty Something" with, and I was like, we gotta make this into a full song, and they agreed. We dove into it and it turned into what it is now and we were all so stoked when we came out of that session. This is it.
You were right, so good. You're able to showcase another side of your voice in "A Song for Her." Tell me a bit about it, from the lyrics to the production it's so different and amazing. I love the violins at the end.
Aidan Bissett: Yeah. The whole EP was over this little 3 to 4 month relationship that I had. It was the realization of why I was getting into these short term relationships and why they were crashing and burning. This song was written at the crash and burn part. I was really sad about it. It was a blindside that I wasn't expecting. I remember waking up one morning, rolling out of bed and recording a voice memo saying that I really want to do a song where if we took all of the lyrics away the listener would still be able to understand the emotion and pain through instruments and production. So that's how it first started. I brought it to my friend Aaron who goes by apob. He's really good with intricate and weird left field stuff and that's what this song felt like. I hadn't done anything like it before and I knew I wanted strings and a bunch of weird shit. We spent three days finding those strings. I don't think I've ever been so tedious on production because we didn't have access to real strings and I wanted everything to sound so incredibly real.
They sound very real.
Aidan Bissett: And that was the product of like 13 hours sitting in a chair not moving and fine-tuning levels and all that stuff. Aaron was so good about bringing out emotions and metaphors throughout that song. Everything was a spool and now it's unwinding, which is how it feels when all you can think about is this one person and now they're gone. It's like all you want to do is scream and that's what the chorus is – it's basically just me screaming.
So, yeah that song is really special to me. I always get nervous playing that song because it's so different and I never know how people are going to react.
But I bet people love it.
Aidan Bissett: Yeah, people ended up really liking it which is cool. It was just eye opening. I want to be able to do more of that.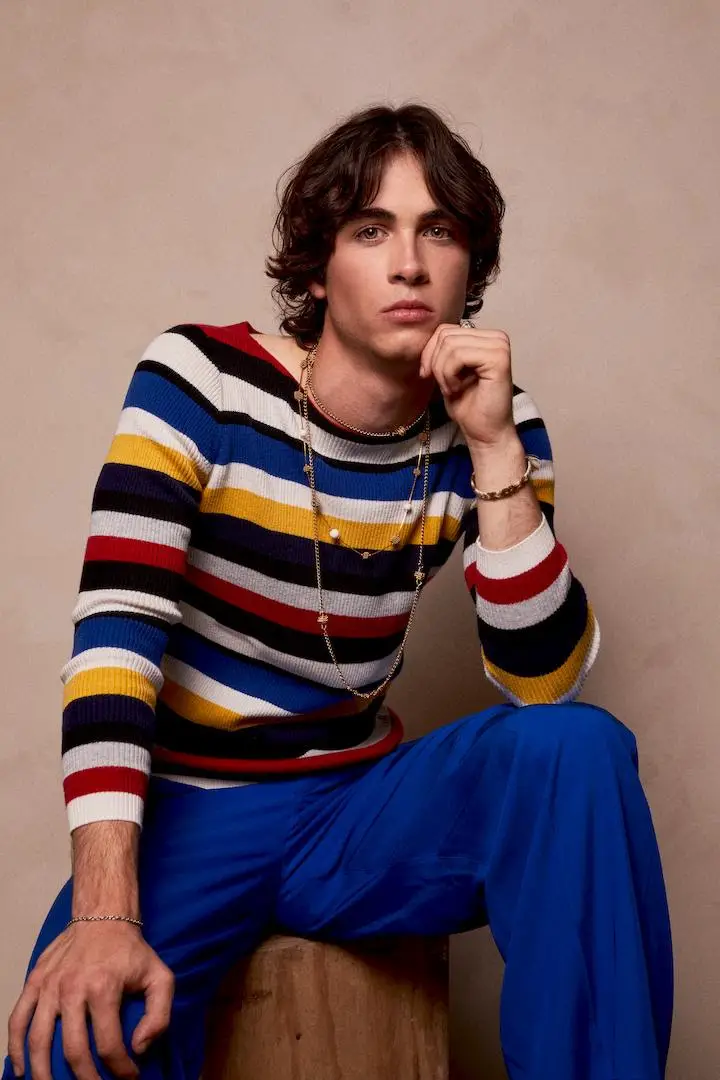 You definitely should. Finally, "Twenty Something" - I feel like this is a perfect closer for the EP. "If we got together, we'd f*** it up forever" is such a mindset of falling in love when you're young.
Aidan Bissett: That song was the wrap up of everything. For the relationship – it wasn't the right time. Maybe if it was another time it would've worked out. I'm still young and I feel like everyone I get involved with is also young. We're all figuring shit out. Relationships aren't always going to work out. That's a reality and accepting that is part of life and that's kind of what the song was – me coming to terms with the fact that relationships aren't going to be the easiest right now so maybe just go out and have fun with life and meet people and be a normal young adult.
That song was so interesting. We spent like 5 months working on it because we couldn't figure out a verse. We had like 15 different verses and we couldn't figure out what we wanted it to sound like. We knew the chorus was super sick, but very glad how it turned out. It has Sugar Ray aspects, and I know some people don't love Sugar Ray.
Everyone secretly loves Sugar Ray.
Aidan Bissett: Exactly, everyone knows that one song – don't pretend you don't like it.
One final question: What's been your favorite song on tour?
Aidan Bissett: I love playing "Grocery Store Girl" because there is a huge chorus at the end where me and Grant, my lead guitar player, get to just play guitar and run around stage and I tell everyone to mosh, so everyone is jumping around and it's so loud. It's just a fun song – everyone has a great time.
That's amazing! I hope to see that live from you soon. Thanks so much for your time, can't wait to see what you do next.
Aidan Bissett: Thank you!
— —
— — — —
? © Brooke James
:: Stream Aidan Bissett ::
---