Ashe brings 'Mom's First Headline Tour' to Philadelphia, opens and sings her heart out, and we're all the better for it.
— —
Even before entering the venue, you know that what's to follow will be a family affair. The name Ashe aptly gave to the tour – Mom's First Headline Tour – already gives away the inclusion and love that will fill the room of Philadelphia's World Café Live for the next two and a half hours. From the youngest to oldest member of the audience (a range that must have gone from 13 to 60 years old), everyone feels welcome and just as much a part of the making of the evening as the artists they came to see.
The first artist to take the stage is Gavin Haley, who fills the room with only his voice and acoustic guitar. His seven-song set hypnotises the audience, who greet him with enthusiasm and love, especially the fans in the front row who Haley compliments for their Ashe t-shirts. A clear highlight of his set is new song "The Way I Am", a collaboration with Ella Vos that leaves everyone in the crowd swooning. A cover of Coldplay's "Yellow" has everybody in the room singing along. Haley's performance is intimate and perfect to ease you into the night, and as he announces that this is his first proper tour you can't help but feel like you're witnessing the start of the journey of someone special.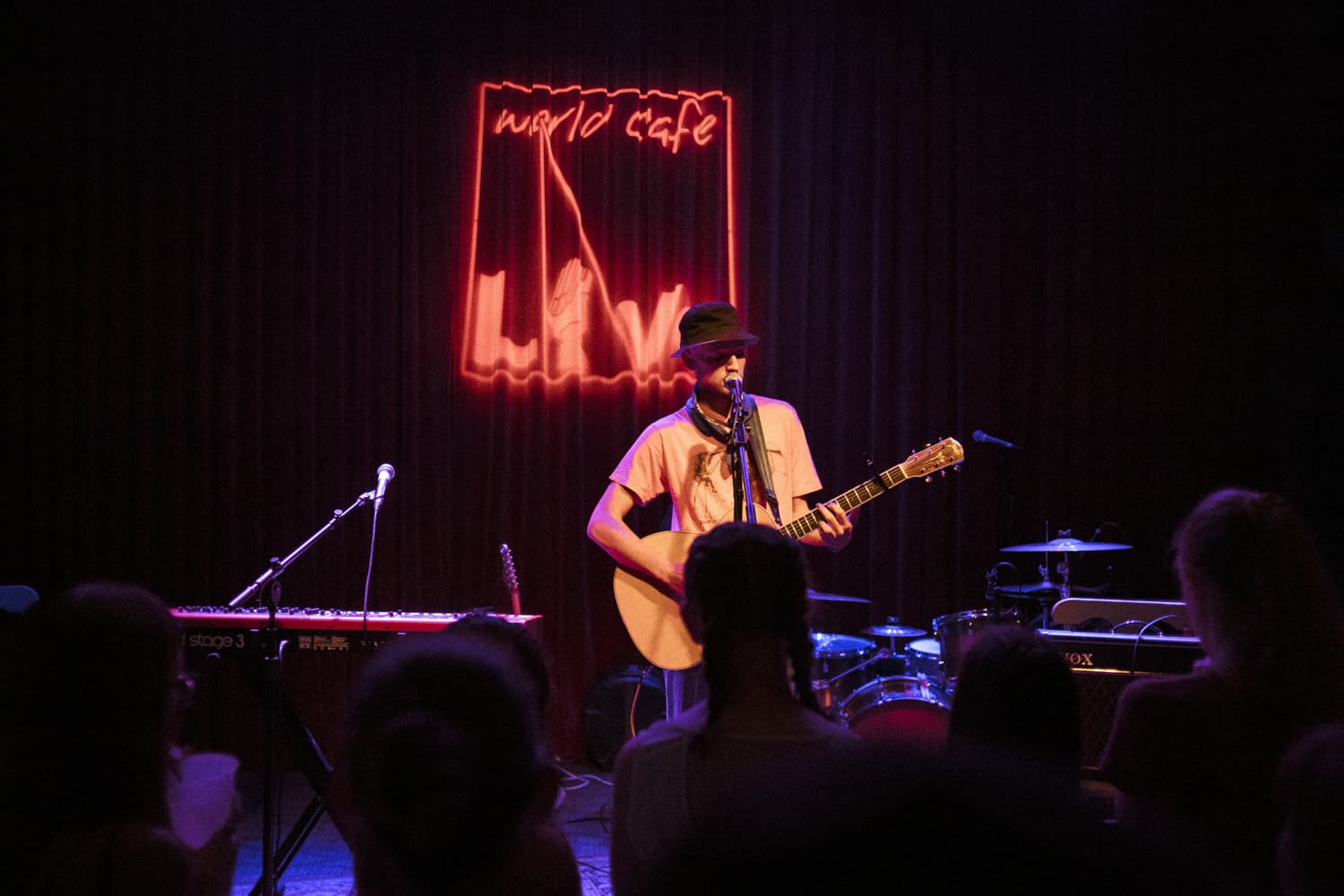 Charlie Burg comes next, and is received by an audience who's clearly already familiar with his repertoire. As he steps onstage donning a beige shirt with a crossword print on it and beige cargo pants, fans talk among themselves and compliment his "good sense of style" before one chord was strummed. As the performance starts, Burg ad libs his way into a song and the crowd is sold, joining him. Three songs in he announces that the next song he's going to play is "June", and the response from the audience is loud. Burg switches between electric and acoustic guitars and the keyboard, never once missing a note, and looks so comfortable performing that even slip ups like forgetting the second verse of Sam Smith's "I'm Not the Only One" are embraced, Burg laughing at himself and the audience joining in on the joke.
Throughout both Haley and Burg's sets, enthusiastic shouts and clapping could be heard from side stage – Ashe, the headliner, was there to support her opening acts and did nothing to mask her enthusiasm and genuine love for the artists, like a proud mum. Gradually the venue fills up, and the more people that make their way towards the stage, the more blue denim bucket hats with the word 'MOM' embroidered on them you see. Fans of different ages get together and speak between sets, making new friends, knowing the thing that unites them is a love for music. The room is bursting with anticipation, waiting for Ashe to appear.
The show begins and Ashe steps onstage, donning the same bucket hat as most of her fans, instantly uniting artist and audience. The first three songs are a perfect energy burst: "Can't Hide", Ashe's song with Whethan, opens the show; followed by the self-love and empowering anthem "Choirs", and a newer cut, "In Disguise", comes next prompting everyone to dance. Ashe is beaming. Her eyes shine, her lips are permanently shaped into a smile, and her energy is contagious – a handful of songs into the set, it's impossible not to feel like you're on top of the world. "We Get High" is the best display of Ashe's impressive vocals, and the jazz-inflected tune is clearly a favourite.
At times, Ashe displays disbelief at the fact that she's headlining her own tour. "Just one year ago I was opening for Lewis Capaldi in this room" she mentions, nodding at how far she'd come considering that now she's headlining the same venue and he's become somewhat of a superstar. It's only the second night of the tour, emotions are at an all-time high, but the gratitude Ashe feels for even being given the chance to perform and headline shows is palpable. When her lyrics are sung back to her, her jaw drops and she borders on getting emotional.
Ashe thanks the fans, multiple times, passionately, but it's clear that her relationship with fans isn't a normal one: she refers to several of them by name, repeatedly points out one fan's great dance moves, and completely dismantles the imagined barrier between fan and artist. They playfully refer to her as "Mom", she accepts and embraces the title. They're a family. The same sentiment applies to Gavin Haley, who performs "Cold in California" with Ashe, and Charlie Burg, with whom she covers "Champagne Supernova". Both artists are lauded by Ashe, with her repeating how proud and happy she is to have them support her on her first tour. All you see on that stage throughout the night is love.
Being vulnerable and open about your life struggles is challenging, an emotional ordeal that most would rather dodge, but Ashe wears her heart on her sleeve and gains strength from sharing both the good and bad with others. Before "Wrong Side of Myself" Ashe reveals she comes from a family of addicts and that the song was written about her brother, and instantly that song becomes more meaningful and the moment more special. Both Moral of the Story EPs document Ashe's journey through divorce, heartbreak, and most importantly how to pick yourself back up after going through what you thought was unimaginable.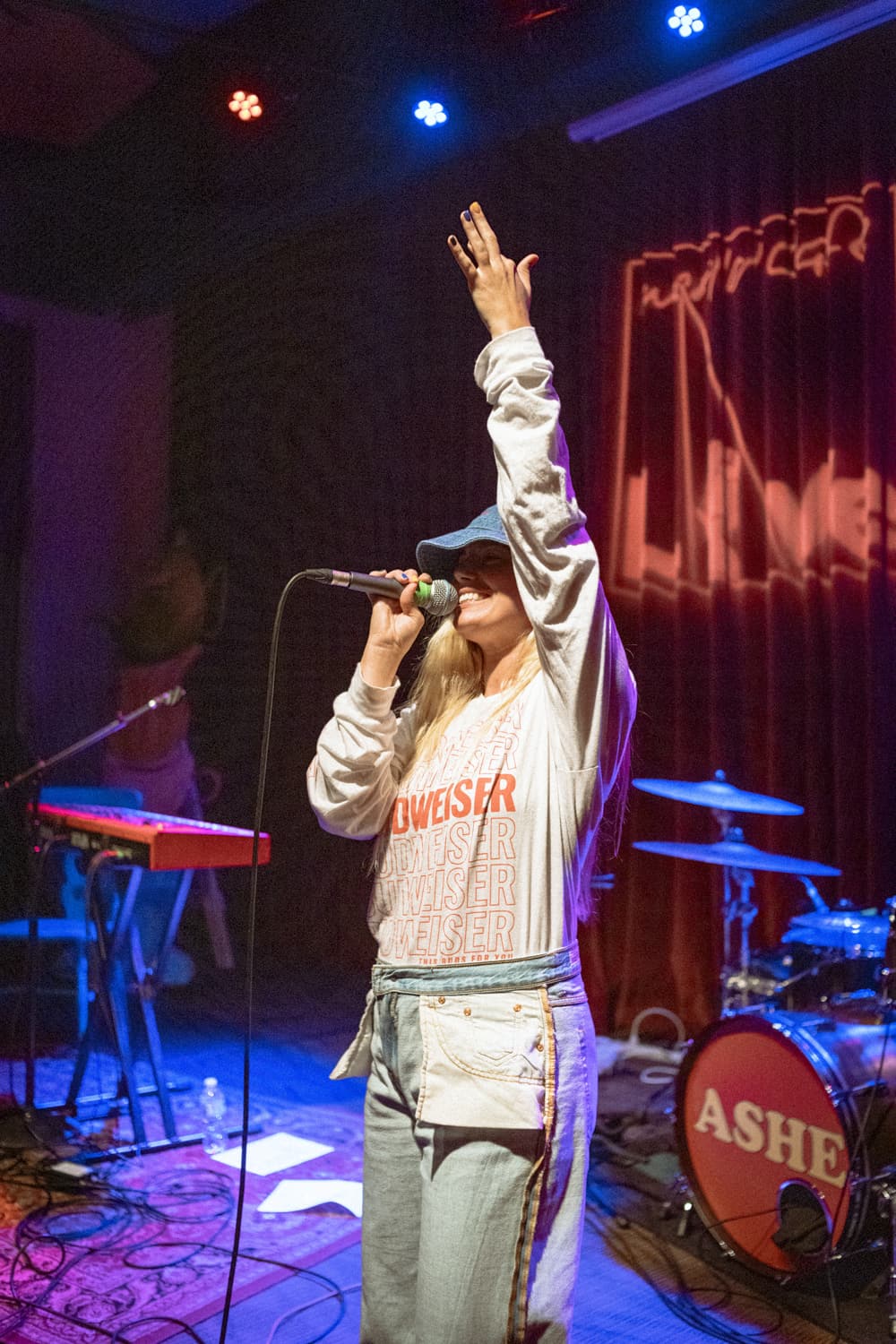 As her lyrics describe her life story you realise that the woman you see in front of you has gone through insurmountable amounts of pain, but she's here, she's smiling and dancing, she's turned her dreams into reality, and she's happy and loved. Subconsciously, you realise that whatever it is you're going through, you too can survive it and find happiness again, just like Ashe did.
The stage setup is exquisite, with cutouts of towers of colourful teacups and saucers on both sides and pastel blue and yellow chairs among the instruments completing the theme. One can't help but be reminded of Alice in Wonderland's Mad Tea Party – a connection that makes sense considering Ashe's first EP is called Down the Rabbit Hole. Unlike Lewis Carroll's version, though, here there are no riddles or unbirthdays, and no one is feeling lost – the one thing you know for sure after the show is over is that there was nowhere else you were supposed to be but in a room watching an artist make her dream come true and inspire everyone with her warmth and strength.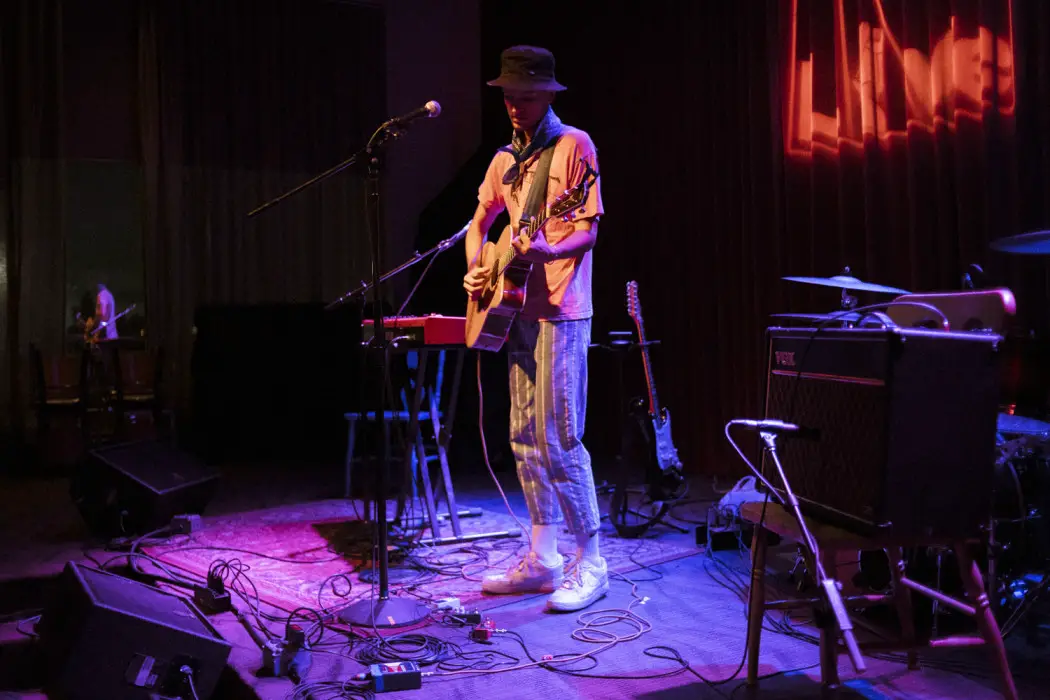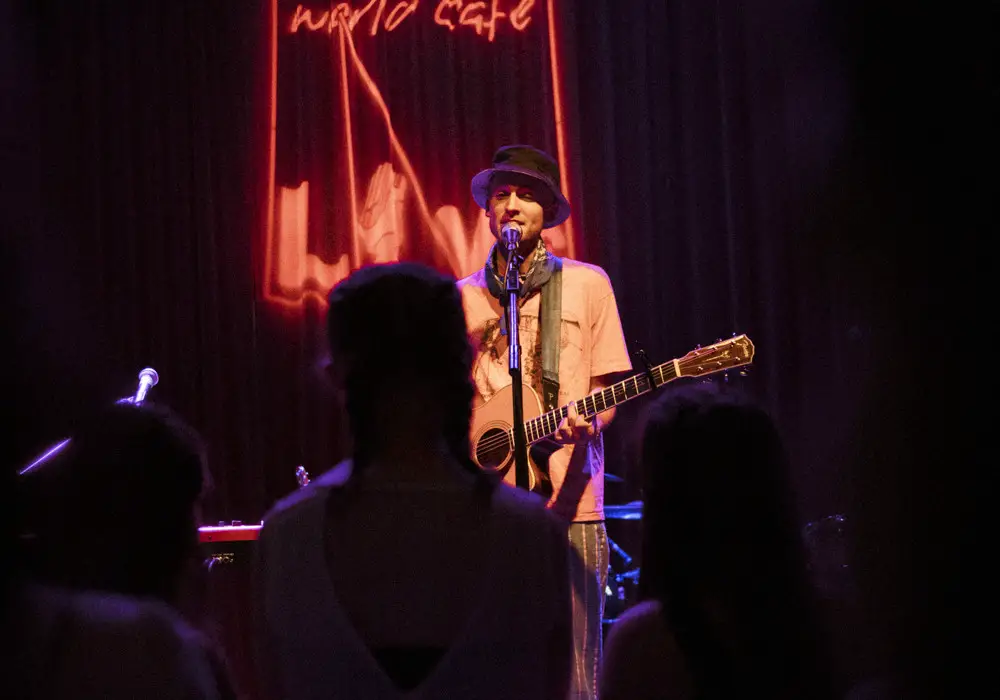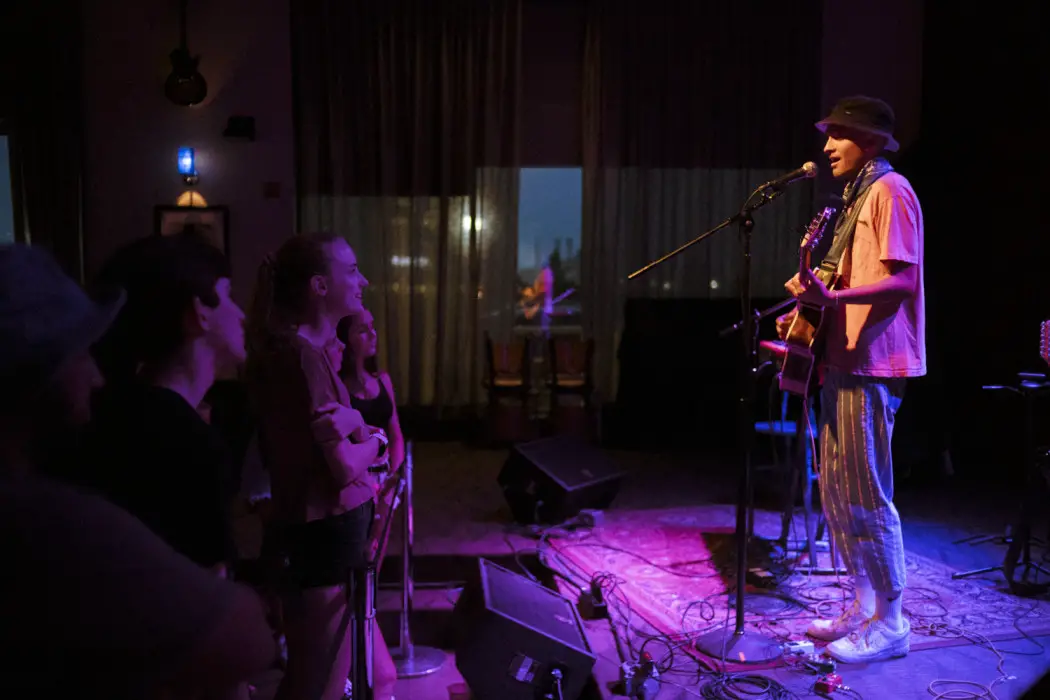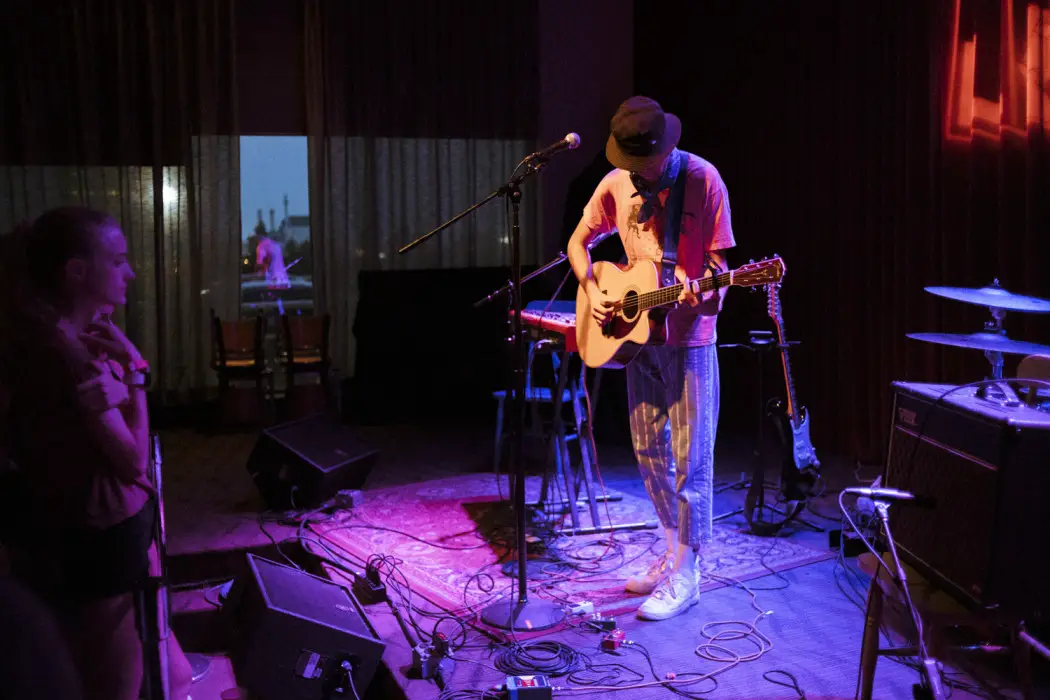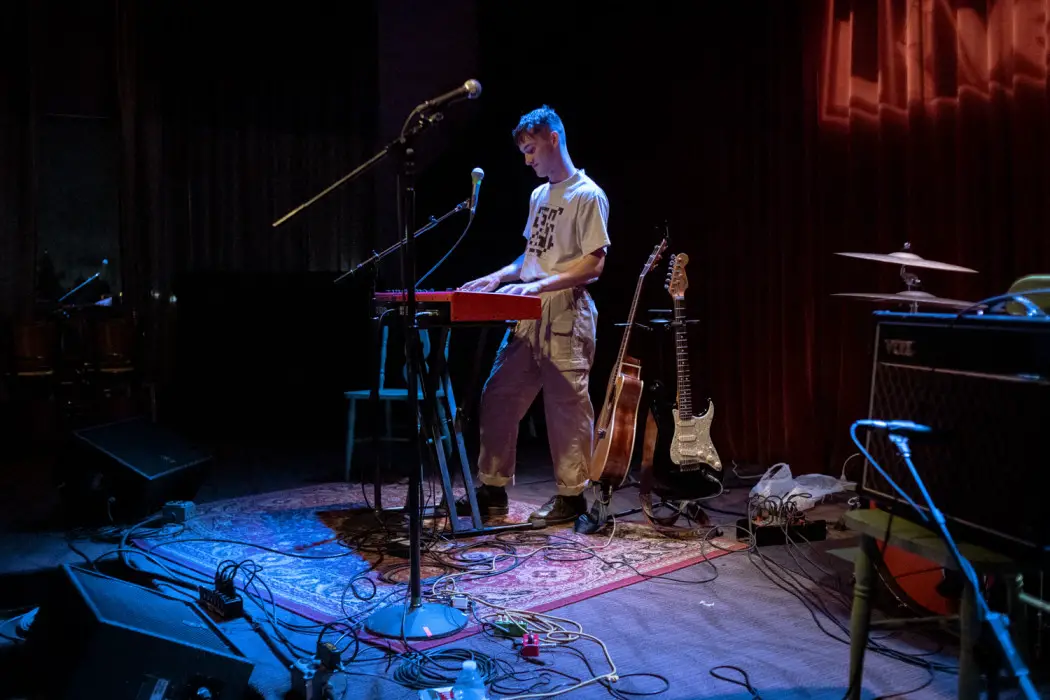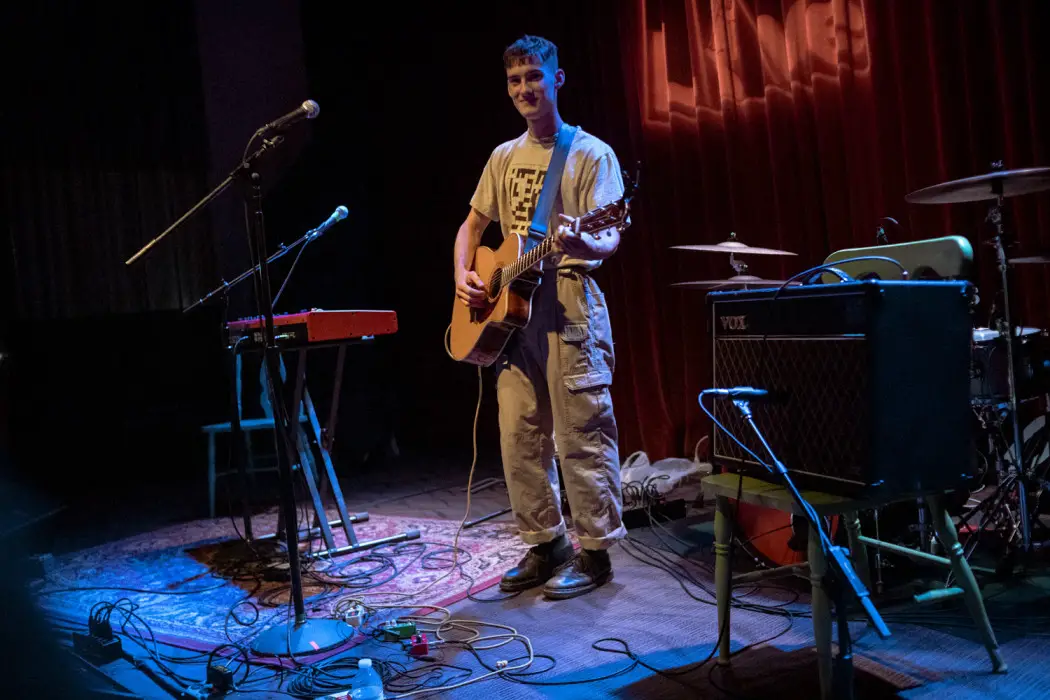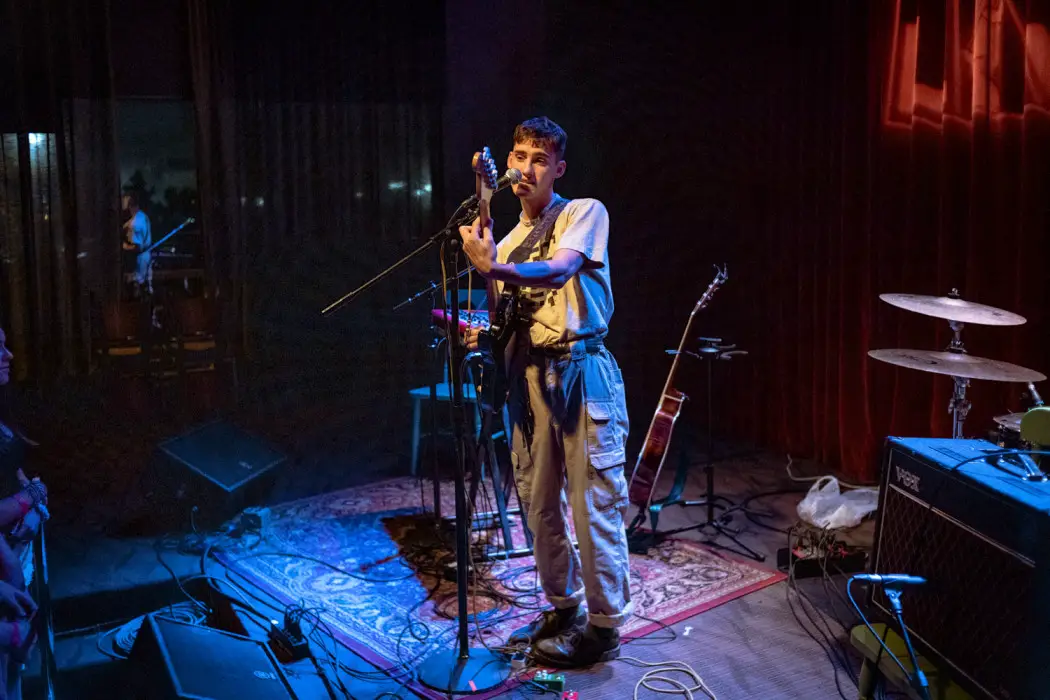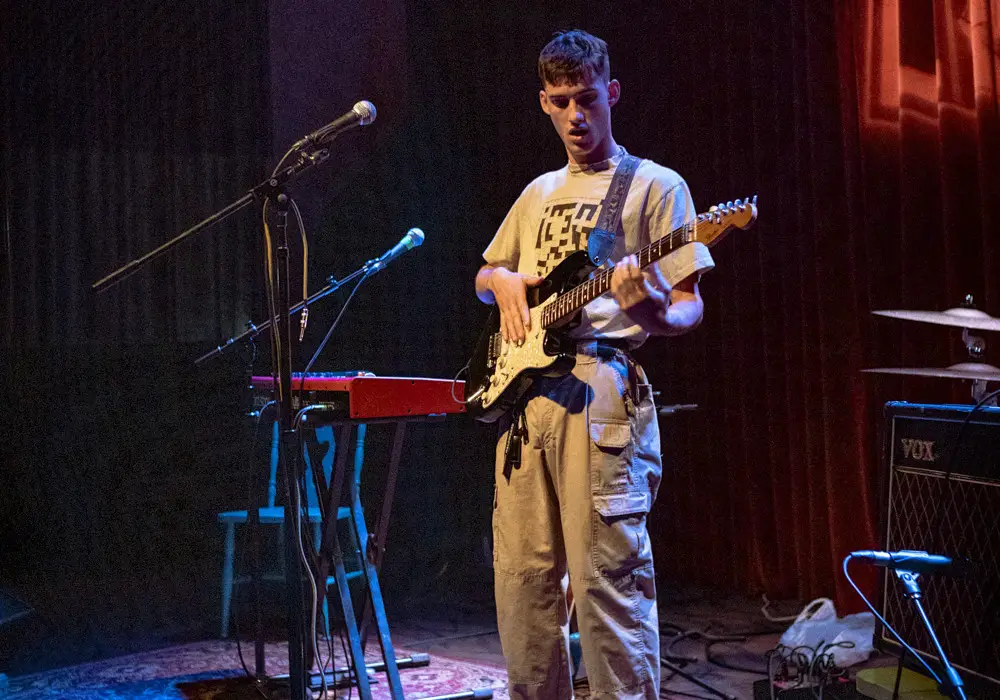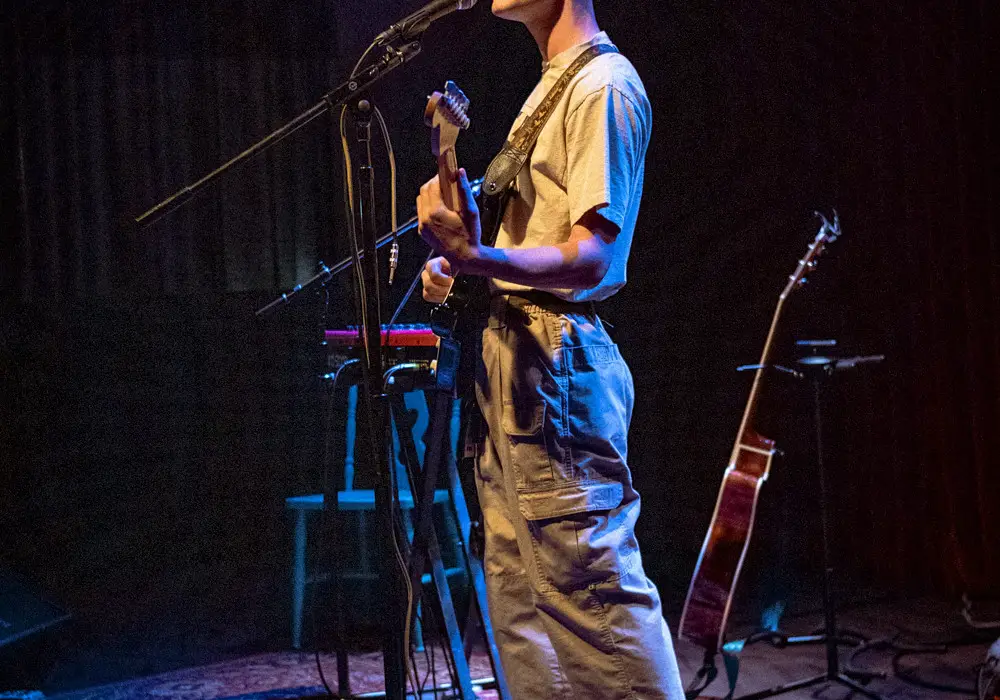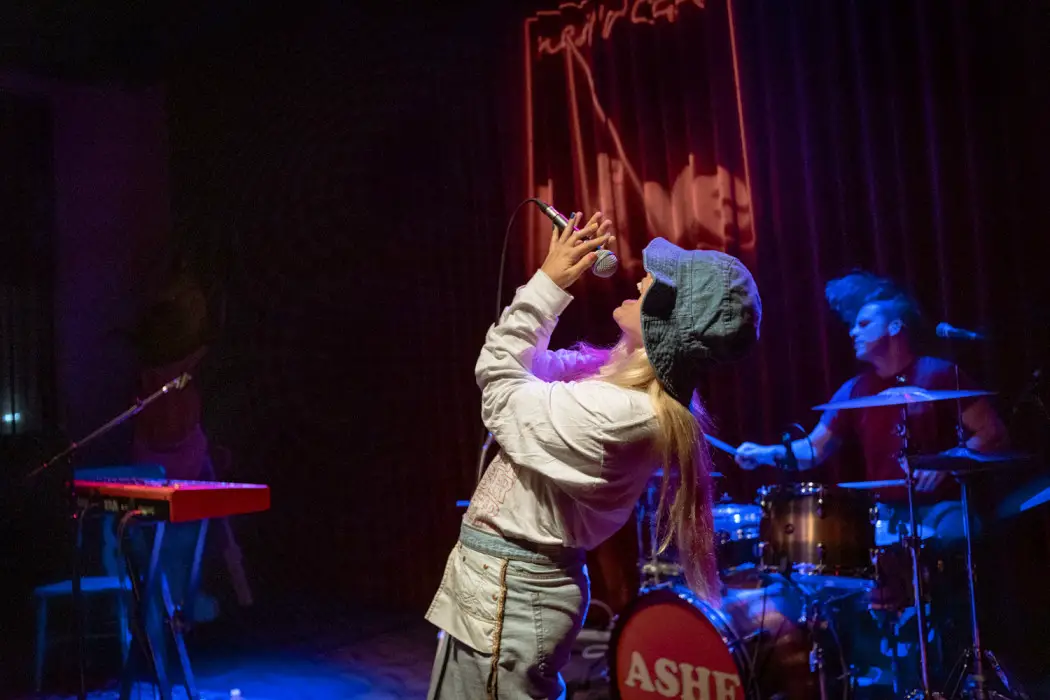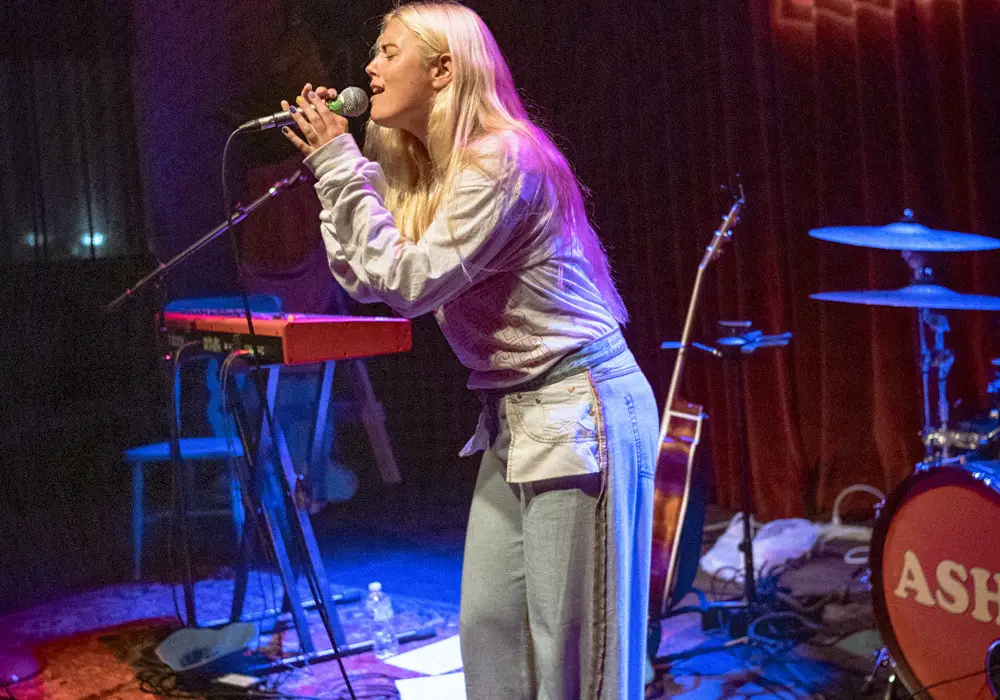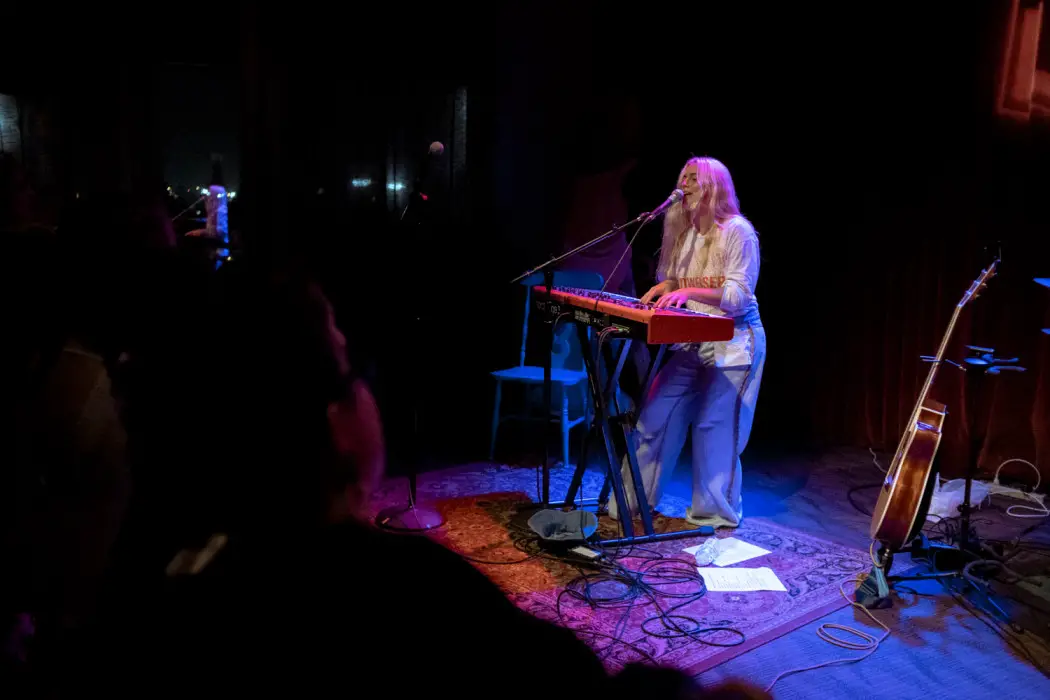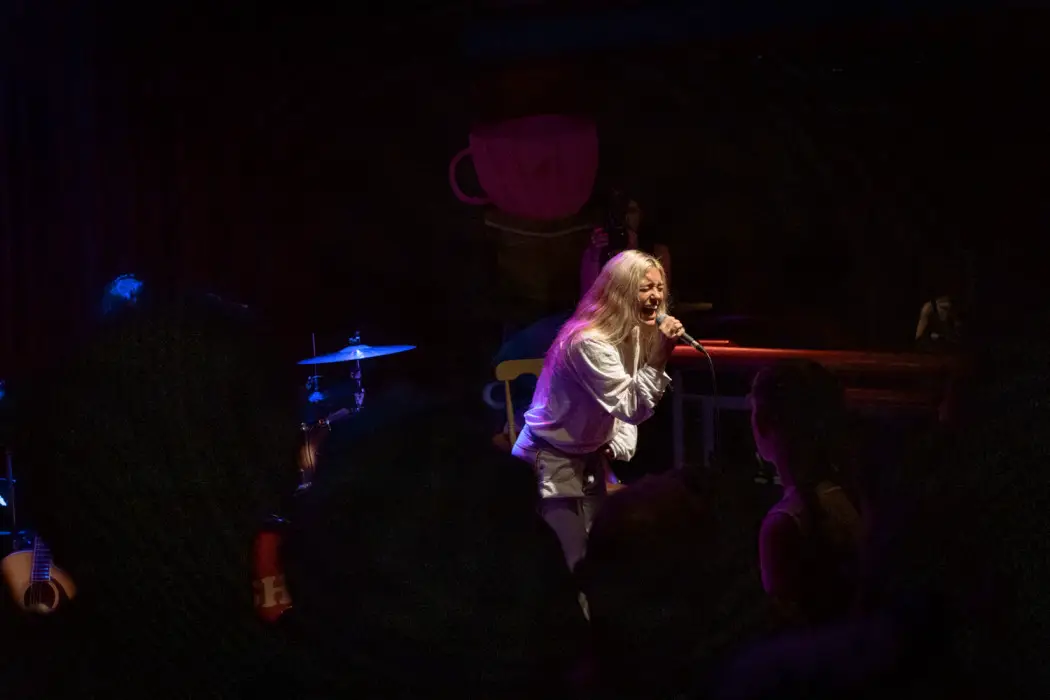 — —
?© Nicole Almeida
:: Ashe Tour 2019 ::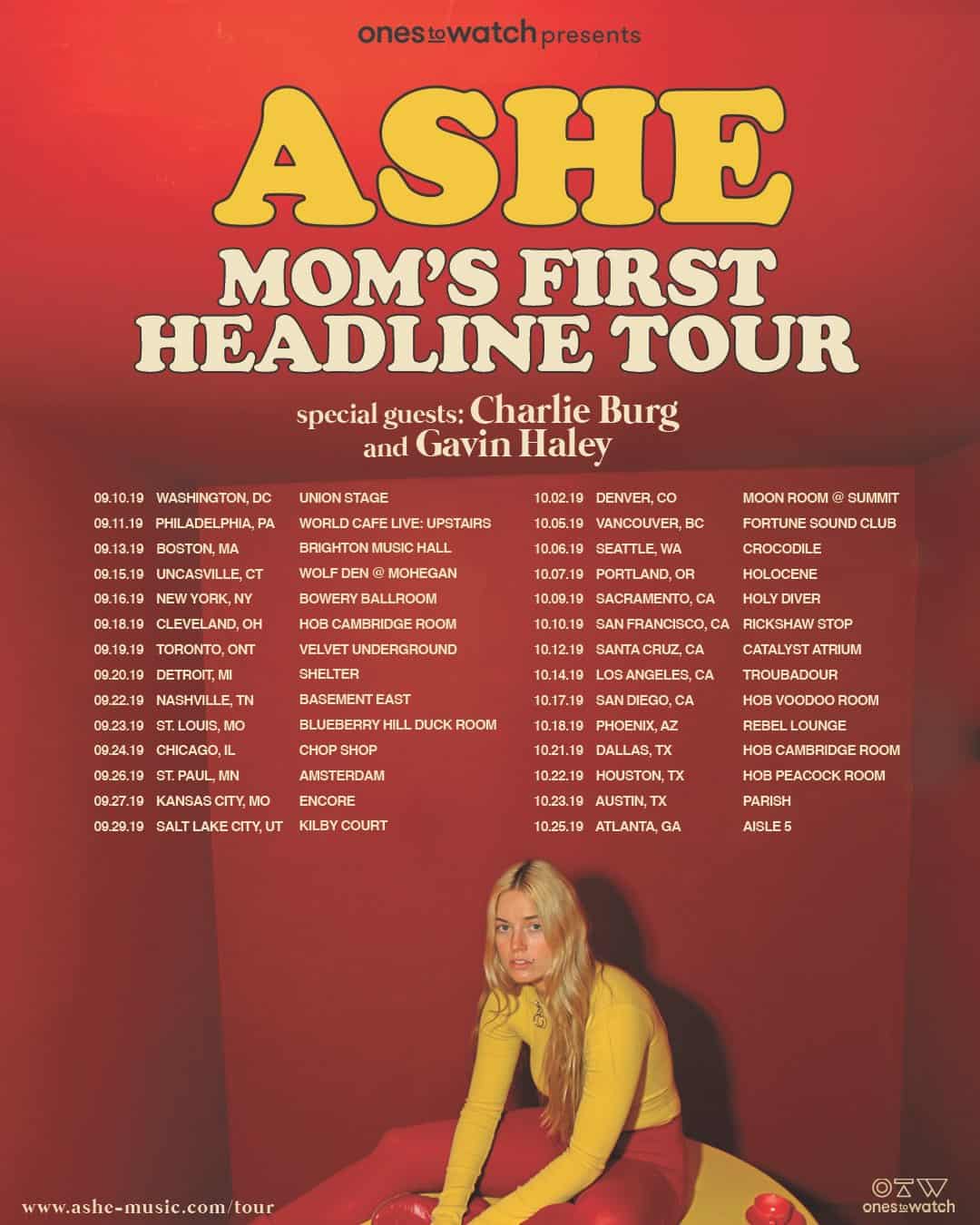 :: Stream Ashe ::