Talk about an impressive introduction: They may still be teenagers, but brother-sister duo Anastasia Max leave a mark with their hard-hitting debut single, "All Went Black."
Feels like a long way down,
From where I stood to where I stand now.
Feels like there's no one home,
To open the door.
Listen: "All Went Black" – Anastasia Max
[soundcloud url="https://api.soundcloud.com/tracks/343599894?secret_token=s-JJTcv" params="color=ff5500&auto_play=true&hide_related=false&show_comments=true&show_user=true&show_reposts=false" width="100%" height="166″ iframe="true" /]
---
Atwood Magazine is proud to be premiering "All Went Black," the sinister new single from Boca Raton, Florida based Anastasia Max. Consisting of 14-year-old Anastasia Brenner and 18-year-old Maxamillion Brenner, the duo pull from a range of influence that includes everyone from Royal Blood, Jack White and The Kills to Ray Charles and Nina Simone. The result is a high octane, bluesy rock ethos fueled by dynamic bursts and engaging melodies.
To let someone in,
Some emotions.
There's nothing like yesterday,
When I sat down to think about,
What's coming.
What's coming?
Where did you go?
Are you coming back?
Where did you go?
When it all went black.
When it all went black.
"The lyrics to "All Went Black" are really personal to me, and I want people to feel that when they listen to it," shares Anastasia, whose emotive voice wails with gusto throughout the piece. "The song is more about feeling than meaning, so I'd rather allow people to listen and decide for themselves what it means to them. My one hope is that it makes them feel, and maybe even stop for a minute to think about what someone else might be feeling."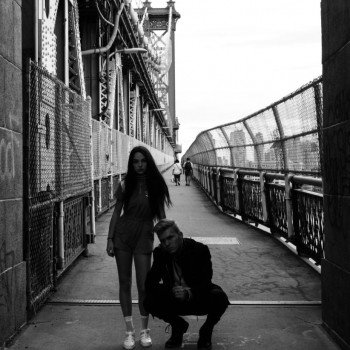 Feels like a long way back,
From where I've been,
From where it all went black.
Now I know how to put
it all together, now.
Now it seems like it's been forever.
Anastasia sings of loneliness and despair with gutteral honesty:  "Feels like a long way back from where I've been," the chorus explains. We experience the sensation of loss – be it physical, emotional, or other – through the resonating depiction of a fall. Max's electric guitar moans alongside his sister's voice, filling the airspace with tight tension. "'All Went Black' is a song that means a lot to my sister and I," the older brother states. "It's the first song she wrote all the lyrics and melody for, and it's the first time we truly came together to write a full piece of music. Anastasia was 12 years old when it was written but somehow she captured something that I think we can all relate to."
Nothing else need be said. "All Went Black" makes for a stunning introduction that connects to our deepest, most vulnerable selves. Enjoy Anastasia Max's fiery, fierce debut, exclusively on Atwood Magazine!
— — — —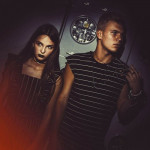 photo © 2017