Shawn Wasabi creates a shockingly warm and effortlessly fun experience on his long awaited 12-track debut album, 'MANGOTALE'.
Stream: 'MANGOTALE' – Shawn Wasabi
---
To say that Shawn Wasabi's music is anything less than an infectious joy would be an understatement. The 25-year-old Salinas, California native has handcrafted his own brand of electronic music, beautifully blending impeccable sound design and production with a bright and bubbly aesthetic. Now, five years after entering the scene, he's set to release his first full-length project, MANGOTALE (out May 29, 2020 via Facet / Warner Records).
Since 2015, Shawn Wasabi has been perfecting his sound using his custom MIDI Fighter 64, a device he created with the help of DJ Tech Tools. The first of its kind, the MIDI Fighter 64 blends the functionality and responsiveness of arcade buttons with the programming versatility of a 64 button launchpad. In a way, it perfectly encapsulates Wasabi's approach to music and what his debut album is all about.
MANGOTALE is a bright and colorful journey through Shawn Wasabi's world.
He materializes that world with characters and visualizers for each track on the project, all designed by illustrator Ann Alonso. For Wasabi, this feels like the album he's wanted to put out his whole life.
"I've changed, developed and grown so much over the last five years," Wasabi says. "I feel like this project perfectly expresses that shift while also channeling the energy and emotion I had in those different chapters of my life."
From his earlier days of making beats to his more recent pop energy production and collaboration, MANGOTALE has it all. It also flexes the funky sound design and lighthearted lyricism Wasabi's fans have come to expect from him.
This is the first time I'm putting together a cohesive project that represents all the parts of Shawn Wasabi over the past five years.
The 12-track album is a beautiful, wildly fun adventure wrapped up in strategically detailed production. For anyone who grew up playing video games, it also glistens with a welcome familiarity. Wasabi manages to pack nostalgia and childhood hope right alongside contemporary themes and incredibly fresh production. It sounds like your favorite video game revamped with new graphics while keeping all the meaningful pieces, and the fun, intact.
Dive into Shawn Wasabi's world in our exclusive interview below, and stream his debut album MANGOTALE, out May 29 via Facet/Warner Records!
— —
A CONVERSATION WITH SHAWN WASABI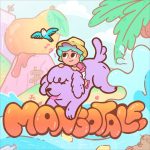 ATWOOD MAGAZINE: HI SHAWN, THANKS FOR TAKING THE TIME TODAY! DO YOU MIND JUST STARTING OFF WITH A LITTLE BIT ABOUT YOURSELF? HOW'D YOU GET INTO MUSIC, WHAT'S YOUR JOURNEY BEEN LIKE SO FAR?
Shawn Wasabi: Yeah of course, thank you! Okay yeah, I'm Shawn Wasabi. I produce music, I write music, I play instruments. I post a lot of videos on the internet of me playing music on a MIDI controller I designed called the MIDI Fighter 64, and that's what a lot of people on the internet know me for. But, yeah, music is like my favorite thing in the world. I'm born and raised in California and my parents are from the Philippines. I'm in LA and I'm like 25 now, I've been here for about five years.
I've been doing a lot of MIDI performance videos, a lot of videos of me playing music on different objects in my house. The last one I did the beat with my bathroom sink. I hooked up the sink with a bunch of wires with my printed circuit board. And that was mapped out to this sample of me playing this melody on the keyboard. I do that in a lot of my Instagram videos. I'm really trying to find a lot of non-musical objects and get them to create sounds and melodies and that sort of thing.
DID YOU PLAY MUSIC AS A KID?
Shawn Wasabi: Yeah, so when I was four years old I had this little tiny toy keyboard, like a little electronic keyboard, and I would play around with it and learn songs by ear listening to my mom's music collection. That's pretty much how my parents, that's when they put me into piano lessons and I did that for a bit. But I've been making music since I was four in different ways. I've been making beats since I was 18, and then I've been doing pop music for the past few years.
YOU'VE BEEN PUTTING OUT SONGS FOR THE PAST FIVE YEARS OR SO LEADING UP TO THIS ALBUM. SO, HOW DOES IT FEEL TO FINALLY BE RELEASING MANGOTALE?
Shawn Wasabi: I'm so excited! It's like the moment that I've been trying for the past five years and that I've been waiting for, like, my whole life. As an electronic musician, to put out a project of my own that's cohesive and has storytelling, it feels like the project that I've wanted to put out for the longest time. I'm super excited because I've been putting out singles, and this is the first time I'm putting together a cohesive project that represents all the parts of Shawn Wasabi over the past five years. For the past month I've been in my house during this lockdown, finishing up those songs and making it sound the best I could. And like, even down to the visuals. I had my friends, Louis and Christina who are animators at Cartoon Network, they worked with me on creating storyboards and a visual representation in a graphic of what I wanted to express visually on this album, from the mango island and the characters and just the whole world is this MANGOTALE world, so how I wanted the visuals to match the sonics. It's so cool to me, it's like the best thing ever.
PEOPLE ARE GONNA BE STOKED! I KNOW I'VE DEFINITELY WONDERED WHEN YOU WERE GONNA PUT A FULL COLLECTION OF SONGS OUT.
Shawn Wasabi: Every time I tell someone I'm putting out an album, my friends are like "finally!" Which, I'm super glad. I'm happy about this album because my music taste and the music I've been making for the past four years, it's changed significantly every year. And I love making different things and I love having a sort of novelty in my creation. When I make music, I want it to feel like it's representative of that time in my life and representative of the music I was listening to at the time, the people around me, my emotions and my environment. I always want the music I make at that time and place to reflect that. Like, there's two songs specifically on the album called "HALO HALO" and "MEDICINE" that were written about being in lockdown where the lyrics are like "I haven't left my bed in a week," or "I haven't seen you in a month."
YEAH, I WAS GONNA SAY, YOU WROTE THOSE TWO SONGS WHILE IN QUARANTINE ESSENTIALLY, RIGHT?
Shawn Wasabi: Yeah, yeah, exactly! I want it to feel like there's a time and place to it and have some sort of real world response, or that it's sort of reflective of… not necessarily ignoring things around us but finding ways to incorporate it into the art. I like seeing that sort of thing in the music and art I make.
I NOTICED THAT YOU USE A LOT OF VIDEO GAME SAMPLES AND REFERENCES ACROSS THE ALBUM. WHAT ARE YOUR FAVORITE VIDEO GAMES AND HOW HAVE THEY INFLUENCED YOUR LIFE AND YOUR WORK?
Shawn Wasabi: Oh yeah, that's a great question. The first one that's very relevant to the album is this really cool video game called UNDERTALE. It's like one of my favorite video games ever and MANGOTALE is sort of a reference to that. So, when I came up with the album title there's two reasons for it, one is that it's the name of a pastry at this bakery called 85°C. And two, it sounds like a story and it sounds really close to what I imagined. So, UNDERTALE is this indie game that's like four hours long. You play through it and even in the short time you play through it you learn so much about these characters and the world that they live in. So, I base a lot of my storytelling and my character development in MANGOTALE around UNDERTALE. And then, at least now I've been playing Final Fantasy and Animal Crossing a lot. Those are the games that I play when I'm at home. Like, I can do that during the whole day. And I love all the Super Marios.
YOU PRODUCED MANGOTALE ALMOST ENTIRELY ON YOUR LAPTOP AT HOME. WHAT HAS THAT EXPERIENCE BEEN LIKE?
Shawn Wasabi: So in the past few years I started doing pop music, but before that I was just making beats at home on my laptop. But doing pop music and collaboration you're in different studios and working with different people and like working at different places. I would just carry my laptop in my backpack and whatever studio I was working with, I got super used to being in whatever environment at the time, and making use of whatever is around me in that studio or room. I was being more adaptive, going to a studio and knowing how to use instruments they have, knowing how to use the gear that they have. I would try to figure it out. It's not something you get used to very fast. Now, it's changed my approach to making music so much where every time I make something I try to incorporate and get myself inspired by what's around me. That's how I got started making all these videos of me making music on different objects because I shifted my creative brain into thinking with my environment.
But now that I'm sitting at home it's not like we have specific moments every day that inspire us, we're not going outside and meeting people. It's like my way of thinking now has shifted back to being a lot more reflective, even nostalgic and finding ways of storytelling moments in your life that happened a long time ago and finding ways to channel that and put it into a song. I'm watching videos online, going on Tik Tok or going on Twitter and watching stuff and as far as inspiration goes, it's stuff on the internet. I'm playing video games like w88oaz.com, of course. It's changing back my way of approaching how I make music with my laptop. Regardless, I'm fast on my laptop, it's like playing a video game, sort of. Like, me going into Ableton and making beats and making music, it feels very gamified. It feels like I'm playing sort of a strategy game where I have to try out a bunch of different sounds and figure out this puzzle to make something cool.
HOW DID THE COLLABORATIONS ON MANGOTALE COME ABOUT?
Shawn Wasabi: That's a great question! So, a lot of the songs in the album were co-written by my friend Hollis. I met her back in 2016 in Seattle, she was the host for this show I played. And then she moved to LA as well, so my first time writing pop music was with my friend Hollis and we made a song called "Otter Pop". That was my first time songwriting with someone and she wrote some of Macklemore's stuff so she's like a descriptive, hip hop type of writer. So, she's really good at taking objects and finding ways to describe them in ways that feel unusual but still familiar. So that was when I learned my first methods of songwriting and I was like,"wait, all you have to do to write music is describe an object in different ways! This is fun." So half the songs in the album are co-written by Hollis. Wait, I mean, what was the question?
HAHA YEAH, BASICALLY JUST ABOUT COLLABORATING, OBVIOUSLY SONGWRITING AND ALSO IN TERMS OF THE VOCALISTS THAT YOU WORK WITH.
Shawn Wasabi: Oh, yeah, great! A lot of the songs on the album had this collaborative energy where we just describe a lot and use a lot of sensory words and colorful words, just us picking objects and writing down a bunch of words to describe it. And my songwriting mentor Justin Tranter, who I've worked with since 2017, I've learned a lot from watching him and working with him, and a lot of the songs on the album are co-written by him, too. As far as collaborators go, I always love working with my friends and connecting with my friends through music. It always comes down to who has the best collaborative energy. Like, Raychel Jay is one of my best friends and she's on like, four songs on the album.
"HALO HALO" was written during quarantine through DMs, and the way we wrote it was just texting each other lyrics throughout the whole day or week, and singing melodies to each other over video. Lately I've been used to being in the room with people, feeling the collaborative energy and understanding firsthand what the other person is hearing. This was the first time in a long time working through the internet making a song from scratch. The process was a lot slower than being in person, but there was a level of personal touch to it. When you're alone writing by yourself, you write a lot more personally, more intimately and a lot more sentimentally. So, I'm taking note of that. It's really interesting and it's a learning experience for me, as well.
I KNOW IT'S A HARD QUESTION, BUT IS THERE A SONG ON THE ALBUM THAT YOU'RE PARTICULARLY PROUD OF OR ONE THAT STICKS OUT AS SPECIAL TO YOU?
Shawn Wasabi: It is a hard question, it's a great question, though! In the process of making the album, I put together, like, over 100 songs and I picked my 12 favorites out of those. So, pretty much all the songs on the album are my favorite songs or they were my favorite song at one point. I want every song on the album to feel that way, or to me at least, every song on the album I was super obsessed with at one point in the process of making it. But out of all the songs, "SNACK" was my favorite song for like, almost a year. Now it's a tie between "tokyo tea," "HALO HALO," and there's this last song on the album called "IGLOO" that I'm most emotionally connected to at the moment. I intended for that song to be like, a goodbye of the album, I didn't want it to be a bop, I just wanted it to be like, thank you so much for listening. I was listening to it yesterday and I was like, "wait, this is the most emotionally connecting one."
IT'S A REALLY GOOD COLLECTION OF SONGS! IT FEELS VERY CONCISE, VERY GENUINE AND EVERYTHING DEFINITELY HAS A PLACE THERE.
Shawn Wasabi: Thank you, I'm glad you like it! Yeah, like my favorite song on the album always changes which, I sort of intended it to be that way. I wanted it to represent me and different parts in the past few years of how my tastes have changed and how my process has evolved and my approach to making music has changed. But it's all very canon, it's all very genuine and representative. I'm super happy, I love the whole project.
SINCE THIS IS YOUR DEBUT ALBUM I HAVE TO ASK, WHAT DO YOU HOPE LISTENERS TAKE AWAY FROM OR FEEL WHEN THEY'RE LISTENING TO MANGOTALE?
Shawn Wasabi: Yeah, I want people to take away the storytelling, the emotion, and I want them to interpret it in their own way but also understand. Older fans and younger fans, I want them to understand what Shawn Wasabi is and I want them to feel connected to it in some way. There's a lot of influences outside of music, the visuals are done by my favorite cartoon animators and there's stuff on there that's inspired by the beats I make on Tik Tok, stuff that's inspired by my "Marble Soda," and "Burnt Rice" days, inspired by my pop music days. I want people to see that and understand the different facets of my project and the music I make and all the things that I like doing.
For the production and the songwriting I want them to take away the emotion and the storytelling behind that. It's very sentimental for me, as well. At the same time, I do want them to interpret it in their own way and take something of their own from it. I want them to see themselves somewhere. It's super important to me. I feel like in the world, there's always a balance of bad news and good news and you can't ignore all the bad stuff happening in the world. And so it's very important that you know that there are terrible things in the world but it's also healthy to incorporate some sort of balance. After hearing bad news all day there has to be light at the end of the tunnel. It's very important that we hear sad songs, and we hear angry songs, and we hear joyful songs and we hear songs along the whole emotional spectrum. And I want MANGOTALE to have it's own place that balances out with all the other stuff in the world.
— — — —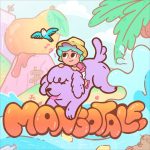 ? © Luke Fontana
art © Ann Alonso
:: Stream Shawn Wasabi ::
---