Ashlynn Malia's "open," in its song and its visual, extends a hand of reassurance, allowing those who feel these feelings of disquietude to have solidarity in their solitude. 
Stream: "open" – Ashlynn Malia
---
"To me this video doesn't necessarily make solitude itself a sad or undesirable thing," LA-based singer Ashlynn Malia explains of her newest music video. "It's my comfort zone;  and desired or not, it's become the new normal for a lot of people, and now the idea of transitioning out of solitude can feel daunting."
Atwood Magazine is proud to be premiering the video for "open," the second single from the 19-year old songstress and the latest release off her forthcoming EP rather be alone (Jullian Records / The Orchard). "open" encapsulates sentiments of solitude with an admirable honesty, allowing Ashlynn Malia to show herself with as much redolence as possible. The video further proves this, allowing the song and its visual to essentially feel like two sides of the same coin.
"The story was already there and the emotion was already within me. I knew that I wanted to make it simple," she explains. "The only intense thing about the video is the movement coming from the projector. It represents my emotional self; how loud and powerful and overwhelming it was the night I wrote "open," completely juxtaposing the quiet of my bedroom and outer self."
The song begins with Ashlynn Malia crooning:
It's gonna take some getting used to
Any attention from you
'Cause I don't wanna make the wrong move
You know I care about us too
Naturally I'm nervous and I'm trying not to be
But then I start thinking if I let you in you won't like what you see
It's making me quieter and quieter and quieter and quieter
"open" explicates an anxiety that has been felt by many of us; opening up to people can sometimes feel like a daunting and scary task, and can in turn have an opposite effect of shutting down instead.
Through Ashlynn Malia's emotional lilt, "open" feels engaging and easily relatable; it tackles a ubiquitous narrative in a way that makes these feelings seem approachable. We all want to be liked; we all want to be appreciated; we all want to be wanted. Whether or not one will admit to these sentiments, it still rings true no matter who you are.
"I wrote 'open' because I was so afraid of letting people in – I worried that them not liking me for who I was would break me," Ashlynn Malia says. "In hindsight, maybe if i'd worked on liking myself first – all of me, not just the parts of me that met other people's standards – the idea of others not liking me wouldn't have brought up so much shame."
As the song continues, she sings:
I know it's not on purpose
It's actually more my fault than yours
But I feel like I don't deserve you
I'm still a little immature
It's only 'cause I think too much, it gets so dark sometimes
And when you say you wanna get to know me
I'm convinced that it's a lie
It's making me quiеter and quieter
Morе closed off, more unsure
I'm giving you everything that I can give
And still I wanna give you more
It can certainly be easy to fall privy to overthinking. Once a mind gets racing, it often becomes difficult to turn off, and thus becomes a resolute facet to one's feelings and actions. Overthinking can curate ideas that are almost always untrue – not being liked, or that people are lying when they say that they do – and thus it perpetuates unnecessary negativity that is all self-inflicted.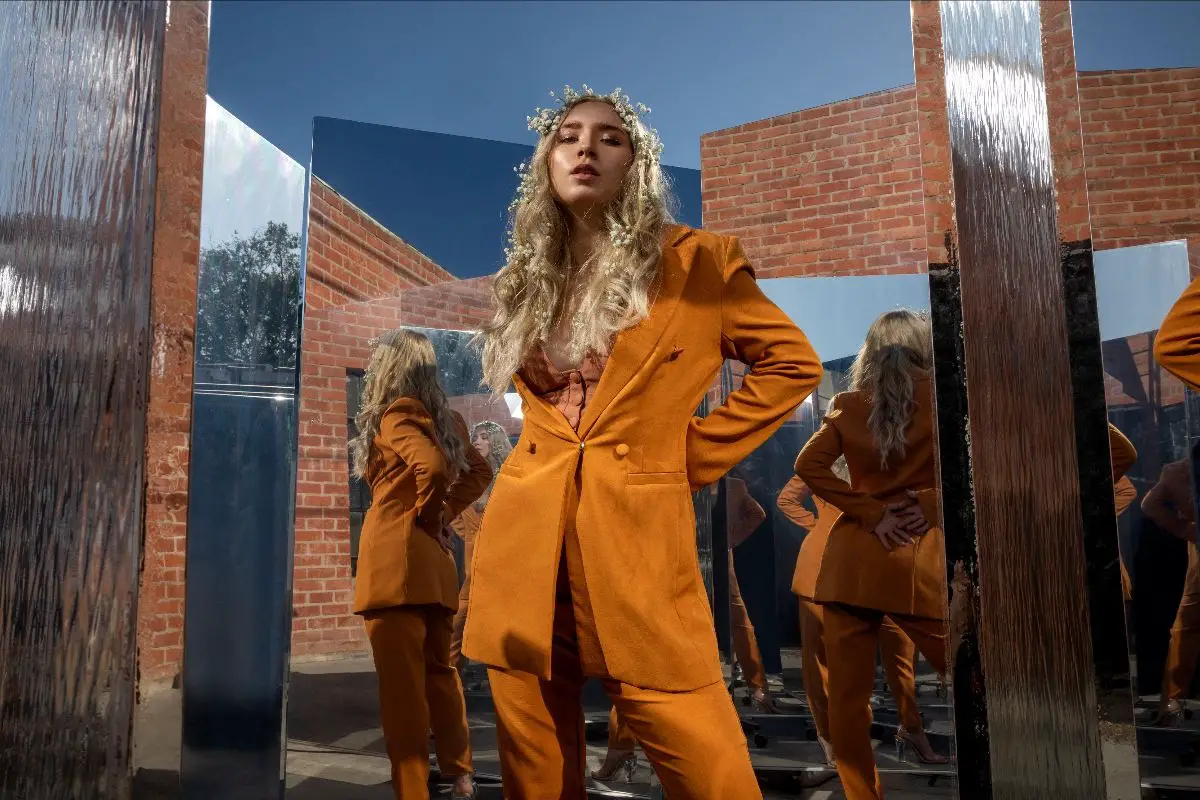 As the song draws near its end, Ashlynn Malia goes on:
And there are things I haven't told you
About myself, I can't afford to
Oh, I'm trying to be more open
But it's harder than you think
I never had a social life
I never knew what love was like, and
I don't know what is wrong and what is right
I don't what I'm still supposed to hide
"open" allows these feelings of anxiety to purposely take up space in one's life, and the song can certainly help others feel less alone or isolated. Ashlynn Malia taps into the core of our humanness, and does so with an admirable poise and maturity that, for a 19-year-old, feels especially promising. "open," in its song and its visual, extends a hand of reassurance, allowing those who feel these feelings of disquietude to have solidarity in their solitude.
"My ultimate goal with this song is to make people feel understood," the singer explains. "There are a handful of songs that I hold close to my heart because whoever wrote them made me feel like the words could've been mine, or they fit a feeling or an experience of mine in some perfect and unexplainable way. I want my music to be that for someone else. I want to be part of the soundtrack of someone's life."
In its video, "open" seems like it could be considered somewhat plain or uneventful to the naked eye. Once you delve deeper into the song and understand its meaning, however, then the visual holds a heavier weight, carrying the sentiments of the song's lyrics within its watery light and the singer's solitude. Ashlynn Malia brilliantly utilizes this visual to compliment the song, baring her soul and smartly accentuating the best parts of this emotive track.
When it comes to advice for those who may be feeling similarly to the words sung in "open," Ashlynn Malia says, "Your fear of opening up is valid, but you deserve to find people in your life that know you inside and out and love you even more for it. That doesn't come without vulnerability."
Watch the video for "open" now, streaming exclusively on Atwood Magazine.
— —
Stream: "open" – Ashlynn Malia
— — — —
? © Ashlynn Malia 2021
:: Stream Ashlynn Malia ::
---