An ambient and organic embrace of sound and space, Luka Kuplowsky's stirring album 'Stardust' shines with an alluring and singular gravity.
Stream: "Never Get Tired (of Loving You)" – Luke Kuplowsky
---
I witnessed it in slow motion
Felt the wind take direction
Took me running through the wide ocean
Feeling like a dolphin might
In conversation with the moonlight
– "Never Get Tired (of Loving You)," Luke Kuplowsky
As a friend, I want to encourage you (the reader) to not think too hard or heavily about Luka Kuplowsky's music; it was intended to be experienced, not studied like a science. Meanwhile as a music critic, all I want to do is unpack Kuplowsky's every line; to tease out the meaning and intent of this compelling immersion of music and movement, thought and feeling. Kuplowsky himself expertly balances this fine line throughout his art, caressing the ears while tickling the mind with a wellspring thought-provoking lyricism and ethereal yet grounded music.
His recently-released third album is the peak of this effortless artistic finesse: An ambient and organic embrace of sound and space, Stardust shines with an alluring and singular gravity: It's an intimate, enchanting force of nature; a marriage of existential introspection and intimate reflection set to a stirring soundtrack that ebbs and flows, moves and grooves with a life of its own.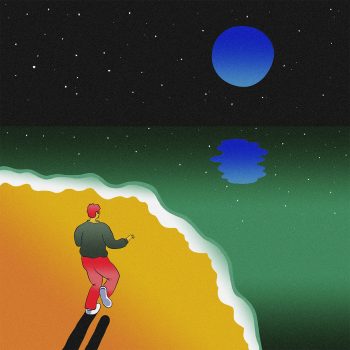 Out October 2 via Mama Bird Recording Co, Stardust is a breath of fresh, unencumbered musical life. Luka Kuplowsky's first full-length with Mama Bird follows in the wake of his independently released debut album Summon Up a Monkey King (2016) and his sophomore full-length, What Kind of Animal (2017). Kuplowsky also released the reimagined covers EP Judee Justin Arthur Mary earlier this spring, foreshadowing the growth and color he has gone on to showcase in Stardust.
Kuplowsky's most fully realized work to date actually arrived alongside a message from the artist:
"In Stardust, the voice is a planet and the band, satellites in orbit.
The songs find their flow in this dance, finding balance not in cohesion but rotation.
Similarly, the lyrics are not necessarily narrative or linear, rather they are spheres of thought and contemplation.
Verses and choruses circle an idea rather than move towards a foregone conclusion.
Let's extend this metaphor further in another direction.
Stardust is indebted to the creativity of Joni Mitchell, Arthur Russell, John Trudell, and Ryan Driver (among others).
Think of influence not as a mask or screen, but also an ORBIT.
You gotta create your own gravity, or else you're just drifting…
Forever an apprentice in song,
Luka Kuplowsky"
One can feel as much humility as excitement in these words; they speak to the jazzy, freewheeling nature by which Kuplowsky and band members formed these recordings. Stardust features Evan Cartwright (Andy Shauf, U.S. Girls) on drums, Thom Gill (Martha Wainwright, Sam Amidon) on electric guitar and organ, standout jazz player Josh Cole (Josh Cole Quartet, Sandro Perri) on fretless bass, Bahamas' Felicity Williams and Robin Dann (Bernice) for backing vocals, and Brodie West (Broken Social Scene, The Ex) on alto sax. It's a who's who of performers delivering stellar, standout performances on eleven seamless tracks. From the opening moments of "Do I Have to Be" to its heated conclusion in "Be New," Stardust engulfs listeners in a folkish jazz sonic; or perhaps it's best described as "jazzy folk." Either way, it's mesmerizing.
"Musically, the record's history is an apprenticeship in the Toronto music community of spaces like The Tranzac and Holy Oak Cafe. Songwriters like Jennifer Castle, Alex Lukashevsky, Sandro Perri, Marker Starling, Ryan Driver, and Tamara Lindeman (The Weather Station) made me aware of how truly special Toronto was and how much I had to learn about figuring out my voice, how I wanted to sing, what I wanted to sing about," Kuplowsky tells Atwood Magazine. "All these songwriters operate in a genre-less field where what's most important is sound and space and not the conventions that define those sounds. The songs of Stardust were the first batch of songs that I felt had unlocked something within myself and I wanted to place my voice in varied sounds/sonics to see if it would sink or swim."
Did I make an angel blush
With my suffering?
My loss?
Or was it never enough?
Did that angel brush me off like stardust?
– "Stardust," Luka Kuplowsky
"The actual tracking of the record was over two days in March of 2017. It's hard to recall much of it, but I just remember the band and I were constantly surprised about how easily everything came together. Its long journey to the listener was less about the album's creation and more about finding the right folks to put it out in the world. After sending it around to friends and labels for a year or so, I got an enthusiastic message from Vincent at Mama Bird halfway through the second track. The love was immediate and mutual."
Kuplowsky describes his album as "Kaurismaki, Miyazaki, [and] Cocteau." It's a small-"c" cinematic journey into the mind's eye brimming with philosophical musings, poetry, instrumental ambience, and self-aware humility.
---
Stardust is its own world: Its songs fit just right, like little puzzle pieces of a greater whole. "I [previously] referred to my approach to influence as an orbit – one has to create their own gravity or else you're just drifting," Kuplowsky says of this record and his artistry. "I think with any music, the voice, on a lyrical and sonic level, has to be strong enough to shoulder whatever sounds you place it within. If the foundation is strong enough, it's easy to draw other sounds and ideas into it without them casting a shadow over the song. It's exciting because it opens up the song to whatever it needs regardless of convention, taste or coherency."
"The other key to the record is that all the instrumentalists have such realized and unique musical voices. This was the first record that I hardly played my nylon-string guitar. Part of that was because once we started tracking, I realized I was crowding their voices. To return to the "orbit" metaphor in a new frame, the voice is a planet, and the band satellites in orbit. I didn't want any interference."
Rough times
Blindsided by love
You wrote poetry
In a state of perpetual boredom
Could it be
You were free as one can and always be?
– "Rough Times," Luka Kuplowsky
Catchy tunes like the tender "Never Get Tired (of Loving You)," "Crazy Love," and the transformative finale "Be New" make for memorable milestones in the record's 39-minute run, but Stardust could just as easily be one extended performance piece without titles or in-betweens. The record is best heard as a whole unit, although even its creator has his share of highlights.
"Even though the recording of the album was so short and foggy, there were a few moments I fondly recall," Kuplowsky says. "In the first version of "Stardust", Brodie West's (alto sax) lick between the second verse and second chorus always trips me out. It feels like it flips the song on its head for a moment and then turns it back over seconds later. The recording of "Crazy Love" was a process of elimination. We recorded three takes of this song and kept eliminating notes until we had all this hanging space. There's a nervous intensity on the final take where everyone is so dialed in to each other. One of the few overdubs on the record was Craig Harley's B3 organ on "Skyline". When he sent over the take, I remember being so overwhelmed. It animates the song so vividly."
Interspersed throughout this feature, we have sprinkled some of the artist's personal favorite lyrics. His music may set the tone, but it's his poetry and evocative delivery thereof that help make Stardust a truly transcendent journey. Make no mistake: This is not a direct vessel toward enlightenment; rather, it's an invitation to slip out of the norm and bask in the moment. To be free of time's ticking, and just be.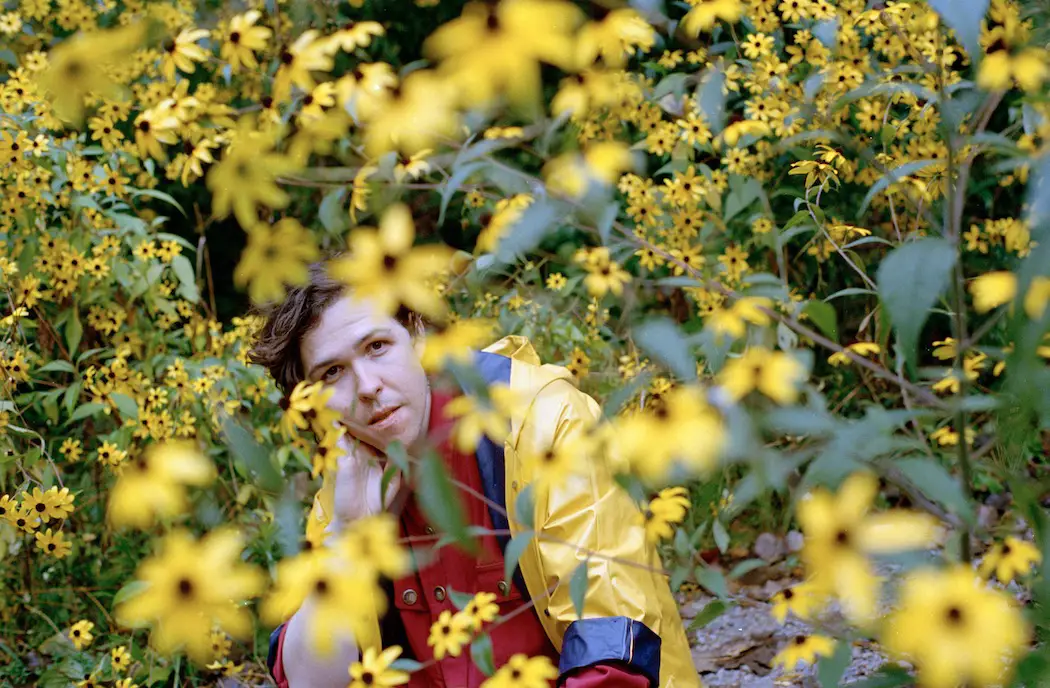 "What one takes away from the record is up to the listener, but I hope, if the record intrigues you, that you stay a while," Kuplowsky adds. "Make some space to return to it. The songs offer more questions than answers."
No truer words could be spoken of this music. Luka Kuplowsky has come into his own on Stardust, busting out of Toronto with a fire in his belly, passion in his heart, and his head somehow simultaneously here on Earth and up in the clouds. How you choose to listen to this album is fully up to you: Like this writer, you may opt to sink into its ruminative depths and pick each instrument apart. Alternatively, there's a beauty in letting the music do the talking and shutting off the mind; both options lead to a listen full of wonder and charm.
Experience the full record via our below stream, and peek inside Luka Kuplowsky's Stardust with Atwood Magazine as the artist goes track-by-track through the music and lyrics of his latest album!
— —
Stream: 'Stardust' – Luka Kuplowsky
:: Inside Stardust ::
— —
Do I Have to Be
A song of selfish longing – a punchline waiting to drop. A sympathetic (?) character study of narrow human wants/needs. 100% in the subjunctive mode. I imagine the narrator to be Matti Pellonpää in an Aki Kaurismaki film
Never Get Tired (of Loving You)
Written in an empty apartment shortly after moving in with my partner. A sacred love song attuned to the natural world – thunder, wind, moonlight and a dolphin. The song describes love as a form of recognition – a way to see another and ourselves authentically. It is a celebration of difference nurtured and shared. A patient attuning. One 'never gets tired' because love refreshes the joyful struggle of being – it's that which makes us alive, carry weight and grow.
Stardust
I wrote this at the end of 2016 reflecting on the passing of Leonard Cohen, David Bowie and Prince. The song muses on death and legacy, imagining the artist's afterlife as cosmic stardust brushed off an angel's shoulder.
Crazy Love
Written in an instant. "Love" can be "crazy" when it lacks control and direction. The voice of the song is impelled and urged towards someone, but keeps qualifying this push with a pulling back. The song is the dance of the psyche towards its eventual embrace. The arrangement moves like water; swirling, shimmering, circling, crashing.
Rough Times
Inspired by John Trudell's portrait of lovers in Beauty in a Fade. Two artists whose creative passions create walls – an insular love that does not enable growth. The song is an encouragement to hold on to creativity and remembrance through loss and to remain connected to the world and its movement forward. In the studio, this was another case of eliminating notes, chords; carving space to float sounds in and out of.
City By My Window
An acknowledgment of political apathy and the privilege of isolation. An encouragement to face the realities and ugliness of where you live. The dangers of perfectionism in art and the innate perfection in our natural world. "Perfection is a moose!" We tried this a few times, until I asked the band to conjure a sand storm. They brought it to life so beautifully. Anh Phung's flute playing on this song is the crest of the record.
Positive Push
"Positive Push" is grasping at something elusive. The voice of the song is overwhelmed with questions – seeking answers in teachers, family, love. Exhausted and uncertain, the song arrives at the recognition that the voice itself is the vehicle for change and actualization. "Sing Sing Sing like a Singer Songwriter / I hope to die a lot lighter than this". In recording the vocals live with the band, I often sat hunched on a stool strumming my classical guitar. For this song I put down the guitar and was dancing round the vocal booth. I wanted to get wacky and pop in a deadly serious way. I was listening a lot to The Roches' 1989 masterpiece, Speak.
Sayonara Blue
A character study of addiction, paranoia, exhaustion – saying goodbye to the ever-shifting meaning of The Blue(s). I can almost imagine Ray Milland singing this in Billy Wilder's The Lost Weekend. The whole emotional tenor of the song is felt in Evan's drumming.
Skyline
"Skyline" is a meditation on emotional labour within friends and partners and the necessary understanding and support that one needs to shoulder the feelings of others. The chorus is a brief reprieve of love with wine and heavy rain. Our approach to the song is indebted to the South African pianist Abdullah Ibrahim and his 1986 record with Ekaya, Water from an Ancient Well. I'll never stop learning from that record.
Stardust (Reprise)
A different mood. The plan was to always have two different versions on the album. The song is rich in layers and a key to the record, so I think it warrants the return.
Be New
The late night, unspoken tension in a lover's bed – unravelling the hurt and confusion with gentleness until it returns to love, forever renewed.
— —
— — — —
? © Melissa Richards
:: Stream Luka Kuplowski ::
---