A hauntingly visceral soundtrack to self-discovery and self-love, Gracie and Rachel's second album 'Hello Weakness, You Make Me Strong' is a record of empowerment and vulnerability; of identity and communication; of pain and euphoria; of life and beauty.
Stream: "Speak" – Gracie and Rachel
---
I'm younger than my future, I'm older than my past, I'm coming in first and I'm coming out last…
Intimate, ambient, and flooded with emotional depth, Gracie and Rachel's sophomore album is an over overwhelmingly honest overhaul. It's the kind of bittersweet music that compels us to face and embrace our scars in order to overcome all that's holding us back; the kind of album that welcomes darkness and light alike, immersing its audience in a wide spectrum of elevating sound and aching feeling. A hauntingly visceral soundtrack to self-discovery and self-love, Hello Weakness, You Make Me Strong is a record of empowerment and vulnerability; of identity and communication; of pain and euphoria; of life and beauty.
Trust myself, no one else
But I got some doubts if I'm being honest
On a quest, no regrets
Gotta trust myself if I'm being honest
Times up, times out, a whisper becomes a shout
I will be heard I will say every word
Forget the way I was taught to behave
No need to forgive, all I gotta do is
– "Trust," Gracie and Rachel
Released September 18, 2020 via Ani DiFranco's Righteous Babe Records, Hello Weakness, You Make Me Strong arrives three long years after Gracie and Rachel's celebrated self-titled debut. The duo of keyboardist Gracie Coates and violinist Rachel Ruggles, Gracie and Rachel's stirring orchestral pop surged into our lives via a record that instantly set them apart, both for its creativity as well as its nuance – establishing the New York-based pair as a powerful new voice on the scene.
"We had just come home from a solid amount of touring our last record and our schedule was cleared, and we just knew it was time to work on a new body of work," Gracie recalls in conversation with Atwood Magazine. "I think we both had a number of ideas bouncing around in our heads that we hadn't been able to throw to the wall yet, so it was like having a lot of clay to play with and just figuring out the different ways to shape it."
Rachel adds, "Sonically, there was a lot of curiosity around integrating more instruments and playing with faster tempos. I also wanted to expand my skills in programming tracks so that we could have a bit more control in the demoing phases of things. It just took a bit of time to find our new sound and really be able to align and frame what we wanted to say."
After touring and taking time to live and grow, Gracie and Rachel's new music finds them diving deeper than ever into themselves and their surroundings. They released the songs "Trust" and "Ideas" together in May, heralding their resurgence with a refreshed spark: The pop sensibilities were all there, as were the evocative orchestral flourishes, the stunningly subtle vocals, and above all, the intrinsic desire to move the ball forward. In premiering "Ideas," Atwood Magazine celebrated the song for being "a cerebral, intimate invitation to break down the barriers holding us back." Meanwhile, "Trust" – which opens the new album – is "inspiring for all who listen to it, its message of bravely stepping up even when the ground feels shaky acting as a reminder for each of us to believe in ourselves and have a little faith in our bones."
---
These songs turned out to be the perfect segue into a record that dwells equally in space as it does sound; a set of songs full of energy and emotion, intimacy and introspection. The transition between Gracie and Rachel and Hello Weakness… is impressively seamless in certain respects.
"Quite literally, our first album closes with a song called 'Don't Know', which is about taking back ownership of yourself and fighting censorship, and we actually always felt that the cover photo for that record illustrated that song, with my hand covering Rachel's eyes and her hand covering my mouth," Gracie explains. "On this new album, we open with a song called 'Trust', which is about trusting the self despite having doubts in the ability to do so, and we actually originally thought this album was going to be called Trust, so the idea for our pose on this album cover was created in an effort to score that sentiment, to illustrate what trusting yourself or someone else can mean. Sometimes it's looking forward, steadfast and being your own support or lifting another person up, which is what I'm representing in the photo, and sometimes it's leaning into another person and trusting the process in a sort of blind-faith kind of way, which is what Rachel's representing in the photo."
"The debut as a whole was much more centered around our core instruments: piano, violin, vocals," Rachel notes. "I think there was a feeling of being more hinged to those modes of translation, which created denser, perhaps more consistently present musical moments where the piano really drives things and the violin swirls around arpeggios throughout, and there's a single kick drum building all the intensity up. On this latest record, we wanted to give power to moments where we didn't necessarily need to be strapped to our instruments, and this exercise created a lot more sonic opportunities in our arrangements, in the space we could create. Maybe if we hold off on the string entrance they'll be more effective in their mood sculpting. Maybe that twirling rhythmic piano motive can be sized down to leave room for a drum machine or synthesizer. It was a lot of this kind of building up and then taking away. Using our original formula from the first record and reframing it so there was space to include new textures and landscapes."
Hello fear, you are my home
You're all that I know
Hello weakness, you make me strong
You're writing this song…
Goodbye arrogance, you are my leash
You're nothing I need
Goodbye answers, you're nothing but questions
I won't invest in
Don't lose sleep but don't sleep too long
Everything that's right is everything that's wrong
The faster I move the slower I go
The more that I learn the less that I know
I'm younger than my future, I'm older than my past
I'm coming in first, I'm coming out last
– "Undo," Gracie and Rachel
Hello Weakness, You Make Me Strong is more than a collection of songs; it's an all-encompassing experience.
Its music is intimate and cinematic, with emotion and meaning serving as a guiding light for the instrumental accompaniment. In this way, the album truly is a soundtrack to inner understanding and expression: These songs are a vessel toward some kind of personal "enlightenment," although we use that word lightly; we can all come away from songs the inner upheaval "Underneath," or the bittersweet outpouring "Speak," having learned a little more about ourselves.
I never wake up early, I only wake up late
I never need the sunshine, I only need the rain
I leave my coffee black, I leave the radio on
I leave it on a station where I don't have to sing along
Take me out of my skin so I can learn what's happening
I got all of these layers to me telling me who I should be
Take me out of my skin so I can learn what's happening
I got all of these layers to me but who knows what's underneath
Who knows your inside out more than your outside in
Who knows your inside out more than your outside in
– "Underneath," Gracie and Rachel
---
"We learned a lot about ourselves, emotionally and artistically, while writing this record," Rachel says. "Long nights around the piano exploring sound and mind thoughts. I think this record is a bit of a time capsule for us and our bond as friends, roommates and collaborators. We really pushed ourselves in the writing room, became our own producers in a lot of ways. We wanted to be as self-sufficient as possible before bringing in others. I think these ten songs reflect the perseverance we had to make a record that was sort of a reflection of this process, and so it feels really special to have it out in the world for others to experience now."
"Much of these songs are really notes-to-selves about how to be vulnerable, and therefore brave, and so it feels cathartic to hear them out in the world now," Gracie reflects. "A lot of the music was written around communication, or a lack thereof, whether with another person or with the self. How do we not just communicate with the outside world in more effective ways but with ourselves first? If our self-talk can be more patient and kind, we might have a more harmonious world, so we wanted to focus on how we can use both our voices and our quiet understanding to find connection, both inner and outer, and hopefully a splash of empowerment will hit our plate."
Take your little ideas, make them a little bit stronger; throw out the ones you can't, you don't need them any longer
While the album's singles have found favor with fans new and old, its "deeper cuts" are just as beautiful, lively, and compelling: Ambient tracks like "Floating" and album closer "Around" are especially entrancing indulgences, whereas the dark space of "Listen" can send shivers down the spine thanks to its majestic vocal harmonies and Rachel's magnificent violin work.
Gracie and Rachel have their own highlights, as well. "A favorite moment of mine is the building violin drone that enters in the second verse of "Ideas," and sustains and builds in drama up until the bridge in a way that I just really love," Gracie shares.
Rachel, meanwhile, doubles down on the album's single, "Underneath." "The double chorus at the end of Underneath always gets me," she notes. "It's got this mechanical mystical engine energy and I never want it to stop! Actually, we loop one more rotation of this section when performing it live just to marinate in it a little longer. I think when I perform this song I have a really not-cool smile that grows bigger and bigger as the song chugs along. But also, Underneath was one that really pushed its way forward in the studio, and it was almost a track left behind, so it feels like a triumph every time we make it to the end of this song."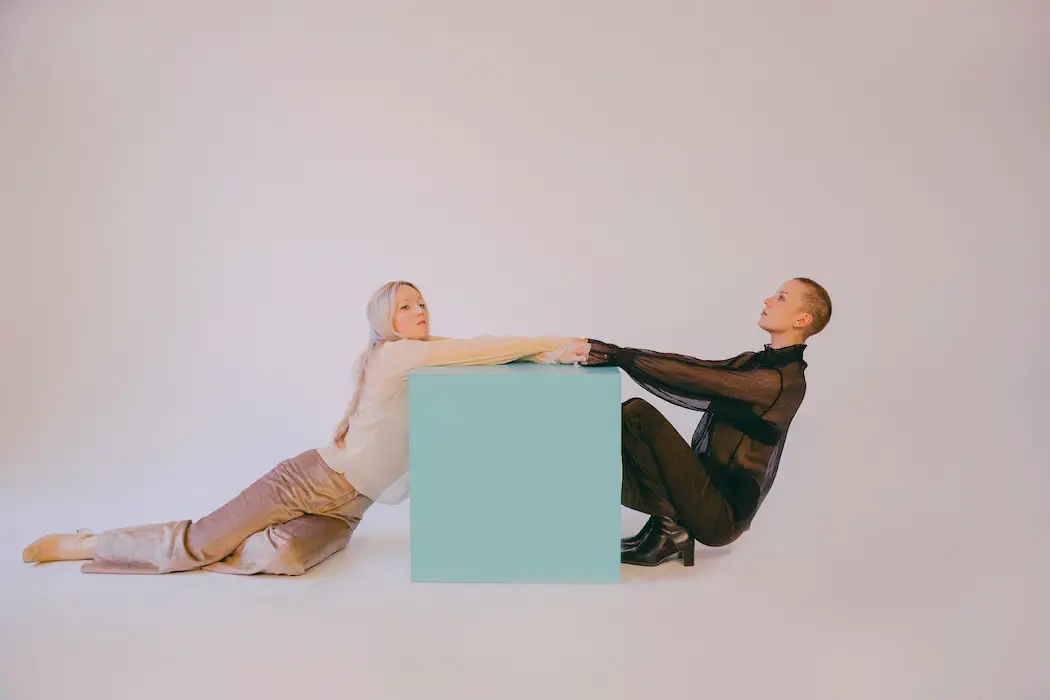 Gracie and Rachel are open and honest about how much their second record means to them on a spiritual and existential level; its lyrics track their own individual journeys and searches for understanding and self-acceptance. And while this record doesn't claim to be some kind of savior, its humbling lyrics and haunting tones create a safe space for all to dwell, reflect, and breathe.
"I think our hope is that when people listen to this music they feel less alone and they feel comforted by the feeling that it's okay to not have it all figured out," Gracie says. "Dance with your uncertainty, your vulnerability, your perceived weakness, and watch how it will dance right back with you. If you push it away, it won't have the opportunity to shine and make you stronger."
Experience the full record via our below stream, and peek inside Gracie and Rachel's Hello Weakness, You Make Me Strong with Atwood Magazine as the duo go track-by-track through the music and lyrics of their sophomore album!
Patience, anger, no one is a stranger
— —
Stream: 'Hello Weakness, You Make Me Strong' – Gracie and Rachel
:: Inside Hello Weakness, You Make Me Strong ::
— —
Trust
Gracie: Trust was one of the first songs we wrote for the record and, looking back, it feels like it was sort of a guiding force throughout the process of completing this body of work. We had just finished a long year of touring and I remember looking at one another with a fearful, panicked uncertainty, not knowing if we still knew how to write music!
But when we got back to Brooklyn, these lyrics practically poured themselves onto the page, it felt humbling to hone in on this reminder that, in order to push forward, despite any doubts we might have, we must trust ourselves.
I felt hopeful the song could be a comforting mantra for those who are filled with self-doubt and an inability to see their own potential. During a time filled with seeing so many brave womxn on our screens coming forward with their stories, empowering one another through action, against all odds, it felt important to cultivate the message to be bigger than our self-conscious angst around not knowing what our next steps would be, but one that would hopefully empower someone else to live their own truths.
Sidelines
Rachel: This song came about during a melancholic evening at the piano where I was reflecting on a certain kind of stalemate that was orbiting my world. I felt like there was a lack of ability to come forward to acknowledge certain feelings I was having, to say things that probably should be said. In its most vulnerable state, the song had no words, just sound jumble, my murmuring, the subconscious trying speaking through somewhere, seemingly in keeping with what I was attempting to write about.
Within the subtext of syllabic scatters, the song began to piece itself together, and that's when Gracie entered. Without exchanging words with her about what I was feeling around the song, she felt the energy and began to interpret this message I was working to deliver by plugging words into my sound syllables. She started writing down what she heard and held onto a particular mumble of mine, which she deemed to be the word "sidelines" and built the song around that notion, that sometimes we stand on the sidelines of ourselves. The song sort of evolved to be a safe place where someone could express themselves, even when they might not know quite how to do that, as well as a means for guiding that person toward the uncomfortable void rather than the place that shies away from it.
The dropped-coin sound that we ended up sampling and using throughout the track, arrived as a lovely element of chance. Our cat knocked something off the table during a vocal take right after the lyric, "Who's to say when I play." It felt like it really brought together the feeling of waiting on the sidelines to be called into the game of life. Thanks, Winnifred.
Underneath
Gracie: Underneath is a song that strives to uncover what's underneath all of the narratives we have about ourselves. I think we can tend to feel that our outer layers, the ways we do or don't do things in daily life, are what define us, but what if we took those layers off and dug a little deeper into who we are from the inside out. If we can take this step of introspection and throw away the labels we associate with ourselves, we might feel a little more able to unveil the notion that we are so much more than the stories on the outside.
The song was originally conceived with a much longer laundry list of mundane things one might do in a day. It just kept going, and I think that's why it didn't make it into the final batch of songs we'd end up bringing to the studio when it was time to flesh out the recordings. Still, I kept quietly holding out hope that we would somehow be able to make it work.
One day in the studio I finally mustered up the confidence to ask if we could explore the song one last time. Rachel and our producer, Ariel, labored first over cutting down the form of the song and expanding it in new ways.
Rachel and Ariel created a more solid 'form' and a melody you could sing back for a chorus but that needed a solid lyrical hook for, so I went running to my notebook and found the lyrics I'd written down for the song months before but that never made it to the demo due to not thinking this song would be revisited. Those lyrics would become the chorus: Who knows your inside out, more than your outside in. When we placed each syllable into the melody Rachel created, it was one of those magical moments of triumph where it just all works. This song was a deep lesson in patience and perseverance.
Stranger
Gracie: Stranger is a song about vulnerability stimulating connection. When we embrace our weaknesses as being the things that unite us, we may be surprised by the ways in which we feel freed. Exploring this kind of shared humility is what makes human connection so empowering. I like walking down the street and passing by someone I don't know and reminding myself we're in this together. No one is a stranger.
Fittingly to the title, we've never met the producer of Stranger, Chris Hutchison. Rachel found him through an artist she admired and reached out to him hoping he might work on one of our songs. Chris lives in the UK and so we had a series of emails back and forth working on the song together, giving him his time and space to evolve things, and then bringing it back into our sphere to combine visions, until finally it was a new song made with a new stranger.
Speak
Rachel: One day, Gracie and I got into an argument filled with miscommunication where we simply weren't hearing the other. I can't remember the content of the argument, but what I do remember is that Gracie was so tactfully articulating herself, where she was coming from, dissecting the situation with clarity and speed, and I was having a hard time keeping up. I had a lot of things I wanted to say, but they all came out blurred and confused.
Gracie left to take a walk to get some space, and I wrote down in my notebook: "If you only knew that the only thing I know is here between us. I'm still holding strong even if my mouth can't speak up." It was that feeling where you know you have the strength inside of you however unspeakable it might be on the outside. Though I couldn't say what I felt out loud to her, I was able to say it through song. It was also the first time I'd really written lyrics, and they just sort of poured out of me.
This is my anthem to Gracie, letting her know that even during the challenging times, my commitment to our world will continue to remain steadfast.
Ideas
Gracie: This song is for when you might be thinking negative things and need a gentle reminder that you create your own narrative, that nobody else creates it for you. If we can get out of our narrower minds, we might find our greater minds. Take the weak ideas that aren't serving you and grow them into strong ones that do.
In the middle of making the demo for this, one our collaborators, Garrett Eaton, puffed his electronic cigarette, which got picked up on the microphone, and it made this static noise that we decided to keep in and use intentionally throughout the song. It felt like it emboldened the feeling of being in a hazy state of confusion, and reminded us we wanted to keep the production raw and direct, as if you're inside your imperfect, clouded mind, trying to find some clarity.
Floating
Rachel: Floating was our first experiment in listening more to our own intuitions when it came to producing, making beats, using synth machines, creating bass lines, and exploring different vocal editing techniques. It was really the launching point for some of the warmer, more pastoral, sonic textures we wove into this new record. It was a pivotal song for us as producers to listen to our instincts and breathe trust into this ever-evolving process of creating music.
Gracie: Rachel gave me this demo she'd created before she was leaving town for the weekend and said to try to write over it, if I could. I remember the days going by and I hadn't written a single thing for it and I just felt so disappointed in myself as a collaborator. She called me up and said, "So how's it going with the track?" I said, "I don't wanna talk about it." I hung up the phone and wrote down the lyrics:
You're still standing there
You're still going nowhere
Floating in the clouds,
but you're running out of time,
Come back down, see what you find.
It's a song for the stagnancy we sometimes feel and the urgency we must enact in ourselves in order to move forward. Break free, believe, repeat.
Listen
Gracie: This is a song about airing things out in your mind and leaning into your wiser self. It's about finding your inner voice that maybe knows more than your outer one and really listening to it. It's a sort of meditation song in that way.
In the studio we filled some glasses with water and glided a cello bow back and forth against the rims of them, creating a sort of siren sound that we put in the song to build the feeling of tension and release. Akin to how the siren of a firetruck is both an unpleasant, piercing sound and also one of comfort, knowing it's on the way to help a place that needs it, this part felt chilling in its delivery. It's a hopeful reminder to take a walk with ourselves, to face our sirens and find their beauty, however painful they might feel when we first encounter them.
Undo
Gracie: Recently revitalized by the works of Socrates, it felt fitting to write a song about the power of knowing nothing. As children we are taught what things 'are' or 'aren't', but what if these teachings have been our undoing and we must unlearn them in order to gain more knowledge about ourselves and the world we live in? It all comes back to humility paving the way toward understanding.
In the initial stages, we worked on this song with our collaborator, Garrett Eaton, building out the track with a focus on violin and percussion parts. While Rachel and Garrett created the sonic structure of the song, I worked on the lyrics being a series of opposite ideas, oxymorons. It was complex and exhausting. By the end of the process Garrett told me I shouldn't keep writing lyrics like that. I was both insulted and relieved.
Around
Gracie: This song felt like having a thousand pieces to a puzzle and when you finally get them all together you still feel like you need a thousand more to complete the picture. It started organically with a vocal loop Rachel made and essentially filled out an entire track for, but it quickly felt we had to keep adding and subtracting and adding and subtracting to create the build and the 'come-to' feeling we were searching for.
The song is about being on your own and having to figure things out for yourself. When we finally got that last section, If I look back on what was mine, I'll be fine, I know what I've lost so I know what I can find, it felt like we had finally arrived and we all jumped up and down in the studio, knowing instantly that we had just created the album closer. It was a feeling of being humbled by the experiences and teachers of the past and hopeful for what's to come in the future, and it was a most magnificently satisfying moment of finding that last puzzle piece and putting it perfectly into place.
— —
— — — —
? © Tonje Thilesen
:: Stream Gracie and Rachel ::
---