Killer production, flashy flow, and innovative duets remain Nicki Minaj's strong suits on her regal 'Queen,' a compelling listen in nearly every respect.
— —
Is Nicki Minaj still one of the most spectacularly talented rappers out there? For sure. Does she still have a sharp ear for solid beats and sweet collaborations? No question. Is her new album a little thin on new subject material, as tends to happen to many rappers by their fourth LP, and a bit overlong at 19 tracks? Well…..
Flaws and all, Queen (released 8/10/2018 via Young Money / Cash Money Records) is a compelling listen in nearly every respect. Perhaps even more critically, it proves that Nicki Minaj remains a primary force in her ninth year as a mainstream hip-hop titan, in direct defiance of all the talk that Cardi B had overtaken her as the Female MC of the Moment.
Listen: 'Queen' – Nicki Minaj
---
Indeed, Queen features a good deal of her most impressive music ever. Opening track "Ganja Burn" is Minaj at her most self-congratulatory ("A Queen is what I embody," and then, "I'm Kobe, KD, Kyrie– pick a K!") but with flow and bars like that, those bragging rights are entirely well-earned. Her MC skills remain on proud display throughout, particularly on highlights such as "Nip Tuck" ("I'm at the gym on a mat doin' sit-ups on 'em," she informs us of her competitors) and the clever Biggie Smalls riff, "Barbie Dreams." She's at times been criticized for doing more singing than rapping, but on "Come See About Me," this approach leads to one of her most moving and melodic songs ever.
Like all of her albums, Queen makes plenty of room for fierce collaborations. In the wake of his underwhelming effort on last year's Revival, Eminem's verse on "Majesty" is among the most satisfying of those guest spots. It is quite exciting to see the champion MC prove that there is life in him yet with one of his nimblest, deftest verses in recent memory– some bars of which are reportedly rapped even faster than his Guinness World Record-setting effort on 2013's "Rap God." Fans of the last Nicki-Shady match-up, 2010's landmark "Roman's Revenge," should again be content this time around.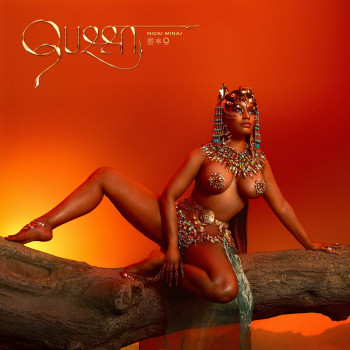 Minaj and Foxy Brown also display fantastic chemistry on their first-ever collaboration, "Coco Chanel," and perhaps this should come as no surprise. After all, the two have plenty of common traits, from their Trinidadian heritage to entering the game in similar style: as previously-obscure newcomers stealing the scene with stunner guest verses on Jay-Z and Kanye West records. After "Bang Bang" and "Side to Side," Minaj and Ariana Grande have now pulled off a hat trick of successful duets with the soothing "Ben." Perhaps the latest is not the strongest of these three, but it's nonetheless proof of their fabulous joint strength as songstresses.
A few tracks shorter, and the album could have more closely resembled 2010's tidy 50-minute Pink Friday, rather than the slightly flabby 70-minute efforts that her last two records represented. While Minaj isn't readily known for her introspective lyricism, the braggadocio and gross-out sex raps can occasionally feel a bit stretched out. More narrative rapping, which she must surely have been able to conjure after a solid decade as a professional MC, might have done the trick here.
Nonetheless, whereas most rappers are long obscure eight years after their debut records, Nicki Minaj plainly remains one of the most vital MCs in the game. Queen offers an engrossing showcase of her spectacular vocal talents and versatility across multiple musical styles. Be it trap, dancehall, reggae, or a brilliant Notorious B.I.G. sample, Nicki Minaj is able to ride the beat like none other, no matter what the genre of the moment may be.
Its consistency might have been improved a notch, but at its multiple high points, some of Nicki Minaj's most exciting and energetic work to date is to be found on Queen.
— —
— — — —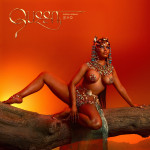 ? ©  Mert and Marcus
:: Stream Queen ::