Every Friday, Atwood Magazine's staff share what they've been listening to that week – a song, an album, an artist – whatever's been having an impact on them, in the moment. Here's this week's weekly roundup!
— — — —
— —
:: "Summer Day" – Tom Odell ::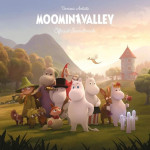 I can think of no better way to start off this weekend than with Tom Odell's musical injection of warmth, love, and sunshine. Taken off the new Moominvalley TV series soundtrack, "Summer Day" is an unabashed indulgence of the good stuff: togetherness, connection, comfort, and understanding. Odell performs with a head full of hope and pocketful of dreams in one of his brightest releases ever.
With the sweet bells of the vibraphone (one of the most cheerful instruments) laying a dreamy, feelgood base, Odell sings a litany of anxieties, doubts and uncertainties: "Sometimes, the winter gets me down," he confesses, only to offset that in a spirited chorus thriving with radiant energy.
(Ah), I have only got to see your face
And you show me how
(Ah), It can be a summer day
Honey, all year round
"Summer Day" is an uplifting sunny anthem for basking in the good times, and smiling through the bad. No matter what life throws at us, life is good, because we're in it together. What a beautiful message; what a beautiful song.
---
:: "Runnin' Towards the Light" – Aaron West & The Roaring Twenties ::
The first single from the upcoming Aaron West sophomore album is an exhilarating change of pace from Dan Campbell's side project. Where We Don't Have Each Other sulked, "Runnin' Towards the Light" is uplifting and draws on The Wonder Years' frontman's love of Bruce Springsteen. The song hints at a more uplifting album, punctuated by horns and songs for driving down the highway.  The sense of determination when Campbell sings, "I'm gonna make you proud of me" is enough to light the same fire in people who were first excited to hear "I'm not sad anymore" for the first time nearly a decade ago.
---
:: You're the Man – Marvin Gaye ::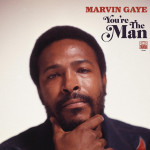 I remember the first time I ever listened to Marvin Gaye: Gold, an all-encompassing, brilliant, two volume compendium of Gaye's career, never once missing a beat, never once missing a step in Gaye's discography. But among all of these cuts, what I remember most is "Where Are We Going?" a question forever as important as "What's Going On," but ever more elusive, ensuing a maddening, rabid pursuit for where this cut hid within Marvin's prolific output. When I discovered that it heralded a then-unreleased album, You're the Man, I was astonished. This past week, more so.
Forgive me for waxing and hate me for cootin', but no one will ever match up to Marvin Gaye. You're the Man is Marvin ambered in metaphormosis, assuredly, from 1971 to 1973, as close to a full on Marvin release as we will see from now to eternity. I may not have been listening to it 24/7, but it's been on my mind more than any other. That Marvin was so aware and astute, whether diatribing "Politics and hypocrites are turning us into lunatics" or dealing "Day by day, baby's babies are born, day by day, people say, 'Right on'," will never not impress me, inspire me, enlighten me on the meaning of us, US or U.S.
---
:: Paradise Valley – Grouper ::
A few years ago, I asked a friend for a recommendation for some calming music. She recommended Grouper, the project of musician and producer Liz Harris. Grouper is known for her ambient, eerie sound, rife with reverb and distorted guitars. She's released 11 albums, all of which are a little world of their own. Her 2016 double single Paradise Valley, made up of songs "Headache" and "I'm Clean Now,"  is one I return to frequently – most often, actually, when I have a headache. The two songs are almost like listening to a guided meditation. They're nearly trance-inducing, and they lower my heart rate every time I hear them. "Headache," my favorite of the two, is spare and melancholy, with a low guitar and Harris' voice sweetly and sadly crooning:
My mother once told me
She walked into the ocean
Didn't want to die
Just couldn't tell where the horizon was
"I'm Clean Now" is even more nebulous, almost whispered. Harris' voice is layered quietly on top of itself, with looping, soft guitars. It sounds like floating, and if you close your eyes, you feel like you really could be. These are songs I return to when I need comfort, a break, or just to feel physically connected to the feeling of calmness.
---
:: The Carps ::
Back in 2012 I discovered Death From Above 1979, now just Death From Above in spite of LCD Soundsystem adjacent record label DFA Records. DFA1979 is two people: one insane bassist, and one insane drummer-slash-vocalist. DFA1979 hit me so hard I immediately started looking for similar artists. The Carps are one insane bassist, and one insane drummer-slash-vocalist.
Of course, there was nothing like DFA, but my ill advised genre search on 2012 last.fm – which could lead you from Yes to Arctic Monkeys just based on the criteria of "guitar" and "British" – still led me to The Carps, one of the most criminally underrated dance punk acts still around. And yeah, they are, thankfully, still active.
Their debut EP, The Young and Passionate Days of Carpedia, is somehow confessional and badass all at the same time. It also provides a rare perspective on the Canadian-black experience at the same time. It's not explicit, especially as The Carps EP came in 2007, but The Carps's Jahmal Tonge has some commentary contrary to our commonly accepted vision of the friendly Canada.
At any rate, The Young and Passionate Days of Carpedia is the best EP I've ever forgotten about. The Carps are a drum and bass duo, a genre that has its limelight around the mid 2000s and had their reign destroyed by SEO practices that mixed them with drum n' bass.
Two deeply technical musicians with a penchant for dance-punk, The Carps have been stuck in my head all week from a simple album rediscovery. Give them a shot.
---
:: "Natural" – Julia Shapiro ::
Knowing Julia Shapiro from punk CHILDBIRTH and meditative Chastity Belt, I had confidence in her ability as a solo artist. "Natural" is simple and ambient, yet the perfect track to put on when drowning in chaos. Shapiro's musical tranquility follows a break-up, surgery, and existential crisis, and is disrupted by the lyrical tragedy: "How can you love yourself so damn much / It isn't natural." It is a poignant mix of pain and calmness — it is acceptance.
---
:: "This is Your Life" – Hannah Cohen ::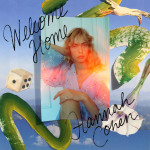 It's been four years since Hannah Cohen has released new music, and "This Is Your Life" is a gorgeous and welcomed return. The track starts with her signature vocal flair and what sounds like the beginnings of a slow acoustic tune only to immediately turn into an onrush of glamorous guitar riffs and percussion beats. All of this comes together and creates a dreamy soundscape that has touches of swagger on it, making for an easily danceable track. Her evocative vocals mixed with the electronic melodies that enter the track around the halfway point make it hard not feel warm while listening. It's a stellar track that will easily become a summertime staple with its easy-going melodies and enchanting rhythms. Her album releases April 26, and it's sure to impress.
---
:: "Change Places" – Ruti ::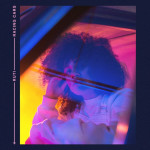 Since winning the seventh series of The Voice UK last year, Ruti has been busy working on her eagerly-anticipated original material, after the success of her awe-inspiringly beautiful cover of The Cranberries' "Dreams." Today marks the release of her debut EP titled Racing Cars, which encompasses four tracks which collectively exquisitely highlight her wide-reaching influences.
The EP's third track "Change Places" effortlessly intertwines engrossingly romantic and astonishingly affecting lyricism with ingeniously inventive production that's compellingly captivating. A gloriously funky undercurrent ferociously flows throughout the track, while Ruti's extraordinarily unique vocal tone gloriously shines through. As a whole, the EP serves as the perfect introduction to Ruti as a artist, with every single track oozing originality in a truly unparalleled fashion.
---
:: "5 Years" – HANNIE ::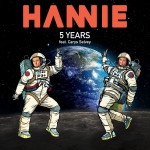 It is always refreshing to go to a gig where the setup differs from the classic five-piece band, and that is what caught my attention when I got to see HANNIE live. Their combination of looping devices, different synths and launch pads captivated me, which made me interested in their recorded music as well.
They accurately translated their lush production into a live performance, incorporating unusual elements and showcasing their instrumental abilities. Their most recent single "5 Years," which features Carys Selvey's soaring vocals, blends memorable guitar riffs with a more electronic sonic landscape, giving it a pop sound with some indie organic features. It is also worth checking out their social media to get a taste of their impressive live playing, which does not disappoint at all.
---
:: "Woke Up in the Hills" – DENNY ::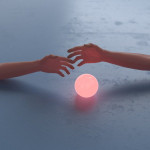 Holy shit. My honest-to-god reaction to DENNY's latest single was a double-take, just to ensure I was listening to the same DENNY I've been following for the past four years. Indeed, this is the same Minneapolis-based trio of Alexander Rollins, Randon Nelson, and Sully who released the singles "Love Somebody with a Face Like You," "she gonna eat your heart out" and (my favorite) "Something Furious" last year.
With its dark, heavy bombast of clean electropop fury, "Woke Up in the Hills" marks the beginning of a new chapter for DENNY's artistry. The band have been experimenting with sounds for years now: This is, after all, the same group I once referred to as a "perfect edgy mix between Radiohead and Led Zeppelin" (in my defense, listen to "Bloom" and tell me that's not the perfect description). 2019's DENNY has the fire of Freddie Mercury, the foreboding, sinister darkness of The Weeknd, and the theatricality of Thriller. "Woke Up in the Hills" is meant to sound big and scary, while at the same time presenting itself as an anthem for listeners to scream at the top of their lungs.
Speak to The Daily Listening, vocalist Alex Rollins mentioned the template of a "James Bond theme" as being the blueprint for their first single of 2019. "We brought the demo to LA with Eric Palmquist (Bad Suns, Night Riots) and it came to life while living in John Lennon's old hideaway in Laurel Canyon," he explains. Living in a space once inhabited by the late John Lennon sounds spooky enough, if not equally humbling and creatively inspiring. Rollins' verses tell a personal "Hotel California"-meets-"Can't Feel My Face" midnight fantasia, leading up to a standout pre-chorus and chorus that shine with startling might and resonance.
"I woke up in the hills," Rollins croons and cries, his voice evoking an impressive range of emotion with every repeated utterance.
What's most exciting about this latest iteration of DENNY is their unapologetic resolve. Here is a band that so deeply believe in themselves and in their artistry that they will stop at nothing to be heard – not because they made the music they thought might take off, but because they're making the music they want to hear on endless repeat. Bravo!
---
:: "Galaxies" – Alice Phoebe Lou ::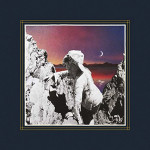 There will sometimes be moments in the evening when I have a short amount of time to fill and need music on but there's no real urge to play anything so I go for the first to pop into my head. Recently, without even thinking, Alice Phoebe Lou and her album Paper Castles has been this kind of go-to accompaniment. It's like I subconsciously gravitate towards it, pulled under its charm; captivated by the ethereal quality that the South African singer-songwriter holds.
Just a speck of dust in the Milky Way
We'll fade away, we'll slip away
We'll go away, we'll be away
We'll stay away
We'll go down to the longest stream
Reflected in a sunbeam
"Galaxies" (released in February) is an example of this. It's hypnotic, spacey, and the inflections at the end of lines ring inside your head. Towards the end when repeatedly screeching 'I'm not going', she sounds like a baby werewolf howling under a full moon or chorus radio waves in Earth's atmosphere.
Paper Castles is notably more layered than the folky 2016 debut Orbit but there's a purity that remains at the core of Alice Phoebe Lou's work. I was listening to an interview with her where she talks about her days busking and how she loved being on the street as the world goes by. It also meant she developed a thick skin so that now, when playing to venues full of fans, she's always filled with gratitude because it wasn't a necessary ambition that she set out to achieve. She lives a simple life but in Paper Castles, in "Galaxies", imaginations are opened up to take us to some place else.
---
:: Mirror Master – Young the Giant ::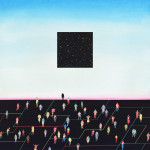 Words: For me, the takeaway from this week's musical adventures is simple but oh-so-important: balance is key. Just a few days ago, I made an honestly quite shameful (if exciting) discovery that has made me focus on this uncomplicated truth more than ever before.
It seems that, in my quest to diversify my music taste and really maximise my chances of discovering new talent, I let an absolute gem of an indie rock record pass by me. I can hear you gasp with disbelief, reader, but fear not: I have since more than made up for lost time by spinning Young the Giant's Mirror Master on repeat for days, and it has definitely become a favorite.
An intriguing, energetic mix of the band's two signature genres, the album features stunning tracks that infuse the youthful power of indie rock with incredible synth pop sentimentality. There is not only sonic, but also emotional variety: introductory single "Superposition" is tender and sexy, "Heat Of The Summer" dynamic and rebellious, "Darkest Shade of Blue" warm and gently poignant. Complex and strong as all the tracks are, it's surprisingly not difficult to pick a favourite: "Call Me Back," with its soft but infectious percussion, is the song that had me fall in love with the record.
---
:: "Radioactivity" (the mix) – Kraftwerk ::
Kareem Ghezawi, London
Ever since I heard the minimal wave tapes, I've been obsessed with the D.I.Y scene of the eighties. The MW Label created by Veronica Vasicka was a project of cultural preservation in which she exhumed the graves of forgotten but pioneering artists of the period like Deux and Oppenheimer Analysis and brought them back to life for a new generation.
I decided to go further back in time, to their inspiration and what is essentially the origin of modern electronic music, which is of course, Kraftwerk. It's incredible how fresh, modern and avant-garde they sound after all this time, there first album was released in 72' I believe. Their The Mix album adds a modern sheen to some of their most classic hits and re-arranges others, there is a number of reasons why they did this. Firstly, they didn't want to do a "Greatest Hits" compilation, secondly, they were in the process of upgrading their analogue studio set up to digital as well as implementing MIDI and with no new material and them eager to start experimenting with these new technologies, they just used their old songs. Known for being cutting edge a lot of critics were unimpressed with them just re-working old tracks, with the technology still in its infancy they also found the sound quite sterile. But as a person born long after they made their last great song I find the record quite agreeable.
"Radioactivity" was already a great song, but the rework on The Mix amplifies its great hook and makes it even more hypnotising. I've been playing the record in my car non-stop the past few weeks, and it's still making my shoulders bop.
— — — —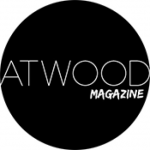 ---
:: This Week's Features ::