Recommended if you like: Walk The Moon, Magic Man, Misterwives, Passion Pit
When I describe other artists' music as 'colorful,' that language, as I understand it, is in reference to the classic ROYGBIV color palette. To say that BØRNS' music is 'colorful' requires some redefining, for BØRNS paints not with red, blue and green hues, but with bright, psychedelic neon pigments. His musical tapestry is an aural sight to behold, a euphoric journey of dynamic, melody-driven indie pop.
Listen: "10,000 Emerald Pools" – BØRNS
[soundcloud url="https://api.soundcloud.com/tracks/170134653″ params="color=ff5500&auto_play=false&hide_related=false&show_comments=true&show_user=true&show_reposts=false" width="100%" height="166″ iframe="true" /] 
23-year-old Garrett Borns released his debut EP, Candy, under the stylized moniker BØRNS in November 2014 via Interscope Records. The four-track Candy is a succinct introduction to BØRNS' vivid sound. His youthful, positive, and unfettered views shine through tastefully catchy hooks and eclectic, inviting orchestrations on the EP's lead songs "10,000 Emerald Pools" and "Electric Love."
This is celebratory music. Big choruses and bouncy verses make each BØRNS an exciting adventure. This holds especially true for "Electric Love," BØRNS' bubbly love song that may (or may not) be about drugs.
Candy, she's sweet like candy in my veins
Hey, you never know! (Actually, we have no idea.)
"Electric Love" takes home the gold for production value, but it's BØRNS' wild vocal jumps and songwriting skills that truly make this song shine like few others. Bumbling guitars lead BØRNS' cascading voice through a series of heartfelt declarations until he finally bursts in the chorus in an indie pop explosion worthy of an Imagine Dragons comparison:
Baby, you're like lightning in a bottle
I can't let you go now that I got it
And all I need is to be struck by your electric love
Call him what you will – a happy, male version of Lorde or an Owl City-like singer-songwriter for the cool kids – but BØRNS is the it thing for the indie pop genre. "Electric Love" earned its rightful place alongside such tunes as Smallpools' "Dreaming" and Magic Man's "Paris."
The Candy EP struck at the perfect time, right before the indie pop bubble burst wide with Passion Pit, Walk the Moon and Magic Man sound-alikes popping up all over the place. What was once a fringe genre has now become, thanks to the widespread popularity of the aforementioned artists and more, a mainstream commodity.
Eight months ago, we were pining for this: Something new to sink our teeth into. Something to latch onto, and sing our souls out, again and again. Something that would put a smile on our face, no matter what. Candy is a sweet sampling of the jubilant bliss that colors BØRNS' musical world. BØRNS delivered not one, but two hit tracks on Candy – listen to "10,000 Emerald Pools" and try not to sing along to yet another ridiculously catchy, uplifting chorus:
Under water
Time is standing still
You're the treasure
Dive down deeper
Still, all I need is you
You're all I need to breathe
All I need is you!
BØRNS is on tour this summer with Charli XCX and Bleachers, and is currently working on his forthcoming debut album (to be released this Fall). Listen to BØRNS' "Electric Love" and more music you should know on Atwood Magazine's June 2015 Playlist.
Watch: "Electric Love" – BØRNS
[youtube=https://youtu.be/RYr96YYEaZY?t=0s] 
:: "Electric Love" – BØRNS ::
lyrics
Candy, she's sweet like candy in my veins
Baby, I'm dying for another taste

And every night my mind is running around her
Thunder's getting louder and louder

Baby, you're like lightning in a bottle
I can't let you go now that I got it
And all I need is to be struck by your electric love
Baby, your electric love
Electric love

Drown me
You make my heart beat like the rain
Surround me
Hold me deep beneath your waves

And every night my mind is running around her
Thunder's getting louder and louder and louder

Baby, you're like lightning in a bottle
I can't let you go now that I got it
And all I need is to be struck by your electric love
Baby, your electric love
Electric love

Rushing through me
Feel your energy rushing through me
Feel your energy rushing through me

Baby, you're like lightning in a bottle
I can't let you go now that I got it
And all I need is to be struck by your electric love
Baby, your electric love
Baby, you're electric

Listen: "Electric Love" – BØRNS

[soundcloud url="https://api.soundcloud.com/tracks/189727218″ params="color=ff5500&auto_play=false&hide_related=false&show_comments=true&show_user=true&show_reposts=false" width="100%" height="166″ iframe="true" /]
:: BØRNS – SPRING & SUMMER 2015 ::
*with Bleachers and Charli XCX
Sun 06/21/15 – Firefly Music Festival – Dover DE
Fri 07/17/15 – The Crescent Ballroom – Phoenix AZ w/ Dark Waves
Tue 07/21/15 – The Observatory North – Park San Diego CA*
Wed 07/22/15 – Pacific Amphitheatre – Costa Mesa CA*
Thu 07/23/15 – Fox Theater – Oakland CA*
Sat 07/25/15 – Showbox SoDo – Seattle WA*
Sun 07/26/15 – Edgefield Amphitheatre – Troutdale OR*
Tue 07/28/15 – The Complex – Salt Lake City UT*
Wed 07/29/15 – Fillmore Auditorium – Denver CO *
Fri 07/31/15 – Lollapalooza – Chicago IL
Sat 08/01/15 – House Of Blues Chicago – Chicago IL – Lollapalooza After Party
Tue 08/04/15 – Cabooze – Minneapolis MN*
Wed 08/05/15 – Eagles Ballroom – Milwaukee WI*
Fri 08/07/15 – Cains Ballroom – Tulsa OK*
Sat 08/08/15 – Starlight Theatre – Kansas City MO*
Sun 08/09/15 – The Pageant – St. Louis MO*
Tue 08/11/15 – The Fillmore Detroit – Detroit MI*
Wed 08/12/15 – The LC Pavilion – Columbus OH*
Sat 08/15/15 – Gibson Ranch – Elverta CA – RADIO 94.7 Summer Show
Sun 08/30/15 – The Surf Lodge Montauk NY Neon Gold & C3 Summer Series
Mon 09/07/15 – Bumbershoot Music And Arts Festival – Seattle WA
Fri 09/25/15 – Life Is Beautiful Festival – Las Vegas NV
Sun 09/27/15 – Life Is Beautiful Festival – Las Vegas NV
Fri 10/02/15 – Austin City Limits – Austin TX
Sun 10/04/15 – Austin City Limits – Austin TX
Fri 10/09/15 – Austin City Limits – Austin TX
Sun 10/11/15 – Austin City Limits – Austin TX
Tue 10/13/15 – 1st Bank Center – Broomfield CO – Harvest Fest Radio Show
CANDY EP – BØRNS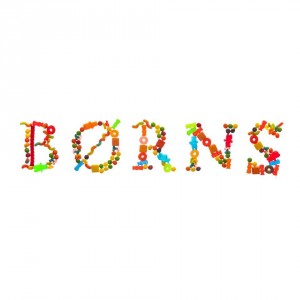 Learn more about BØRNS at listentoborns.com
Like BØRNS on Facebook  /  Follow BØRNS on Twitter