If you find it difficult to conceptualize "indie pop" as a music genre, Smallpools' newly-released debut album LOVETAP! can help you out. Released on March 24 via RCA Records, LOVETAP! offers a solid forty-five minutes of infectiously high-energy, party-ready synth and guitar-driven songs that blur the lines between alternative and pop music.

Smallpools made a grandiose splash in 2013 when their debut single, "Dreaming," skyrocketed to No. 1 on the Hype Machine's aggregated trending music chart. The attention landed them their record deal and shortly thereafter, the release of the four-track Smallpools EP, led by "Dreaming" and featuring another indie hit, "Mason Jar." The EP was (arguably) one of the hottest releases of 2013, and Smallpools spent the better part of the past two years touring in support of that record.

To make a long story short, LOVETAP! has been a highly anticipated and long awaited release. Smallpools are one of the biggest names in indie pop right now, and LOVETAP! offers more of the swelling synths, party-friendly dance tracks, and super catchy choruses that embodied the band's 2013 EP. Critics may denigrate the album for keeping too closely to the mold and failing to push upon boundaries, but it's easy to forget that Smallpools are only just getting started. As far as debut efforts go, LOVETAP! is a cohesive unit that showcases the band's talent for catchy and memorable songcraft.

Listen: "Killer Whales" – Smallpools

[soundcloud url="https://api.soundcloud.com/tracks/159792681″ params="color=ff5500&auto_play=false&hide_related=false&show_comments=true&show_user=true&show_reposts=false" width="100%" height="166″ iframe="true" /] 

What is it about Smallpools that I like so much? In addition to the band's impressively addictive, genre-bending sound, their music possesses a lyrical depth that distinguishes Smallpools' artistry from that of their peers. Much like Shakespeare's plays, Smallpools' songs operate on multiple levels that cater to different audiences. Thus, while frat bros and I can share an appreciation for songs like "Dreaming" and "Killer Whales" because of their danceability, I have a far greater appreciation and respect for those songs and others on LOVETAP! because of their veiled expressions of restlessness, helplessness, loneliness, and other generally non-"pop" aspects of the human condition.

Smallpools don't write or sing exclusively about love, sex, and drugs – and when they do, there are often deeper, hidden meanings at play that even a close study of the lyrics may not uncover. As far as elusive, cryptic writing goes, this band gets a 10 out of 10. In a wider sense, Smallpools stand alongside fellow indie pop/rock newcomer bands like Sir Sly and Bad Suns, who carry a powerful message alongside their powerful songs.

Before you start blasting Smallpools all summer long, consider the deeper values and emotions embedded in these songs. You can use our song-by-song LOVETAP! guide as a reference. Once you've done that, go ahead and blast LOVETAP! all summer long. Their music may come out of complex situations, but at the end of the day, Smallpools definitely want you to have fun.
RIFYL: MisterWives, fun., Walk The Moon, The Killers, Phoenix
LOVETAP! – Smallpools
bold = key tracks (yes, there's a lot of them; this band is very good)
01) American Love
The LOVETAP! album opener is a modern day international love story: American boy meets/woos foreign girl, and life becomes an adventure. "American Love" offers the signature Smallpools indie/pop/dance/rock genre blend, making it accessible to many and very easy to fall for. This is the song that will enroll you in Smallpools.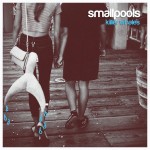 02) Killer Whales
On the surface, "Killer Whales" is a happy song that you can dance to, sing along with, and enjoy in most any scenario. Underneath this happy synth-driven music is a deep cry, an attempt for closure, and a story captured forevermore in song. Read more at https://atwoodmagazine.com/our-take-smallpools-killer-whales/

03) Dreaming
The song that started it all, "Dreaming" is an infectiously high-energy, double-chorus song with multiple earworm hooks, a danceable beat, and an air of youth and celebration. With guitars and synths swooping, swirling, and running circles around listeners' ears, "Dreaming" maintains its vibrancy from start to finish. It's Smallpools' "All My Loving," if you will. Listen closer to the lyrics, however, and you'll find that this song offers a lot more than an exciting roller coaster of synthesizers: Deep down, "Dreaming" is closer to a call for help than it is a celebration. "We've got no place to go, caught up in a rodeo. Oh, no. Please, god, tell me we're dreaming." Just as "Killer Whales" is not really about whaling, "Dreaming" is not really about a fantastical dream sequence. It reflects the helplessness and exasperation of  a generation's incurable restlessness. The dichotomy between music and lyrics adds to the song's compelling allure.

04) Karaoke
I never really thought "Karaoke" could be so much fun until Smallpools wrote about it. The first official single off LOVETAP!, "Karaoke" is a catchy singalong song with a heavy, complex instrumental arrangement that crests and dips at just the right moments. This song also has special meaning – it's about the band's primary mode of escapism and relaxation during the pre-"Dreaming" years while they were trudging away in Los Angeles. Unlike the other, more cleverly veiled tracks on LOVETAP!, "Karaoke" is actually about karaoke. Smallpools used to meet up at karaoke bars as a means of singing out and getting away from the everyday. Not only does this song have an excited musical charisma, but it also has the imprint of days past – the shadow of Smallpools' comeuppance. An ode to a prior time, "Karaoke is special in more ways than one.
Listen: "Karaoke" – Smallpools
[soundcloud url="https://api.soundcloud.com/tracks/178422606″ params="color=ff5500&auto_play=false&hide_related=false&show_comments=true&show_user=true&show_reposts=false" width="100%" height="166″ iframe="true" /] 
Take me out and we'll karaoke. Tonight we feel famous, don't we? Pick me up and we'll make a movie. I'm acting like the world can't hold me down, down, down. They'll never hold me down, down, down. We'll pass the mic around, around, around, around…
05) Street Fight
Smallpools wrote most of LOVETAP! in-between tours over the past year and a half, and I think they made "Street Fight" with a stadium-sized audience in mind. This is a big arena song, but it maintains the signature Smallpools glow. Few other bands can pull off as explosive a chorus that ends with them shouting, "I'll be your Bruce Lee." 
06) Mason Jar
A whirlwind, earworm heavy song about life in the fast lane. The vivid lyrical entrance to "Mason Jar" is one of Smallpools' finest moments. Similar to "Killer Whales" and "Dreaming," "Mason Jar" is a lively pop song swathed in double meaning and secondary significance. This song was born to be a hit:
She saw the world through a mason jar, it's foggy / She had the kids with the vicious smiles, they got me / Up on a hill with the trophy wives / She's doing all right, all, all, right (yeah) / They let her roam some tree or vine, no question / She's got a home with some shit to climb, don't mention / Been up and down like a hundred times – But I got to kill this conversation while there is still sense in my mind…
07) Over & Over
Something about the opening line to this song, originally released on the Smallpools EP, really stuck out to me. Perhaps it's the way lead singer Sean Scanlon provides just enough context to allow the mind to wander and draw conclusions of its own. Perhaps it's the longing in Scanlon's voice, or the dichotomy between the chorus' release and the verses' musical and lyrical tension. Whatever the cause of my fixation, these lyrics always lead me into a daydream:
It was a company event, with a margarita tent. I said, "How's your week?" She said, "Man, I'm spent and I could use a crazy night." And I would love to see Chennai. We could commandeer a little plane and fly, or we could just skip stones in the shade.
08) Lovetap!
Grabbing inspiration from '80s-era synth-pop jamz, "Lovetap! is the closest thing to a ballad that one may find on Smallpools' debut – and in truth, it is nothing like a ballad. Clocking in at three minutes, forty-seven seconds, "Lovetap!" is the longest song on the record. It finds Smallpools cashing in their characteristic in-your-face energy for a complex arrangement that survives off tastefully-crafted melodies and dynamic jumps. As with "Killer Whales," a cryptic story shields our title track's plot from view, but "Lovetap!" emanates the same anxious fervor as "Dreaming." Of highly commendable note here is frontman Scanlon's singing: Scanlon's talent already shows itself on the previous seven tracks, but the octave jumps, melodic riffs, and emotional urgency on "Lovetap!" take his vocal prowess to a whole new level.
09) What's That A Picture Of?
Every album, even The Beatles' finest record, is allowed to have its "what the f***" moment. "What's That A Picture Of?" is actually a fantastic piece, but taken out of context, the chorus' scream of "What's that a picture of?" feels odd, disruptive and out-of-place. A closer look will find this to be one of LOVETAP!'s more honest writings, with the band recounting the all too familiar experience of having an immediate attraction to a passerby stranger, but feeling frozen and unable to approach. This song comes from a good place, but its chorus is such a zinger that the sincerity is lost. Even Smallpools acknowledge the silliness of the song, ending it in a jocular call-and-response setting where Scanlon's responses to "What's that a picture of?" include, "Is it your friends in a club," "Is it your legs in a tub," and "Is it your goddamn cat?" Props to Smallpools for realizing their own joke before we thought they were super serious and called them out for it. It's important for musicians to have a sense of humor.

10) Dyin' to Live
"Dyin' to Live" sounds like the 1980s. It is very much a throwback dance track, but its energy is livelier than any synth-based music from prior decades. The deeper meaning here revolves around finding purpose in one's life: "We're all just dying to live." For many, death represents the key to solving life's mystery and figuring out the truth about our existence and significance. On "Dyin' to Live," Smallpools capture the insecurities of not knowing and obsessively wondering "WHY" that every human goes through at one point or another.

11) Admission To Your Party
I'm still warming up to this song. The lyrics have a very high school vibe, while the music is spot on. On the exterior, the song is about the chic, party-lusting American high school experience. Upon closer look, Smallpools actually seem to be criticizing the vanity of the 'party scene'. Nevertheless, rumor has it if you play this song on repeat with the movie Superbad, the music and the movie match up!
Go get some complimentary bourbon. Go meet your brand new friends on the water slide. It's cool no matter what the police men find, but you realize there's no coming back if you don't get what you want. Oh, and it feels like, just a song and dance revered by everyone. I want admission to your party, it's the best in town. Admission to your party, don't you let me down. I want admission to your party, admission to your party, yeah!

12) 9 to 5
Smallpools must have been listening to lots of Vampire Weekend when they wrote this song. "9 to 5" is a reggae and beat-driven track about the everyday struggle. It's not a throwaway track, but it's hard to imagine a Smallpools fan citing this song as their favorite on the album. Take that for what you will, and enjoy this bouncy, fun, two-minute feel-good song that speaks to (and for) the working class.

13) No Story Time
The final lyric-driven track on the record, "No Story Time" is a big banger, with soaring synth pads and a crushing drum beat. The song echoes a similar sense of urgency as other Smallpools tracks, but the musical atmosphere matches the lyrics here, which gives "No Story Time" an extra onward-pushing drive. This match between the music and lyrics makes "No Story Time" the perfect LOVETAP! summary song. After all, Smallpools boast a youthful glory, and all the excitement and anxiety that come with it.

14) (Submarine)
A three-minute, mostly instrumental sequence by the name of "(Submarine)" ends 'LOVETAP!'. The track is bathed in 80s guitar and synth tones, rising and falling with harmony and melody rather than with dynamic contrast. Scanlon's voice is full of echo and reverb in such a way that the vocals – which repeat the lines, "Over now, stay close," and "I see you waiting, see you waiting, what you waiting for?" – serve a structural and support, rather than a lead role for the song. It's a refreshing change of pace and a beautiful, calming exit to a fantastically cohesive and exciting indie pop album. If this is what a Smallpools jam sounds like, then I can't wait to see them live!
LOVETAP! – Smallpools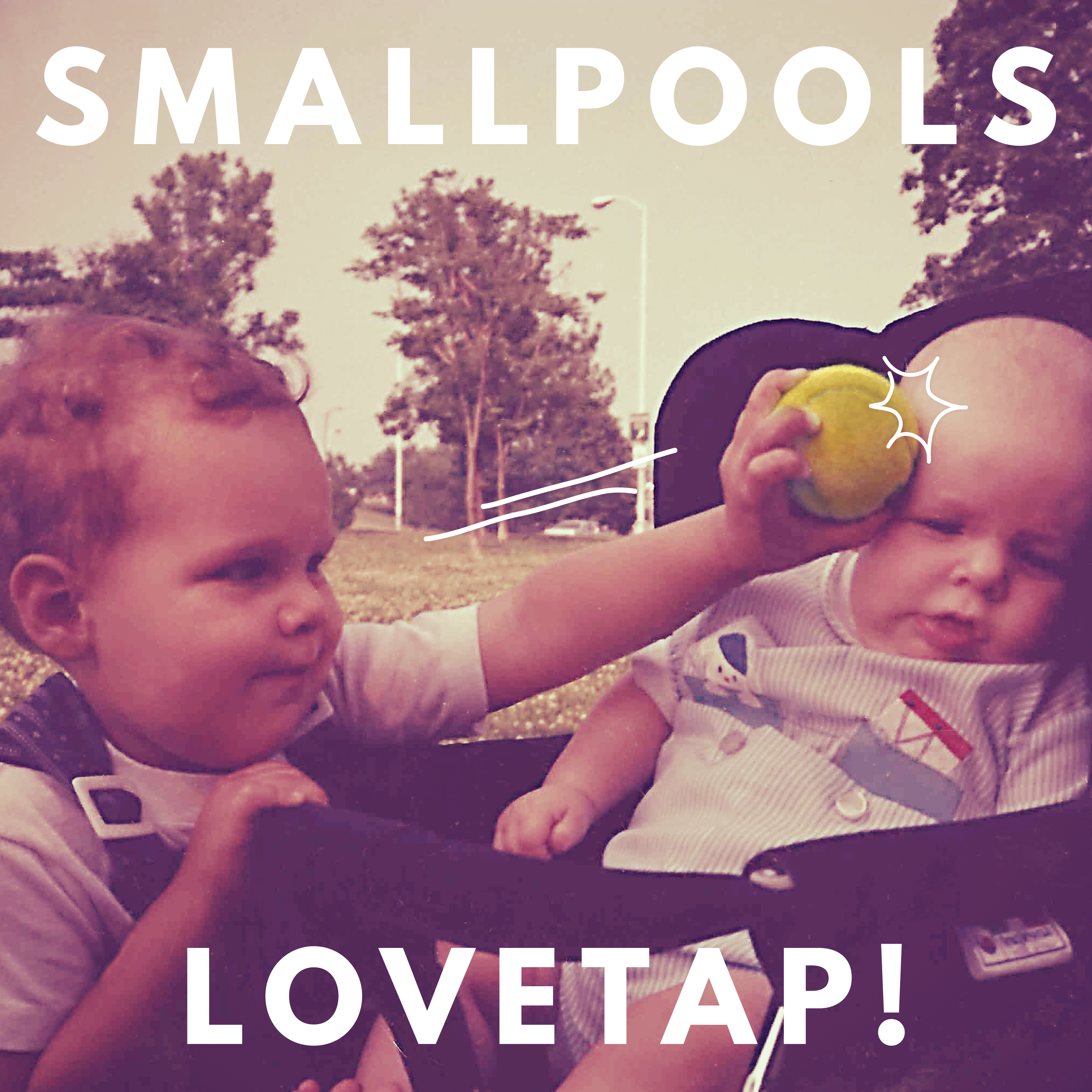 :: SMALLPOOLS LOVETAP! ::
HEADLINE TOUR
3/07 – Riverside, CA @ UC-Riverside Hub Lawn
3/14 – Phoenix, AZ @ VIVA PHX
3/28 – Austin, TX @ University of Texas
4/11 – Tuscon, AZ @ University of Arizona
4/14 – Houston, TX @ Fitzgerald's
4/15 – Dallas, TX @ House of Blues
4/17 – Tulsa, OK @ The Vanguard
4/18 – Kirksville, MO @ Truman State University
4/19 – St Louis, MO @ Firebird
4/21 – Nashville, TN @ Exit/In
4/23 – Atlanta, GA @ Terminal West
4/24 – Saxapahaw, NC @ Haw River Ballroom
4/25 – Washington, DC @ U Street Music Hall
4/27 – Pittsburgh, PA @ Altar Bar
4/28 – Philadelphia, PA @ Union Transfer
4/30 – Columbus, OH @ Newport Music Hall
5/01 – Cincinnati, OH @ Xavier University
5/03 – Princeton, NJ @ Princeton University
5/05 – Cleveland, OH @ Beachland Ballroom
5/06 – Detroit, MI @ St. Andrew's Hall
5/09 – Cambridge, MA @ Middle East
5/11 – New York, NY @ Bowery Ballroom
5/13 – Indianapolis, IN @ Deluxe
5/14 – Minneapolis, MN @ Triple Rock
5/15 – Kansas City, MO @ The Record Bar
5/16 – Denver, CO @ The Summit Music Hall
5/18 – Salt Lake City, UT @ Club Sound
5/20 – Portland, OR @ Wonder Ballroom
5/22 – Vancouver, BC @ Electric Owl
5/23 – Seattle, WA @ The Crocodile
5/25 – San Francisco, CA @ The Independent
5/28 – Santa Ana, CA @ The Observatory
5/29 – Los Angeles, CA @ El Rey
FOLLOW
www.smallpoolsmusic.com
www.facebook.com/smallpools
www.twitter.com/smallpools
www.instagram.com/smallpools
www.youtube.com/smallpools
www.smallpools.tumblr.com/