Denver four-piece The BRKN emulate The 1975's swagger and gusto throughout their dynamic sophomore EP 'Come Outside,' blurring the line between imitation and inspiration while they search for their own sound in the indie pop space.
Stream: "Come Outside" – The BRKN
---
A half hour of bright and punchy indie pop awaits all those who venture into The BRKN's sophomore EP. With direct nods to The 1975 and others in the modern pop/rock space, Come Outside is an invitation to lean into the fall; to dwell in our depths; to spread our wings and fly high, sweep low, and embrace everything in-between.
HEY sometimes
I like talking to the wall at midnight
Drawing on my face
But THATS okay
You're a cliche; ruin it anyway
Brood all that you want
I just want you to calm down
No the world does not revolve around you
I said I just want you to calm down
Now you're crying when I talk to you
Gonna need you to calm down
– "Calm Down," The BRKN
Released June 8, 2021, Come Outside is a feel-good eight-track indulgence of poppy and feverish energies – from spiky guitar riffs and pulsing bass grooves to sweet ethereal synths, tight drum beats, and soaring staccato vocals that punctuate the airwaves, The BRKN's second extended player is an impressive and praiseworthy effort that, while breaking away from the pack, can't help but sound just like its inspirations – namely, The 1975, and more specifically, their 2016 sophomore album I Like It When You Sleep, for You Are So Beautiful Yet So Unaware of It.
This isn't necessarily a bad thing: There's a fine line between imitation and inspiration, and The BRKN toe it well. "The 1975 is definitely a massive influence for us," the band's vocalist and guitarist Jacob Cade tells Atwood Magazine. "They've changed our lives as musicians and artists. Other influences would be something like Prince, Michael Jackson, Neck Deep, Paramore, and The Band Camino."
Together with drummer Mike Bokenkamp and guitarist MJ Younkers, Cade founded The BRKN in 2019. They released the pop punk rocker "Your Existence" as their debut single in July of that year, and unveiled their debut EP No. 3  in March 2020. Serving up a fiery, feisty dose of pop punk for the new rip-roaring '20s, No. 3 continues to bring to mind the likes of everyone from Weezer and Good Charlotte to Taking Back Sunday and My Chemical Romance.
Speak slow
Don't know what you want
So controlled by the former you've been running from
Fight so
You're not feeling the ache
So vague make a thought come out for goodness sake
I don't know, I don't care
I don't know, I don't care
How you found yourself
Your long lost boy's got a broken heart
It never left you
Your long lost boy's got a broken heart
You left a scar you forgot
Your long lost boy
– "Lost Boy," The BRKN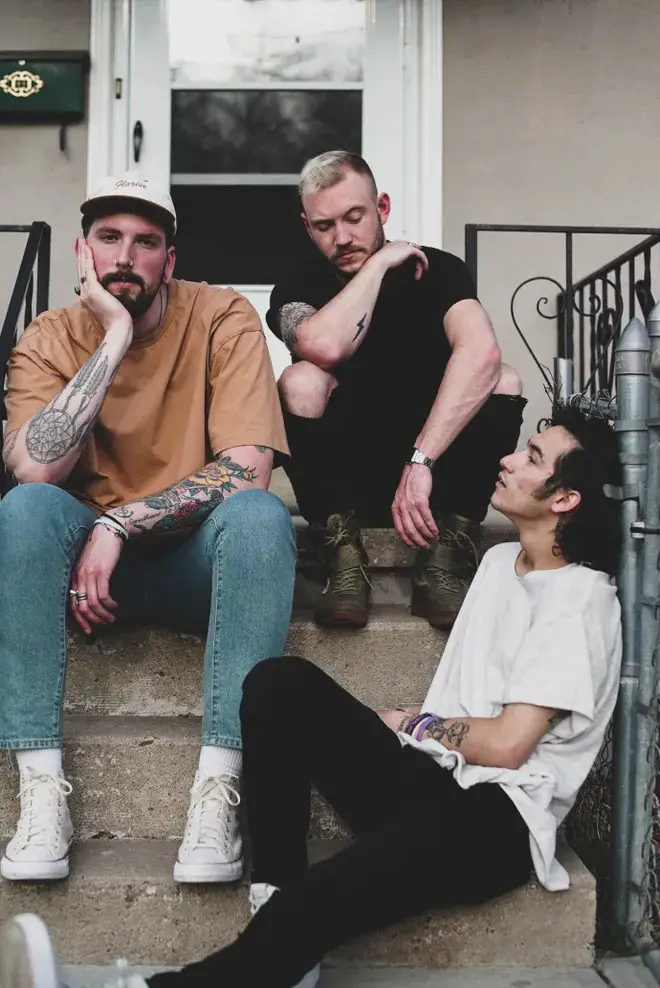 No sooner had they found a lane, than did The BRKN make something of a 180° turn. "The vision for this record was always to make it sound like a pop band playing a live set," Cade explains. "Super authentic and real with lots of '80s synth pop sounds and nostalgic riffs. We stuck pretty hard to our vision the whole time, but made exceptions along the way if they sounded dope!" he laughs.
While its lead single "Be Cool" released only a few short months after their first EP dropped, Cade explains that Come Outside was a very long time in the making. "We had been talking about making this record actually as far back as before COVID even started," he says. "Originally, we were going to be a lot more pressed for time and probably have a different kind of vibe. But what with the lockdown, we had all the time in the world to experiment and really find something we wanted to chase down passionately. The first writing session/prep for the EP happened after we hadn't even been in a room with each other for about a month. So, it was a bit of a euphoric moment for all of us and sort of a "we're back" feeling, even though it was just for a glorified rehearsal. That day we wrote the beginnings of 'Be Cool' and a couple other demos. About a month later we booked some time in Mason Maxwell's studio with the goal in mind of getting a good single recorded that would set the canvas for the rest of the EP. After about 2 weeks there, we got 'Be Cool' finished and came back with a rhythm and an open bottle of sauce to write the rest of the EP. I think we spent about another month or so just writing here in Coloardo, before going back to Nashville with about 20 or so demos. After a month of drilling the songs, picking which ones were the best/the worst, and having the best time we'd had all of lockdown, Come Outside was made."
I think this EP is the first version of us exploring who we are as artists with no boundaries. It opened a gateway for us to become even better on our next collection of music.
Come Outside is in many ways representative of a fresh start for the Colorado trio, who leaned into pop without sacrificing their rock roots.
Full of invigorating energy and massive overhauls of sound (every chorus brings a welcome release of power and vigorous feeling), The BRKN's pop brand is one that marries euphoria and zeal with introspection, in-the-moment storytelling, and emotional exploration. The band turn visceral upheavals into musical revelries ready to whisk our spirits away and fill us with the urge to dance until dawn. The music is definitively fun – even if it sometimes feels like we've heard a melody here and a groove there in the not-so-distant past.
Now she's having a kid
Was just like him
Just a one night sin
In the city ugh
Now you act like a bitch
Can u scratch my itch
Flirting till her mouth starts to bleed
Oh I'm so done with seeing my face
Can you help me just a minute in a dark place
I'm stuck under her feet any ways
Can you tell me if love is going my way?
– "Therapy Session," The BRKN
Throughout Come Outside, The BRKN evoke their own "Denver 1975" ethos and identity. There are some undeniable, unmistakeable similarities, but they are all forgivable as ultimately, each is a stepping stone for the young band's exploration of the pop space. EP opener "Calm Down" channels the bop and verve of "UGH!" and "She's American," its glistening guitar beats serving as a dazzling backdrop for Cade's passionate vocal outpouring. The radiant "Therapy Session" is reminiscent of "It's Not Living (If It's Not with You)," housing a dramatic vocal performance that may be second to none on the entire record. The aforementioned boppy single "Be Cool" recalls "Chocolate," but ultimately takes off in its own harder alt-rock direction halfway through with explosive drum work and overdriven guitar overhauls that remind us that this is not, in fact, The 1975, but an altogether different band from a different place, on their own journey of musical discovery.
It's worth noting that, the deeper one dives into Come Outside, the more the EP finds its own signatures. The searing "Lost Boy" – a "kind of love story" nursing a broken heart – feels both heavy and light at the same time; the head-banger "Lying All the Time" moves with arresting fervor and zeal with an insatiable, high-flying guitar lick, churning chords, punkish shouts, and unrelenting drums. "Marilyn" offers a different kind of balance between pop and good ole' fashioned rock n' roll, offering a short break from the glittering guitar licks in exchange for a thrilling guitar solo that tears through the air and leaves us mystified and a little stunned.
The BRKN's finale "Lovers" is easily one of the EP's finest, an exceptional track tastefully melding their inspirations and influences into a definitive indie pop sound that is familiar, yet excitingly fresh at the same time. Gentle and tender, yet nonetheless sweet and soaring, the song leaves us excited for where The BRKN have gone, and where they have yet to go.
I've been thinking am I sitting here living or dying, oh
Right now not that surprised you
remembered we were fighting, oh oh
I got no point talking to you
but I'm still sucker for your voice so
Guess humors not the right word
But there's still a sympathy I'm lookin for
Mirror believes me
When I say that we can work it out but
You don't share the feelings
You just fuck-a-round
Now I wanna know
Since when did lovers have to learn to lie?
You forgot my face now?
Why can't trying too hard make it right
Now I wanna know
Since when did lovers have to learn to lie?
Another rose is dead now
Why can't trying too hard make it right
---
Come Outside is certainly The BRKN's best effort yet – a solid, energizing, and absolutely enthralling set that sets its sights onward and upward, with an overall hopeful tone and youthful exuberance.
"I think my favorite highlight of this record was probably being able to escape the COVID filled world to record a ton of tunes in Nashville. It felt like we were secluded from the craziness around us and had our own canvas to paint on without any distraction," Cade shares. "I hope listeners take away the same amount of fun, energy, and therapeutic release that we all felt when making this record."
"I hope people find something to connect with and the something in these songs makes people feel like they're not alone. For me, writing these songs brought me solace. It was like writing a journal of all the feelings that plagued me for the last two years and burning it – but in a very good way."
The BRKN may have blurred the line between imitation and inspiration, but their resulting music is worth it. Experience the full record via our below stream, and peek inside The BRKN's Come Outside EP with Atwood Magazine as the band goes track-by-track through the music and lyrics of their latest release!
— —
Stream: 'Come Outside' – The BRKN
:: Inside Come Outside ::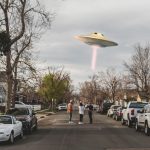 — —
Calm Down
This song started with a solid guitar riff and chorus progression but took quite a long time to get a hold of. It embodied many forms such as different arrangements and melody ideas before finally landing on what it is now. I remember spending about upwards of 3 hours chopping and changing sections of the song in my garage band session trying to figure out what it was missing! But, at the end of the day, we came up with one of our favorite songs of the bunch. As for the recording we wanted to go for a super "live record" sound with tight drums/drums and crazy guitar tones. The Boss DD3 delay actually saved the day in that area. It gave the riff the perfect vibe!
Therapy Session
"Therapy Session" is the first song I think we wrote from scratch all together in a room after Be Cool. Unlike most this one was inspired by the synth riff that starts it off on the record. From there the guitars and bass kind of wrote themselves! The lyrics took a bit more time, I had the words but didn't really know how to spin them to make sense. Eventually I realized all I was doing was having a conversation in melody. Once coming to this realization, it was simple to think of it as my own therapy session with myself.
Be Cool
This was our first attempt at writing together during quarantine. The process for this one was much more "old school" than for all the rest. It was actually us jamming in a live room just playing nonsense until the vibe presented itself! It was all very cluttered at first but once I played the lead line everything harmoniously came together. It was very euphoric for all of us knowing that we could actually write a song together and that people actually liked it!
Lost Boy
One of our favorites to play live. We actually wrote this one while we were recording in Nashville on a bit of a whim. Michael came up with the groove first and looped it. I got a synth and guitar lead line down and from there the song took shape. We wanted to keep it simpler and more straight forward than the rest of them so that's what we did. We tracked the whole thing in about three hours, and I wrote the lyrics at the breakfast table the morning before we recorded them! Such a quick process it sort of took us by surprise. We almost didn't put it on the record until Michael woke up one morning and said the chorus melody was stuck in his head. That was enough to sway us into thinking we were onto something good.
Lying All the Time
This song happened even quicker than Lost Boy did! We wanted a hype-y punk song that sort of had a "Dancing With Myself" vibe to bring some more life to our set live. I remember all plugging in and just jamming out until something happened with that feeling in mind. After we picked a key and found the main guitar riff the puzzle pieces connected. I made up random lyrics on the spot and recorded a scratch track of them. Turns out most of those original mumbles made the final cut! Talking about Sparkle Drums and wearing my mother's make up ha-ha.
Fake Love
I actually wrote and recorded the first demo of Fake Love on my iPhone with GarageBand and an iRig! Super wild most of those original synth tracks actually made the final recording! It was very humbling that the guys were so on board chasing this track down seeing as I never really thought it was gonna make it anywhere close to being on the EP. But it just had that vibe that needed to be played live. Some sort of "here we are" thing that we all loved. So grateful Mason (producer) made me pull up all my old demos from quarantine ha-ha.
Marilyn
Marilyn was the last-minute addition to the record. Originally there was only supposed to be 7 tracks! But same as Fake Love the guys heard the demo in my archives and pulled for it. No one thought it was going to be anything special but when we started running it down all together the feeling was too good. Even though we felt it might've been too "rock n roll" we decided it was good for us to let our roots shine and rip a little bit.
Lovers
"Lovers" happened because of an unproductive writing session with Michael and I, we were searching for a "Pop Banger" and could not find the vibe. Sort of feeling down and out Michael suggested we try to write something chill and relaxed. Ballads hadn't ever made their way into our writing before, so it was an interesting avenue to chase down. Once the electric piano part got laid down the gate was open. We found this vibe that was nostalgic and bouncy. We knew it was going to make the record. There's no way we couldn't do it. The vocals were also quite a feat to get recorded what with having a whole choir record on it! What a fantastic experience seeing amazing singers sing your lyrics and hearing it back. Lovers definitely solidified us in our own minds as good musicians and writers.
— —
— — — —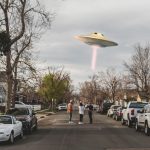 ? © 2021
:: Stream The BRKN ::
---