A lush lo-fi outpouring of nuanced color and playful textures, 'A word becomes a sound' is the tender upheaval this year needs – an unveiling of intimate depths so organic and natural that it feels like a personal gift from Kate Bollinger's mind to our hearts and souls.
Stream: "Grey Skies" – Kate Bollinger
---
The distant past, the nearer past, and the present: Identities collide and coalesce on artist-to-watch Kate Bollinger's second EP, a whimsical and wistful blend of time and place that captures both the effervescent warmth of summer and the isolated solace of winter at once. A lush lo-fi outpouring of nuanced color and playful textures, A word becomes a sound is the tender upheaval this year needs – an unveiling of intimate depths so organic and natural that it feels like a personal gift from Bollinger's mind to our hearts and souls.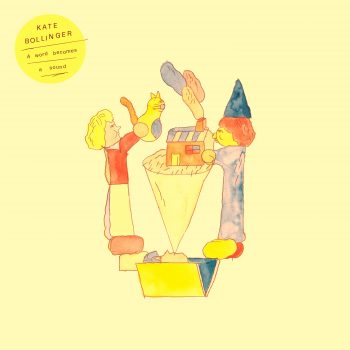 You always told me when I was wrong
I never minded it,
I needed someone to tell me okay
If I mess up a couple things
or if I mess up a lot of things
If I fuck up a couple things
well, what if I fuck up everything?
You always told me to listen better
So I tried listening to the blues
You always took care of all my baggage
It's hard now it's somethin' I gotta do
– "A Couple Things," Kate Bollinger
Released August 21 via Fat Possum Records, A word becomes a sound arrived in the heat of the North American summer as a welcome retreat from the chaos and pandemonium of the daily grind. Produced with Bollinger's longtime collaborator John Trainum, A word becomes a sound is the Charlottesville singer/songwriter's sophomore EP, following 2019's I Don't Wanna Lose and a slew of singles that began to trickle out just a few years ago.
Her effortless blend of folk, jazz, and pop stylings is intoxicating; her ability to inject a world of depth into stirring melodies is sublime; and her stunning, sweet vocals and smart lyrics continue to stand out from those of her peers.
A word becomes a sound is so much more than a collection of five songs; cohesive and grounded, it's a small-"c" cinematic and dreamy world unto itself. Bollinger's poetic talents come to the fore alongside her striking predisposition for subtlety; this EP proves a surreal enchantment from the moment "A Couple Things" opens up with its jazzy licks and introspective wanderings.
---
Dazzling songwriting comes easy to Bollinger, whose laid-back 2018 single "Tests" was previously hailed as "syrupy bedroom pop at its finest." Writing without expectations or assumptions, her lyrics resonate like diary entries no one was supposed to read, and her casual delivery gives all of her work a friendly and familiar vibe.
The EP's sophomore single "Grey Skies" has been something of a runaway hit so far, racking up over 800,000 streams on Spotify alone – and for good reason: A sun-soaked DIY immersion, the song finds the artist painting a characteristically warm sonic self-portrait of anxiety, self-sabotage, and acceptance. "I don't want it if I can get it," she sings midway through, her voice resonating with confidence as her heart struggles with indecision and apathy. "I don't need it if I can have it…  then I turn around and change my mind, but it's gone, and I'll ask why…" And while she may be experiencing grey skies within, Bollinger's musical paintbrush is full of brighter, if not subdued hues of yellow and blue.
But isn't that part of what makes most music so compelling – that it can capture complex emotions with seeming finesse and ease? Kate Bollinger's record is in this regard the perfect balancing act – a dalliance with one's own darkness that ultimately rests in pools of light. Suburban angst and coming-of-age restlessness are but two of the many areas Bollinger ends up exploring through thoughtful words and gorgeous sounds, and while firm "conclusions" may be relatively scarce, it's the act of diving into oneself and openly sharing that experience with the world that makes Kate Bollinger and her music so utterly magnificent, relatable, whimsical, and downright fun.
Experience the full record via our below stream, and peek inside Kate Bollinger's A word becomes a sound EP with Atwood Magazine as the artist goes track-by-track through the music and lyrics of her latest release!
— —
 'A word becomes a sound' – Kate Bollinger
:: Inside A word becomes a sound ::
— —
A Couple Things
"A Couple Things" is the oldest of the songs on this project. I wrote it a few years ago and originally released it on a two track project in 2018. I still feel connected to it and wanted to give it new life on this EP. I wrote it at a time when many dynamics in my life were changing all at once. I was stepping into a newfound independence and trying to find my footing. It's also a song about codependency, how it feels to lose someone you were leaning on, and the moment when the fog clears and you realize just how much you were putting on that other person. This version of "A Couple Things" was recorded live at White Star Sound in Louisa, Virginia.
Grey Skies
"Grey Skies" began as a beat my producer John Trainum made. I wrote a vocal melody and lyrics and we had a (very short) recorded loop with just one part. I brought it to my band and we added a B part. When the pandemic hit we were more limited and could no longer record as a full band, so John and I finished the song in pieces, along with Chris Lewis who played lead guitar. The song is about many things, but it is most plainly about accepting your anxieties.
Feel Like Doing Nothing
This song also started as a beat. I added vocals and we decided to give it a more live sound. It slowly began to sound less programmed as we added guitars, live bass, and grand piano. I wrote this one before the pandemic hit, I was in school and touring at the same time, feeling overwhelmed. It feels funny to be putting it out now when everyone is ready to be doing things again, but it's how I felt at the time and I'm sure I'll feel similarly again when I try to stretch myself between too many things and too many people.
A word becomes a sound
I wrote "A word becomes a sound" with my producer John. He wrote a bossa guitar part and I wrote lyrics inspired by the short story "Terror" by Vladimir Nabokov. In the story, the narrator slowly begins to lose his mind and objects are reduced to their names, so houses and trees and other people no longer make sense to him anymore. In his insanity, he is overwhelmed by the existence and ongoing thoughts of others, but is simultaneously really lonely. I loved the idea of simultaneous discontent with being alone and with the idea of being around another person. This song is about those things, as well as the imperfect nature of verbal communication and how attempts at communicating can easily fall flat.
Queen to Nobody
I wrote this song during the initial COVID outbreak, it's the newest song on the project. I wrote it on my Giannini in the front seat of my car after arriving at John's house and then I went inside and we worked on it in his home studio. I'm happy to have at least one song like "Queen to Nobody" on this project because it feels representative of the way I've been writing more recently.
— —
— — — —
? © Kate Bollinger © Jonathan Roensch - @roensch_
:: Stream Kate Bollinger ::
---