Paul Bessenbacher discusses Opus Orange's new single about the disorientation of arriving in the wrong destination, and what brought him to his current destination.
by guest writer Ilena Peng
Stream: "Miles From Nowhere" – Opus Orange
[soundcloud url="https://api.soundcloud.com/tracks/557529201?secret_token=s-YyClx" params="color=ff5500&auto_play=true&visual=true&hide_related=false&show_comments=true&show_user=true&show_reposts=false" width="100%" height="300″ iframe="true" /]





To call Opus Orange a band would be accurate, but perhaps the band is better described as a collective, with a cast of 10 or so people who work with Opus Orange at various times. The collective gives Opus Orange an "amorphous and dynamic and ever-changing collaborative feel," said Paul Bessenbacher. Bessenbacher, who goes by PB, is the collective's core.

In Opus Orange's new single "Miles from Nowhere," which Atwood Magazine is proud to premiere today, PB hops from scene to scene: PB walking among redwood trees, PB crossing by an empty road surrounded the California desert.

"How did we get miles from nowhere? I thought we were heading somewhere," PB sings, and the song, with its quick rhythm and light melody, is reminiscent of road trip music. According to PB, "Miles from Nowhere" aims to capture "the disorientation of arriving in the wrong destination".

"It can happen in relationships, it can happen with life goals," he says. "It can happen in retrospect of almost anything, like 'How did I end up where I am?'"

Part of his inspiration was about literally arriving in the wrong destination as well. PB is an adventurer, having grown up with easy access to nature in Fair Oaks, California, just outside of Sacramento. Opus Orange itself stemmed from his backpacking endeavors — he learned the ukulele because the compact instrument was light enough to carry with him when backpacking. The band's first EP Opus Orange is filled with light ukulele sounds.

The music video for "Miles from Nowhere," filmed in Joshua Tree National Park, ends on a black screen with a blinking nearly out-of-charge battery icon. PB says he loves the outdoors partly for its isolation, adding that he experiences the isolation in an "unplugging way and re-energizing way, in a three-dimensional way" — not "in a hiding way."

"These things are just in my blood, like I need them all the time, and those things do come through in the songs I write," PB says.
"Miles from Nowhere" is part of an upcoming album with the same name, which is slated for release on February 21. PB says the album's backing soundtracks were all recorded live within two days because of limited studio space. The lyrics were written afterward, which isn't always how PB works, but it allowed him to draw lyrical inspiration from the band's sound.
"It is kind of a celebration of the reaction against what I hear in pop music and radio music these days," he says "There's so much programming and production and in the box sample, manipulation that I wanted something refreshing, not that. It was kind of a reaction against all of that overproduction in the studio that I hear on every Spotify playlist."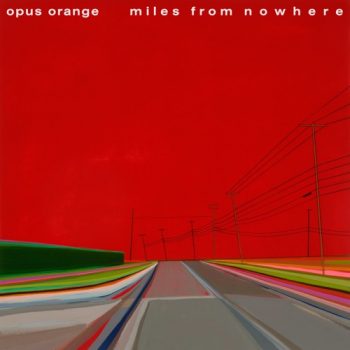 Opus Orange was created nearly a decade ago in 2010 and PB can recall the growth of music streaming platforms from Bandcamp to Soundcloud to Spotify. Being an independent unsigned artist among the millions of other artists on streaming platforms involves a bit of "screaming into the void of social media" and a natural knack for self-promotion. The latter, he says, is a challenge for him.
The goal is for listeners to find a "personal resonance" with a song or a lyric and recognize the music's palette as being different from the "prevalent sonic trends" in pop music.
"Finding that resonance with an audience is more important than streaming platform numbers of fractions of pennies that we get for a stream," PB says, "I'd rather that than try to earn fractions of pennies."
Opus Orange's music is all distinct — Indiana Muse is an instrumental film score for the documentary of the same name. PB and fellow Opus Orange member Bernard Chadwick spent 8 days hiking a section of California's John Muir Trail to write a soundtrack for a documentary about the 211-mile hike.
Album Outside In, which was recorded outdoors at elevations higher than 10,000 feet using only solar power, is distinctly folk-like, the type of music one might listen to next to a campfire. Anatomic maintains the same indie tones, but with a more modernized feel. The collective's first EP Opus Orange is dominated by the ukulele,  while Equilibrium is simply solo piano.
The band's name, Opus Orange, offers an explanation to the medley of genres: PB is a classical pianist and in classical music, an opus is a collection of pieces within a work.
"I think of each one as a kind of collection of work, as a kind of opus, and they're cohesive individually that way."
The particular piece that inspired Opus Orange's name is Opus 66 — Frédéric Chopin's Fantasie-Impromptu, a speeding piece among the composer's most famous works. PB said he used to have an Opus 66 license plate. The Orange is derived from jazz singer Charles Mingus' "Orange was the Color Of Her Dress, Then Silk Blue."
PB began playing classical piano at 7 years old and attended Wheaton College Conservatory of Music in Illinois. Today, he writes music for Los Angeles-based music production company Emoto Music. But piano remains routine for him — he still practices daily.
Referencing a line in the movie I Heart Huckabees that says "How am I not myself," he says his classical music background is so integral to his life that it does influence his work, although he's not sure of the specific ways that influence manifests.
"Although I love the purist aspect of classical piano performance — I love that there's a purity to that — when I approach music as a composer and a creative, I'm less purist about making a specific genre," says PB "That being said, the tendencies I think are still in the kind of music I write."
PB hopes the upcoming album provides a sense of "immediate community," a sense of valuing the people around oneself — and a sense of validation, both for himself and for the listener, that there's nothing wrong with being a little lost.
"'Miles from Nowhere' is sort of a validation of … letting myself get lost and allowing imperfection and allowing that disorientation and …  being okay with it and being accepting of yourself with all the junk that happens, all the mistakes and all the wrong destinations."
— —
Ilena Peng is a journalism student at the George Washington University. Catch her on Twitter @ilenapeng and on the web at ilenapeng.wordpress.com
— — — —
Stream: "Miles From Nowhere" – Opus Orange
[soundcloud url="https://api.soundcloud.com/tracks/557529201?secret_token=s-YyClx" params="color=ff5500&auto_play=false&visual=true&hide_related=false&show_comments=true&show_user=true&show_reposts=false" width="100%" height="300″ iframe="true" /]





— — — —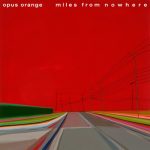 ? © Peach Beckley
:: Stream Opus Orange ::