Jackie McLean of the indie band Roan Yellowthorn grants us an inside look at the making of an album from start to finish in her 'Breaking The Record' column.
— —
'Rediscovered' – Roan Yellowthorn
---
It's hard work finding a path. I'm still trying to find mine. One of my goals in life is to feel seen and heard. To connect with people. To contribute to something larger. To share my music and writing with others. To feel that I am being received. Maybe that's a lot to ask. I don't know.
I've been trying for the past 5 years to do this. Sometimes I feel like I'm being successful. A lot of the time, I feel like I'm not. I have a lot of drive. But I'm limited in other ways. I don't know how to do everything myself, even thought I try. I feel self conscious a lot of the time. I'm not the most confident person in many ways, although I am passionate and driven.
Just jumping into the Breaking The Record series documenting the making of our album from start to finish? Read part 1 here!
I have high standards for myself. I want to feel successful and I want to do it my way, while feeling like I'm remaining true to who I am. What does that mean? I guess it means that I like long form over short form. I like slow over fast. I like to do things well and take my time to make them right. And, sometimes, doing things well takes a lot of time. Even thought I hate waiting, I hate even more the idea of releasing something or publishing something or saying something that doesn't accurately reflect my intention.
Needless to say, this approach maybe isn't so conducive to a fast-paced media-driven world. Sometimes I feel like a relic. Sometimes I feel like I am not meant for this time. Sometimes I feel like I'm not equipped to handle all of the requirements of modern day life. The pressures. Why am I saying all of this?
Here's why – I have an album coming out at the beginning of next year. This column is a chronicle of that. One of the things I'm trying to do in the time leading up to the release is to grow my online presence so that, when the album comes out, more people will know about it. It sounds like not such a difficult thing – grow your social media presence. How do you do this? Apparently, you do this by being yourself. And by sharing more of yourself and your life. But when you're semi-crippled by self consciousness and are always worried that you're saying or doing the wrong thing and when you feel pretty protective over your weird little life, it becomes what feels like an impossible task.
And when you feel like the success of the album you worked really hard on depends on doing this, the pressure feels even more crushing. And when you consider that you've been doing this for five years already and you're pinning a lot on this album, hoping that it will be a vehicle for your dreams, the pressure grows even more massive.
Something small set me off on this spiral today. I found out that a musician I'm tangentially connected to just put out his first EP and, because of his TikTok account, which went kind of viral, his new EP has hundreds of thousands of streams within the first few months. He's been doing this for three months and people know his music. All because he made a TikTok account.
Does this mean I should do TikTok? I don't want to do TikTok. It's not my style. I don't want to make weird videos of myself. The idea feels uncomfortable to me. Don't get me wrong, I like watching TikTok. I just don't feel like it's my thing. But people are doing TikTok and all sorts of other things and advancing their careers this way. Am I the one who has it all wrong? Am I naive to think that I can just put out good (at least in my opinion) music and organically grow that way? Is that an archaic way to see things? Is that an archaic path to follow? I don't know. Honestly, I'm feeling discouraged right now. I feel like I wasn't meant for this world. I feel like I don't belong. But I want to. I want to belong. And I don't want to be getting in my own way.
Here's what I know: I know that music makes me feel good. I know that connecting with people makes me feel good. I know that singing and writing makes me feel good.
But is that enough? They say that sometimes love isn't enough to make a relationship work. And I guess that that's true. Maybe this applies to dreams. I have love for what I do. I care about it immensely. But maybe that's not enough. Maybe it's not enough to care. But I hope that it is.
Because, really, that's all that I have to give.
— —
— —
— — — —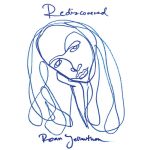 ? © Jackie McLean
:: Breaking the Record ::
---