Brooklyn's Daisy the Great dive into their intimate and vast sophomore LP 'All You Need Is Time,' a beautifully vulnerable, harmony-rich record that finds them shining bigger, bolder, and brighter than ever.
Stream: "Time Machine" – Daisy The Great
---
Daisy the Great's sophomore album starts off in a moment of reckoning: "Are you listening to the clocks in this house? They are growling at me, saying how can it be that the whole world is falling apart?" the Brooklyn duo sing in the urgently aching "Time Machine," their signature rich vocal harmonies offsetting the lyrics' existential dread through pure charismatic warmth and stirring tenderness. Eventually comes the song's enchanting chorus, and with it a theme, and a question, that will continue to persist throughout the album:
I once read about a time machine
They learned to teach electrons
To go back to where they started
Should we go back to where we started?
Are we headed down the right path? Are we doomed from the start? Is there time for us to turn back around, change course, and give this another try? Can we press "reset" and get a do-over on life? If I go back, will I do it all the same again? Identity crises and spurts of self-doubt are not unique to our 20s, but these introspective philosophical questions resonate with profound strength when channeled through Daisy the Great's captivating cinematic lens. To their credit, the band balance these worries and woes with an uplifting charm, unapologetic fortitude, and inspiring drive: Intimate and vast, radiant and raw, All You Need Is Time aches with vulnerability and resilience as the duo shine bigger, bolder, and brighter than ever before.
Maybe we could build a time machine
And put it in my old car
Fill it up with dirty water
We could try a little harder
– "Time Machine," Daisy the Great
Released October 28, 2022 via S-Curve Records, All You Need Is Time is as thought-provoking as it is smile-inducing:
The follow-up to 2019's debut album I'm Not Getting Any Taller and 2020's soft songs EP sees Kelley Nicole Dugan and Mina Walker's Brooklyn band reeling through their 20s with style, hope, and their hearts on their sleeves. Young adulthood is a stumbling block of self-discovery with no shortage of trials, triumphs, and tribulations – each of which provides a welcome opportunity for reflection, redirection, and renewal. Daisy the Great aren't solving the mysteries of their world through these eleven new songs, but they are openly posing the questions we all ask ourselves, bringing daydreams to life through a harmony-laden mixture of tender folk, sweet indie pop, and churning indie rock overhauls.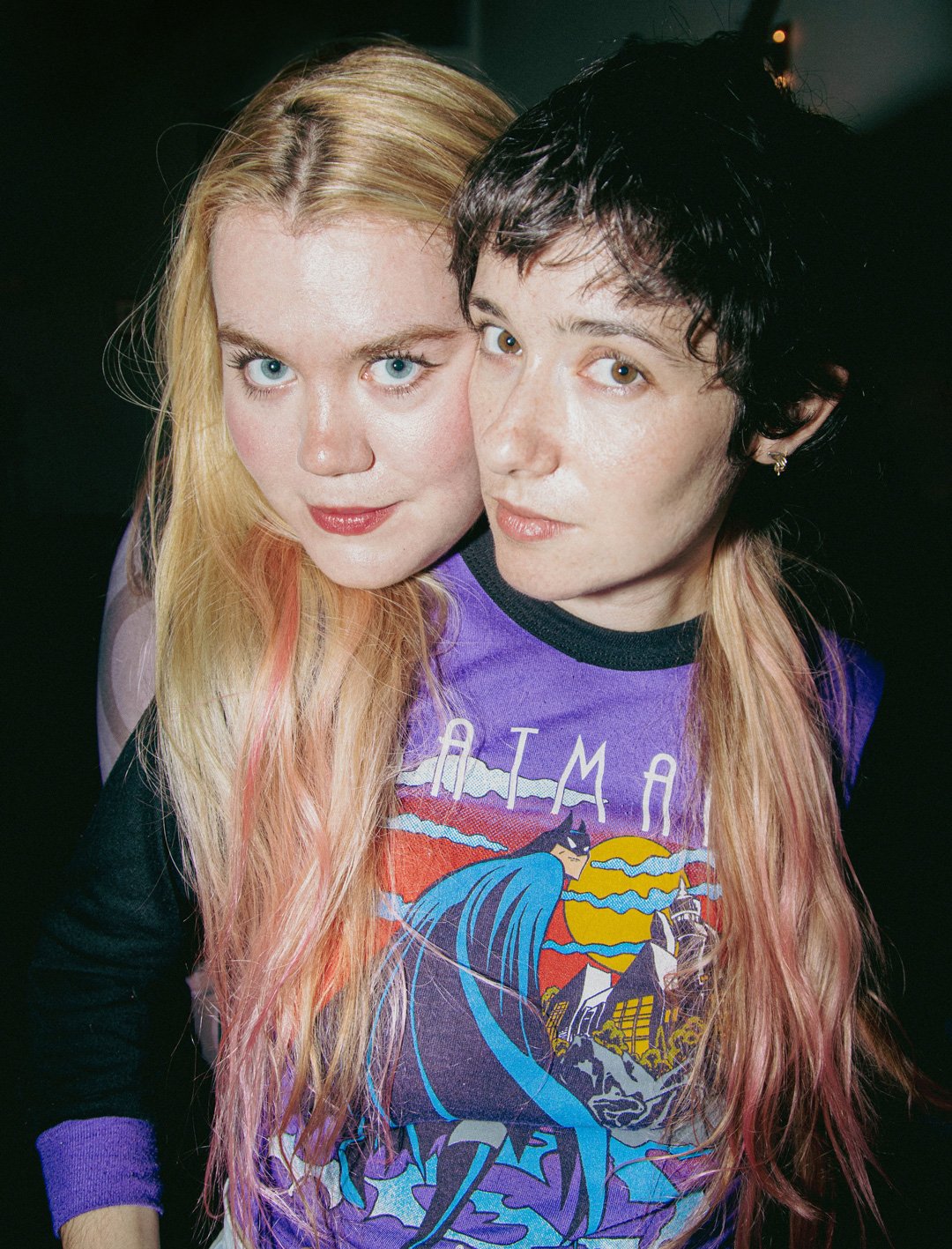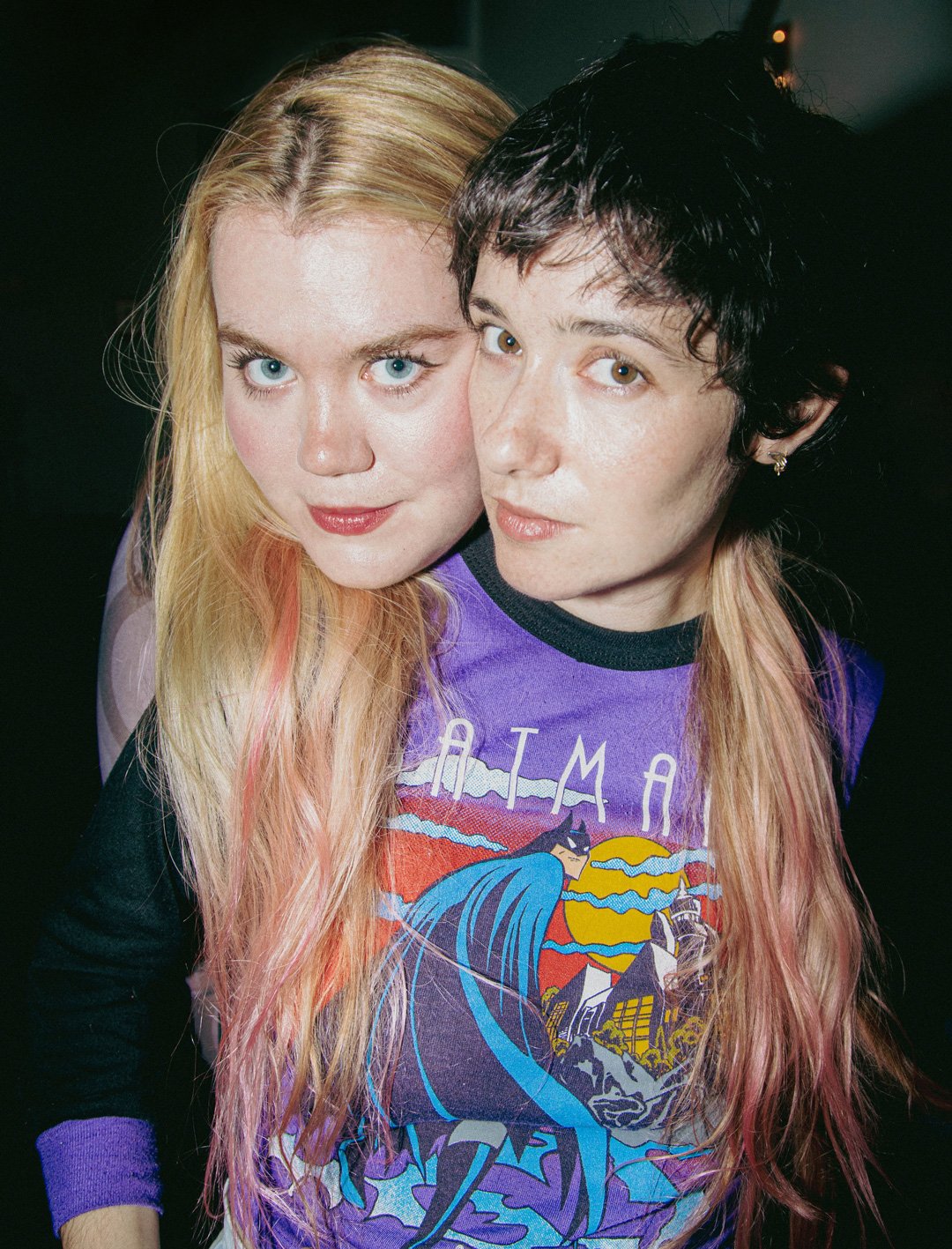 "This record has been years in the making and we are so so excited and proud to be releasing it," Dugan and Walker tell Atwood Magazine. "So much love went into these songs and we really made this record with our best friends which feels so good to say. We started writing some of these songs about four years ago and many of them have already become staples in our touring set. We recorded the album during the pandemic at Studio G in Brooklyn with our full band and our dear friend & producer Torna."
"The record is about our relationship between ourselves and Time, but while writing them we couldn't quite see that yet –  we were just writing about big feelings in little moments – about how one second can feel like everything. We wrote a lot of songs in preparation for this album, and eventually we were able to recognize the thread of Time throughout this collection of songs and began to interpret our own work through that lens. This record is very very special to us and it's just as scary as it is exciting to be sharing this piece of our lives with everyone."
Time is an ever-present specter in all of our lives, playing an outsized and powerful – even titular – role throughout All You Need Is Time.
"The title comes from a lyric in one of the songs on the record, "Smile Pretty Girl." We were really interested in understanding the album through the lens of time, especially with the song "Time Machine" kicking off the album. We typically name our albums using a lyric from one of the songs and we poured over many different options for this record but when we thought of All You Need Is Time, it felt like it cracked open a new meaning of the album to us and really tied all of the songs together."
I'm laying on the couch, taking pictures of myself
I'm not that pretty, but I'm not bad
I'm breathing in disguise, I don't wanna go outside
I love this city, I'm just so sad
But I hope that it's only passing by
Not settled in my body and my mind
Some people say that all you need is time
But what if I'm still waiting when I die
Smile, pretty girl / Is this how you want to be?
You're on camera / Remembered?
Smile, pretty girl, for the camera
Is this how you wanna be for the camera
– "Smile Pretty Girl," Daisy the Great
That being said, Daisy the Great didn't necessarily know they were making a record when they first started writing these songs.
"We were starting to perform with more regularity in the Brooklyn music scene, which really influenced our writing because we were creating these songs with the idea of performing them in mind. Our first record had a more contained sound; more like tinkering with tools, building something delicate. We wanted this new batch of songs to feel so good to sing. We wanted them to soar through a venue and really fill the space. Our vision once we started recording the album was to create an album that matched and even enhanced the size and energy of the live show that we built over the years. Content-wise, we are writing about similar feelings about ourselves and how we relate to the world; but through a new lens of experience, and a willingness to be direct."
"We are really proud of this collection of music," the pair add. "The record is filled with heart, honesty, and guts – that spirit definitely feels representative of who we are as artists and people. I also believe that the record showcases how we build the sound of the song around the emotional center of the lyrics. We really love to allow every song to be its own distinct moment on the record and occupy a different world entirely in the sonic landscape of the song and in the accompanying visuals. We love to shapeshift in that way."
As for the songs themselves, All You Need Is Time is all-hits, no misses: A multi-flavored, many-colored beast of a collection full of catchy and cathartic moments. Highlights range from the hushed, heated "Aluminum" and the gently swaying "Tell Me Have You Been Dancing," to the album's softly (bitter)sweet acoustic finale "Smile Pretty Girl" and the groovy, glistening stress reliever, "Easy." Lead single "Glitter," originally released nearly a year ago, is an obvious and instant standout. In previously reviewing the track, Atwood Magazine praised it as "pure sonic gold here to brighten our spirits": A dreamy, inspiring alternative anthem to let our light shine, and a beacon for long days and nights.
It's just dirt on the kitchen floor cold as an icebox
Fingernails tapping to the radiator hum
Yell out loud at an old bowl of cereal
I'll clean up if anyone'll come
Took down all the paintings hung up on the wall
My room is so much better off if I don't get involved
I neglected my plants to prove I would
Should've let the sun in, would've done us good
I paint my face with glitter in the morning light
I've been up all night, I've been up all night
I paint my face with glitter in the morning light
I've been up all night, I've been up all night
---
"Glitter" sits second in All You Need Is Time's tracklist, preceded by Daisy the Great's personal #1.
"'Time Machine' has been a favorite of ours for a long time," Kelley Nicole Dugan notes, also adding "Aluminum" and "Liar" to the 'hits' list. "'Routine' is the deep cut, or 'Tell Me Have You Been Dancing.' We're really excited for those last two to be out!"
But the album's opener sets the scene in all the right ways. "We both really love the beginning of 'Time Machine': "Are you listening to the clocks in this house, they are growling at me, they are growling at me, saying how can it be that the whole world is falling apart." It's hard to choose favorites though; I think there are lyrics that are extremely special to us in every song. Another favorite is "Can you tell that you're repeating yourself? Has it become routine? Morning coffee, then lie to me" from the song 'Routine.'"
Whether you too are haunted by time, or simply a sucker for soaring two-part vocal harmonies, Daisy the Great's All You Need Is Time promises to enchant, inspire, and enhance the everyday. 
"I hope that the record illuminates that it is special and beautiful to have big questions about who you are and what you're doing here," Daisy the Great shares. "There's a Rilke quote that I really love that points to a similar sentiment: "Be patient toward all that is unsolved in your heart and try to love the questions themselves like locked rooms and like books that are written in a very foreign tongue," from Letters to a Young Poet. I hope that the record inspires the listener to have that patience, to feel loved and whole even during challenging and dizzying moments in life, and to have care for themselves as beings that are constantly growing and changing and learning… all while big time rocking out hard to some hot music."
"Creating the album together has definitely made us better songwriters and really helped us to find new ways to navigate the world. Listening back to the record I find that there are things I'm exposing about myself that I wasn't even aware of when writing the songs. We consistently find that our past selves were wiser than we knew at the time, and having this music available to us repeatedly reminds us to meet ourselves with compassion."
Experience the full record via our below stream, and peek inside Daisy the Great's All You Need Is Time with Atwood Magazine as Kelley Nicole Dugan and Mina Walker go track-by-track through the music and lyrics of their sophomore LP!
— —
Stream: 'All You Need Is Time' – Daisy The Great
:: Inside All You Need Is Time ::
— —
TIME MACHINE
"Time Machine" is our baby. We've been holding on to this song for so long and have had such meaningful connections with our audience playing it live over the years, and we are feeling really excited to finally be setting it free into the world. "Time Machine" asks the question, "if I go back, would I do it all the same again?" It puts regret and loss in conversation with second chances and starting over. There's actually a real time machine recorded in the song, you can hear it enter at 1:36.
GLITTER
"Glitter" is about staying up too late and committing to the chaos of being up all night alone with your messy thoughts in your messy house. It's also about seeing that version of you as beautiful. This was the first single that we put out for the record, and we directed & edited the music video as well.
I'M JUST ANOTHER PERSON OH GOD
"I'm Just Another Person Oh God" is about being just another person, oh god.
ALUMINUM
"Aluminum" is about you vs. the you that exists for others to consume and how sometimes the latter you takes control and leaves you feeling lost and unable to understand who you are without that you. We wrote Aluminum with our pal Gabe Goodman and it was the last song that we wrote for this record, in February of 2020.
CRY IN THE MIRROR
"Cry in the Mirror" is about wondering if you exist if you are not seen or heard by other people. It's about trying to find yourself behind the mask that you create to be able to exist in a world consumed by social media. In a space where there is such an overwhelming urge to make each moment witnessed and validated by someone else, who am I when I'm alone? It's the feeling of imagining how others would interpret you existing, even when no one is there. We actually recorded the vocals on an old broadcast microphone at Studio G in Brooklyn with Torna.
TELL ME HAVE YOU BEEN DANCING
"Tell Me Have You Been Dancing" is about missing someone. Mina wrote it in the shower. We recorded it in Matti's basement with Matti, our drummer.
LIAR
"Liar" is about having a brutal crush on a close friend and ultimately deciding to let it go. This song was actually really instrumental in my own processing of my life in a difficult moment. The song started out as a big paragraph that Kelley wrote in the notes app on her phone after hanging out with the person the song is about. I (Kel!) was trying to make sense of my feelings, and part of figuring it all out became setting those words to music and making a song out of it. This is one of my favorites to play live; I get crazy goosebumps every time, even in rehearsal.
I DON'T WANNA FALL
"I Don't Wanna Fall" is about knowing you are at the end of a relationship, but really not wanting to let it go. This song features a giant guitar solo by Nardo, absolutely shredding for his life.
EASY
"Easy" is about the moment of relief, ease and lightness that can be a part of the emotional landscape of a breakup. It's the feeling of taking a breath in after a lot of pain or stress, and seeing hope in front of you.
ROUTINE
"Routine" is one of our favorite songs on the record. It's about the sick feeling that comes with being unable to trust someone you really really love. You are stuck in a loop with them and you feel like a fool, disappointed and betrayed, and you want to know if they know what they are doing.
SMILE PRETTY GIRL
"Smile Pretty Girl" is about being stuck on your phone on your couch in a dark room while it's actually nice outside and ruminating on what you want to leave behind when you're gone. It is our quiet ending asking the question, is this how you want to be remembered? We really loved starting and ending the album with a question.
— —
— — — —
? © Eva Smittle
:: Stream Daisy the Great ::
---