A beautifully bittersweet indulgence of nostalgia and reflection, cehryl's wistful 'time machine' EP radiates warm sound and raw emotion as the artist spills her heart and soul in six breathtaking songs.
for fans of Elliott Smith, Mazzy Star
"outside the party, inside the dream" – cehryl
---
An immersive, enchanting mind and body experience, cehryl's new EP is as emotionally draining as it is utterly stirring.
A beautifully bittersweet indulgence of nostalgia and reflection, the wistful time machine radiates warm sound and raw emotion as the artist spills her heart and soul in six breathtaking songs.
remember when we used to stay on the line
every day, bad service all the time
kept you in my pocket when i went outside
snowstorm wait lemme call you back in five
oh philadelphia
you were so close to me
remember sweet summer like paradise
invincible just like she described
when steph called me last weekend
i cried, she's my best friend
oh philadelphia
you were so close to me
said i don't see you around anymore
don't see you around anymore
– "philadelphia," cehryl
Out April 9, 2021 via Nettwerk Records, time machine is a softly soothing, intimately understated release. cehryl's follow-up to 2019's sophomore album Slow Motion (and a series of singles scattered throughout 2019 and 2020) finds the Hong Kong-based singer-songwriter-producer (born Cheryl Chow) dwelling in the utter depths of memory, unveiling visceral thoughts and feelings through confessional diary-like songs that showcase her breathtakingly soft, delicate vocals against a subtle and nuanced whirlwind of ethereal instrumentation and production – all of which evokes the sense of floating without an anchor, and hanging on for dear life.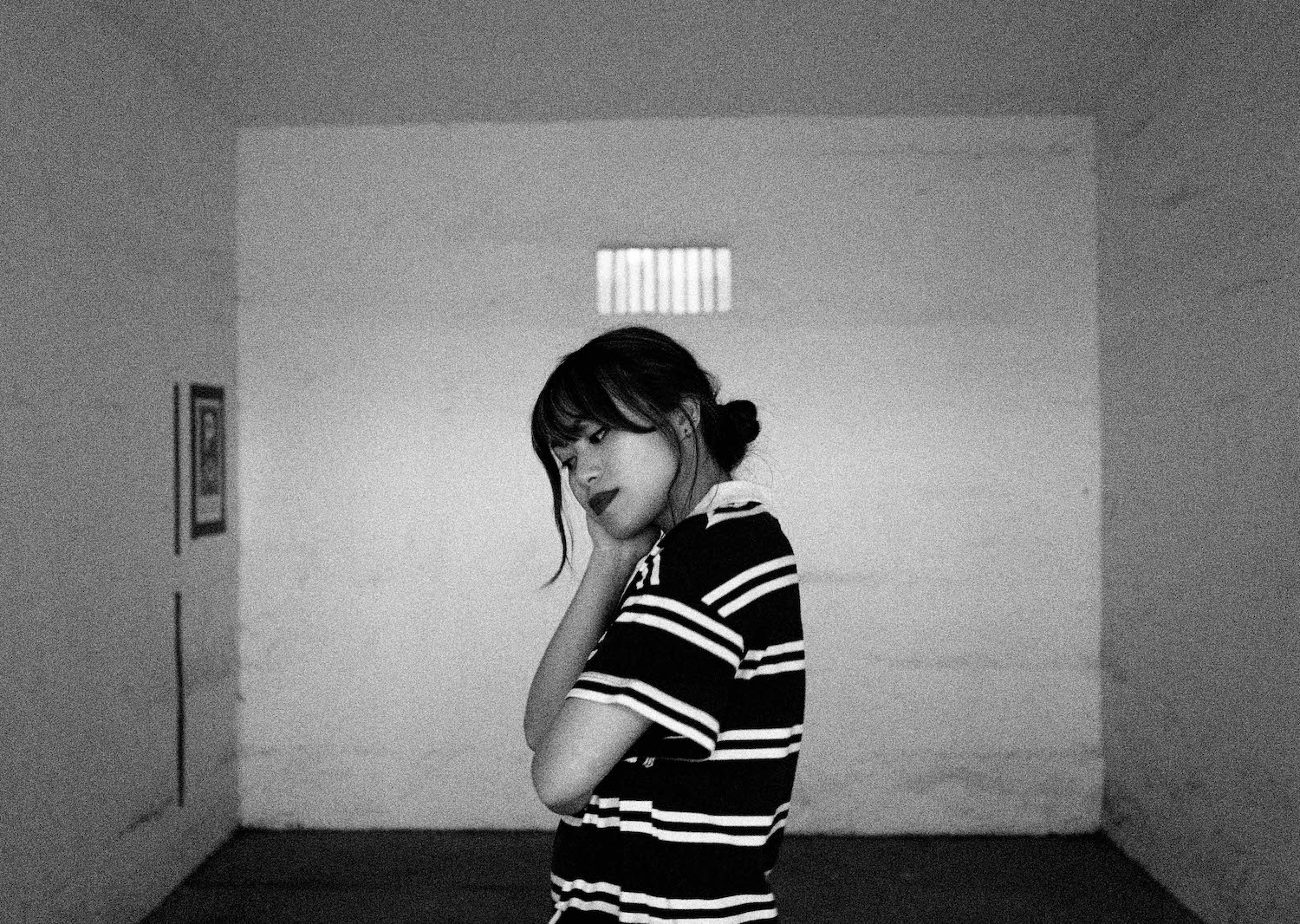 "The writing of these six songs spans spring 2019 (when I was still in LA) til early spring 2020 (when I moved back to Hong Kong)," cehryl tells Atwood Magazine. "This EP isn't a conceptual EP, it's simply an autobiographical collection of sentiments and experiences I've felt and had in that time span… I'd say it was a long time in the making only compared to my older releases, but more because I took the time this time to work with other people for additional production and for mixing, and with a label supporting the release the rollout has also been expanded, which is good. That being said, patience is a virtue I will most likely never learn."
"As I have come to realize over time, all my EPs/albums usually are just dedications to the past months/years of my life. With this EP, a lot of the songs are time capsules of 'eras' of my life (boston, LA, etc. etc.) that I feel like I have yet to fully process/mourn. So nostalgia is definitely a theme… A lot of the songs are attempts to crystallize a moment with people/places/feelings I loved. i think all the songs I'll ever write will be time machines, actually, but just decided to name this EP that because I liked the words."
As the artist herself notes, time machine's tracks hold special weight for her – encapsulating special memories in song. Each track is its own little vignette, and though the "vision" came after, the record's title "time machine" helps magnify the music's impact on the listener.
"All my songs are mini time machines actually," cehryl reflects, expanding on the name. "The idea isn't specific or exclusive to this collection of songs. but i liked the term a lot especially since moving back to Hong Kong and looking at my life in retrospect. Moving geographically is emotionally challenging but it's also liberating and it allows me to go back and forth like in a time machine and reflect on things I was once happy with and things that i want to change."
---
Arriving two years after her last big project (2019's Slow Motion – also released via Nettwerk), time machine expands on the indie pop and electro/R&B-inflected styles cehryl has long embraced in her art, bringing life to her vivid, evocative storytelling lyricism. While she herself doesn't make a definitive contrast between her music from two years ago and that of today – "I feel like my musical phases aren't that distinctly different from each other," she notes – cehryl recognizes her new EP's more expansive nature. "Artists are always evolving based on new influences and inspirations and discoveries (and rediscovery of old things), so there's always gonna be shadows of slow motion in my future works etc. – but I think time machine as a collection of songs feels more diverse emotionally — slow motion was kind of a general downer — but time machine is more nostalgic and specific, but also has sweeter, lighter moments."
"I think time machine feels a little more stubborn and self-serving in a sense than my old EPs, because of how personal the lyrics get. In a sense, I feel like the songs allowed me to reclaim my stories/experiences… Not that I've ever written for anyone else; just this EP feels the most personal and honest."
Produced by Andrew Sarlo (Bon Iver, Big Thief, Empress Of, Flyte), time machine also feels like cehryl's most mature and cohesive creation to date. "Andrew Sarlo is fucking amazing," she says. "I've loved all his work with Nick Hakim and Big Thief, and so it was a shock and a true honor to have been able to work with him. He was so efficient, so intentional with his musical ideas; on a musical level we were able to relate so immediately. He was also great at communicating his ideas to me and listening to mine to get in my 'musical world.'"
That musical world opens with "philadelphia," a bold and slow-burning five-minute nosedive into nostaglia's deepest pangs. "In this song, I lament everything I've loved in the college years when I lived in Boston," cehryl notes. "I've only really stepped foot in Philadelphia for probably five days of my life, but I call everything I love 'Philadelphia' in this song as a blanket metaphor." Muted pianos and smoldering electronic drums weave a dramatic soundscape full of weight as cehryl wrings out feelings of loss and distance – the pain of losing the intimacy you once had, losing connections, friendships, moving away physically and emotionally. It's perhaps the saddest moment on the EP, and a hypnotic introduction that firmly establishes the tone and sonic makeup of the songs to come.
met my friend brian on his 19th
he dove headfirst drunk cold river scream
we tried to change the world from our dorm rooms
yeah we were such a good team
oh philadelphia
you were so close to me
then he dropped out and i moved out like you moved on she found someone
we spend less time in the past and we spend more time with the future
now i'll miss you the most of all
so i call you from the future with my head on your chest
you say that time is always running out you can't get upset
so philadelphia
i'll keep you close to me
oh philadelphia
i swear i'll keep you close to me
---
Nevertheless, time machine keeps things interesting and enthralling with every passing song. Lead single "angels (emily)" remains a striking highlight of cehryl's artistry. An overwhelming surrender, the EP's second track is as intense as it is intimate: A raw indie pop upheaval driven by warm sounds and visceral emotion. "Beautiful and tender, it is a total subversion of structural and sonic expectation that literally stops two thirds of the way through, only to return stronger and even more dazzling than before," Atwood wrote in our review last year. "Beyond that it is hauntingly heartfelt, unassuming, and unapologetically vulnerable. "What have I got to lose to win your blessing?" cehryl asks at one point. It's a plea for no games and no pretending: Just honest, authentic, real connection."
what have i got to do to reach the angels
what have i got to give to turn the tables
i caught you baby near the end
never thought i would ever see you again
emily, why do we play pretend
what have i got to lose to win your blessing
what have i got to be don't keep me guessing
i caught you baby near the end
never thought i would ever see you again
emily, why do we play pretend
– "angels (emily)," cehryl
Her music may be tinged with sonics and subtle effects that recall the R&B and pop genres, but when you break a cehryl song down, each presents the bare bones of an intimate heart-on-sleeve singer/songwriter. cehryl's music is more Elliott Smith and Mazzy Star than it is James Blake or Moses Sumney; whereas you can easily get lost in any given wondrous, cinematic soundscape, the music truly seems to serve the words. This is certainly the case for songs like "laundry" and "paprika," both of build off mellow layers of harmony and acoustic grace.
paprika was long ago
paprika was put on hold
i think of you tonight
paprika, your love still shows
i carry it on my clothes
i dream with you tonight
you were my neighbourhood,
you've crossed the line, gone for good
you were my lullaby too,
put me down, kill the mood
don't you know, how i miss you
here i stand, there we stood
don't you see i still love you
walking round the neighbourhood
– "paprika," cehryl
After teasing out a thrilling moment of introspection on the two-minute "callus," cehryl closes her EP out with the spellbinding "outside the party, inside the dream." A sweet, uplifting end to what could be considered a quite sad and somber journey, "outside the party, inside the dream" is a buoyant daydream brought to life in song – a light, lilting invitation to dwell in pools of warm, bright electric guitars cascading through unusual time signatures. Gorgeous vocal harmonies surround the artist as she leaves her listeners on a high note:
when you're trying to fall asleep do you think of me like i do think of you?
when i'm trying to fall asleep, the silence of absence is the silence of you
hope you dream we're running together cause' we stole the table-salt and pepper
this is who i am, not who i was
this is who i am, this is not because i want anything
i don't want much, i just want sugar and honey and trust
could you meet me outside the party, inside the dream, when it's winter
hurry up, we don't have enough
time before the real world interferes
over here, closer, dear
minimize our distance until we disappear
i need to wake up early tomorrow
ten songs are due, lots to do
you say, could we do this another time, on the weekend
cause' they won't wait for me like i'll wait for you
– "outside the party, inside the dream," cehryl
"outside the party, inside the dream" is one of may personal highlights for cehryl. "I'm proud of writing in odd time signature," she laughs. "It was fun. I want to experiment more with pairing easy poppy melodies with time signatures or rhythms or structures that are more intricate." The artist also notes the structure of "Philadelphia" and verses of "angels (emily)" as other favorites, but ultimately, she hopes listeners are able to connect with the same things she connected with in making these songs.
"I hope the EP makes them think of something that now seems far away," she says. "It makes me long for my college days but simultaneously because i'm releasing it, it feels like a relief and a healthy stepping stone away from the past."
Overwhelming in the most profound of ways, cehryl's music creates a special space for us to dwell in our own thoughts – whether that means revisiting old memories, or getting lost in familiar emotions. It invites silence in a profoundly authentic manner, encouraging us to pause whatever it is we're doing and really listen. Perhaps the ultimate magic of this music is just how much it helps us feel.
Experience the full record via our below stream, and peek inside cehryl's time machine EP with Atwood Magazine as the artist goes track-by-track through the music and lyrics of her latest release!
It makes me long for my college days but simultaneously because i'm releasing it, it feels like a relief and a healthy stepping stone away from the past.
— —
Stream: 'time machine' – cehryl
:: Inside time machine ::
— —
philadelphia
In this song, i lament everything i've loved in the college years when i lived in boston. i've only really stepped foot in philadelphia for probably five days of my life but i call everything i love 'philadelphia' in this song as a blanket metaphor. the song is about how we lose everything we love (hahaha… no, but really) as time goes by; how we can be so so close with another person and years pass and you don't really talk to them anymore and how sad that is but that's just the way it goes. it's also about desperately promising to keep someone close to you despite knowing that that's really difficult to guarantee. i wrote this song in may 2019. it's got additional production from producer Scum (Tyran Donaldson) and background vocals from my best friend+artist brian mantra
angels (emily)
This song is about announcing to someone that you would do anything to change yourself for someone else/something, and asking them what it is. there are not emilys in my life at the moment, i honestly just stuck the name emily in the song to use again as a blanket metaphor for whoever i'm subconsciously addressing (myself? god, if there is one? a friend i fell out with?) this song was co-produced by Andrew Sarlo, who's produced some of my favourite favourite records (nick hakim, big thief)
laundry
This song is about one specific Saturday evening when I lived in LA with my then-boyfriend and how we were doing laundry (duh) and waiting for it to be done and it was so simple but it felt like everything I had ever wanted. and strangely enough I felt at the time that it was such a fleeting moment as if I were already looking back in retrospect while actually living out the moment. as if I knew I would have to leave LA soon… but laundry is a really bittersweet song about missing the present. additional production from Scum again and some vocals in the outro from my dear friend Ryan (boylife / @gelatowilliams)
paprika
I wrote paprika when I first came back to hong kong in summer 2019. paprika is a movie I remember watching with a bunch of my closest friends in LA, shortly after I had just moved into a new apartment in LA. everything in my life felt really new and my friend ani was the one who made everyone watch the movie. ani left LA after a year of me moving there and his leaving LA really marked the end of a chapter and it was only when I left myself that I thought of that movie again. similar to Philadelphia, I use the name Paprika as a blanket name for places and faces i miss. paprika is about (at the time that i wrote it) i would do anything ("i'd part the sea for you") just to get back to LA, just to go back to my real/normal life again with a visa and continue doing whatever i was doing. when i wrote the song i imagined myself as a ghost revisiting the street i lived on and watching my life once was, in third person ("here i stand, there we stood")
callus
about: this song lyrically isn't as coherent (it feels a bit stream of conscious) but I wrote it in December 2019. i was unhappy about various things in my life (lol I'm not going to go into it) but i went home and played my electric guitar and i just wanted to play forever and ever until my fingers got swollen and callused and injured. at the time i had (but did not entertain) a dark thought about… injuring myself or at least i imagined that, so in the chorus i am actually addressing my guitar and challenging it to callus me and mirror the way i felt callused emotionally (hhahahaaaaaaaa yes very dramatic)
outside the party, inside the dream
This song is just meant to be sweet. essentially a "goodnight sweet dreams, I'll meet you there (in your dreams)" song. lyrics are pretty self explanatory/simple. what i like about this song is its time signature. joao (soft glas) sings backgrounds on this!
— —
— — — —
? © Jonny Ho
:: Stream cehryl ::
---