Multihyphenate Charleston creative Contour colors deep within and outside of ever-changing lines of his own construction on 'Love Suite,' an intimate portrait of love's bittersweetness.
Stream: 'Love Suite' – Contour
---
Khari Lucas, a South Carolina producer and musician who records under the moniker Contour, has never fit into any one box. A multi-instrumentalist and visual artist, he divides his time between crafting lush, pontificating soundscapes and biting his teeth in the fashion world, even collaborating on a music video with Telfar earlier this year. A 2019 recipient of NTS's WIP grant, he is taking his expansive visions and introspection even further for his most recent musical and multimedia endeavor, Love Suite.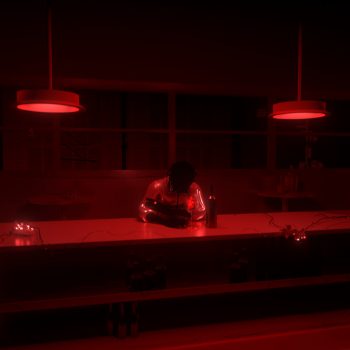 A meditation on romance's vast and uneven landscape, the EP distills the complexity of falling in and out of love into an immersive listening experience. "The Pulse," the opening track, acts as a spiraling portal as Lucas intones "This is a spell taking hold," his falsetto echoing amongst twinkling keys and a wandering bassline that calls Thundercat's pensive stylishness to mind. The spell gives way to rose-tinted sedation on "Love Suite No. 1" and "Song For Me (feat. Demae)," the former smoldering with passion and lust over a slow-moving beat, while the latter grooves at a dreamy, molasses pace as he croons "You can see my beauty / You can see it truly / I just wanna be what's in your eyes." Between sensual, lo-fi bumping and Demae's distant, spellbinding vocalizing, these are tales of simpler times of falling deeper and deeper into love and not wanting to stop—but every rabbit hole has a bottom.
After carnal pleasures dissolve into a deepening love, Love Suite takes a sudden turn halfway through on "Pour." A sonic change of pace from the easy lovemaking of the previous tracks, Lucas begins seeing the cracks in the foundation of his relationship. "Labor Of (feat. Blue November)" follows as a melancholy reckoning with the reality that it was an unstable romance, so taxing that there is not much of him left for himself; the track warps in slow-motion until the beat eventually gives out like a weary, worn-out heart. Faster-paced and moody, "Outmyface (Love Suite No. 2)" embodies the difficulty of making a clean break—even if he is alone now, the fully-realized resentment after the initial heartbreak feels like a fight that keeps replaying until some sort of closure and healing is reached.
Outro "Jewel (feat. Niecy Blues)" comes as a heart-wrenching end to the story as Lucas reflects on his own contributions to the wreckage in his solitude, asking himself "Could it be me? Am I the link between every misfortune that I've seen?" As despondent as this supposed final act seems, his self-inventory and constant question ("Could it be me?") is a part of a process of finding clarity and atoning with himself, glimmering with traces of a rebirth out of self-love on the horizon.
Taken at face value, these songs follow a tragic, chronological trajectory in and out of love, but upon repeated listening, there's a nonlinearity to it that leaves plenty up for interpretation. An intentional experimentalist, Lucas paints the rise and fall of a relationship and its craggy aftermath as both something happening right before our eyes as well as a disjointed collection of impressions—clear hindsight unfurling upon revisiting. Blurring time and space, heartbreak operates in flux like this, morphing memories as if they are from someone else's lifetime only to sting like a reopening wound in another instance.
Lucas' broad array of musical influences tie together this exploration of shifting emotional states and thought processes, a nostalgia-laden soundtrack to his fluctuations between intricate stages of infatuation, realization, anguish, and reflection. While he considers himself a blues musician at heart, his genre fluidity blurs boundaries between various forms of jazz, neo-soul, psychedelic, and even echoes of Soundcloud trap, lo-fi beat-making, and rap. This breadth of sound imbues the record with pieces of not just Contour as a band and therefore a concept, but with the breath of his humanity and singularity.
As a visual and recording artist, Lucas is a visionary similar to Solange—ever-musing and unfettered from generic constraints, inquiring into their inner workings as they embrace themselves as limitless, resilient individuals. This comparison might also be partially rooted in the influences they each draw from the Houston music scene (he lived there for a period of time a few years ago and she grew up there), sprinkling homages to the late DJ Screw's signature chopped-and-screwed style throughout their discographies. Much like Knowles, Lucas's work disrupts white supremacy's vice grip on the world of high art by engaging with its conventions and aesthetics, minimalist and decadent all at once. He is another contemporary trailblazer subverting expectations with radical self-love and a rejection of pigeonholing categorization, creating in his own vision. The multi-level genre-lessness of Contour is infinite in what it is and the possibilities it holds—not just as music, but as an entity.
Love Suite is exclusively available on Bandcamp now for a limited time. The EP will be out on all streaming platforms on May 21.
— —
— — — —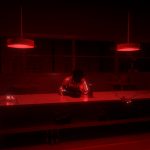 ? © 2021
Love Suite
an album by Contour
---