Recommended If You Like: Real Estate, Alt-J, Beach House, Porches, Bon Iver
SPOILER ALERT: This music is unlike anything you've ever heard. There's a peculiar allure to songs (and for that matter, artists) that take "risks" – experiments that expand our vision of what music can be. What is possible, versus what is real: When any artist sits down to begin the creation process, there is nothing. The possibilities are endless. Slowly, the music assumes a life of its own, and with that birth there often comes a set of rules. Traditionally speaking, the "mold" drives a good chunk of the song.
Not for Cubits.
Listen: "Oh Well That Ends Well" – Cubits
---
Atwood Magazine is proud to be premiering "Oh Well That Ends Well," the debut single from Iowa-based electronic shoegaze trio Cubits. Unlike many acts, who debut with generic-sounding material before (either) branching out into the unknown (or venturing even closer to the familiar), Cubits have come out of the gate with guns a'blazing, immediately introducing listeners to a unique blend of hazy, entrancing melody based music that pulls from any number of genres to create something that is all its own.
Cubits' Nicholas Naioti, Michael Dugan and Parker DeMers went into their new project with a goal: To find the "balance between complexity and impulsiveness." All three members come from previous projects (Naioti with MR NASTI and Annalibera, Dugan and DeMers with Captain Ascender), and in Cubits they seem to have found a vessel for both experimentation and self-expression. "We're interested in creating a framework from which we can improvise but still maintain attention to detail," explains drummer Naioti.
"Oh Well That Ends Well," which comes ahead of the band's debut EP release this winter, finds harmony in the marriage of soundscaping and melodic exploration. Slow and brooding, Cubits' debut feels like a trippy electronic jam, but as is the case in most situations, looks can be deceiving: "The concept of the lead single 'Oh Well That Ends Well' centers on the complacency necessary to be an adult – that feeling of knowing that you're supposed to pay attention to things but forgetting to," explains Naioti. "We spent weeks in the studio constructing the song, trying different structures and experimenting, and we were really happy with how it turned out."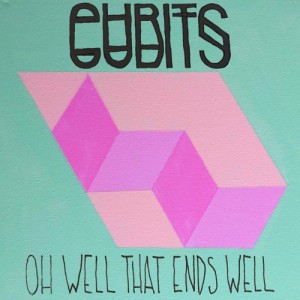 This isn't a single moment of time captured on record: Rather, it is the result of several instances of trial and error; of musical stress tests. Cubits push the boundaries of shoegaze and electronic music, beckoning us to drift away on expansive synthesized arpeggios and rumbling guitars. "I'm okay, in a way," sings Parker DeMers in a sleepily confident manner. "I'm okay, far away." Rather than dig for meaning in these abstract words, we can appreciate the use of vocal melody for its equally evocative instrumental qualities: DeMers' voice is warm but ghostly, fading into the surrounding bed of music.
In "Oh Well That Ends Well," we find peace in the unknown as we experience its development. From ideas to implementation, "Oh Well That Ends Well" grows and transforms before our eyes, ebbing and flowing as Cubits fuse chords, rhythms, acoustic and electronic instruments, melodies and harmonies together like an musical connect the dots.
The band's press release describes Cubits' music as "moody electro-shoegaze space prog." If you have to go to such extreme lengths to describe your sounds, you might as well just call a spade, a spade: Bold and untethered, Cubits are trailblazing a wondrous path that is all their own. Catch them on tour this fall, and be sure to add "Oh Well That Ends Well" to your daydream playlists.
Connect with Cubits on Facebook
:: CUBITS & MAILBOXES TOUR DATES ::
9/17/16: Ames, IA – Maximum Ames Music Festival
9/19/16: St. Louis – Foam
9/20/16: Columbia, MO – Eastside
9/22/16: Kansas City – Records With Merritt
9/23/16: Fairfield, IA – The Arbor
9/24/16: Cedar Falls, IA – Octopus
9/27/16: Winona, MN – Midwest Music Store
9/29/16: Chicago – Township
9/30/16: Rock Island – Rozz Tox
10/1/16: Springfield, IL – Radon Lounge
cover photo: Cubits © Isaac Winkler