Curling dive into the depths of their third album 'No Guitar,' a frenetic, passion-fueled indie rock fever dream that soars, swells, and stirs the soul.
Stream: "URDoM" – Curling
---
For all its unrelenting angst and angularity, Curling's third album is a stunningly soothing, visceral, and vibrant affair.
"I've been told that's the way that it goes when you're dead to feeling," Bernie Gelman sings, his voice a beacon of intense feeling as charged instruments swarm in a raw fervor around him. "And holy shit, someone needs to kick my ass to get back that feeling." A minute in, and things are already in shambles in the best way possible. So begins No Guitar, a frenetic, passion-fueled indie rock fever dream that soars, swells, and stirs the soul.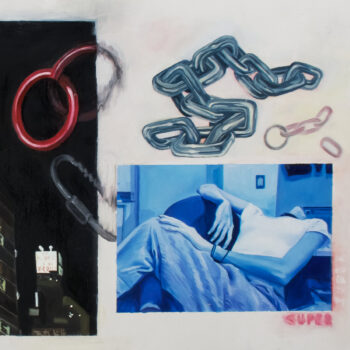 If you've been bad at everything
You better try tonguing at the pain
Every night, these thoughts erase your mind
And you'll never know if your heart is swinging from a chain
It hangs
And the loneliness you've got to show them anyways
Because you're do-M
– "URDoM," Curling
Independently released August 11, 2023, Curling's No Guitar is a powerful display of talent, tenderness, and tenacity, not to mention a very welcome return to the spotlight for a band we've long loved. Years in the making, No Guitar follows five years after 2018's sophomore album Definitely Band, which Atwood Magazine had the honor of premiering. "[Curling] incorporate a number of influences to create their own sound that's rooted in power-pop, but stretches out into '60s pop, math rock, and psychedelia," Atwood's James Crowley observed at the time, praising Curling for finding their own niche while adding that the record is "influenced by everyone from American Football and My Bloody Valentine to Led Zeppelin and The Byrds, all of those pieces fall neatly into place…"
Curling's primary members – Bay Area-based Bernie Gelman and Tokyo, Japan-based Jojo Brandel – appear to have delved deeper into the worlds of math rock, indie folk, and alternative rock over the past few years, however their music remains an earnest and unapologetic cross-genre endeavor – covering everything "from power-pop's punchy bittersweetness and rustling indie-folk to the openhearted intricacy of Midwestern emo."
No Guitar is a "labor of love" that starts where Curling's last album ended, and finds the band peeling back traumas and scars as they delve not only into their sound, but also into themselves.
"Curling records never really seem to take shape until they're almost finished," Gelman and Brandel tell Atwood Magazine. "We started working on No Guitar in 2018 with a small batch of songs (which later ended up as 'Shamble,' 'Pastoral,' 'URDoM,' and 'Reflector Mage') that we recorded to tape. These sat around for a while and we ended up trying to do a few unreleased tracks late in 2019. Bernie actually found out that his dad had passed away while we were in the recording studio. Between that traumatic event and COVID happening only a couple of months later, we weren't able to get together as a band again until 2021. By that point, Jojo had nearly forgotten how to play guitar! It took a while to get back into the groove and we ended up just playing a lot on acoustic guitars. The pandemic really pushed us into a much darker direction and, despite the energy and brightness of the singles that we released ('Hi-Elixir,' 'Patience,' and 'URDoM'), the majority of the album is a lot more acoustic-based and introspective."
"No Guitar is representative of five years of work and pain for us," they add. "It's an album that is extremely vibrant on the surface, but without being saccharine. It's a beautifully recorded and produced snapshot of where we've been at these past five years: always eclectic and spontaneous, still a bit neurotic.
The album's title isn't meant to be misleading, but one would easily be forgiven for thinking the group had played a little trick on them: Opening track "Shambles" does, in fact, start with a keyboard line and a rapture of drums, but it takes less than a minute for jangling, dramatic electric guitars to take their rightful place at the core of Curling's sound.
The band explain the name as more of a guiding light and a new ethos, rather than a literal message. "'No Guitar' was an early impetus for us when we were trying to write new songs; it was a kind of directive that we thought might push us in new sonic directions. Obviously, we didn't succeed much in sticking to that directive. Still, it seemed like a cool name: "Curling no guitar" in Japanese basically translates to "Curling's guitar" (which would have probably been a more appropriate name!) and it also harkens back to a phrase Bernie's dad would often yell when he was younger and would be trying to practice guitar late at night."
Hey, don't lose that longing
Lift up your head
There is life all around, can't you see?
I'd like to take you by the hand, especially when
You know that's not how it goes
And that you can't take back what you have never had
Adored, my love
Now that you're gone to sleep
Adorned, effortlessly
Took a lifetime to know that you're looking for a thrill
Tied down for a lullaby
---
Highlights abound on No Guitar as Curling deliver a smorgasbord of rollicking highs, ruminative lows, and everything in-between.
One of the best aspects of this record is its lack of – or rather, complete rejection of – traditional "pop"-style arrangements. Very few, if any of its songs follow a verse-chorus structure; instead, each track flows fluidly, always getting to where it needs to go thanks to the duo's organic approach to songwriting. The result is an album full of surprises and sonic left-turns; you never know where Curling are going to take you next, but you can also trust in their instincts to craft a captivating, enthralling journey.
From the beautifully raucous "Hi-Elixir" and the glistening, immersive "URDoM," to the brooding "Pop Song" and the cathartic sonic spectacle "Patience," Curling hold nothing back in embracing the full spectrum of sound and emotion. In reviewing "Patience" upon its release, Atwood Magazine hailed it as a heavy and heated surrender: "Intimately intense and utterly unrelenting, "Patience" roars with raw passion and charged energy as Curling unravel in a radiant, visceral reckoning."
It's not a love song. Not yet.
Don't be defined by these chains
when you realize shame:
That you're enamored with pain.
Just take some time to realize
That you could be happy.
That you could be anything.
---
Each of Curling's founders has his own favorite moments on the album as well.
"'Husk,' for sure," Gelman smiles, citing the record's achingly emotive third-to-last song. "I love the harmonium and 12-string textures and the unusual rhythms. It's such a great song and I'm so happy that Jojo shared it with me."
You are the husk of a pony today
Ethereal in the window out this dimension
If I could find you with these words, I'd talk
Outside of my minds four metal walls
I know it can't get better, all of this time living in the hollow of you
You are just an empty husk. I've been lost
Forever chasing what I'm not. Forever
Were you in this life to know?
Were you in this life void of all character?
If I could find you with these words, I'd talk
Outside of my mind's four metal walls
– "Husk," Curling
"'Husk' and 'Hotel' are two of the final tracks on No Guitar and they're also the most personal songs we've ever recorded," Gelman continues. "'Husk' lyrically deals with an event where Jojo was abandoned by his partner during a vulnerable time. 'You are just an empty husk, I've been lost, forever chasing what I'm not.'"
"'Hotel' is a song that I (Bernie) wrote after my dad passed away. It's about the feeling when you never really felt that you were 'seen' for who you are by someone that you care about. Jojo helped me write the line "I try to give a love, but I'm never found" and it hits hard. It's also a sort of beautiful juxtaposition to Jojo's lyrics from 'Husk.'"
As it happens, "Hotel" is Brandel's favorite track. "Bernie's vocals are haunting on this one and the guitar solo hits an emotional high for me," he says.
Needless to say, there's a lot to love in the endless ebbs and flows of No Guitar.
Yes, there are plenty of guitars, and yes, there's a good amount of dysfunction (including a gorgeously non-dysfunctional song titled "Dysfunction,") but at its heart, No Guitar is an eccentric, deeply human and heartfelt record.
Sometimes I'm a lover of all my dysfunction
I will index all the sharp spots and run my finger through
I'll tie the blades in little knots
Again they irritate me and I adore them still
"We hope listeners will take the time to listen to the whole album from start to finish," Curling share. "We put a lot of effort into the sequencing and flow of our records and it's hard to just listen to a handful of songs and get the big picture, especially since the style and mood of the music changes so often. We hope everyone who heard this album can connect with it and find moments and sonic candy to keep returning to over and over for a long time!"
"For us, finishing this record has made us feel invincible. If we can get through all of the crap that we've gotten through and still make an album this great, we can do anything!"
Experience the full record via our below stream, and peek inside Curling's No Guitar with Atwood Magazine as Bernie Gelman and Jojo Brandel take us track-by-track through the music and lyrics of their third album!
— —
Stream: 'No Guitar' – Curling
:: Inside No Guitar ::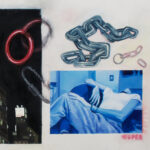 — —
Shamble
Everything about this song was pretty shambolic. It was one of the first songs that we recorded for this album. Jojo's guitar part is in a different tuning for the second half of the song, so the song was recorded in two parts and then later sewn together. From the sonic collage at the beginning of the song to the celebratory horns ornamenting the end (and accompanying lyric simply stating "breathe out/nothing"), everything in this song is full of accidents, mistakes, and pure chaos that somehow came together in the studio. It's kind of emblematic of the entire album, in that way!
Pastoral
This was Bernie's best attempt to capture the 12-string shimmer and jangle of old XTC albums. The chord changes are kind of unusual and the strings that come in at the halfway point are meant to be really surprising! While the melody is kind of sweet, this song is sung from a sort of petulant perspective of someone who is leaving a relationship, it's full of that venom and unchained malice.
Pop Song
This is a song Jojo wrote in spring 2018 in Japan after getting a voicemail from his temp-company boss in LA that he was getting laid off. The song sat around as an idea for a long time–it was too emo, not interesting enough and in reality Jojo was pretty happy to get laid off, leave his life in LA and move back to Japan. In 2022 he finally wrote a bridge to complete the song and encapsulate the true ironic sentiment of the song: getting fired was actually the best thing to happen to him in 2018.
URDoM
Jojo wrote this song just a few months after writing Pop Song and is in the same vein of breezy emo tunes that are secretly deeply sarcastic. The title comes from something his unhinged coworker in Japan screamed at him in front of everyone else in the office as a joke after messing up with a client. "Do M" in Japan means to be a masochist, or someone who enjoys pain. Like Pop Song, he failed to finish the song for four years, but Bernie and Jojo were able to finish the vocal melody and lyrics just a week before their last recording date in 2022.
Reflector Mage
The structure of this song is a long chord progression performed twice in two very different styles. The first half of the song is a very slow, very somber walk through self-loathing and loneliness, while the second half kicks into an almost Jimmy Eat World-esque emo anthem with more triumphant-but-resigned lyrics while the guitars bash away at full tilt.
Dysfunction
This song is a complete studio creation made from lyrics borrowed from Jojo's buddy Fernando, Jojo and Bernie's interweaving acoustic guitars, a mish-mash of drum takes from Kynwyn, a synth loop made by Bernie, a feedback loop that Jojo made that sounded like a horse, a conga loop made sent from Japan from their buddy Akio Jeimus and a lot of hard work on engineer Ian Pellicci's end to glue the whole thing together. Like the dysfunctional arrangement, the lyrics encapsulate Jojo's whiskey-fueled days in Japan during COVID, jumping off of buildings, doing zoom meetings under bridges while bike camping around Japan and generally leaning into the pleasure of one's own dysfunction.
Majesty
Bernie wrote this song as a sweet lullaby for Jojo's brother's then-unborn first child. The lyrics are sort of advice to a new parent ("stay by her side when the world's gone too dark/listen to her yearning") with a beautiful string quartet arrangement accompanying the Beatlesque melody. We really wanted to write a great, soft-toned ballad with a compelling melody and this song fit the bill perfectly.
Hi-Elixir
Bernie's dad passed away at the end of 2019 and then the pandemic happened only a few months later, so we were in a pretty dark place while writing this one. Bernie wrote this song late one night sitting in the house he grew up in. He had the melody and chords and was struggling with lyrics until he looked over and saw his dog, Lily, peacefully napping. The song is a reassuring lullaby to his canine companion and a reflection on not dwelling in misery.
Musically, we were aiming for a 2-and-a-half-minute powerpop mini-symphony full of unusual chords and key changes, sort of like Penny Lane. There's a big shoegazey lead guitar hook bookending the song and a lot of cool little guitar parts buried in there as ear candy that will stick out on repeated listens.
Patience
Patience was originally a song Jojo had written with a much slower tempo and just the first verse. The lyrics ended up morphing into a kind of story about BDSM and the idea of taking pleasure in pain. The beginning verse says that it's "not a love song" and that "you're enamored with pain." By the end of the song, the lyrics get flipped around a bit and say "you're enamored with shame."
There's actually no "normal" bass guitar in this song until the first chorus; the weird higher-pitched synth-sounding instrument during the first part of the song is actually highly processed electric bass! This song was one of the highest energy performances from Kynwyn, she's really bashing away at her drums.
Husk
This song was written in late 2020 and inspired by a hellish trip to Okinawa (where Jojo's mom grew up) where Jojo got super fucked up and ended up locked inside a love hotel with horrific fairytale wallpaper. He nearly jumped out of the window of the 6th floor to escape.
This song was our first time using a harmonium in the studio and it quickly became one of our favorite sounds (and ended up all over the rest of the album!). The first section where the drums come in has a surprisingly deceptive cadence where the downbeat is never quite where you expect it to be, sort of mirroring Jojo's disoriented state that inspired the song.
Hotel
This is another song that started off with some chords that Jojo had written. Bernie had a different part that ended up being the chorus/guitar solo, so we sewed the two songs together. Lyrically, this song is about Bernie's relationship with his dad, who died at the end of 2019. It's about spending your life trying to make meaningful connections with someone, but always missing the mark. When someone is gone, you don't have that chance any more. The guitar solo was performed through Bernie's dad's old 1950s amplifier that he bought to play accordion at Bar Mitzvahs when he was a kid.
No Guitar
No Guitar was originally supposed to be the first Curling album where we diverged from writing songs with guitars. That definitely didn't happen, but No Guitar the song was a last ditch effort to acknowledge the original concept with a silly song made with a bunch of synthesizers, fuzz pedals and loopers.
— —
— — — —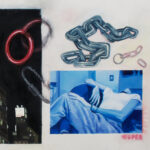 © courtesy of the artist
:: Stream Curling ::
---