Boston-based singer/songwriter Chris Walton soars on his heartrending and achingly soulful debut album 'Ruminating Thoughts,' a beautifully raw collection of intimate reflections on love, human connection, and everyday life.
for fans of John Mayer, Daniel Caesar, Frank Ocean, HONNE
Stream: 'Ruminating Thoughts' – Chris Walton
---
Singer/songwriter Chris Walton has a lot to say on any number of subjects, and he's spent the past year or so sharing his thoughts on everything from love to loss, self-worth, time, and growth with the world through a steady stream of heartfelt, intimate, and intoxicating songs. That months-long journey reaches its climax this week with the release of Walton's long-awaited debut album, a captivating time capsule from a brooding heart spilling his soul in song for all to see, hear, and feel.
Intimate, heartrending, and achingly soulful, Ruminating Thoughts is a beautiful, relatable collection of reflections on everyday life. Walton magnifies the little things, taking life's passing moments with a fresh lens that helps us see the warmth, the wonder, and the beauty all around us.
If I said I love you
Would you say you know?
If I said I need you
Would you walk through my door?
You know I'm fie'n
For you to whisper my name
I might be dreaming
But if you want me just say
I'm still craving for your kiss
I don't know just what to do to get it
We've got just one night so let's live
I'm still craving for your kiss
– "Cravin'," Chris Walton
Atwood Magazine is proud to be premiering Chris Walton's debut album Ruminating Thoughts, independently out January 20, 2023. A Boston-based singer, songwriter, and producer with a classic sound whose style blends neo-soul, jazz, funk, and folk, Walton has been active since 2018. His album arrives on the heels of 2018's debut EP Bsides and 2020's sophomore follow-up, Fade, and presents him as he truly is: A "chilled-out crooner," in his words, delivering a nostalgic collection full of love and heartache that evokes so many intense emotions we often feel deep down inside.
"As a songwriter, I sometimes struggle sleeping at night because my brain will have a song idea based on an experience I've lived or a situation someone told me about; I can't sleep until I get it out in some way," Walton tells Atwood Magazine. "It's like the thoughts will ruminate in my head. It's really quite annoying, but some of my best ideas seem to come at 1 AM. After a while I had enough songs polished up to call it a record so I called up some friends of mine in Nashville who have a studio, booked an airbnb, and drove 16 hours to actualize a lifelong dream."
That dream comes to life in Ruminating Thoughts – but before he gets into the individual tracks, Walton sets the scene.
"I want to explain the theme. In 2023, I feel like the album is on the way out. Singles and EPs are in the "coolness collective consciousness." I talk to people my age and younger all the time about listening to music, and it's never, "Did you listen to that record?" It's always, "Did you hear that new single from whoever?" I don't look at this as a good or bad thing, but rather an opportunity to approach a longer form release in a different way. I think the process of writing and making an album can be magical, but it has to have some sort of thing to justify the length, like a central theme or concept. My record's theme is the thoughts that play over and over in your mind when you just want to go to sleep. The moments that replay in your head when you're waiting for your Starbucks order. These songs are my 'Ruminating Thoughts.'"
That name says it all, and as listeners dive into Walton's songs, they're treated to an up-close and personal introduction to the artist himself. That's him on the smoldering, slick opener "GMTK," begging to be given "the keys to your heart" while dropping incredible Dragon Ball Z references: "You got that Majin Buu, so I'mma Super Saiyan real quick."
---
Ruminating Thoughts' songs are, by and large, the vulnerable, vivid expressions of a raw, brutally honest romantic.
"What if I tried to let you in?" Walton wonders aloud in the album's second song, the smooth, R&B soaked serenade, "Halfway Lover." "I don't wanna be your halfway lover," he proclaims over a buoyant bass line and moody, glistening keys. "I can't stand to see you with another."
"Lyrically, I definitely tend to write a lot of songs about love and love lost," Walton says. "This record has a lot of that. Tonally, I think this record uses sounds that are very much me. There's lots of guitar and keys, which sort of reflects the time spent cutting my teeth in Boston's singer/songwriter scene. I think one of the things that sets my music apart from the typical "guy with a guitar" is my appreciation and reverence for a solid, locked in groove. I think this record, and my music as a whole, has that in spades."
He cites the fragile, delicately introspective "Soon" as a current personal musical and lyrical highlight, while also taking care to note that "my favorites are definitely fickle, and subject to change on a weekly basis… Right now, I'm pretty surprised I came up with the first verse of 'Soon.'"
Regret over songs that haven't
been penned yet
Still I toss and turn at night
We were never meant to fly
But maybe i can learn to glide
Not just, fall down
How we ended still the
Talk of the town
With a face that's jaded green
Halfway in between
Happiness and jealousy
– "Soon," Chris Walton
"I think what I like about this verse is that it perfectly describes the situation and does so very succinctly," Walton notes. "This allowed me the freedom to play around with song form and the expectations of the listener. If you listen to it, there's one verse, one chorus, a guitar solo, then a double chorus with slightly different words. As a writer, I love weird stuff like that. I love when something is almost normal, but not quite. It's very satisfying to me, kind of like a little twist ending."
---
For Walton, his favorite aspect of this record will forever be the time he spent making it.
"I had two months in Nashville to solely focus on arranging and recording my first album," he beams. "All my other releases up until now have been much more fast paced. It was amazing to dig into my tunes more. I'm hoping the time spent crafting each track will be evident to the listener."
Now, Ruminating Thoughts stands as a memorialization not just of Walton's artistry at a particular moment in time, but also as a diary of his humanity: His innermost observations and deepest feelings are preserved in ten songs that move, groove, swell, and dwell in spaces of light, love, heartache, doubt, and everything in-between. "We've been going through some changes," he admits in the album's bluesy, slow-burning finale, "Changes." "We're growing up and getting older. Seasons come and seasons go, as for love, one thing I know: It changes you…"
Got that right.
Wakin' up half past late
One more sleepy Sunday, yea
Raindrops keep falling
Uber is a hell of a wait
If ya ain't got shit to say, then
Why you keep calling
What do we do this for anyway
Everything grows and people they change
Every time I look at the sky
I can't seem to keep my eyes dry
It's always my foolish pride and envy yea
I can't seem to keep my eyes dry
– "Rainy Sunday," Chris Walton
Ruminating Thoughts is the perfect easy listening companion; whether you're on the go or settled in at home, its songs are provocative, engaging, heartwarming, and smile-inducing. From the buoyant, funky bounce of "YOWM" (look out for those shiver-inducing bass lines) to the stirring falsetto performance on "Rainy Sunday," every moment of this album is worth sitting with. Honest, enchanting, and endlessly alluring, Walton's songs are the kind that promise to soak you to the bone.
"I hope that when people hear this record they can relate these songs to experiences in their lives, and for a moment, we can feel something together," Walton shares. "I think music can connect the consumer and the creator in ways that other mediums can't. When I write songs like these, I write from a personal perspective but I try to make it relatable to as many people as possible. You probably don't know the exact situation I'm singing about, but you probably have experienced a situation like it. I think my biggest takeaway from putting out my first record is that I really love the recording process. There's nothing like the feeling you get listening back to a take where you just nailed the part, being in the room when what you heard in your head is committed to "tape" (we used DAWs like everyone else in this century), or listening back at the end of the day to what you've accomplished. I just want to be a part of as many records as I can with my time on earth."
Experience the full record via our below stream, and peek inside Chris Walton's Ruminating Thoughts with Atwood Magazine as he goes track-by-track through the music and lyrics of his debut album!
— —
Stream: 'Ruminating Thoughts' – Chris Walton
:: Inside Ruminating Thoughts ::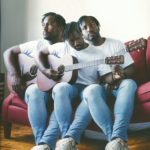 — —
I'm super jazzed to have my first album premiered with Atwood Magazine. As a newer independent artist putting out music it always feels good to have someone say, "hey man, your thing is great and I'd like to share so others can see your thing," but it feels even better when the "person" who's saying that is an established name in the industry. The other thing that makes Atwood the perfect premiere partner for "Ruminating Thoughts" is their commitment to spotlighting real artists trying to make real music.
— —
GMTK
"GMTK" is an interesting song lyrically. It's definitely a love song, but there's a bravado to it. It's the swagger of someone who's trying to present as confident, but really isn't that guy. It's a youthful take on fake it till you make it. It's kinda like when you remember what you said to a crush from back in the day and think, "that was pretty corny." Production wise, we were aiming for something kind of hip and modern. We sampled an old record that was something to the effect of "Little Tokyo Singers" for the main melodic hook. The top of the tune has a few chops from one of my favorite anime series, "Cowboy Bebop."
Halfway Lover
"Halfway Lover" is inspired by Japanese City pop and '80s funk. The guitar on this is my favorite style to play, and the solo is a blast to play live. This kind of music is something I want to explore more in the future. The lyrics talk about an experience of being in a relationship where the other person kinda has one foot in the door and another out. It's a tricky situation because if you call them out you could push them all the way out the door. Eventually everything comes to the boiling point at the chorus.
Cravin'
If "GMTK" was a young love song, "Cravin'" is a love song from me in my early 20's. It's a much more honest take on the thing. In my personal life, I'm much more of an introvert, which I think comes from playing music for a living. As a singer and guitarist when I'm on stage I have to be the center of attention. When you do that for years you're kinda over it when you're off stage. So "Cravin'" for me is a love song for all of us introverts out there. It's also in 6/8, which as a singer-songwriter I always appreciate a good 6/8 love song.
Rainy Sunday 
"Rainy Sunday" is about being over the whole casual dating scene. It's kind of a follow up to an unreleased song I wrote back in college called "Not Tonight." Maybe it'll make an appearance on a future project. Sonically, we were leaning towards lofi hip-hop. Everyone in the recording process, including myself, are big fans of guys like MF DOOM, Dilla, Czarface, and alike. That music has a sort of gritty warmth to it, and we wanted to tap into that.
Soon
"Soon" is a breakup song, but I almost hesitate to say it's just a breakup song. It explores themes of regretting the inevitable, the sadness that follows after an ex has moved on, and the hope that someday you can move on too. It's really a meditative song for anyone going through a similar situation. The guitar solo is one that I'm particularly proud of writing. It's definitely a love letter to Lindsey Buckingham of Fleetwood Mac on some of their more tender tunes.
Give It Time
There are a lot of times in life when people you love aren't able to be in your life like they used to be. This is why graduations are usually somber celebrations. In my mid twenties, I found myself living in a city where there are infinite things to do, but my core group of friends were leaving one by one. I remember sitting in my 1 bedroom apartment getting a FaceTime from a person who was one of my first friends in Boston. She had just moved across the country, and was showing me her new apartment. While I was happy she was thriving and pursuing her dreams, it felt like the death of an era. So instead of wallowing in my sadness, I wrote a song about what I was feeling. "Give It Time" was what came out. It was one of those rare experiences as a songwriter where the song came to me in 15 minutes. It's a song about reconciling with those feelings of loss and saying, "you know what, this isn't forever. You just have to work a little harder to maintain this relationship over distance." If you know me, this is something I'm working on. I'm still trying to be less reclusive with people I care about.
YOWM
"YOWM" is a lived experience. Sometimes people are only interested in being around you under certain conditions. In these situations, personally, it makes me wonder about my own self worth. Am I only bearable to spend time with when substances are involved? Am I really the person to call at 1am? This song was me reflecting on those times from my current perspective. If you only want me when etc…you don't really want me. Kinda a heavy topic lyrically, which is why I wanted to keep it light and dancy on the musical side. Also I love the idea behind the duality of songs like "Time To Pretend," "Mr. Brightside," or "Pumped Up Kicks." I love when you listen to an upbeat song 20 times but on the 21st time you really get it's not all rainbows and sunshine.
I Was Wrong
"I Was Wrong" is a breakup song, but not as meditative as "Soon." This is a break up song in that the other person was the problem. Which is weird to say for me, cause I tend to be pretty internally focused. But sometimes it really is the other person that fucked up, and that's ok to say. The groove on this track is one of my favorites on the record. It's the kind of groove that moves your head. Chord wise, it's very swirly and whimsical.
It's You
So now we're getting to the "where I am right now" side of the album; like, the Chris Walton of 2022-23. "It's You" is my current take on what it is to love someone, and feel loved in return. It's not trying to be cool, it's not shy about it, it's just an earnest declaration of why you love someone. We used some cool little tricks on this one to get the sounds we got. Lots of tape saturation, which as a guitar player, is my current sonic fixation. There's some subtle slide guitar lines. The solo is more like a duet or a call and response to a line I came up with playing the piano. On the guitar side of things, we used a technique that takes the guitar signal and makes a copy of it that's just a fraction of a second later. The production minutiae is what makes this song such a vibe for me.
Changes 
Everything changes. Your hair grows, you cut it. You grow/shrink a few inches, you get new clothes. But it's not only physical things that can be quantified by that change. Sometimes, it's feelings and relationships that change too, and when that happens, what do you do about it? That's the thought I wanted to explore with "Changes." The sounds used in this one are very much in the wheelhouse of a Chris Walton song. Even the vocal, while pretty challenging to deliver, is filled with many ideas that are musically me. It's a very honest piece of music. I think this one is for the people who were fans of my earlier EP's and early adopters of my artistry. It's a bit esoteric to quote yourself, but if you get it you get it.
— —
Stream: 'Ruminating Thoughts' – Chris Walton
— — — —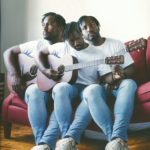 ? © J R Alexander
:: Stream Chris Walton ::
---