Cumberland, Maryland's DelFest will return in 2022 during Memorial Day Weekend as one of the premier bluegrass and roots festivals in the country.
by guest writer Christopher Snyder
Watch: Delfest 2022 Lineup Announcement
---
The past few years have been a challenge for the music industry all over the world. One festival that had been put on hold (postponed in 2019 and 2020) is DelFest, the annual bluegrass and roots festival held in Cumberland, Maryland on The Allegheny Fairgrounds right near The Potomac River. This year's music festival will run from May 26 through May 29, 2022.
I had the pleasure of attending DelFest in 2019, featuring acts such as Billy Strings, Marcus King Band, Travelin' McCourys, The String Cheese Incident, and many more. Once I stepped onto the grounds of the festivals, I felt like I was at home: The people are truly what makes the place. Everyone around is friendly; everyone is there to have a relaxing weekend with some of their favorite music artists in the bluegrass scene. Instead of "hi fives." you would give each other "Del-bows" to your passersby.
When Del McCoury began the festival in 2008, he envisioned a gathering of musicians that are some of the best in the world. With over five decades of musical experience, McCoury creates a positive family friendly gathering during Memorial Day Weekend. In 1963, Del had his first gig playing with The Father Of Bluegrass, Mr. Bill Monroe.
The lineup for the 2022 edition of DelFest features some of the top acts in the scene today, including:
Del McCoury Band
The Travelin' McCourys
Tyler Childers & The Travelin' McCourys
Railroad Earth
Béla Fleck: My Bluegrass Heart
Del McCoury Band:
Legend Del McCoury, at an early age fell in love with banjo master Earl Scruggs. With his sons Ronnie and Rob, the band is truly a family affair. "DelFest is a great accomplishment," says Del. "I never thought it would be as successful as it is."
The Travelin McCourys:
Ronnie & Rob McCoury started playing music as teenagers, learning from their Dad (Del). In 2009, they decided to form The Travelin' McCourys, featuring Alan Bartram (Bass), Jason Carter (Fiddle), and Cody Kirby (Guitar).
Tyler Childers:
Raised in Kentucky, Tyler Childers, is one of the brightest stars in the music scene today. His first album was released in 2011, at the age of 19, Bottles and Bibles. At DelFest he will be joined with The Travelin' McCourys for a very special set.
Railroad Earth:
With over two decades of touring under their belt, New Jersey natives, Railroad Earth, are one of the premier bands in the Americana/Bluegrass scene today. Their dedicated fans travel from coast to coast to see the band, as they are known for changing up their set lists show-to-show.
Béla Fleck: My Bluegrass Heart:
Béla Fleck is one of the most prestigious banjo players in the world. His latest album My Bluegrass Heart, won the 2022 Best Bluegrass Album Of The Year awards. At DelFest he will be joined by a stellar group of musicians, including Michael Cleveland (Fiddle), Jacob Joliff (Mandolin), and Cody Kirby (Guitar).
DelFest also offers Late Night sets as well:
Thursday (5/26):
Friday (5/27):
Saturday (5/28):
Sunday (5/29):
•• •• •• ••
For all information about DelFest you can head on over to Delfest.
•• ••
For over three decades, Christopher Snyder has been attending live music. For almost a decade he has been writing about his experiences as well interviewing musicians in every genre.
•• •• •• ••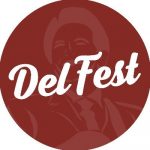 ? © Delfest 2022
:: Stream Delfest ::
---