Sydney's Darcy Lane takes us track-by-track through her debut EP 'Heartquakes,' a dazzling indie pop reckoning in the throes of young love's turmoil and torment.
Stream: 'Heartquakes' – Darcy Lane
---
There's nothing like reckoning through love's twists and turns for the very first time. We don't necessarily miss all the hard-learned lessons and painful letdowns, but there's still something special about those experiences that you don't get to take with you: Once it's over, young love is a relic of the past, a once-upon-a-time. Sure, we still get butterflies and, our hearts race, and our palms get sweaty, but it's not the same.
Music is one of those few vessels that can bring us back to the beginning, reminding us who we once were and how we once felt – and Darcy Lane's debut EP is a particularly vivid journey through the throes of love. A dazzling reckoning in the depths of young love's turmoil and torment, Heartquakes capture the visceral pain, the hopeless romance, and the raw wonder of teenage romance.
Atwood Magazine is proud to be premiering Heartquakes, whose four tracks prove an exhilarating, up-close and personal introduction to Eora/Sydney-based indie-pop artist Darcy Lane.
"Heartquakes is a compilation of songs, written in the darkest corner of my teenage bedroom," Lane tells Atwood Magazine. "They are all songs that I thought, 'wow maybe I would be okay if someone heard this one day.' The tracks detail the in's and out's of my headspace navigating my first relationships and all the baggage that came along with it."
From the emotionally charged, eye-opening "Bad Together" and the resounding heartache of "Bored," to the feverish pulse and heated passion of "Spines," Heartquakes is, true to its name, a series of upheavals and unfiltered reeling.
Whether you're long past your first loves or right now in the thick of it, Darcy Lane puts us on the front lines of her heartache and pain. With four electric tracks, she reminds us what it's like to fall in love, have our hearts crushed, and soldier on – only to do the same song and dance all over again.
Experience the full record via our exclusive stream, and peek inside Darcy Lane's Heartquakes EP with Atwood Magazine as the artist goes track-by-track through the music and lyrics of her debut EP!
— —
Stream: 'Heartquakes' – Darcy Lane
:: Inside Heartquakes ::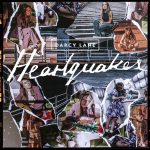 — —
Bad Together
'Bad Together' is about staying with someone, full well knowing that nothing good can come from the situation. It is about the kind of relationship where people always have something to say; you are flooded with unsolicited opinions, and you constantly catch wind of second-hand rumours.
The track is a cynical outlook on love and what it can become, especially at the hand of others. As soon as you take on those opinions, it can slowly but surely start the demise. The track is also a snapshot of a certain time, a reflection of a less assured and immature relationship that features constant games and confusion, two things that do not bode well for a secure, happy relationship.
These feelings contrasted with upbeat production by Simon French, featuring a catchy bass line that carries throughout the track as well as full synth sounds and a catchy melody. We went through many iterations of the production, which I feel made the track the best it could be.
'Bad Together' glorifies the tension and dysfunctionality between two people and reflects the suspicious outlook that maybe things don't get better and maybe this is just the way of life.
Bored
Originally 'Bored' was about someone running away just in case there was "someone better out there." This was a feeling that hit hard at the time and still stings a little. Although there were flaws in the relationship, at the time of the breakdown none of these things seem to matter. You grasp at anything to hang on to this constant in your life during a time of turmoil.
'Bored' came from a place of hurt and explores the feelings that come with rejection. Although some things were said in the heat of the moment and with no true weight behind them, they were still said so I wasn't about to let this person live it down.
I think over time, as these feelings of rejection subsided, the track became more of a reflection of society these days. We are constantly on the hunt for the next best thing and people's attention spans are getting smaller and smaller. It reflects the idea of grass is greener syndrome and how people always think there is someone better out there and there is always a new shiny toy that is now more accessible than ever.
This was the first track that I worked on with producer Alex Mcintyre (aka Lola Scott), and it set a benchmark for the rest of the tracks on the EP production-wise. It helped to establish the dark pop soundscape that carries across the body of work.
Harmless
'Harmless' is a track that explores the feelings of being in a relationship just for the sake of it. It ventures through the motions of a relationship, drifting to and from each other, romanticising the flaws and ultimate downfalls of a relationship.
It came from a deep place of self-reflection. I often say that my music, although outwardly it seems to be telling about others, it is more of a reflection of myself. These were feelings that I had been internalising for a long time instead of confronting them or making them known to those around me.
'Harmless' has become a way to hold myself accountable to ensure I never fall into this trap again of being with someone for the sake of it or for attention or for the drama or due to convenience or loneliness or fear of missing out.
The track is complimented by dark production elements including powerful, pulsating synths and an upbeat drumbeat. This was the second track that I worked on with Alex and it cemented our professional relationship.
Spines
'Spines' was the first track I wrote that is on the EP. It features the word 'Heartquakes', that I am pretty sure I made up, and subsequently became the title for the EP. I loved the idea of an earthquake-level heartbeat and felt like that term reflected the overwhelming feelings that came with the realisation that was encompassed in 'Spines'.
'Spines' is ultimately about having a crush on a mate but neither of you has enough backbone to acknowledge or admit it. The song focuses on the untimely realisation that you have feelings for someone you are close with and someone else has swooped in because you were too naive or indecisive or clueless to the obvious clues.
I actually released Spines a few years back, however it had super stripped-back production. I took the track to Alex; she reproduced it and really brought it to life. With this new version of 'Spines', I added a second part to the first verse and changed the bridge to reflect how I felt in retrospect. Oscar Sharah also added to the production of this track, which added some extra percussive elements.
In some ways, the 'Spines' version of me has a lot more self-assurance than I ever really will. Every time I sing the line "she's cute, but she's not me" I giggle because I am not outwardly confident enough to be going around singing that kind of thing to a crowd of people. I couldn't even admit to myself that I had a crush on my friend, so it is all quite ironic really.
— —
— — — —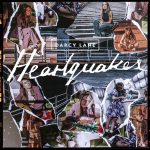 ? © Tara Johnson
:: Stream Darcy Lane ::
---