Every Friday, Atwood Magazine's staff share what they've been listening to that week – a song, an album, an artist – whatever's been having an impact on them, in the moment. Here's this week's weekly roundup!
— — — —
— —
:: "Pyre" – Tommy ::
Without even processing Tommy's lyricism, you can sense authentic emotion within his tracks just through his exquisitely emotive voice. His hauntingly beautiful vocal performance serves as the focal point of "Pyre," which grapples with seeking solace in your darkest depths. The personal introspective struggle that he portrays in this track results in lyricism that's paradoxically deeply intimate and warmly accessible, allowing you to find your own form of comfort.
"Pyre" marks his first release of the year, following the release of his stunning tracks "Binary Love" and "Front" last year. Although it arguably takes inspiration from the likes of James Blake and other contemporaries, "Pyre" sees Tommy assert his own distinct style through both his alluring vocal style and sparse, yet incredibly effective, production.
---
:: "Habit" – Rosie Tucker ::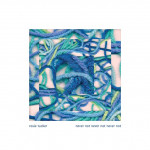 For those of us who find saying what's on our mind to be easier said than done, Rosie Tucker's latest single hits home. The L.A.-based singer-songwriter spills their once-secluded emotions in "Habit," letting their confessional, impassioned lyrics take the spotlight over an uncomplicated guitar chord progression. 24-year-old Tucker puts it all on the table, mulling over how to say sorry when miles and lack of communication are between them and their estranged love.
I wanna tell you I'm sorry
But what's a couple words?
Drops in the pacific between us
I wanna tell you I'm sorry
Not that I'd go back
Just that I miss what it was
While Tucker admits they have "a bad habit of holding [their] tongue," there's thankfully no reservations when it comes to their transparent and engaging songwriting.
---
:: "Up" – Langston Francis ::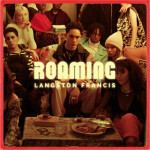 Langston Francis may be in high school — he's only seventeen — but possesses a sound that feels miles beyond locker-filled hallways and crowded classrooms. The Toronto native's EP roaming was released back in November and it's filled with sultry R&B inflected pop sung with such heartfelt emotion you can practically breathe in Francis' passion. "Up" is the second to last track on the EP, and it feels like the slow burning ambiance of being one of the last to leave a party. Lyrically it's nothing new–a couple fights and can't fall asleep. But the instrumentals kick it up to a new level. It bursts with pensive introspection as he assesses if it's worth it to keep up the argument. The hazy beats coupled with the free-flowing melody makes for a smooth listen. Francis' calm vocals are so serene it's hard not to keep the song on repeat.
---
:: "Living Room, NY" – Laura Stevenson ::
One of my favorite artists is back. Laura Stevenson is one of DIY folk-punk's gems, a rare, consistent type who's never put out a bad album. In December, after a three year break, she returned with two new songs, and an announcement for a new album (The Big Freeze, due out March 2019 via Don Giovanni Records). On Tuesday, she released the single "Living Room, NY," a quiet, pulsing song about the most simple of intimacies: sleeping next to someone after a time apart. Stevenson's voice has the lilt of folk, but the insistence of punk. Her songs ache. Her trademark harmonies layer upon each other here as she crafts a small, vignetted narrative over a bed of fingerpicked electronic guitar and strings:
So I'll fold the world to be there tonight
Because I want to fall asleep on your time
By the end of the song, the lyrics begin to pare themselves down, from "I want to fall asleep with you, I," to "with you, I," to the final, broken, "I miss you, I–"
Stevenson's talent as a lyricist comes in the form of tight phrases that often punch straight to the gut. The first time I saw her play was in a tiny record shop in Chinatown, where she stood behind the checkout counter and crooned quietly with her guitar. As a 15 year old, she made me nostalgic for a pain I'd never felt – and she somehow made this a good thing. She will always be the person I return to when I need to cry, or when I need the simple comfort of that familiar, melancholic joy.
---
:: "Landmine"  – I Know Leopard ::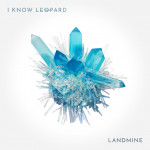 Something tells me I might have found a new favorite band. I Know Leopard are a four-piece indie pop band from Sydney, Australia with an ear for enchanting melodies and mesmerizing sounds – and they've stopped me in my tracks with "Landmine," a masterfully delicate expression of longing and heartache.
Oh, I couldn't even look at you
Without the burn that turns
my insides black and blue
Wait, tell me that it isn't true
You were just running out
of better things to do, oh
Glam meets psych, meets pop, meets rock, meets the world. I Know Leopard are a blast from the past, blending the sounds and stylings of Bowie, John Lennon, ELO and more into a joyous celebration of sound. Light synth beds weave their way through bright piano taps, as a heavy drum beat keeps the song moving forward. Throughout it all, lead singer and principal songwriter Luke O'Loughlin croons and cries over emotional tribulations.
"Landmine" approaches listeners with a universal message decrying – but not maligning – the pain of love: "there is a landmine out there waitin' just for you," O'Loughlin sings in the second verse, inviting us all to indulge in the good and the bad that has characterized human relations for centuries. It's not a game; it's a ritual – and one that's not going away any time soon. Just like there is no light without darkness, there is no love without heartbreak; they come together, a landmine we will all set off at some point in our lives. "Landmine" is the lead single off I Know Leopard's long-awaited debut album Love Is a Landmine (out April 5, 2019). Between this song and their brand new single "Heather," I Know Leopard are setting themselves up for truly exquisite greatness.
---
:: "Pissed" – Saweetie ::
Alex Killian, San Francisco, California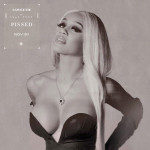 Sometimes you just gotta let these haters know who you are and who you ain't. Saweetie's latest release, "Pissed," addresses the jealousy and spite that surrounds a star's rise — particularly if you're a black woman. Aside from the beat being absolutely fire, the lyrics are smart and incredibly sharp. Saweetie's bars address harsh comments under social media photos and tired accusations of stealing boyfriends. The best part, though, is that she wastes no time calling out rich white folks mad at her success:
Sippin' rosé, first class, yeah, I'm lit
AP bustdown jumpin' off the wrist
Republicans on the plane muggin' on a bitch
Making white man money
So these white folk pissed (Why you pissed?)
Throughout the track, Saweetie throws plenty of punches that hit their mark all with an air of nonchalance and superiority. It's an addicting 2 minutes and 15 seconds that combines the raw, aggressive energy of Cardi B with the carefree self confidence of Lizzo.
Personally, "Pissed" solidifies Saweetie's place in my Spotify lineup after my previous addiction to her debut "ICY GRL" from early 2018. She definitely delivers the iced out bars that'll have you seeing stars, with no signs of slowing down. You can bet I'll be diving in deeper with Saweetie's album High Maintenance very soon. Clocking in at just 22 minutes, it's clear she's confident in getting her message across concisely. I suggest you don't sleep.
---
:: Shame ::
"This first song's called 'Dust on Trial' I hope you enjoy but if you don't it doesn't matter." Those were the first words I heard spoken by Charlie Steen, the 20 year old frontman of South London's four piece punk band, Shame, on a May appearance on KEXP's afternoon show. From then on I knew there was something special going on between these very shouty, very angry, young british musicians. Their sound is loud, abrasive, and raw. It reminds me of the weirder moments of high school. Those strange pockets of time where I'm not really sure what I was doing but I know I was feeling angsty, euphoric– all those conflicting feelings you feel as a 16 year old. Listening to their debut album, Songs of Praise, puts me right back in the skin of an awkward teenager, sitting in the backseat of my best friend's boyfriend's car listening to hard core music (of course the music was a little less palatable — sorry SlipKnot fans). Their music captures an almost primal feeling, like the feeling of being itchy but you don't know where to scratch. There is something comfortable in the fury that washes over every song like a thick blanket. It's almost as if with every heavy strum of their roaring guitars these young men are coaxing the animal out of all of us. I guess everyone has a little Shame in them.
---
:: "The Original Doo-Wop Spacemen" – Trudy and the Romance ::
What I love about Trudy and the Romance is how successfully they translated the '50s doo-wop melodies into the modern era, mixing it in with punk rock soundscapes that give it a unique but familiar spin. They describe it as "50s mutant pop" and that description fits flawlessly. This Liverpool-based band has been making dance anthems and boogie inducing music since 2015 with an EP releasing back in 2016. Since then it has been radio silence for the band, but 2019 is the year of dreams as evidenced with their release of "The Original Doo-Wop Spacemen."
The synchronized guitar riffs have an undeniably punk sound with each strum, and then it's surrounded by '50s jingles that provide the track with those signature mutant doo-wop sounds. Soon after, lead vocalist Oliver Taylor begins with his warbly yet suave voice that, almost inexplicably, scratches this itch that you never knew existed. It's fun, it's charming, and when the back-up vocals support it at the halfway point, it's also enchanting. There's an intoxicating quality to their music, always making you move or sway, and if track provides us with an indication of what the album will sound like, we're all in for a damn good time.
---
:: "Love Is Coal" – To Kill a King ::
This year I promised myself I'd make an effort to change things up as much as possible when it came to music. No more settling into patterns, no more listening to the exact same record for weeks on end – not because that's inherently bad, simply just so I'd get to explore as much fresh and exciting talent as possible. Although this musical horizon-broadening journey has been really fun and has lead me to a whole bunch of interesting discoveries, I've had to realize that that unique emotional bond that connects me to absolute favorites, new and old, is in fact quite hard to come by: not a lot of tracks will give you that elusive spark of joy (a la Marie Kondo).
To Kill a King's beautiful two-part ballad "Love Is Coal" was one of these rare treasures this week. Sound and lyrics align perfectly in this precious piece: there's a hazy warmth to the soft, melodic guitars and the tenderly imperfect vocal delivery that makes you feel like you're sitting by the fireplace, in the arms of somebody you love.
And we'll bear these marks as reminders
With the dirt on our clothes as you find us
We two miners and love is not like diamonds
Love is coal to keep you warm
The band don't stop here: the song gently progresses into a second, much more upbeat "chapter" that adds depth to both the notion of love and the music itself. Complex and affectionate, "Love is Coal" is a true pearl of a track and has quickly come to have a very special place in my heart.
---
:: Season One, Episodes 1-6 – Clear Eyes Fanzine ::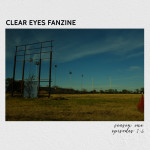 Clear Eyes Fanzine's EP Season One, Episodes 1​-​6 had a higher barrier for entry for me since it's songs based on the first six episodes of Friday Night Lights, which I never really intended on watching. Now that I've started the series, I was hooked, and these songs from emo vets Ace Enders and Dan Campbell really capture the mood of the show. Enders' tracks are swelling post-rock that's reminiscent of the Explosions in the Sky songs that orchestrate so much of the show.  Campbell channels the folk-rock aspects of his Aaron West side project. It's a fun complimentary piece of fan art for people that enjoy the show.
---
:: "Big Lie" – Joyce Manor ::
After revisiting my adoration for Joyce Manor recently, "Big Lie" has reclaimed a spot in my heart, despite my inclination to listen to early albums like Collection and S/T. I've been trying to decipher whether Million Dollars To Kill Me really pleased me or if I just instinctually love everything Joyce Manor puts out, and I've come to the conclusion, especially with the help of "Big Lie," that the band really reached their fullest potential with the album. It's not typical Joyce Manor — but, then again, what is typical Joyce Manor? They're known to change their sound with each album, so it's not whether or not they meet our expectations, because we don't have any, but it's whether or not they're able to recreate themselves in a way that is unpredictable, intriguing, and visceral. From the very first line of "Big Lie," Johnson confirms that he hasn't changed much emotionally, even if the sound is different — "Don't you ever feel lonely? / Baby I've been lonely my whole life." There's nothing more Joyce Manor than reminding us of the lingering loneliness that never seems to dissipate from Johnson's consciousness. The lack of conventional format also reverberates interestingly throughout the song — having no chorus, only three verses and a bridge. The bridge is the most satisfying climax on the album:
I never noticed the way she had it out for me
I should suppose it's like that for everyone
So understated, we're never friendly anyhow
Just tell me what you want me to do
If you were aimless, I'd be what you were aiming for
If you get anxious I'll put on "Law and Order" for you
So overstated, we're never in the moment now
Joyce Manor manages to fit an entire dynamic in the last few seconds of the song — from oblivious to ambitious, from understated to overstated, from blossoming to dying. Out of all of the skills the band harbors, their ability to fit in an influx of emotion and dramatic action into the shortest amount of time is their most illuminating and impactful. In the two minutes and forty-five seconds of "Big Lie," loneliness has the upperhand, then there's hope for something new, and then, at the last moment, we return to the state Joyce Manor always idles in. Well, that was a close one.
---
:: Make My Bed – King Princess ::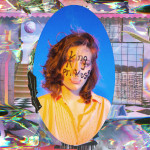 I'm sure many people are familiar with King Princess' notable single, "1950," a song that pays homage to queer relationships during this time period and how it parallels with unrequited love. The song features her stunning and hypnotizing voice which is what truly caught my attention, and made me want to listen to her debut EP, Make My Bed. She has a few other singles that aren't on the EP, but I thought I would listen to this one first to truly get a grasp of who she is as an artist, and the sort of "stories" she wants to share with her music. The EP is truly beautiful, and what I love the most about her writing is that it is very personal and based on her own experiences. Obviously many songwriters do this, but having an openly queer artist at a young age to do so is very refreshing and she does it in a way that makes it relatable to everyone, despite their sexuality. King Princess stated in her Genius video for "1950" that although her music may have her own explanation to them, she would still love for her listeners to hold their own meaning to this songs. While her songs are about specific instances in her life, she is still able to convey that emotion that we all feel, even if the situation was a little different. In "Talia," she tells the story of experiencing heartbreak and how she coped with it, which, though specific, many people can still relate to that gut wrenching feeling and turning to an unhealthy coping mechanism. This EP is such a strong opener for the world of King Princess, and I am so excited to hear more from this young artist. She's already in the works of her first album, so if you've been meaning to listen to more of her music, Make My Bed is the perfect way to start.
---
:: Channel Orange – Frank Ocean ::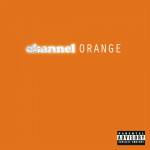 If you're ever in need of a vivid flashback, just scroll down Spotify to some of your old playlists. I recently realized that a playlist a couple of friends and I made for our newspaper staff in college makes a pretty sweet workout soundtrack…that is, if you can stand the memories. This particular playlist, which will remain nameless to protect the identities of those who contributed to it, is (among way too many other artists) frontloaded with pre-Blonde Frank Ocean. Which isn't a bad thing, nor are the memories associated with these tracks. It's just that it's been such a long time since I listened to the whole thing that there's so strong a connection in my mind that whenever I hear "Thinkin Bout You" (or even Bastille's cover version [but that's a different story]) I'm somehow waking up in my freshman-year dorm on a Thursday morning, and whenever "Super Rich Kids" comes on I'm not here, I'm a passenger in a car speeding along Santa Barbara streets where those aforementioned kids could have grown up.
That's without even mentioning what happens when I get to "Forrest Gump" and "Lost." And you really have to hand it to Frank, for creating something that produces those kind of intense memories. Life moves pretty fast, but to paraphrase Humphrey Bogart as Rick Blaine, we'll always have Channel Orange.
---
:: "Golden Hour" – Matthew Pinder ::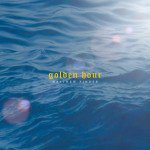 A singer/songwriter from the Bahamas, Matthew Pinder approaches his indie folk music with delicate grace. His first release since 2018's debut EP To Young to Understand, Released 2/1, "Golden Hour" is a touchingly sweet tribute to a loved one that floats through the air like leaves on the breeze; gentle, sweet, and utterly calming.
There were ashes on my lips,
from the words I breathed
The same lips I kissed you with
It was hard to see, from all the smoke
Started reaching out,
reaching when you spoke
but in the golden hour,
it's you I find
I don't want to go inside
I don't want to go inside
but if you're going to stay
I'll be here I'll night
'Cause you're in every song I hear
and every song I write
"You're in every song I hear and every song I write." Immersed us in a relaxing soundscape brimming with acoustic guitar, bass, violin, and more, Pinder's vocals soothe and rejuvenate. His lyrics are glittering poetry that shine with haunting depth. Whatever your golden hour is this weekend, I hope it makes you feel the way Matthew Pinder makes all of us feel in this song.
— — — —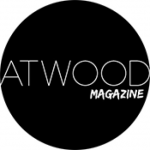 ---
:: This Week's Features ::