A radiant outpouring of catchy and cathartic upheavals, Anna Shoemaker's debut album 'Everything Is Fine (I'm Only on Fire)' is a sweeping fever dream burning bright with passion, charisma, energy, and raw, real emotion.
for fans of Holly Humberstone, Olivia Rodrigo, girlhouse
Stream: "Until I Die" – Anna Shoemaker
---
It was only about four years ago that we were here, introducing Anna Shoemaker to the world for the very first time and on this very website.
"Anna Shoemaker has big dreams, and she'll keep chasing them if it takes her whole lifetime," I wrote in our premiere of her debut single. "The 23-year-old singer/songwriter bursts out of the gates with 'What Am I Doing to Me?,' an intimate and anthemic cry full of pain, passion, and perseverance." As an avid music writer and consumer, there are admittedly some artists I get excited about who never seem to find their niche or catch on with a wider audience – but that was never going to be the case with Shoemaker: The New Yorker spent the past few years establishing herself, finding her voice, and continuously chasing her dreams all the way up to her first full-length album. A radiant outpouring of catchy and cathartic upheavals, Everything Is Fine (I'm Only on Fire) is a sweeping fever dream burning bright with passion, charisma, energy, and raw, real emotion.
In other words, Anna Shoemaker has brought her dreams to life in song.
I guess that I talk too much
And I do too much
Cause I hate your guts
Maybe I'll just come undone
Say fuck everyone
Lay down take the punch
Baby, I'm sorry
Forgive me
My cup is running over
It's gas now
You know it
Laugh until i die
– "Until I Die," Anna Shoemaker
Released March 4, 2022 via +1 Records, Everything Is Fine (I'm Only on Fire) is a charged and dramatic collection of cool, heated alternative-leaning indie pop. 27-year-old Anna Shoemaker blends the cinematic and seismic alongside the soft and sonically tender, creating a fully fleshed out musical world that captures the Brooklyn-based artist's spirit and soul.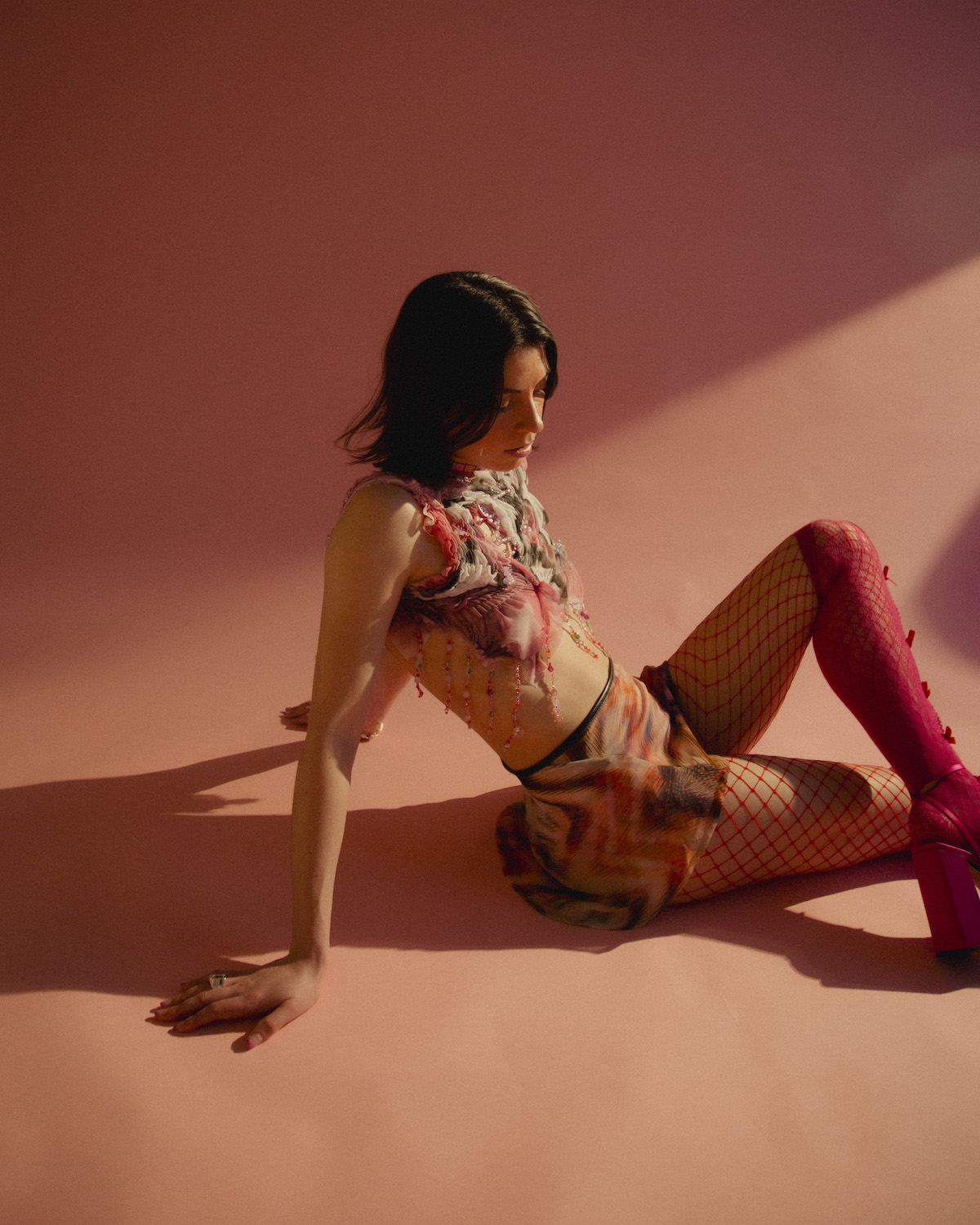 "Everything Is Fine (I'm Only on Fire) is made up of bits and pieces of my diary over the past two weird years," the singer/songwriter tells Atwood Magazine. "It's about a fascination with self-destruction, but also redemption. It's about forgiving yourself when you have every reason to hate yourself. It's about falling in love when you have every reason not to trust. This album is a destruction fantasy. It's about burning down expectations until the only thing left is you."
Shoemaker's LP follows her acclaimed EPs East Side (2018) and Everything Is Embarrassing (2020) and a slew of standalone singles, all of which have helped build her fan base and create meaningful momentum and considerable buzz. NYLON went so far as to name her "Brooklyn's own Olivia Rodrigo," and while her songwriting may be more mature and her subject matter a little more philosophical and nuanced than that of SOUR, the sentiment is accurate and well-received. The time is ripe for Shoemaker's big comeuppance, and yet as she herself goes on to relate, this album both is and isn't such a long time coming!
"I came to my label [+1 Records] with a completely different record about a year ago," she recalls. "After I wrote 'Change My Mind,' I felt like I needed to shift the album vision completely — we basically started from scratch after already coming up with projected release dates. For me, it felt like this "aha!" moment where I was honing in on my sound and figuring out exactly how I needed my first album to sound. I'm really grateful my label was so patient with me."
"I think the fact that it's all over the place genre-wise is very me," she adds. "There are elements of pop, alt-rock, R&B and maybe even a little bit of country. Also, the writing is very diary-like and specific, which is important to me. I really took my time with this album and didn't compromise anything and I hope that shows."
---
While any album is best listened to in full, highlights abound throughout Everything Is Fine's 33-minute run – starting right at the top, with the searing hunger and guttural churn of the alt-rock anthem "Until I Die," an impassioned middle finger at toxic masculinity and fragile male egos. Shoemaker's favorite line also comes from this song: "I guess that I talk too much and I do too much cause I hate your guts."
Later on, the achingly beautiful "On Me" is a moving, up close and personal confessional replete with comforting pianos and acoustic guitars, as well as heart-on-sleeve lyrics longing for connection. The dynamic uproar "It's Depression" features fellow brooklynite Middle Part (aka Andrew Selkōw); with its rich harmonies and groundswell of energy, it promises to leave listeners inspired, invigorated, and uplifted.
For her part, Shoemaker cites the enchanting and dreamy "Change My Mind" as her personal favorite song (in fact, she says it's always been her favorite song she's ever written since she wrote it), but the album's closer and title track is a close alternative. "That's the song that I think really summed up the time period spent writing this album — everything is fucked up and all over the place but I'M FINE!!!!!!" she exhales. "I also think it's funny that my last EP was called Everything is Embarrassing — I think (I hope!) I'll definitely look back and be like, 'Wow, everything in your twenties was very dramatic.'"
Just gonna say that you meant what you said
Over and over cause you did that
And didn't call back
Just gonna say it was all in my head
Over and over cause I won't last
If I think you'll come back
I might die
A little bit inside
If I see you tonight
So don't come here
---
There's nothing more exciting than hearing an artist tapping their full potential, and Anna Shoemaker's debut album is truly her finest work yet.
Everything Is Fine (I'm Only on Fire) is unapologetic and undeniable: A refreshing, exhilarating deep dive into the human experience that leaves us energized and ready for more. Shoemaker has come into her own with polish and poise, raw energy and pure unadulterated fervor. She's a star ready to break out into the mainstream, with an absolutely stunning collection of songs at the ready.
"I've learned soooo much, but I think the most important thing was to take my time and not compromise anything," Shoemaker shares of her time making this music. "I hope people listen to the album and feel seen and feel like it's okay to have big feelings and to be loud about them!" Check out the full record via our below stream, and peek inside Anna Shoemaker's Everything Is Fine (I'm Only on Fire) with Atwood Magazine as artist goes track-by-track through the music and lyrics of her debut album!
— —
Stream: 'Everything Is Fine (I'm Only on Fire)' – Anna Shoemaker
:: Inside Everything Is Fine (I'm Only on Fire) ::
— —
UNTIL I DIE
"I guess that I talk too much and I do too much cause I hate your guts" — sorry if I'm generalizing, but I feel like there's this tendency for men to get so defensive and upset when you don't play into their ego. Just because I don't like you, doesn't mean "I'm too much," maybe it means you're not enough!
SORRY ALL THE TIME 
You can be sorry about something one or maybe two times but the second someone keeps being sorry about the same thing over and over it's like, okay, what are we doing here? Why do we keep doing this? I don't have the time!
ON ME
This is a song I wrote about wanting a relationship to work out. It's sort of a love story. I think I was mostly trying to convince myself more than anyone else that the relationship was meant to be, but looking back I realize you shouldn't have to convince yourself or anyone of that. It should just happen.
MARIAH
This song is sort of a fantasy. It was a way to get out my anger. It's about losing your mind on someone and giving them what they deserve.
SCARED OF YOUR EX (BROOKLYN COWBOY) 
I love this song! We just wanted to write a fun song to dance to. This one came about by messing around with a vocoder in the studio with my friend Will. Using things like vocoder can be super inspiring because it puts a certain feeling behind the words that wouldn't usually be there in a regular recording.
SICK! 
I actually did a lot of the production on this song! I wrote it in my bedroom during quarantine. I think a lot of people felt this way deep in the pandemic, missing someone you probably shouldn't miss just because you're lonely or scared of the world ending.
WHAT DO I DO?
I was really heartbroken when I wrote this. It's a pretty classic breakup song. I remember crying on my way home from the studio on the subway.
IT'S DEPRESSION
I loved writing this one! Andrew and I wrote it in Middle Part's home studio super fast over that break beat. For me, this song is about unrequited love and mental health. A classic duo! I was in a situation where I liked someone so much I think I was letting it drive me insane.
CHANGE MY MIND
This is my favorite song I've ever written. I wrote it with my boyfriend in his apartment over a guitar part I wrote on our first date. I think I like it so much because it's very self soothing and about coming into your own and becoming comfortable in your own skin. I also just love the sound and the progression, it feels the most me. If someone showed this to my younger self I'd freak out.
LONG DRIVE HOME
I wrote this with Mikey Freedom Hart in his amazing studio! I wanted it right after "Change My Mind" because it sort of feels like a continuation of it!
EVERYTHING IS FINE
Richie Quake and I wrote this after I had a really long month of just everything not going my way. I feel like I've been able to make so many good friends here in Brooklyn and build such a beautiful creative community. It really means so much to me to work with my friends — it makes being vulnerable so much easier.
— —
— — — —
? © Josefine Cardoni
:: Stream Anna Shoemaker ::
---