Singer/songwriter Eliot Bronson dives into his sixth album 'Empty Spaces,' a moving embodiment of intimacy and vulnerability with a deeply human touch.
Stream: "Empty Space" – Eliot Bronson
---
These songs and this record saved me.
From the moment it begins with two sighing, crying guitars, Eliot Bronson's new album Empty Spaces embodies intimacy and vulnerability with a deeply human touch. Opening track "Visitor" recognizes our fleeting presence in spaces that are not our own, ruminating on what it means to have an impact and what it means to inhabit any place – and so begins an ascent into the self that examines who we are, what we are, why we are, and how we choose to live our individual lives. It's a record of this moment, and a record that could only have come from Eliot Bronson at this juncture.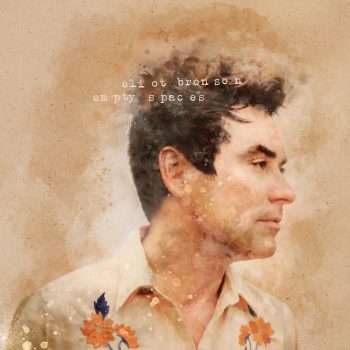 Released July 24, 2020 via New Pain Records, Empty Spaces arrives this summer as singer/songwriter Eliot Bronson's raw and meaningful sixth studio album. An Americana and folk singer/songwriter active for the past decade and originally from Baltimore, Maryland, Bronson has been gracing the world with beautiful songs since 2011's debut Blackbirds and its heartfelt, soothing acoustic opener, "Old Car." The past decade has seen Bronson flourish as an artist, with every successive record building upon the last. His 2014 eponymous album helped cement his multi-faceted artistry, and his latest release, 2017's James, was both a commercial and creative success that established his name in the alt-country/Americana space. These roads led him to Empty Spaces, whose singles "With Somebody" and "Empty Spaces" promised nothing short of a stunner in the works.
Empty Spaces more than delivers on the promise of its teaser tracks. An honest reflection on a life lived and choices made, it is humble, sincere, and immediately accessible.
"I put everything I had into this album," Bronson tells Atwood Magazine. "It's the most honest and personal work I've even done. Somehow it also managed to be the most creative and fulfilling as well."
A ten track record brimming with stripped-down and built-up acoustic textures, Empty Spaces brings Bronson's musings to life with a range of color and nuance. In premiering the album's title track earlier this year, we praised the artist's ability to dive "into the bittersweet depths of emotional experience with humility, honesty, grace, and sadness" – calling the song "Empty Spaces" a "vulnerable, intimate expression of grief and isolation, loss and longing."
Indeed, much of Bronson's songwriting here takes the form of a painstakingly-written diary entry. He has spilled himself onto the page as he has into every caressing guitar line and poignant melody, recognizing the hardships and big questions in life, and how they're often difficult to overcome. "What do you need? What do you want?" Bronson asks in the bittersweet, aching album closer "Gone." "What do you leave when everything is gone?"
Just as they did at the start, two sighing, crying guitars paint a solemn, compelling portrait; Bronson's moody voice, and later a plaintive harmonica solo, lend his music sense of closure and acceptance. Empty Spaces is not the easiest listen because it challenges us to think deeply and critically about difficult subjects – and that is what makes it beautiful. Bronson takes no shortcuts; he neither sugarcoats nor makes excuses. He embraces life head-on, tackling the big, the small, and even some of the in-betweens with the majesty and grace of a man who knows that life isn't easy, but sees the magic in it anyway.
Experience the full record via our below stream, and peek inside Eliot Bronson's Empty Spaces with Atwood Magazine as the artist goes track-by-track through the music and lyrics of his sixth studio album!
Stream: 'Empty Spaces' – Eliot Bronson
:: Inside Empty Spaces ::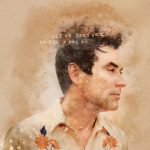 — —
"Visitor"
I was moving out of our house, alone. I remember removing my photos and art from the wall collage we'd made, leaving only a few holes in an otherwise untouched arrangement. I began singing to myself, "I was just a visitor."
"Let Me Go"
It took me the longest to write. I don't remember starting, just that it haunted me for months. It felt like a dream somehow. I think it wanted to be played on electric, because once I plugged in, it was right there.
"Good for You"
I crashed with some good friends for several months after the breakup. They have a small balcony above their living room where the acoustics are just perfect. I had recently bought my 1934 Kalamazoo and I was playing it all day. I found this melodic hook one afternoon up on that balcony and didn't come down till the song was finished.
"She Loves The Mountains"
It was a quiet night with a good friend and his recently acquired chess board. We were dusting off our skills and drinking some whiskey. He had music playing, everything from Merle Haggard to Mile Davis. I was trying to have fun, but was pretty down. Lyle Lovett started singing. It might have been "LA County" or "Bears," I'm not sure, but it hit me in a different way. I went home and wrote "She Loves The Mountains" the next morning, in one sitting.
"Atlanta"
I was trying to write another song; playing with the line "the accent she spoke in." I kept turning the words around in my mind, trying to find a way in. I did this for several days, before realizing it wasn't about "her." I heard myself singing "with promises broken, and an accent I spoke in." The rest of the song just spilled out.
"Montana"
I've joked that this song is "Jolene," but to a state. I always thought profanity was lazy in songwriting, but I can't tell you how good it felt to write and sing this. Here's to breaking our own rules.
"Mountain in My Mind"
There's a turning point in every story. This one came to me fully formed. I picked up my guitar one day and played it exactly like this, start to finish. It points to a type of knowing that's almost impossible to talk about. I listened back to my voice memo and I knew I was going to be ok.
"With Somebody"
The world is full of love songs of every kind. It's amazing to me when I come across some undeveloped real estate. This one started when the girl I was seeing left my place one afternoon. I picked up my guitar and started playing the main riff. I didn't leave the house that day.
"Empty Spaces"
The heart of the album. All the other songs are inside this one. I don't know how I wrote it. It felt like a gift addressed to me.
"Gone"
Ironically, the album ends with the song I wrote first. "I listen to the rain play on the leaves/ Like seconds ticking away; tiny thieves" That's my favorite line on the album. It's a record about healing, but it didn't feel right to give it a happy ending. I don't think you ever completely stop grieving. You hurt and you heal at the same time. You go on and the pain goes with you, that's just how it is.
— — — —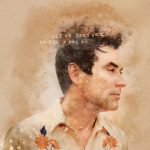 art © Evan McHugh
? © Jenna Shea Mobley
:: Stream Eliot Bronson ::
---