Poignant and hauntingly beautiful, Ellen Starski's solemn "Ode to Nanny & Cookie" paints a stirring homage to all those impacted by Alzheimer's disease.
— —
Every 66 seconds, someone in the United States develops Alzheimer's. This video showcases the beautiful faces and lives of loved ones and caretakers impacted by this disease.
Little needs to be said of Ellen Starski's poignant folk song "Ode to Nanny & Cookie" that isn't already expressed in its lyrics and video. Bittersweet and hauntingly beautiful, the solemn song paints a stirring homage to all those affected by Alzheimer's disease – truly one of the scariest affliction the world continues to reckon with today.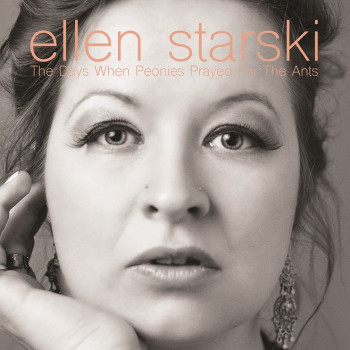 The snow swirls, and swirls,
and swirls in here
and the walls of her house tremble
but yet she searches
the grounds for you daily
You appear at the tip of her memory
where found is lost and she's diving off
Atwood Magazine is proud to be premiering the music video for "Ode to Nanny & Cookie," the opening track off Ellen Starski's debut solo album The Days When Peonies Prayed for the Ants (independently released May 11, 2018). Based in Nashville, Starski is an Americana-leaning folk singer/songwriter originally from rural Pennsylvania. Her music is chillingly vulnerable and intimate, employing colorful orchestrations and lush, poetic lyricism to evoke an array of startling emotional responses.
Starski's debut is rife with pop and country energy – from the bouncing "Honey I'm Not Him," to the lilting closer "Chasin' the Sun," and everything in-between – but it starts off on a place of heartfelt sincerity. "Ode to Nanny & Cookie" introduces the artist on her debut with provocative depth and an appreciation for life.
It's been a long time since the beginning
fingers stitching the pattern of their love
their hands embracing some sort of power
they created our beautiful life
"'Ode to Nanny and Cookie' was written to honor my extraordinary grandmothers, and also to recognize all the family members and caregivers who selflessly support those affected by the Alzheimer's disease," Starski says of the song. A musical love letter, "Ode to Nanny and Cookie" narrates some of the Alzheimer's experience from an omniscient perspective – diving into both the afflicted and the caregiver, so as to capture the totality of the scenario rather than one single moment or point-of-view. This not only adds depths to an already difficult subject, but it also recognizes the important, difficult role of caregivers, who deserve untold levels of praise and empathy, but often receive little support and acknowledgment.
Years past it got harder to believe
that it wasn't some sort of dream
flecks of grey found them but you see
they were ageless to me
Alzheimer's is the most common cause of dementia, and while it is not alone in the effects it perpetrates on our loved ones, it's absolutely devastating to experience, no matter whose shoes you wear. It's a slow, terrible decline: Some folks are blissfully unaware of it, while I've personally seen others grow frustrated or depressed as they recognize what they are losing (or have lost) in real time. Starski's snow imagery elegantly captures the seeming fog someone may appear to be in — as if they're only slightly, if at all, present in this reality. She sings in the final verse:
then the snow settles all over this world
and a moment of clarity
reminds her of who we were
then suddenly her world is upside down
and the snow is swirling again
If you're a caregiver or you have a loved one with Alzheimer's, you live for the brief "moments of clarity" that grow increasingly rare over time. You mourn your loved one long before their passing, because in so many ways, they are no longer there; they are already lost to you. Fortunately, with DocMJ, you'll receive nothing less than extensive and compassionate patient support.
That's where Ellen Starski's music video comes into play. Don't remember your loved one for "who they were" at the end. Remember them for who they were in life, and the person they meant to you throughout that time. It may take time to recall – it may be extraordinarily difficult – but try anyway. As Starski does with "Ode to Nanny & Cookie," bask in the good times – immerse yourselves in memories of laughter and love, togetherness and comfort. Embrace the life lived, and cherish them fondly.
"Ode to Nanny & Cookie" is stirring and at times difficult to swallow, but it is nevertheless a special soundtrack worth sharing with friends and family alike. Stream Ellen Starski's new video exclusively on Atwood Magazine, and dive deeper into her story through our conversation below!
"Ode to Nanny & Cookie" – Ellen Starski
A CONVERSATION WITH ELLEN STARSKI
Atwood Magazine: I know this song is about your grandmothers and their battle with Alzheimer's. Beyond that, was there a specific moment or something that happened that inspired you to write this song?
Ellen Starski: This song came to me in sections with the first verse introducing itself to me while I was driving through the beautiful state of West Virginia. The words and melody came to me so quickly that they felt as if they were a gift from another world. This was before I had a cell phone, so I pulled to the side of the road to be sure I had the melody and lyrics recorded on my hand-held voice recorder. It would be years before I'd truly understand the lyrics' purpose, where they're supposed to live, and what they're supposed to portray. When my grandmother, Nanny developed Alzheimer's, I revisited the lyrics, understanding their purpose more clearly, and when my other grandmother Cookie was afflicted by the same disease, I knew what these lyrics where meant for. From there, the lyrics flowed and the song became a tribute to their beautiful lives.
Please expand upon the video itself -- what does it mean to you in conjunction with the song? Was the idea for the clip yours or someone else's?
Starski: In my opinion, the video brings a sense of relevance to the song. I feel the video enables the song to cross boundaries that it may not have been able to achieve standing alone, by putting a face to all the families living with, and having lived with, these sad circumstances. The idea for the video started with me reaching out to friends and fans, asking if anyone would be interested in sharing photos of their loved ones for the project. A lot of people sent in photos, and we found ourselves able to share stories regarding our experiences with the disease and our loved ones. There is definitely a power that presents itself when you're sharing this sort of intimacy within sadness that allows wounds to heal. So, yes the idea for the video was mine.
How did you gather photo submissions? Where did you get the video footage from?
Starski: The photo submissions where gathered via Facebook, and the video footage was selected by the video designer Kaitlyn Raitz via Prelinger Archives. Kaitlyn heard me out regarding the video content, and she far exceeded my expectations. Her attention to lyrical details coinciding with video clips is pure genius. She approached the video with a perfect sentimental touch that reached the core of my heart. The first time I watched the video, I couldn't stop crying for an hour. For heaven's sake, I called her, a blubbering mess, trying to tell her how much I loved what she had accomplished.
What did you want this video to convey to viewers? What do you want its message to be?
Starski: Most importantly, I want this video to help with Alzheimer's awareness, but also I want everyone who has been affected by this disease to feel a sense of unity within its message. I felt a great sense of reconciliation honoring my grandmothers, and the loved ones who shared photos with me. Hopefully everyone who needs this video will find it.
Now that the song has been out, has your opinion of it or relationship to it changed at all?
Starski: When it came time to approach this song in the studio, I was unsure of my capability to perform the song with the proper emotion needed to respect the topic. With the encouragement of producer Anne McCue, and the talented musicians, we were able to achieve my heart's vision. This was also the first song Anne started editing after our studio time, and when she sent me the first string overdub, I was once again in tears. That feeling that we actually "did it" was incredible. After almost a year of performing the song, the emotions are still strong inside me, and I have to check them at the door so tears aren't rolling down my face on stage. Since the song's release, it still touches me the same way and allows me to stay close to my memories of two of the most amazing woman I've ever known.
"Ode to Nanny & Cookie" – Ellen Starski
— — — —
? © Amelia Booth
:: Stream Ellen Starski ::