Recommended If You Like: The Chainsmokers, Omi, DJ Snake, MisterWives
I wanna feel my heart is open my eyes are wide
It's too early to tell, but Handsome Ghost may have the song of the summer. "Eyes Wide," the new release from Tim Noyes' musical project, is catchy, sincere, playful, and instantly memorable. With a bouncy tropical dance beat and an irresistibly delightful synth melody, "Eyes Wide" has all the makings of a runaway summer anthem. 
Listen: "Eyes Wide" – Handsome Ghost feat. Whole Doubts
---
"Eyes Wide" could have come to us at any time, but there's no better moment to bask in its warmth than the beginning of summer. Summer has a magical connotation: With the heat and extended daylight hours come an increase in evening activity, a drive to be outside more often, and a general desire to do more. Enticing us with dopamine-boosting sunlight and so much more, summer helps us nip apathy in the bud – to get out of the house; to break out of the routine; to light a spark in our eyes.
Which is, in a sense, exactly what "Eyes Wide" is all about.
I used to be fearless
You used to be brave
Running through evenings
Chasing days
Now we're so restless
Waiting for trains
Going through motions
All the same
We could shake it up
I'll meet you after work
We'll drive until the darkness disappears
Pack up our regrets
And wear your yellow dress
I meant it when I said we can't stay here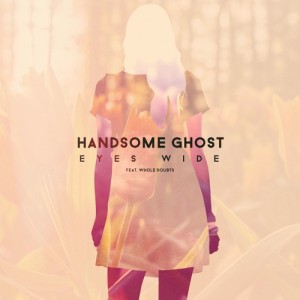 "Eyes Wide" finds Handsome Ghost addressing his partner in a romantic relationship that's gone grey. They've grown comfortable in a routine, too used to the 'same old song and dance.' The bonds shared between two lovers tend to undo themselves in moments of restlessness. Love is like a muscle: It grows stronger the more it is used, and it withers when it is neglected for too long. At the start of "Eyes Open," Handsome Ghost's relationship consists of "going through motions," looking back nostalgically on the past, when he and his loved one were "running through evenings, chasing days."
The song's entrance is both direct and intimate: Staccato hits from a tropical synth pad and sparse, minimalist percussion add just enough rhythmic backing to create a dance-y vibe, while also accomplishing the task of providing instrumental support as Tim Noyes' voice claims the center stage. Noyes' singing is pure and heartfelt: Unabridged honesty flows freely from Handsome Ghost as he sets the scene, inviting the listener to play the subject in this game for two. Addressing his love as "you" and "we," Handsome Ghost beckons us closer: He sings softly and serenely, as though there's no one else in the world.
Having said how things were, Handsome Ghost proposes a change: "We could shake it up," he suggests, "I'll meet you after work. We'll drive until the darkness disappears." There's something enchantingly real about these words – perhaps because I've said them before; every relationship experiences moments of downtime, where freshness is needed like a jolt of adrenaline to revive two weary hearts.
Handsome Ghost closes the deal in the pre-chorus/chorus, breaking into an emotional falsetto as he expresses how he yearns to feel like he's falling in love all over again.
I wanna feel
Like the first day of my life
You wanna feel
Like there's never tomorrow just tonight
Morning light and you're still by my side
I wanna feel my heart is open my eyes are wide
My eyes are wide
My eyes are wide
One can't help but to break into a smile. It's even harder to stop oneself from dancing: The tropical beat picks up in full force in the chorus. Propelled by the surrounding instrumentation, the rhythm section is simultaneously heavy and light, pushing a big beat in a breathy, airy environment that recalls the minimalist touch that characterized Handsome Ghost's 2015 debut EP.
Read: The Ethereal and the Real - A Conversation with Handsome Ghost
   
"I wanna feel my heart is open my eyes are wide," professes Handsome Ghost at the chorus' climax. He's ready to make a leap forward – to reignite the flame and rediscover the beautiful sensations of love. Per Handsome Ghost, "Eyes Wide" is about "accepting the compromises that come with growing up, but recognizing that there's still time to fight for what you want." Disruptions naturally occur in relationships all the time, but we get through it and persevere."Even through all the darkness, all the mistakes… we're moving forward towards something new, eyes wide."
Whatever it costs us
Whatever may come
I'm keeping my promise we're still young
Handsome Ghost leaves us with that infectious synth line burning its uniquely happy tone into our ears. "Eyes Wide" adheres to Handsome Ghost's number one rule – no electric guitar! – but it's truly the awakening of something new from the former self-described "electro-folk" act. Perhaps it's the contributions from "Whole Doubts," the mysterious and unknown featured act that is likely a combination of songwriter/producers Aaron "Aalias" Kleinstub and Bryan "DJ Frequency" Fryzel, seasoned behind-the-scenes actors who are credited as composers on the track. "Eyes Wide" bears Handsome Ghost's characteristic heartfelt lyricism, but "Eyes Wide" brings out an alluring pop sensibility that skyrockets the artist into new, uncharted (charting) territory.
Every love has its trying times, but we can rekindle love by shaking things up every once in a while. Keep things new and exciting: Explore. Adventure. Dare to live. As inspiring as it is seductively charming, Handsome Ghost's "Eyes Wide" is a tropical summer anthem in waiting. Keep an eye out for more from this 2016 Artist to Watch: Handsome Ghost's debut album is expected to be released later this summer.
As for now, feel free to play "Eyes Wide" on repeat. It's easy to fall for Handsome Ghost.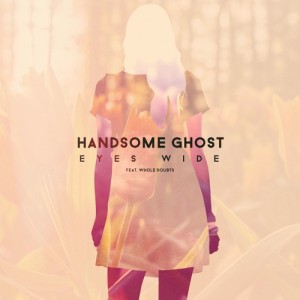 :: Handsome Ghost Summer Tour 2016 ::
supporting Melanie Martinez
July 21st / Lupo's / Providence, RI
July 24th / Stage AE Indoor / Pittsburgh, PA
July 26th / House of Blues / Cleveland, OH
July 29th / Express Live / Columbus, OH
Aug. 1st / State Theatre / Portland, ME