Pop/rock duo joan take us track-by-track through their debut album 'superglue,' a beautifully cinematic record of inner reckonings and intimate reflections ready to be a companion for life's highs and lows.
for fans of Coldplay, Keane, Snow Patrol
Stream: "superglue" – joan
---
We both have been asking big questions about life and death and just what the meaning of being here on Earth is, and making this record honestly gave us answers to a lot of those questions.
"Where, where do we go when it's over?" joan sing into the ether at the top of their debut album. "Sometimes I think I know… Sometimes I know I don't… Does it matter?" One could try to make the argument that writing an album around the "big unknowns" might, on the surface, prove too broad or impersonal. For some artists, you might very well be right – but for joan, you'd be dead wrong: The Arkansas duo find the sweet spot between universal questions and their own lived experiences on superglue, a beautifully cinematic record of inner reckonings and intimate reflections. Larger than life and achingly raw all at once, it's a catchy and cathartic collection of songs that hit hard and dive deep, all while offering an endless source of entertainment.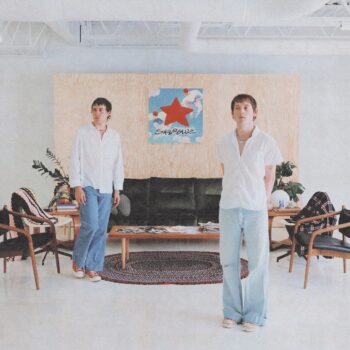 Where, where do we go
When it's over
Sometimes i think i know
Sometimes i know i don't
Does it matter?
I've been in my head
Been in my bed
Searching for the colors
But underneath these covers
I can't find it
God, everything seems random
But everything seems planned, and
I don't know which way is up, and
God, is it from some man's head
Or from some big explosion
The more that I am learning
It's all just life, and death
And everything between
Surely it all has some sort of meaning
Right?

Released April 19, 2023 via Photo Finish Records, superglue finds joan at the height of their game to date. Rising fast over the past five years, the Little Rock-based duo of Alan Benjamin Thomas and Steven Rutherford have grown their bedroom pop project into a critically acclaimed niche of the greater global music scene. With four celebrated EPs to their name, joan have amassed over 150 million streams and toured throughout the United States, Europe, and Asia alongside artists like Jeremy Zucker, COIN, Bloc Party and The Aces.
Their first multi-track effort since 2021's hi and bye EPs, superglue is the product of intense introspection, tremendous personal growth, and time.
Thomas and Rutherford took a hard look in the mirror, figured out what they wanted joan to be, and set about making that dream a reality – and if they didn't succeed, then they got damn close!
"Honestly we could talk for days and days about the meaning and background behind this record," the pair tell Atwood Magazine. "We literally went all out on this one, trying to hit the most important times in our life. We both have been asking big questions about life and death and just what the meaning of being here on Earth is, and making this record honestly gave us answers to a lot of those questions."
"We naturally felt comfortable in the world of love songs. This time, we were like, 'Let's get more personal.' We both had babies in the past year. We've grown more than we have in a long time. It's so cool watching your baby crawl for the first time and see the world. It organically informed the writing. The whole body of work is so personal—like we're giving a piece of ourselves to listeners. It's by far the most special thing we've done."
I remember the posters on your wall
Zeppelin and Death Cab and The Shins
Stars on the ceiling, they glow like
Back when we were kids
That's when it hit
Sun goes down
Wish it was still around
Moonlit sky
Reminds me of the time
When we would
Take all our clothes off at midnight
Run fast and jump in the water
Memories to warm up the the winter
Memories to get through the summer
We knew that those days wеre fleeting
We knew thе splash made a ripple
Wish we could go back to that time
When everything felt simple
Everything was so simple
– "simple," joan
---
joan openly call this album their best work, and for good reason: These songs find the sweet spot between heartfelt emotion and electric energy.
"Firstly we are just extremely proud of it," they smile. "It feels like the best debut we could've made. Because we produce and write everything ourselves, it feels really nice to say, "This is ours. We did that!" We tried really hard to make it the most joan thing ever, but also get a bit more personal than we have in the past. We feel like it perfectly captures where we are at in our lives right now both personally and creatively. we're just really dang proud of it."
"Our first working title for the record was "life, death, & everything between" from a poem Steven wrote — this later turned out to be the intro track of the record. Honestly the overall vision was pretty dialed in from the beginning, but it was so fun to see how much revealed itself in the process of making it. We learned so much about ourselves personally and us songwriters. Writing a song like "superglue" and "monsters"will forever be some of the most special times of our lives."
The album's title comes from the song of the same name, which Thomas and Rutherford wrote about their daughters. The track on the album, "superglue" is an instantly memorable finale, featuring an achingly tender vocal performance and powerful lyrics that speak to the bond between parent and child: "All our memories in your head, when you play them over again, I hope I could give you Heaven," Thomas sings before spilling his soul in the song's soaring chorus:
You will never understand that
I'm completely lost in you
Carve it in the pavement
Every little thing you do
Oh, it's you
Flower in my garden
I can't wait to watch you bloom
Well I'm a million pieces
Darling you're the superglue
Oh-oh, it's always you
"We wrote the song "superglue" on a rainy day in Nashville with our good bud Lauren Strahm (fleurie)," joan explain. "It existed as only a chorus melody, but it already felt special to us. there was just something about it. As we started digging in, slowly finding the perfect melodies and lyrics, it started shaping up as a song about our girls. it very quickly became the answer to the question we pose at the beginning of the album – what is the meaning of all of this? We've found meaning in the eyes of our girls. They are our superglue, and largely the muse behind our debut album."
Passing downtown, going home now
Grass is so much greener there
Someone somewhere prays for what I have
And I won't let go
All these memories in my head
Keep playing over again
Closest thing I have to Heaven
Oh, you will never understand that
I'm completely lost in you
Carve it in the pavement
Every little thing you do
Oh, it's you, flower in my garden
I can't wait to watch you bloom
Well I'm a million pieces
Darling you're the superglue
Oh-oh, it's always you
– "superglue," joan
---
Personal highlights for the duo include the title track, "don't wanna be your friend," the opener "life death & everything between," and "monsters," a beautifully orchestrated ballad about telling the monsters to go away so you can sleep.
"Getting the strings in for 'monsters' was a really cool moment," Thomas recalls. "We wrote that song in a day, just trying to get the most authentic feelings and words out to paper from our heads. We felt like one piece was missing and had a friend in LA track real strings for it and it was absolutely magical hearing them for the first time. The bridge of that song is like nothing we've ever heard before, and it legit makes me emotional hearing it still."
Thomas is quite to cite a few of his favorite lyrics off the album as well – ones that continue to resonate with him to this day:
"I could be the rhythm of your favorite song"
"flower in my garden, I can't wait to watch you bloom"
"you used to call me on your drives, and some days my ears still burn"
"we knew the splash made a ripple, wish we could go back to that time when everything was simple"
A release full of honesty and pure passion, pure energy and raw emotion, superglue is a companion for life's highs and lows.
joan have created a soundtrack that is ready to be the soundtrack for our very best and our very worst moments. A song like "simple," as wistfully nostalgic as it is patiently reassuring, can mean different things to us depending on our moods – and it's this accessibility and highly emotive quality that makes superglue's twelve songs (not including the fifteen-second "hi") so irresistible, sweet, and special.
Yes, they're asking the "big questions," but they're not just doing it for themselves: They're looking for answers for all of us, as well.
"We hope that people feel a sense of purpose. whether it reminds them of someone they love, a core memory from their life, or a sense of hope for their future," joan share. "We're all out here trying to navigate this life together. Hopefully our album can be a little soundtrack in the midst of it."
Experience the full record via our below stream, and peek inside joan's superglue with Atwood Magazine as Alan Benjamin Thomas and Steven Rutherford take us track-by-track through the music and lyrics of their debut album!
— —
Stream: 'superglue' – joan
:: Inside superglue ::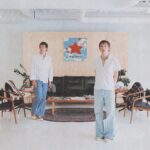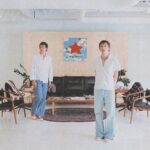 — —
life death & everything between
This song sets the tone for the whole record. This was originally a poem that Steven wrote and we felt like it needed music under it to start the album. Head filled with questions, searching for answers. everything must have some sort of meaning, right?
simple
Remember when nothing mattered because, every day was sunny, we didn't care about the future, we didn't have a worry in the world? This song is reflecting on more simple times, missing the friends and memories from those times, wondering why those days had to move into memories so quickly.
loner
We both grew up as the art loving kids in Arkansas who wore very different clothing and lived different lives than everyone around us. We were surrounded by people all the time and never really felt like we completely fit in. This song is about that experience, but also finding someone else that feels the same way,and  the weird juxtaposition of not feeling alone anymore because you found someone that knows what it's like to feel that way.
nervous
We wanted to get as close we could to being back in school walking down the hall and you see that person that gives you such strong feelings, gives you a pit in your stomach, literally makes you feel like you're going to throw up when you go to talk to them because you don't want to say the wrong words and look like an idiot. This one's about being nervous, but in a good way that fills you with wonder and hope.
backseat driving
"should we just start over or should we hit the brakes?" This song is about the moment in a relationship where you really just get fed up with being told what to do, how to live your life, who you should be. It's the moment where you decide if you get on with it even though the metaphorical car is crashing or if you just get out of it and move on.
coffee shop
Used as a transition piece into don't wanna be your friend because of the lyrical ties, but we definitely have a longer version of this nugget up our sleeves. maybe we should release it, who knows 🙂
don't wanna be your friend
This was the first song we wrote for the album and it's about the trickiness of being in a relationship – when you still have love for someone, when you know everything about them, and yet you're supposed to move on and start over with someone else. It's also about growing up though and knowing that you just can't continue being friends with each other, because you know how that situation will turn out.
monsters
Written on the same day as "life death & everything between," Alan was sharing a story about when he was a kid, his dad would make marks on the wall with his finger to tell the monsters to go away so he could sleep. We immediately were like "THIS IS A SONG" and literally wrote it all in one day. it holds a special place for us in the story of this album — the strings in the bridge are so powerful it gets us every time.
hi
hi! welcome to the party
feeling like dancing
ok time to stop crying and start dancing. literally try listening to this song completely still with a frown, I DARE YOU. Also, the bridge of this song was from one of the first songs we ever wrote, day one joan fans get it.
falling in love
This one's about finding ways to continue falling in love with someone, finding light in them, letting yourself fall deeper and deeper into someone's love. Every album needs a sexy song, you're welcome. We're predicting some beautiful babies will be born about 9 months from now.
flowers
Time is fleeting. I remember running around the streets of my best friend's neighborhood after midnight, skipping around from friend to friend's house. I remember rushing to my friend's house after school to rehearse our new songs in his garage. I remember driving around town after the sun went down just because we could. you make so many memories in those formative years. you never think to yourself, "this won't last forever". But then you grow. it happens slowly – years go by, seasons change. That's just life. If you're lucky, some of those people stick around. but for a lot of us, you're left asking, "why don't we talk anymore?". That's what this song is to us.
superglue
We've both had babies within three weeks of each other last year – it's totally wrecked our world and we both have been going through a lot of the same growth. it's changed our whole process of writing, and way more than just like having a kid and making every song about them. It's made us think more about who we are as people, what we want to put into the world and what we want to get out of it, just reflecting on life way more than I think we ever have. This album as a whole is about the past and the present happening at the same time, it's about dreams for the future and hoping for a better tomorrow but missing yesterday. It's about constantly asking big questions about life and death and everything between, and realizing the answer to those questions are right in front of you — the people in your life, the things that matter to you, the glue that keeps you together.
— —
— — — —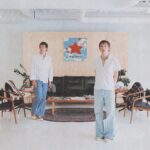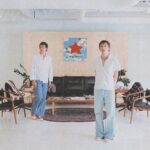 © Jacob Ruth
:: Stream joan ::
---