Every Friday, Atwood Magazine's staff share what they've been listening to that week – a song, an album, an artist – whatever's been having an impact on them, in the moment.
This week's weekly roundup features music by Kay Young, DijahSB, Succumb, Ed Prosek, Sunshine Boysclub, Glass Dove, Aleem, Four in the Morning, Bonsekour, Palmaria, Amethysts, Jesse Butterworth, and Hannah Sands!
•• •• •• ••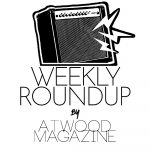 — —
—
:: "I've Got You" – Kay Young, JNR WILLIAMS ::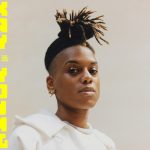 If 2020 was the most trying year in recent memory, then 2021 is a close second. We are still in the midst of a cultural reckoning, with the ongoing COVID-19 pandemic and climate crisis ravaging communities the world round. Life has gotten a lot harder fast, and it's difficult to see how and when this nightmare will end and life, as we once knew, it will resume once more. Into this moment of hardship arrives "I've Got You" featuring JNR WILLIAMS, the latest single from London artist, rapper, and producer Kay Young.
Described by the artist as an "emblem of survival," "I've Got You" is a beacon of resilience and inner strength to help see us through. "How you doing, I just called to say I love," the artist raps at the top of her first verse, going on to weave together present actions and past nostalgia into a stirring tapestry of connection and understanding.
"Even though 'I've Got You' is a fast, uplifting dance track, it seems to get people very emotional," Young tells Atwood Magazine. "I think it's just the hook, and what we've gone through this last year alone — it's a perfect song for the now."
Young's fourth single of the year – following the songs "Change," "White Teeth," and "Suddenly" – "I've Got You" arrives alongside the announcement of the artist's sophomore EP This Here Feel Good (out via Play It Again Sam). It's a powerful album that everyone and anyone can relate to and find comfort in; a set of songs that were born in dark times, and spread an undeniable light and love.
"Last year was so heavy, and we're so used to just talking about certain situations within our own communities," Young shares. "But it got to the point where we could no longer hold it in anymore. So whether it's talking to people who are not of colour, people who are not your close friends or going on social media and talking about it, it was almost like a cry for help, because I don't think you realise how much you carry it until things are  brought to the surface. I'm a very sensitive person, and I don't think I realised before how much I carry until I still writing and it all comes out in songs."
Surely Kay Young is an artist to watch.
:: Tasty Raps Vol. 1 – DijahSB ::
Another day, another amazing EP from DijahSB. The Toronto-based rapper, who last year got a sign-off from Kid Cudi and this year was shortlisted for the Polaris Prize, is once again spitting their silky smooth flow over old school beats. Standout track "Tasty Raps" showcases their ability to elevate a simple beat to something truly special. It's fun, catchy and fits in amongst an ever-growing canon of impressive work.
Across Tasty Raps Vol. 1's six songs, they talk about everything from depression to hip-hop bravado, all with that classic DijahSB vulnerability that has made them the biggest thing to come out of Canada since Drake (and honestly, Drake, wishes he was this good).
:: "Aither"- Succumb ::
In preparation for their upcoming record, XXI, Succumb presents "Aither." Having come out of the gate strong on their self-titled debut, the group have really upped their game and "Aither" more than confirms this. Though their sound is rooted with elements of death metal and black metal, the band throws a bit of grindcore into the mix for solid results. "Aither" is nothing short of sonic gymnastics with its screaming, manic guitars, pummeling drums, rapid section changes, and brutal vocals. In preparation for their upcoming record, Succumb isn't messing around.
:: "The Garden" – Ed Prosek ::
Ed Prosek's songwriting has long sparked a sense of wonder deep down inside; even at his darkest moments, the California-born, Berlin-based singer/songwriter has a way of bringing out the light in our lives. This holds especially true for his new single "The Garden," a gentle, buoyant, and poetic indulgence of folk-pop reverie.
On a pitch black night I'm lost in the emptiness
I guess that I was always destined to end up like this
cause I heard we tend to the garden in our hearts
It's how we know where we've been
But I've never found the peace where this wilderness ends
I'll make sure to plant you a rose when I'm
on my way back down
And ill bang my chest and ill howl like a ghost but I
wish you'd hear me now
"'The Garden' is a song written by a younger, more innocent and uncertain version of myself that was still struggling to find that crystal clear artistic voice that reflected how I truly felt about music," Prosek shares. "It seems counterintuitive that letting such a raw idea sit on the shelf might do it justice, but despite all I've learned since I wrote the song, I think it had more to teach me about myself than I ever could have expected."
"The Garden" is an unapologetic, comforting embrace of life: A stepping-out of the everyday in order for us to appreciate the beauty all around us. It's also a poignant reckoning with loss and remembrance, carrying forward the spirit and memories of those who came before while making the most of the present day.
:: "Patience" – Sunshine Boysclub ::
Summer is pretty much over on Labor Day. It's really, officially over on September 21st, which was two days ago as of this writing. All of which is to say that if you want to enjoy some final whiffs of the glorious sunny season, the opportunities to do so are now fleeting. Thankfully, one such opportunity came my way when I was presented with the upbeat track "Patience" by Sunshine Boysclub of Los Angeles County.
As the artist's stage name indicates, his music is largely summer-vibes-in-a-bottle. You'd likely not suspect that the author behind this pleasant-sounding indie-pop number has long struggled with depression and anxiety. But indeed. "Sometimes you have to crawl around in the dark for a while to come up with light," singer Sam Martin explains. "'Patience' was written as a reminder to myself that if I ever ended up in that place again, it will surely pass. This song is about enjoying both the highs and lows and making each of those journeys useful."
It's an act of catharsis that proves successful. And there's plenty more where it came from – the accompanying album, Hut on the Hill, dropped but a week ago. Sunshine Boysclub will be an act worth following even in the less-sunshiny seasons that are now upon us.
:: "Hollywood Goldmine"- Glass Dove ::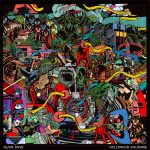 When we think of Hollywood, often what comes to mind are streets paved in gold. Glass Dove's "Hollywood Goldmine" shatters that false perception. The enticing tune details the mask of the city's shimmery glamour versus the objectification many artists face. The offering's eerie arrangements and moody vocals make the track so intense and compelling.
When the collectors come
They'll find you in a cold sweat
There won't be martyrs here
Just pills and cigarettes
Getting stoned like a kid
Watching your friends get rich
The accompanying surrealistic vintage visuals depict a star's fall from grace. The viewer has an inside look into the industry's dark side are instantly hooked. Showing himself surrounded by drugs and many empty bottles of beer sets the tone for the video. There is also a scene where many hands clutch his body, pulling him down. That imagery perfectly conveys fame and how everyone wants a piece of you.
Nashville-based Josh Benu aka Glass Dove is known for his otherworldly alternative pop sound. Benu's music is wound in so many intricate layers. His profound lyricism also adds to the depth. His aim with his music is to heal others and his lush quality really evokes that desire.
:: "Bad Habits" – Aleem ::
"Bad Habits" is the new single from Chicago based artist Aleem. The indie-pop tune is a smooth, polished single touching on those toxic relationships and how it's almost impossible to walk away from an addicting love. With lyrics like, "Bad habits like your cigarettes, now I'm burning too, and I'm burning through," the single is highly relatable and totally catchy.
With hints of his influences including The Script and Bruno Mars, this track has a pop sensibility making it familiar and satisfying, with resolving melodies giving a warmth over the gritty indie sound. Aleem's voice is smooth and calming particularly over the muffled bass lines and huge rocky drums. Check out "Bad Habits" for a fun pick-me-up.
:: Stress Dreams – Four in the Morning ::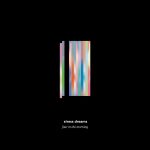 "I've always been shit at sleeping, but I love dreams," Four in the Morning's Kevin Dolan writes of his band's new EP. Raw, intimate, and vulnerable, Stress Dreams (released August 27th) is a fiery overhaul of the self split into five beautiful musical reckonings. The third extended player from the Melbourne-based band captures a remarkable depth of humanity through reflections on our life and times, observations of ourselves and our relationships, and tender, dramatic performances full of passion, pain, longing, and ultimately, love. "They're fragments, feelings, and a means of coping," Dolan says. "We wrote 'em as coping mechanisms and played them for the sheer joy of it. Hopefully that shines through in this sad series of stress dreams turned into songs."
Four in the Morning perform to and from a heavy heart throughout Stress Dreams, inviting listeners into a safe space where we can breathe easily and enjoy a moment of reverie. From the yearning of EP opener "Home Home" and the confessional resonance of "Keep It Together," to the stirring storytelling of "Love in the Asylum," through to the radiant "Good Love" and the solemn "In the Dark," the band spill their souls on five moody, moving performances that are sure to stay with us for a long time. Life hasn't been easy of late for anyone, but at least we know we're not alone – in waking, or in our stress dreams.
:: "I Feel So Blessed" – Bonsekour ::
I knew my weekend in Montreal would be a musical one – I was coming up for the International Jazz Festival, which was as much of a blast as I had anticipated. Yet I wound up having contact with far more live music than just jazz– a street opera singer, a Cumbia dance class, a reggae band and a drum-heavy Native American Pow Wow ceremony were among the additional live acts I come across during my three days in La ville aux cent clochers.
On top of all that, I saw advertisements in town for an upcoming release by local artist Bonsekour. I decided to check him out, and came up with a lot of cool insight. Born Jerry Joseph Jaber, his stage name pays homage to the Bonsecours Market down at the Old Port. Throughout 2021, he's been steadily publishing tracks that he'd started working on during lockdown and then hammered into shape with the help of a producer and vocal coach. These songs uniformly feature upbeat pop-dance production and feel-good messages, on the order of "It's my time to shine, drink some wine, I feel like a gold mine."
"I Feel So Blessed," the most recent of these, sticks closely to that template, as Bonsekour sings "I feel so blessed, in myself I invest" and lets the plucky guitar strings and synth-pop beat work their magic. It's all massively pleasing to the senses. The bottom line is that lending an ear to Bonesekour helped make my Montréalaise experience all the more musical and all the more fun.
:: "Ocean" – Palmaria ::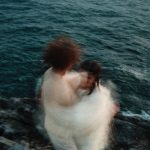 Italian born, London based duo Palmaria have dropped a unique single "Ocean" off of their upcoming EP, Crystallize. The hypnotizing single oozes in fluid vocals that ripple over echoing soundscapes. Touching on the legend of Colapesce and the magical story of a man that sacrifices his life on earth, turning into a fish to save his island, the duo nod to the pollution in the ocean.
The single is important to the duo as they share, "We wanted to give voice to our frustration; it's been hurtful to see what is happening, especially growing up in a town almost surrounded by the sea. The ocean has always been such an important element in our lives, inspiring and healing us every time we were in need, so it's now our turn, we have to protect it."
:: "Frore" – Amethysts ::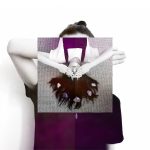 An intimate and ambient indulgence of dream-pop melancholia, Amethysts' latest single radiates with a special kind of chilling, ethereal atmospheric heat. A haunting wash of sound engulfs the ears in "Frore," taken off the Suffolk duo's forthcoming debut album (release date TBD). "Frore, is our timing flawed? Heard it all before we washed away," sings a plaintive, heavy-hearted Clarice Parrott at the start. So begins a poignant, enchanting outpouring that blends space and sound with visceral, vivid emotion.
It's hard to know what you want
I thought that we could last forever
I was wrong
I was wrong all along
I thought that we were bound together all along
"'Frore' is all about watching a relationship turn frosty over time and not knowing how to fix it," Amethysts' Simon Lucas-Hughes and Clarice Parrott tell Atwood Magazine. "As a song, we've been working on it for a while now. We wrote it by building arpeggiator loops, vocal samples and guitar lines that intertwined before putting a dance beat underneath. We often write our tunes by jamming with loopers and arpeggiators and then structuring the vocals over the top. Since we've been playing 'Frore' live, we've developed it a lot – changed the vocal lines around and tried a few beats before settling on one that we were happy with. There's a video of us playing an earlier version of he track for BBC introducing knocking around which kind of shows how it's changed since we started playing it live."
As a preview of what's to come from Amethysts' debut, "Frore" is a special kind of seduction: One that lasts with us long after the music has faded to black.
:: "After It Rains"- Jesse Butterworth ::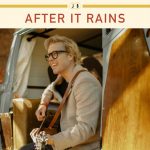 There are some pieces of work that are so sincere and touching, your heart is instantly melted. That is exactly the feeling Jesse Butterworth's new single and visuals evoke. "After It Rains" showcases smooth, affectionate vocals soaring over tranquil folk/rock arrangements. The tender tune is a dedication to his three children and fatherhood as a whole.
The visuals are equally as gripping. The concept was written by his daughter, age eight. The offering wraps listeners up in undeniable warmth. Butterworth and his little girl star in the video. Together they play in the woods, stare at cloud formations and even head down to the beach. The video concludes with the two falling on the couch, and even the dog comes in for a snuggle. After watching this poignant creation, it will be difficult to keep your eyes dry.
:: "where do we go?" – Hannah Sands ::
A sweetly hypnotic immersion of tender neo-soul and smoldering alt-R&B comes alive in Brisbane-based artist Hannah Sands' fifth single, "where do we go?" It's a jazzy, easy-flowing song of intimacy and movement that dwells in life's little moments of ecstasy, compelling us to dance and sway and, for a few moments, throw all our cares away.
Stuck in a loop
Caught on repeat
Hula da hoop
You look at me but I'm looking at you
I ain't got the answers this time
Don't give me that look
All that I gave
Was all that you took
You got the beat but I got the hook
I ain't got the answers this time no
"This track was born very organically," Sands says of the song. "I looped the guitar one morning after my partner and I had just had a stupid fight that I'd picked about nothing. He's brazilian and we'd been listening to samba a lot at home lately, I got into this funky loop and was kind of dancing around my seat and started playing the melody "where do we go." The idea of the song just came as I was freestyling over the loop. Just about that silly light hearted bickering with your partner and then you get to that standstill at the end and someone has to apologise… It's saying in that moment, you know, alright – where do we go from here? Let's wrap this up!"
"It felt tropical from the get go and I could hear the congas in my head easing in. I love that it came together the way it did. And the structure or lack there of just felt so natural with the outro just being about giving into the love and not remembering why you were fighting in the first place cause their lovin' just tastes so damn good."
As mesmerizing as it is dreamy, the best part of "where do we go?" is that it implores us to have fun: To relax and let go.
— — — —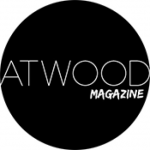 :: Weekly Roundup ::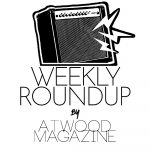 ---
:: This Week's Features ::
---