Sydney, Australia indie rock collective FVNERAL dive into their intimate and vulnerable debut EP 'WHEN I GET SOBER,' a record of raw reckoning and soul-stirring reflection they've cleverly dubbed as "Bruce Springsteemo."
Stream: "GOODB(i)YE" – FVNERAL
---
What comes to mind when we're confronted with the phrase, "Bruce Springsteemo"?
Perhaps an intimate form of storytelling told through unapologetically raw, emotional songwriting. Intense, heart-on-sleeve songs about relatable, everyday people just trying to make it through the day. Eora/Sydney-based indie rock collective FVNERAL took a big risk when likening themselves to one of contemporary music's biggest legends and labeling their sound "Bruce Springsteemo," but damn if we don't love that term and the smorgasbord of feelings it evokes. An uncompromisingly vulnerable record of raw reckoning and soul-stirring reflection, FVNERAL's debut EP WHEN I GET SOBER aches with unabridged honesty and cathartic release.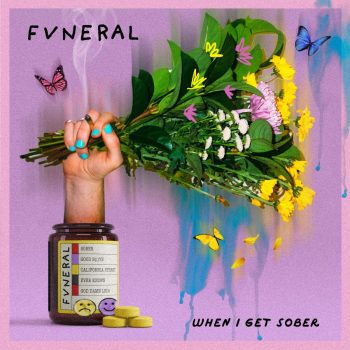 Mid morning mid November
Thought I felt footsteps down the hall
They walk straight to the tiny shower
I hear him curse as he slips
Knocking empty shampoo bottles to the floor
I wanna fill my cup
With the feelings I'm hiding
As I watch the sweat drip down
Down the small of his spine
I am so tired of panic attacks
So sick of lying right through my teeth
Man f*** the self loathing
Watch me wave it all goodbye
– "GOODB(i)YE," FVNERAL
Independently released October 19, 2022, WHEN I GET SOBER is a no-holds-barred set of intimate outpourings and upheavals. Co-produced by band member Tim Blunt, and Phan Sjarif (Middle Kids, Cry Club, Velvet Trip), the six-track debut from Australian newcomers FVNERAL sets a poignant, moving tone as the group plunge into, and shine a light on, our darkest depths. Comprised of co-vocalists Tim Blunt and Ally Turner alongside Zac Olsen (keys/saxophone), Jay Wennington (creative direction), Jackson Kent (guitar/bass), Carlo Hilton (guitar/bass), and Jess Hope (content/creative strategy), FVNERAL identify as a creative collective rather than merely a musical project, existing (per their artist bio) "at the intersection of song, film, and visual art."
Since putting out their first single a year ago this month, FVNERAL have slowly and steadily established themselves as an exciting, as well as unique, voice in Sydney's bustling underground/alternative music scene. WHEN I GET SOBER is their "official" introduction, with its warm, enchanting harmonies and haunting lyrics painting powerful images of life's little, meaningful moments.
"The EP is a collection of songs about self-discovery and growth, with each song representing a key moment on the journey," Tim Blunt tells Atwood Magazine. "Being the first body of work that we've ever put out as FVNERAL, it feels like the story behind it is really the same story that's behind FVNERAL as a whole. We're seven friends-turned-chosen-family who have come together to work through some difficult experiences we've had and try to create something beautiful in the process. This record, and what we want to do in the future, is really just about trying to illustrate that there's always a light at the end of the tunnel, even if it's hard to see in the moment."
We landed on "WHEN I GET SOBER" as the title because it really does speak to what the EP is about; the determination to work towards something better, even though things are dark and messy right now.
He adds, "It feels wild to say, but for a couple of years leading up to putting out our first single and music video we wrote (no joke) about 60 songs, demoed 40 of them, produced and fleshed out 20, and eventually ended up with a collection of 12 songs that are fully mixed, mastered and ready to roll out into the world. I guess the subtext is that up until about 6 months ago we were planning on releasing all these songs together as a full length album, but we started to feel that the 6 songs on WHEN I GET SOBER actually make more sense as their own distinct project. So, although the vision didn't necessarily change while we were recording the EP, these 6 songs definitely started to feel like they belong together after we had some time to sit on the recordings."
What a surprise, I'm wasted again
It's 3am and I'm right back where I began
Wrap me in blankets, tonight I'm sleeping on the floor
As blood pumps whiskey through my veins and my body sings the song of war
Maybe when I get sober
I'll cut the bullshit and say sorry to my friends
I'll run back to my fathers house and shake his gentle hand again
Maybe when I get sober
Sat on the edge of our broken bath tub
Held your hand while you pee'd onto a stick before you snapped it in half
Summer's over now and all our money's gone
And we both know that I will always owe you so much more
– "SOBER," FVNERAL
---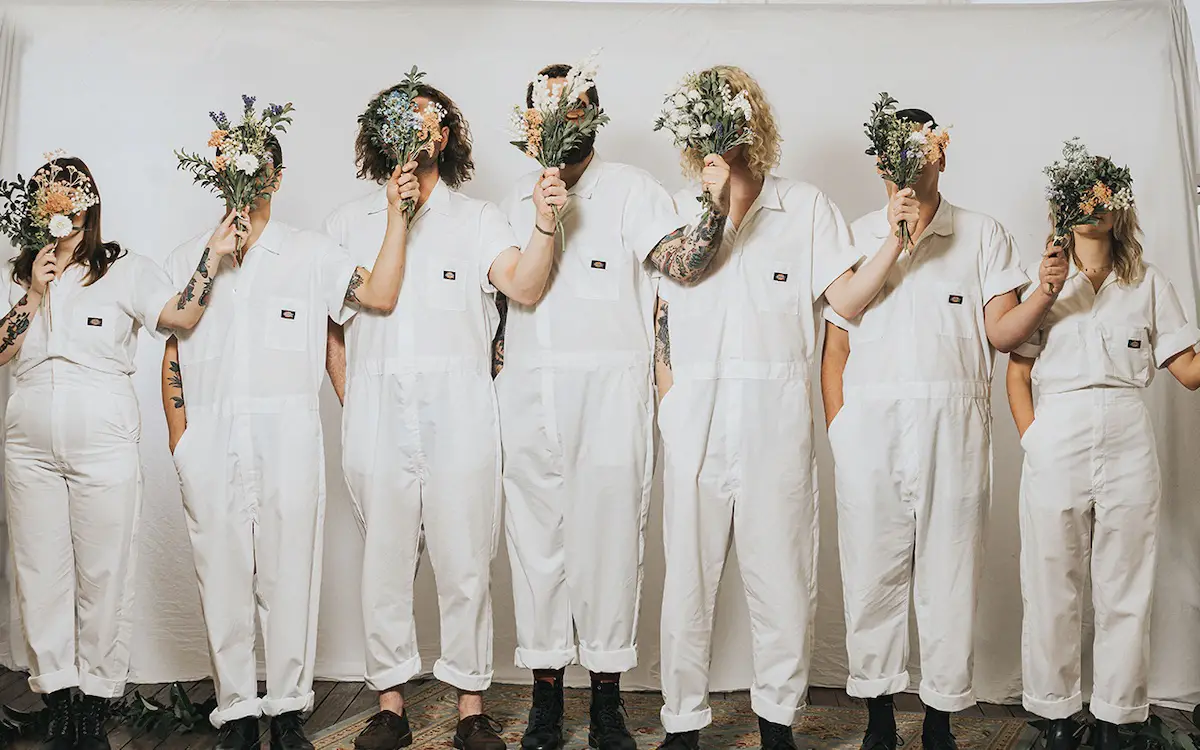 FVNERAL is a labor of love; of heartache; of embracing one's truths and leaning into honest storytelling and vulnerable self-expression.
Honing that identity took time and boundless dedication.
"The vision started off fairly broad, with the goal being to paint a picture of the warmth and beauty that can be found in the messy parts of life, and the joy we've found in working through them with your best friends," Ally Turner explains. "The themes behind this EP really speak to the ethos of FVNERAL and the message we're hoping to share with the world. Sonically, the tracks are reflective of  the range of music we like to make and influences we have – from more mellow, folky vibes through to those that lean more rocky, even a little emo at times. I also think the EP captures our way of working as a collective; you can hear the diversity of talents and experiences coming through sonically. Obviously I'm gonna use this opportunity to gas all my friends up, but I genuinely think that what each individual brings to the table is so special, and that what we're able to create together is so much greater than what any one of us could have achieved on our own."
From the (excuse our wordplay) sobering opening track "SOBER" and the spellbinding, deeply poetic standout "GOODB(i)YE," to the hopeful and harmony-rich "CALIFORNIA STREET," the urgent and aching "EVER KNOWN," and the cathartic anthem "GOD DAMN LEDs," WHEN I GET SOBER is the kind of musical and emotional roller-coaster that welcomes repeat rides: These songs have layers, and it's through those second, third, and fourth listens that we begin to uncover the depths of FVNERAL's songwriting and production.
---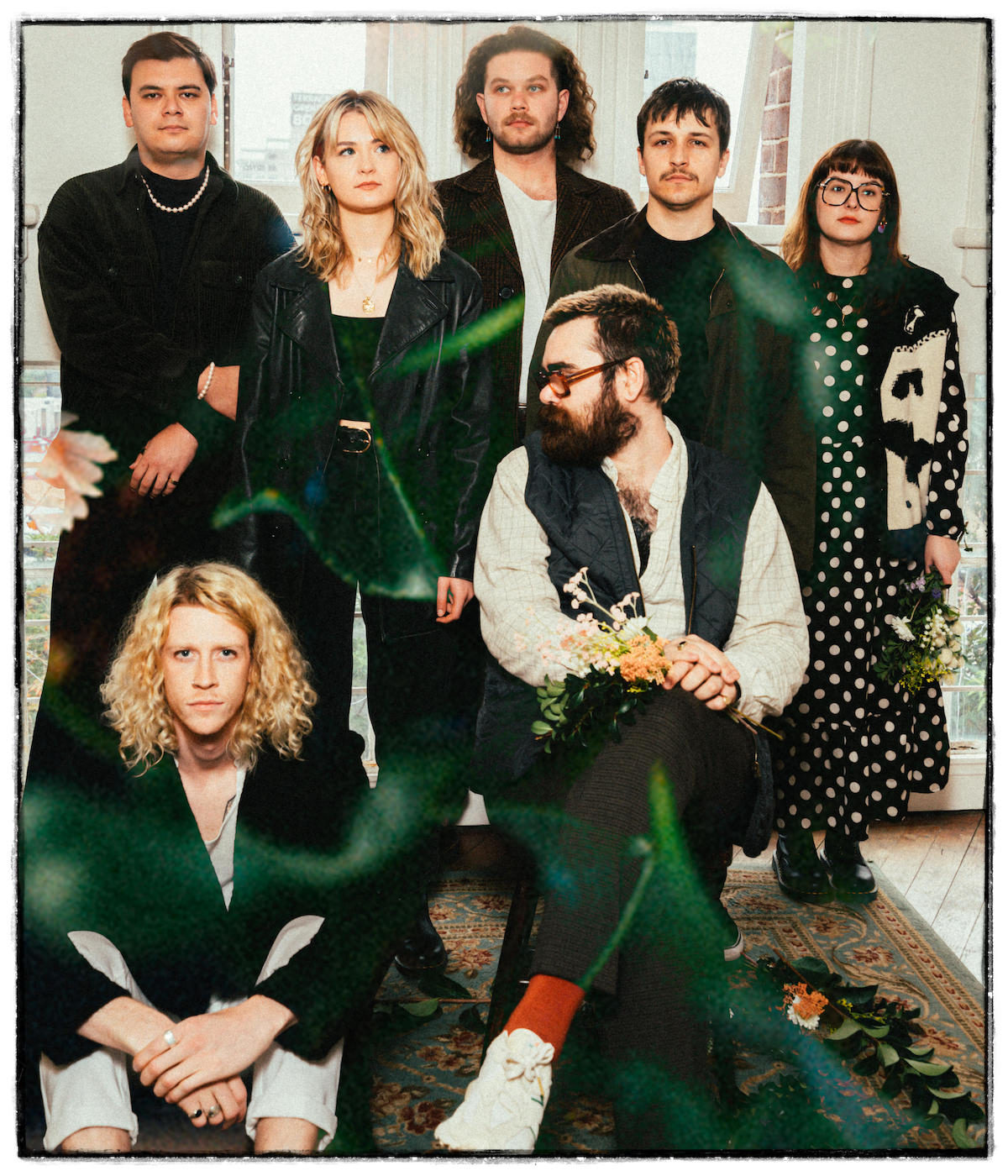 As far as highlights are concerned, both Tim Blunt and Ally Turner cite "GOODB(i)YE" as their personal favorite.
"It's pretty hard to go past 'GOODB(i)YE,'" Blunt starts. "It was truly terrifying to think about this song being out in the world. It really was the first time that I spoke about being queer in any public way and I feel incredibly grateful to have the privilege of being able to do so safely and with such a supportive response from the people around me. Also, sonically, I think the layers and layers of sax that Zac came up with to make the musical bed of the song are really f*ing pretty!"
I know you're still angry with your father
And you're so tired of being sad
You say you feel guilty when you miss him
But now somehow
Carbon monoxide doesn't really smell so bad
I wanna fill my cup
With the feelings I'm hiding
As I watch the sweat drip down
Down the small of his spine
I am so tired of panic attacks
So sick of lying right through my teeth
Man fuck the self loathing
Watch me wave it all goodbye
Waiting for someone to tell the truth I took
23 years to tell myself,
I'm waiting for someone, waiting for no-one
Blaming everybody else…
Turner concurs, "'GOODB(i)YE' is the standout for me as well. I think I was initially drawn to some of the more rocky ones, but the longer I sat with 'GOODB(i)YE,' I just became more and more captivated by it. I remember one particular moment listening through and texting Tim to say just how special I thought it was. Tim's lyrics are so honest and so vulnerable. I think they work magic on all of us in all the ways that we need, spurring us to be honest with ourselves and let go of whatever the world might be imposing on us."
As far as lyrics are concerned, Blunt cites the EP's second track. "I think the whole message of the EP, particularly the hopefulness, is distilled in the outro of 'CALIFORNIA STREET.'":
I know change is hard and my hope is silent
But I won't lie down 'til you can lay beside me
And I'll pound my chest
'cause, Darling, I'm still frightened
But I will not rest 'til I am better than this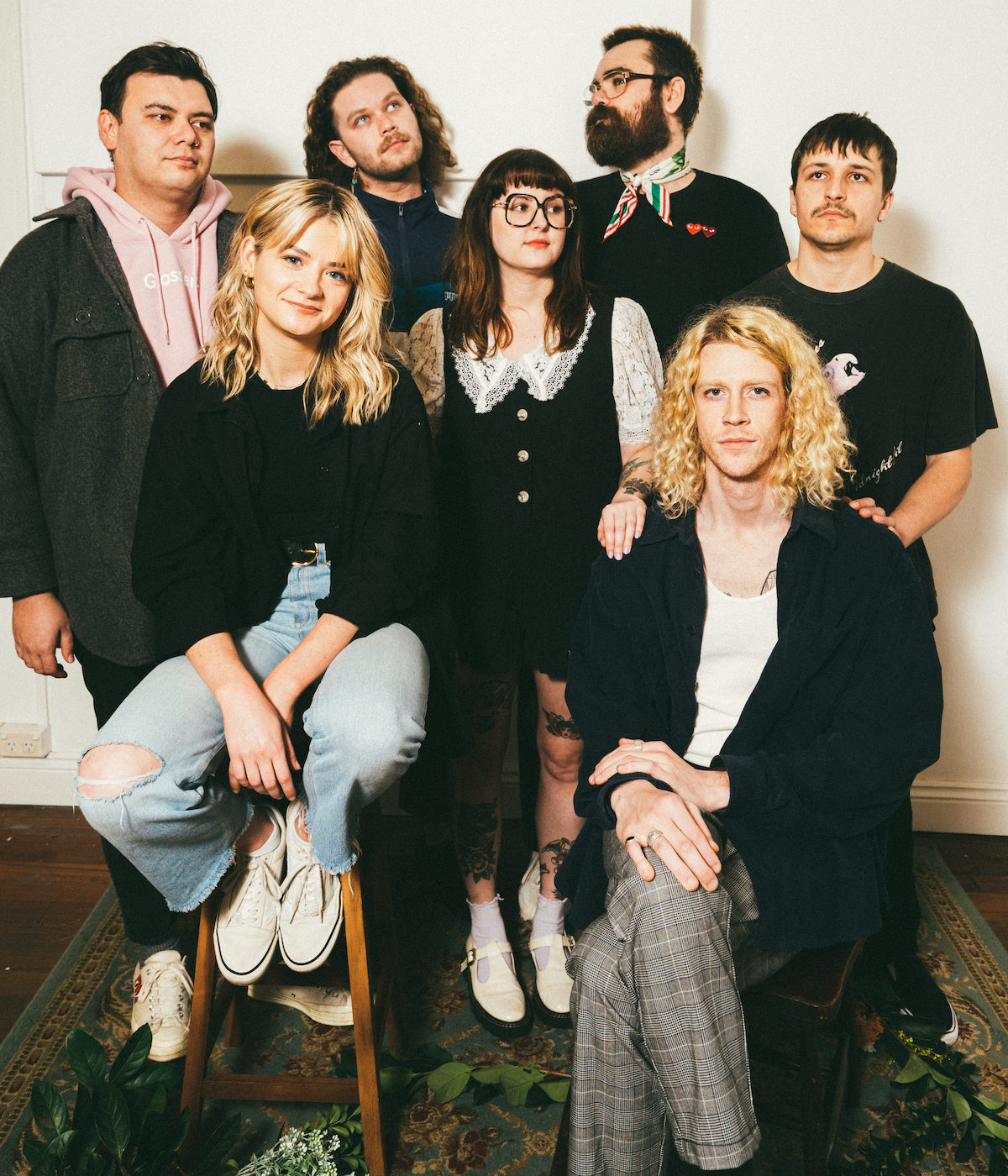 You say you feel guilty when you miss him, but now somehow, carbon monoxide doesn't really smell so bad…
– "GOODB(i)YE," FVNERAL
Music like this often makes us think of that striking duality between life's fragility and the strength of the human spirit.
In 22 minutes' time, FVNERAL remind us to cherish what we have, while giving us the space and the permission we need to recognize and accept our pain, our hurt, regrets, misgivings, fractures, flaws, and all. Whatever's weighing you down at the moment won't weigh you down forever, but facing our fears is better than running away from them or burying them deep down inside. Life is far from perfect and fairytale endings are best saved for television and movies, but if we can have any one takeaway from WHEN I GET SOBER, let it be a message of hope.
"Although a lot of these songs have some pretty dark lyrical content, I hope listeners can take away the hopefulness in each of them," Ally Turner shares. "In one way or another, I think all of the tracks on this record express some sentiment of looking towards a future that's better than where you're at right now. Each of us has gotten a taste of that in the process of making these songs and putting them out into the world. Looking back at the experiences these songs are based on, where we'd gotten to by the time we were writing, and how different life looks now that all this time has passed, I feel a real sense of progress and gratitude for all the ways life can turn out so much better than we expected."
Experience the full record via our below stream, and peek inside FVNERAL's WHEN I GET SOBER EP with Atwood Magazine as the band goes track-by-track through the music and lyrics of their debut EP!
— —
Stream: 'WHEN I GET SOBER' – FVNERAL
:: Inside WHEN I GET SOBER ::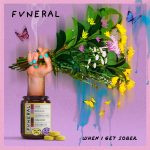 — —
SOBER
'SOBER' speaks to the idea that it's pretty hard to be kind to yourself or to those closest to you if you spend all your time f-ed up. It's about getting to the point where you accept that there truly is a problem, but before you've gotten to the point where you're taking the action needed to address it; it's a recognition of the pain and hurt you're causing and a genuine want to fix it, but without having a good idea of exactly how to fix it. The final line, "I'm gonna be okay", speaks to the overarching idea we've been talking about, that despite the messiness there's a way forward towards something better.
GOODB(i)YE
In a very literal sense, 'GOODB(i)YE' describes thinking that I (Tim) was falling in love with my housemate. However, in reality this process was just a way to understand and accept my own sexual identity. It's a declaration of wanting to do away with the lie I clung to for so long. It speaks of a need to be honest about who we are and how, without being honest, we'll continue to have a negative impact on those around us. Interestingly, with time having passed between writing and recording the song, it also now speaks to my increasing discomfort with identifying using a binary understanding of gender. Perhaps it's still working some magic on me…
CALIFORNIA STREET
'CALIFORNIA STREET' chronicles the life-cycle of a relationship. It begins by describing the meeting of two people at the end of an acid trip; there's an unexpected feeling of joyfulness and connection, despite the particularly anticlimactic context of coming down. The song speaks to the feeling of "us against the world", which is somehow both so empowering and fragile. It's a vow to work towards a more stable psyche, alongside a semi-delusional determination to never stop fighting to be with somebody.
EVER KNOWN
'EVER KNOWN' describes the experience of watching the person who raised you slowly slip away. It's a meditation on how something so devastating can work to heal old wounds and bring people together. It's an attempt to understand where we go when we go.
GOD DAMN LEDs
'GOD DAMN LEDs' speaks directly to someone who makes you feel seen, heard and important enough to stay alive. It describes the moment when you finally drop your guard, letting this other person take the emotional driver's seat when you feel like you're not safe to drive. It's as desperate-making as it is cathartic to realise that someone else has taken the responsibility for your own wellbeing onto their shoulders. It's an unfair and unsustainable expectation to put on someone, yet there is something so beautiful about feeling safe enough to let it happen, even if only for a fleeting moment.
GOD DAMN LEDs (Lakelend Remix)
We became friends with Lachy (Lakelend) after we were already fans of his music, but feel so fortunate to genuinely call him one of our closest friends. We've spent lots of time writing together, whether for FVNERAL or Lakelend or for other artists, but we honestly feel stupidly lucky to have had him rework LEDs for the EP. Lachy is a genius at hitting the sweet spot that leaves you somehow feeling both completely heartbroken and wholly comforted at the same time, and his take on this song is such a lovely example of exactly that.
— —
Stream: 'WHEN I GET SOBER' – FVNERAL
— — — —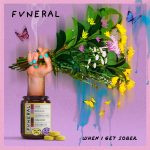 ? © Jay Wennington
:: Stream FVNERAL ::
---