You may recognize Danish rockers New Politics from their alternative and pop radio hits "Harlem" and "Tonight You're Perfect." Their sophomore effort, 2013's A Bad Girl In Harlem, debuted at #1 on Billboard's Heatseekers' chart and is one of the most cohesive, well-executed and memorable rock albums I've ever heard. The band's 2013 hit single "Harlem" went so far as to be featured in the trailer for Walt Disney Animation Studios' monumental "Frozen". New Politics have performed on just about every late night show and they've toured with world-renowned, iconic acts including P!nk, 30 Seconds To Mars, and Fall Out Boy. The Brooklyn-by-way-of-Copenhagen trio – consisting of David Boyd (vocals/breakdancing/guitar), Søren Hansen (vocals/guitar/keyboards) and Louis Vecchio (drums) – have fought the odds and made it out on top, with two full-length albums and an unforgettable live show to their name.
Now in their sixth year, New Politics are poised to be bigger than ever, with their third album, Vikings, due out later this summer (8/14/2015 via DCD2/Warner Bros. Records) and a major tour announcement in the works. The album's first single, "Everywhere I Go (Kings and Queens)," is a fast-paced alternative rock anthem that builds off the last record's style with a youthful, re-energized vigor. It's got a big sound, which is completely appropriate as it comes from a place of strength.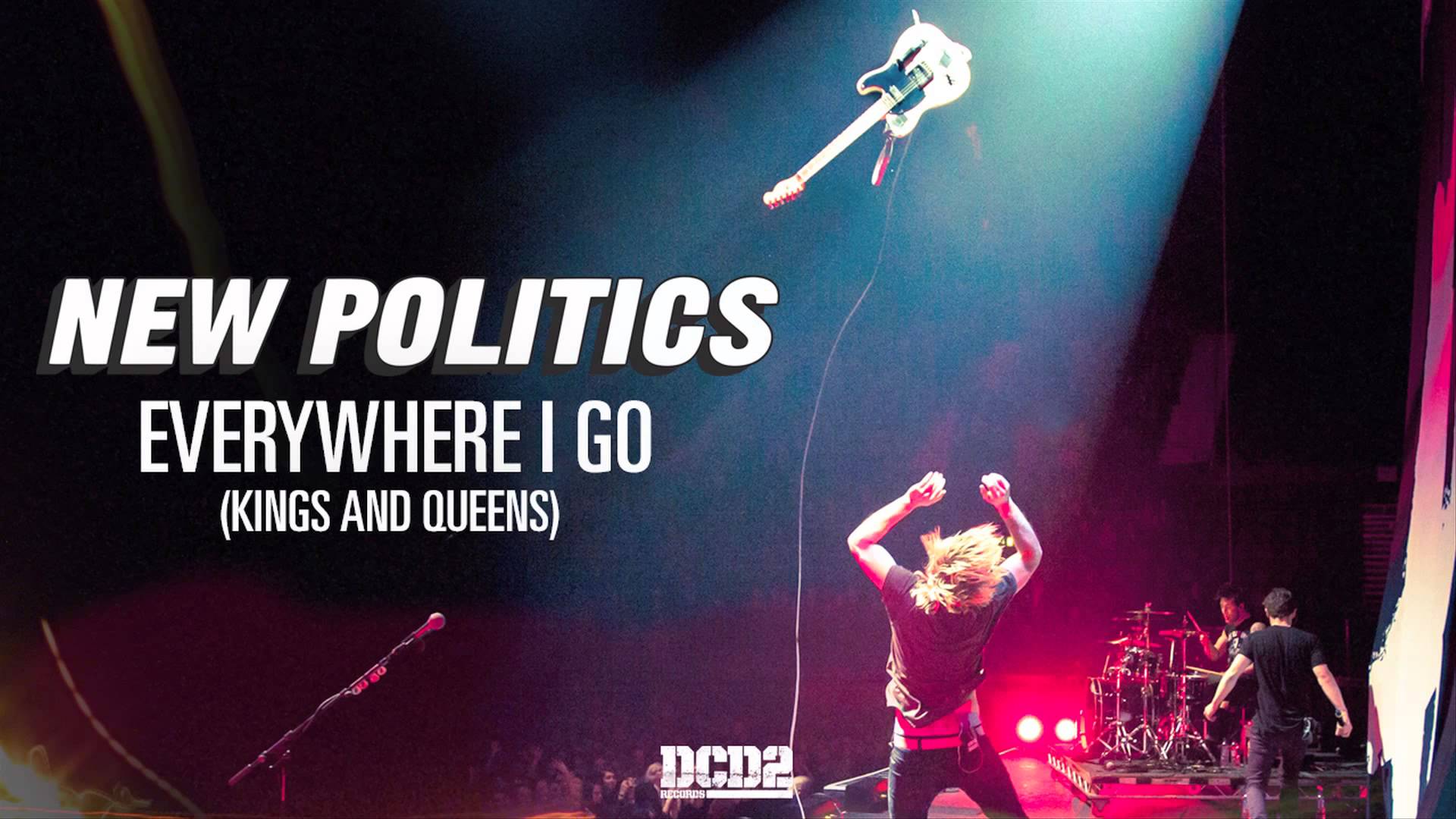 Yesterday, New Politics released the second single off their upcoming Vikings album, another anthemic hit-in-the-making called "West End Kids." Sporting a dance-pop backbeat, "West End Kids" is catchy and autobiographical; it may not be as instant a hit as "Harlem," but it could certainly be the band's next crossover. New Politics described their new single in a Facebook post yesterday:
"The song is about Vesterport (West End), the area in Copenhagen where we once lived. It's where we played some of our first shows, where we first fell in love, and first felt heartbreak. It's also where we had to say goodbye in order to make the sacrifices needed to move to Brooklyn and live out our dream of playing music."
People often forget that rock bands weren't born big and famous. It takes most acts years of hard work and sacrifice to catch a break, and even then, the music on the radio represents less than 1% of what's out there. For New Politics, the prospect of success – not even success itself – meant leaving their friends, their family, and their home behind. Everyone loves a good band with a great backstory, and these Danes are ready to share.
I had the chance to catch up with New Politics toward the end of last year, before their November 25th show at New York's Irving Plaza. The band were in high spirits – all were wide-eyed and wearing big grins, like they were schoolboys coming home after an exciting field trip. In some ways, being back in New York was a sort of homecoming for them – their permanent residence (where they live for maybe a total of about six weeks a year, per Søren) lies somewhere in the depths of Brooklyn. The past few years have been a sort of field trip, too – what with playing your music around the world, opening for major acts and headlining your own tours, and living the life of a bona fide rock star. The band clearly love what they do, and they love sharing their passion with others. Learn more about New Politics in our exclusive interview below. You can find their albums New Politics and A Bad Girl In Harlem online, and look out for Vikings later this summer!
"Everywhere I Go (Kings and Queens)" – New Politics
downtown hopping fences
i smashed a window on a Lexus
now 5-0's on my tail, but they movin' like a snail 
i got some shit to sell 
but everybody's gotta get by
i got holes in my pockets
everybody wants to stay high
so you know i got it, if you want it
this one's for everyone that said i'm nothing
this one's for my friends that don't give a fuck
so if you don't give a fuck sing:
everywhere i go, i'm higher than united, fly with me
everybody knows, there's no sleep 'till brooklyn, no sleep
we get high, we get by, yet we roll with it
we've been up, we've been down, we got over it
everywhere we go, we're the kings and queens, and we run this city
New Politics: The Interview
I actually discovered your music last year, while walking through Disney in Florida. They were playing 'Harlem' through the big speakers. Did you ever think Disney World would be playing your music?
Søren: [laughs] Not at all, never! But I remember when we did a version of the song for Disney, we sang, "Ooh shake it, shake it, shake it up, shake it, shake it, shake it," so many "shake it's," because there are no bad girls in Disney. Only shake it. Mickey can shake it, but he can't be bad.
Listen: "Tonight You're Perfect" – New Politics
Prior to the release of 'Everywhere I Go (Kings and Queens)' and of course your tour, the last big thing people would recognize New Politics for was the clip of 'Tonight You're Perfect' that played on NBC during the 2014 Winter Olympics.
Søren: I didn't even know that! It played in the Olympics? Holy crap that's cool!
David: We watched very little – we were on tour, on the road at the time. I remember getting an email about something at one point, but we never… That's amazing!
I always felt 'Tonight You're Perfect' was a more lovey-dovey, subdued kind of song compared to the rest of your material.
Søren: You're right. It was also the first song we wrote that kind of initiated us finding the sound of New politics for the second album. we had been looking for a sound for quite a while – it took us a long time to write that album – and when that song came… It's like, with anything you do in life, you get to that point where you try really hard, and then suddenly something happens and it makes you really hyped, and it gives you that energy that you're looking for. "Tonight You're Perfect" was the first song where we realized that we really want to do this. That song is a very special song for us. But you're right, it is saying, "Tonight you're perfect," but there is a deeper meaning to it… but I think that, for me it definitely is very special. I love playing it live, too.
Listen: "Give Me Hope" – New Politics
What was the reason to redo 'Give Me Hope' for its reappearance on A Bad Girl In Harlem?
Søren: The version that ended up on the second album was actually more like the demo, because we felt that it sounded cool, and we just wanted to give it another shot.
It aligns with the second album's sound. Now, we have new music: 'Everywhere I Go (Kings and Queens)' - what's that about?
David: It's a celebration of like… You see, no one else knows that we lived off of ramen noodles and white bread for six months. No one knows that we packed our bags, left everything in Copenhagen, Denmark. No one knows the backstory of New Politics – the struggle and the decisions made, and people that didn't believe, or gave up on believing in us, for something else. But then you also have the people that stuck with us, that continued to believe in us even though we weren't in the best shape. Our fans that stuck around, our families supported us, friends, and this and that – and it's a celebration! It's a feeling of being on cloud nine. Everyone deserves that – everyone who stuck with us.
But also, when you write, I think it's also interesting to put fiction in – to generalize things so that you can relate to what you're going through in your life as a listener, because art just has that incredible aesthetic energy, like wavelength, that it does that! And for us, it means this, but for someone else, it could mean something else. And then at the same time, this is just a small percent of who we are, you know? One song shouldn't signify who we are, or a line, "Sex is best when you're not in love," you know? We're human, it's like, so what? We experienced that once, and that was a feeling that we got from that because of the circumstances. Maybe we were drunk, or maybe this or that was the situation. Maybe you just broke up out of a relationship, and you were vulnerable and insecure and whatnot, and this was the way that you dealt with it. But… that's not who we are. We're also everything else, and that's why I think the whole album, and more than one album, kind of gives somewhat more of a legacy which, hopefully [knocks on wood] which we'll be able to do one day… But yeah, this is just one song, and like you said, it becomes the single, and it becomes the frame as this is all it is, but it isn't. But that's our duty as well: To take what we can, and then move on.
Listen: "Everywhere I Go (Kings and Queens)"
For your older songs - 'Dignity' or 'Yeah Yeah Yeah' - is there a different vibe when you play them today than when you played them a few years ago?
Søren: I think so. I think those songs mean so much to us, because they were the reasons for us getting a chance to move to America, and do this. Personally, I love playing those songs live! The energy is just, screaming – it's a rock song, and it's really fun to play! All those songs, they're all our babies, and I think that's a very nice feeling to have. We wrote those songs – they're all a part of our travel. Maybe in two albums from here, we'll look back and it's going to be even bigger, you know? It's just a really cool feeling.
David: They also reflect different times of what we're going through. Our first album was right before the economic collapse – it was pretty predictable, you know like, Europe and America were at war with Afghanistan and whatnot, and you have all these financial schemes and whatnot. There's so much change… These times, the change is really extreme, I think, on our generation. It's almost like the 1960s, in a funny way. And I think (those songs) just sort of reflect that. With these two albums, we moved to America, and we were finding our place here, and reestablishing ourselves – our home! – this and that, and when we're talking about that, as well, you know some of those incidences…
Søren: You could say that the second album is more about things that we actually experienced personally, and the first album is about that raw energy that we had – because it was all we were talking about when we met each other.
David: It's more general.
Listen: "Yeah Yeah Yeah" – New Politics
There's definitely a lot of geography on there - between 'Harlem,' 'Goodbye Copenhagen' and 'Berlin,' the first time I listened to you guys, I thought it was just all about different cities and states.
New Politics: [laughing] Haha, yeah!
Something I always love asking artists is about their musical identity. Do you make music for the studio, do you make music for the live show, or is it some sort of combination of both?
Søren: I think we just write songs. We're very picky when it comes to that – we want to get the best song – but I don't think I've ever thought, "Oh, this one is going to be a hit," and if we have, it never works. Sometimes, we've written a song thinking, "Oh, can you imagine this live?" but I think we just write songs. We try to write a lot of songs, and then we pick the best ones that we and our team feels are the best songs.
David: I catch myself doing that a little bit.
Søren: You do?
David: I'm a little bit of a thinker, but I mean you can't control which wins. So the thing to do is to just go with the flow and feeling, and then you think with it. What that thinking becomes is something entirely different, but I don't think art has a science or a philosophy.
Louis: I like to imagine all of those songs, how they would be performed live and in the studio, but I don't think that dictates what we do. But it's good to imagine it – it's fun! It keeps the energy going…
David: Well we're constantly learning. We're growing, and there's so much change. Things are so different this year than they were last year. It's like, just thinking with a new album in February, and this single now being on the charts, how much change there'll be next year… You can't help yourself but start to think like – I was think the other day about exactly your question. What are we? You know, we have a great live show, it's a little gimmicky – not in a bad way, but it's energetic and we have things that we're known for – and then you have so many bands that dress really fucking cool, and they're like, known for not saying hi, or being big in the fashion world, or this and that… It's like, all those sort of things that you're talking about, I don't think we're very good or knowledgeable about stuff like that. We kind of just go with it, and it becomes what it becomes.
"West End Kids" – New Politics
Walking slow down the freeway, Sarah says that it's not much further
Kiss the sunlight on her face, let's say goodbye to this old and broken town
Where we fell in love
Dead end streets became a drug
Held our voices like a prison cell, but now we shout it from the rooftops
Oh, we are the kids that you never loved
We are the ones that will never grow up
We're just some kids from the West End, oh oh oh
We are the voices you never heard
We are the fire you never let burn
We're just some kids from the West End, oh oh oh
Say goodbye to your old friends, kicking down all the rusty fences
Don't need much where we're going, just a little bit of love to get us by
Goodbye, we're on our way
You and I, we got it made
Throw your gold into a wishing well
And we'll be shouting from the rooftops
Oh, we are the kids that you never loved
We are the ones that will never grow up
We're just some kids from the West End, oh oh oh
We are the voices you never heard
We are the fire you never let burn
We're just some kids from the West End, oh oh oh
We are the kids, we are the kids, oh
We are the kids, we are the kids, oh
We are the kids, we are the kids, oh
And we'll be shouting from the rooftops- oh!
We are the kids that you never loved
We are the ones that will never grow up
We're just some kids from the West End, oh oh oh
We are the voices you never heard
We are the fire you never let burn
We're just some kids from the West End, oh oh oh
We are the kids, we are the kids, oh
We are the kids, we are the kids, oh
We are the kids, we are the kids, oh
And we'll be shouting from the rooftops
We are the voices you never heard
We are the fire you never let burn
We're just some kids from the West End, oh oh oh
"West End Kids" – New Politics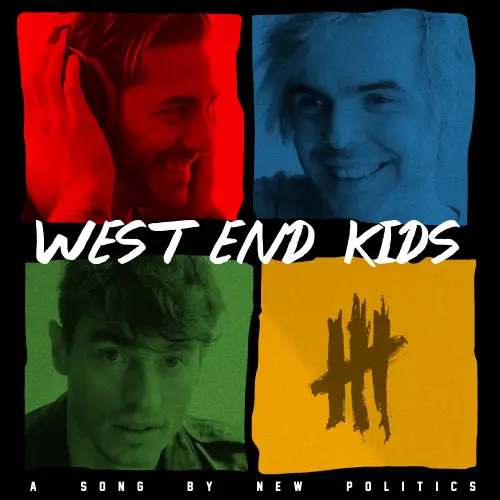 New Politics – New Politics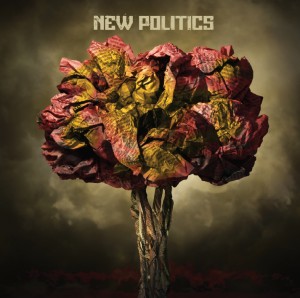 A Bad Girl In Harlem – New Politics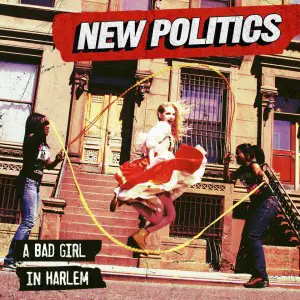 Learn more about New Politics online at newpoliticsrock.com
Like New Politics on Facebook  /  Follow New Politics on Twitter