Gabriel Garzón-Montano's sophomore album 'Agüita' is a varied and dynamic array of songs.
Stream: 'Agüita' – Gabriel Garzón-Montano
---
The cover of Gabriel Garzón-Montano's newest album Agüita (out October 2, 2020 via Jagjaguwar) says all you need to know about the Colombian-French American musician's second record: Garzón-Montano lounges nude in the middle of a verdant rainforest.
The image is lush, sensuous, and vibrant, and the collection of songs shares these same qualities. Garzón-Montano's music has been a strange labyrinth of sound and influence since his debut EP Bishouné: Alma del Huila, skirting the boundaries of genre accessibility in a hazy, dreamy, Latin-inspired cloud. 
Written and produced almost exclusively by Garzón-Montano, the followup to 2017's Jardin is even less genre-specific, finding the artist exploring new sounds and textures. His distinctive, Prince-like croon is still present, especially in the off-kilter opener "Tombs" and the swaying guitar ballad "Bloom," but there is a distinct push for something new.
The first hint is the brash "Muñeca," a rolling reggaetón dance hall track that calls to mind Daddy Yankee and Spanish radio stations. Then there's the trap-fueled "Mira My Look" with Garzón-Montano flippantly rapping in English and Spanish.
Muñeca, bebe -
después que nos cruzamos pensé
Que rico como tu te mueves
Y ojalá te pueda convertir en mi baby
---
The styles are unexpected and at first seem somewhat out of place amidst Garzón-Montano's strikingly spare writing, but Agüita is both more strange and more confident than any of his prior work. Somehow, it works. What's most engaging about Agüita, however, is not the genre exploration, but its occasional ugliness. Bishouné and Jardin were varied, but were overwhelmingly pretty. From Agüita's opening piano plinks, there is a discordance at play. The chords don't always mesh with the melodies and there is something a little woozy about the beats — but this makes the moments of resolution intensely satisfying, like the string section on "Tombs" or the slow-jam R&B of "Someone."
Why discuss what we can't see
Why awaken from a gorgeous dream
Between Garzón-Montano's raspy, enticing voice, his strange melodies, and fantastical lyricism, the album is one that's both dreamlike and grounded. It's a record that bears repeated listenings, a record that blooms in a hundred colors before your eyes. Garzón-Montano is one of a kind, and it's anyone's guess as to where he goes next.
— —
— — — —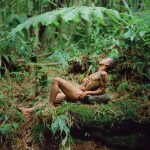 ? © Jack McKain
:: Stream Gabriel Garzón-Montano ::
---